2021. Where did the year go?
Here's where 2020 went…
wrapping up 2020
The year of 2021 started out with a new book for work.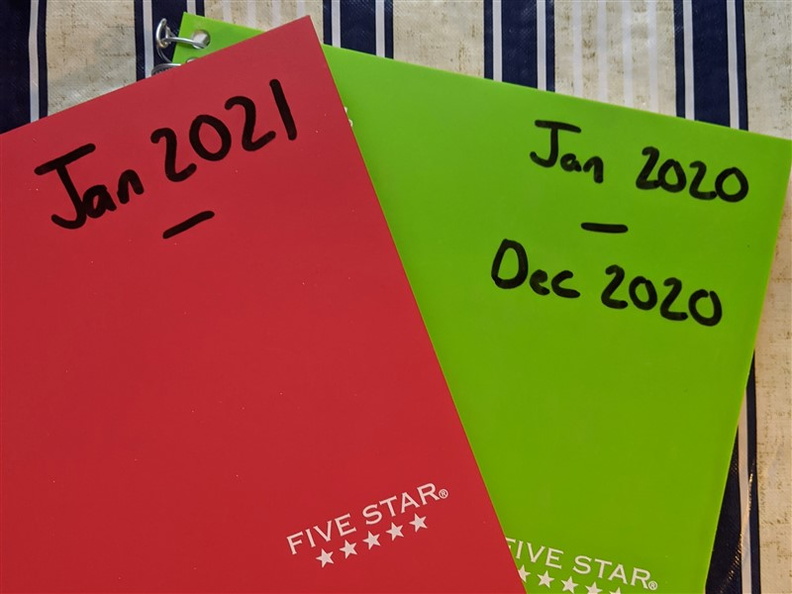 And working.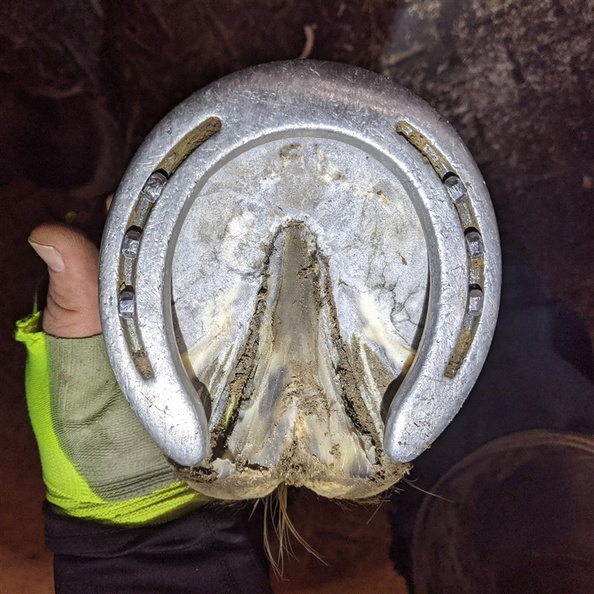 January
3rd, and I decide to jump on the Social Hour group chat. Fun time to see and hang out with these people virtually.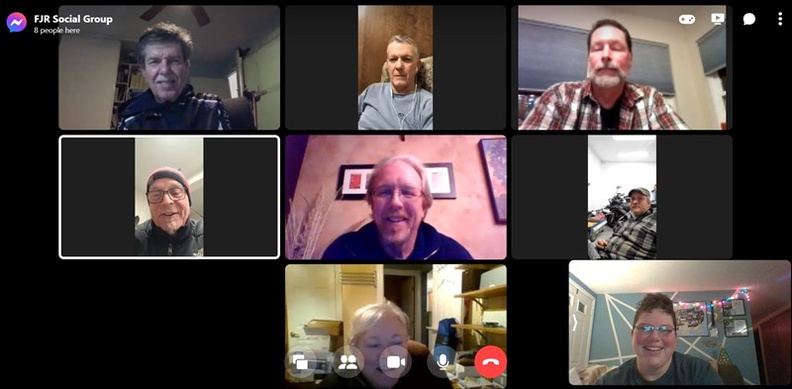 Nearer the end of the month, and I get to trim this mini horse! IN the house! Right there in the kitchen!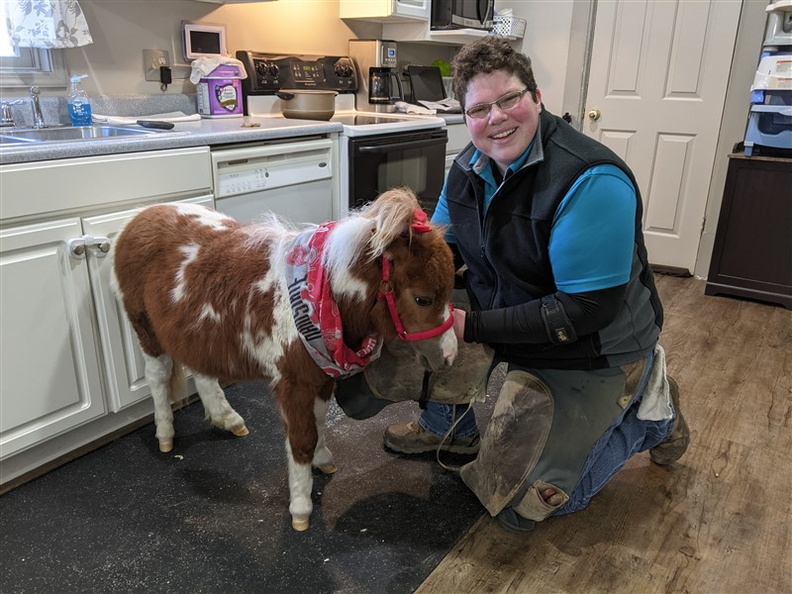 Another group chat on the 24th of January.
Must have been a slow work week, because I ended up painting a scene in my bathroom…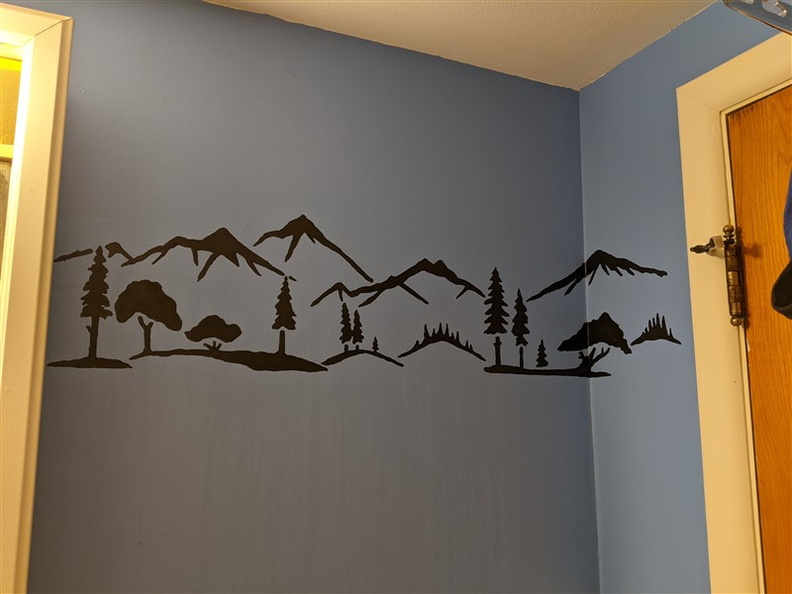 And then the family and I went sledding that weekend!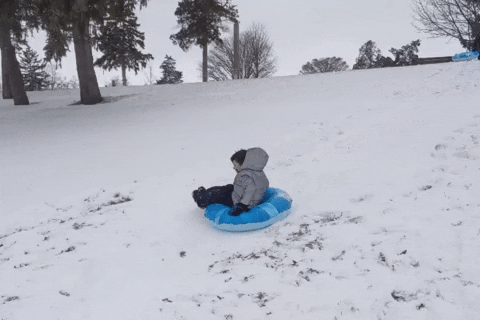 All good, he was smiling at the end of it!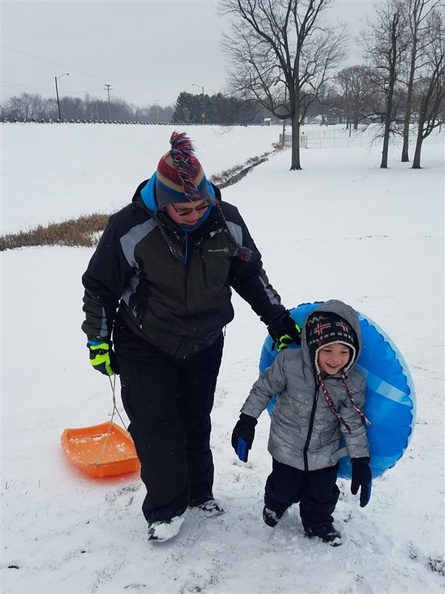 Then another social hour on the 31st.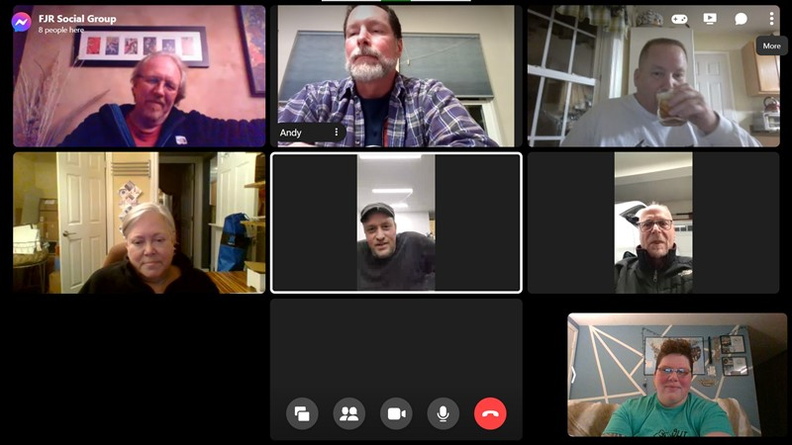 Beginning of
February
brings us a fresh snowfall. Makes the farms I travel to pretty.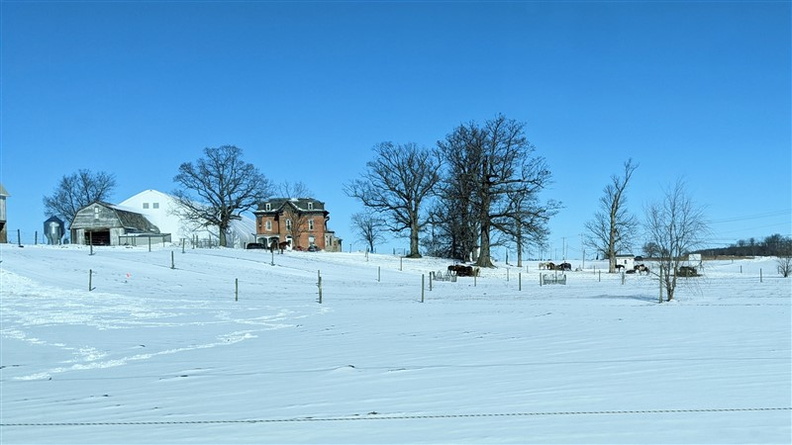 Until it starts to really snow and blow when driving…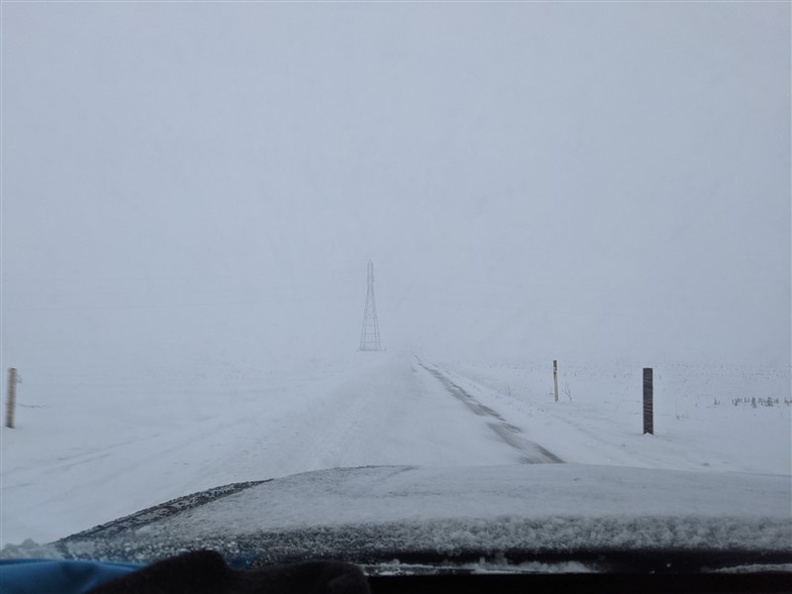 Group Social Hour on Valentine's Day.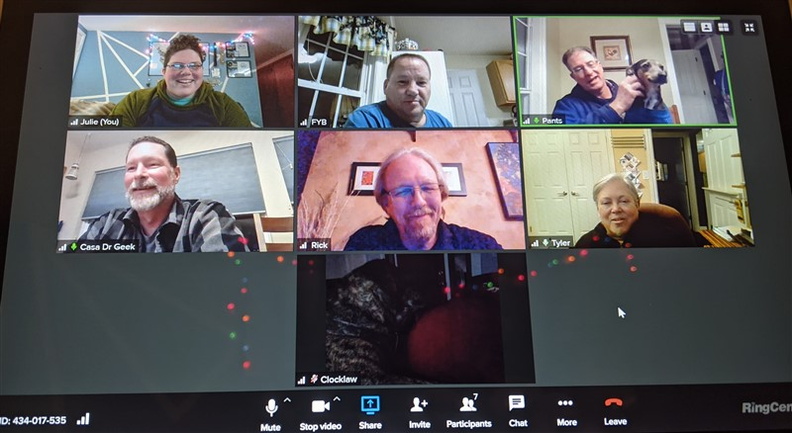 And the snow just kept coming all month. It kept snowing and snowing and dumped on us one day. I think it might have been some record breaking too. Not entirely sure. But it was a lot. Lots of drifts.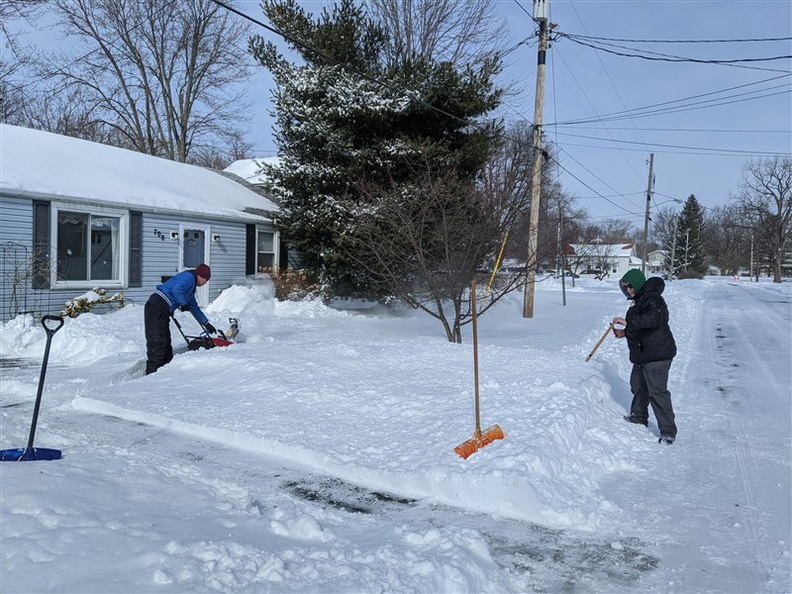 At least the sum came back out and shone bright on us while we got to work shoveling and snowblowing.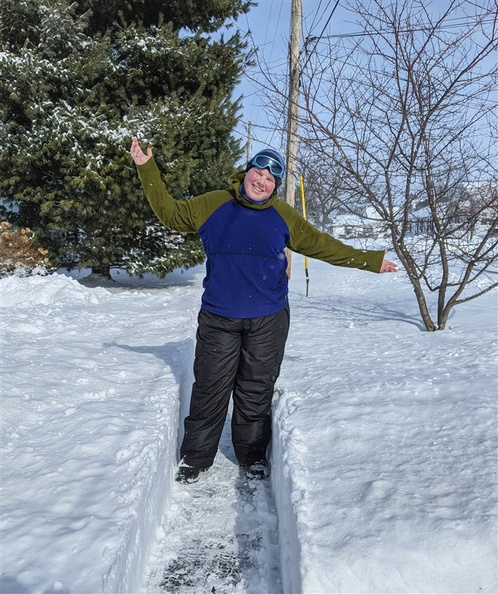 And that weekend, Feb 20th, my dad and I took 2 of the nephews to the local pond to try ice skating. A little section had already been cleared off.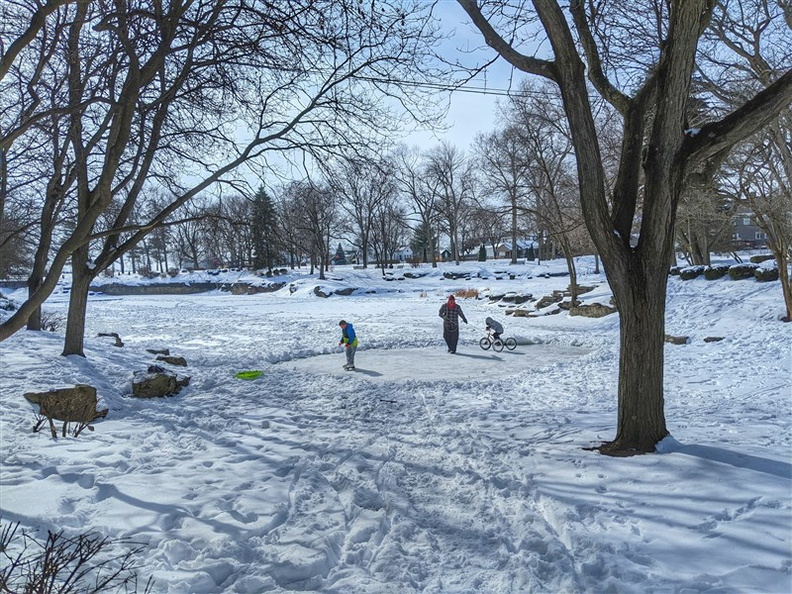 Group chat on the 21st.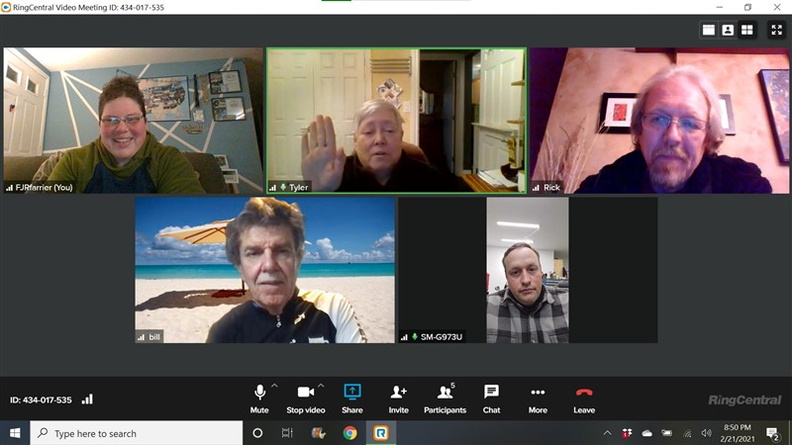 And a week later, by the 28th, the snow had all melted and it was warm enough to wash the truck! To prepare it for its' coming adventure.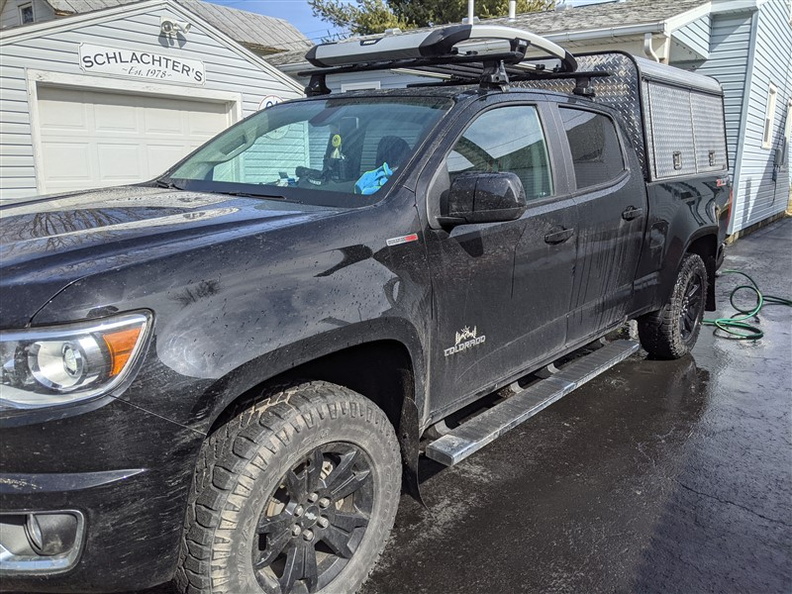 Group chat on the 28th.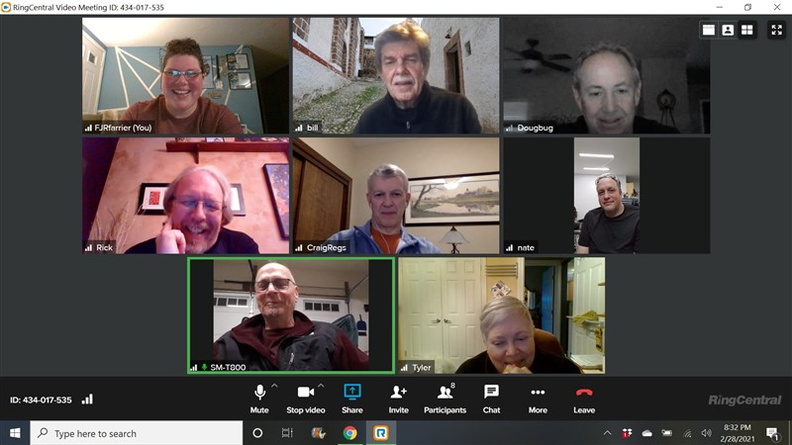 March
rolls along, and on Wednesday the 3rd, I am loaded up and rolling south in the truck with the DRZ on the back! Read all about it here…
Sunshine on My Shoulders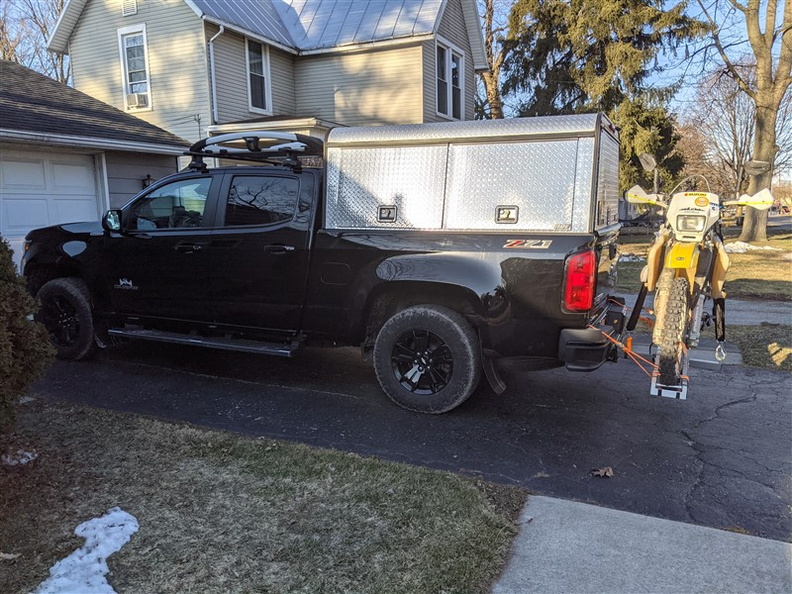 Highlights include Jason's birthday party on the way south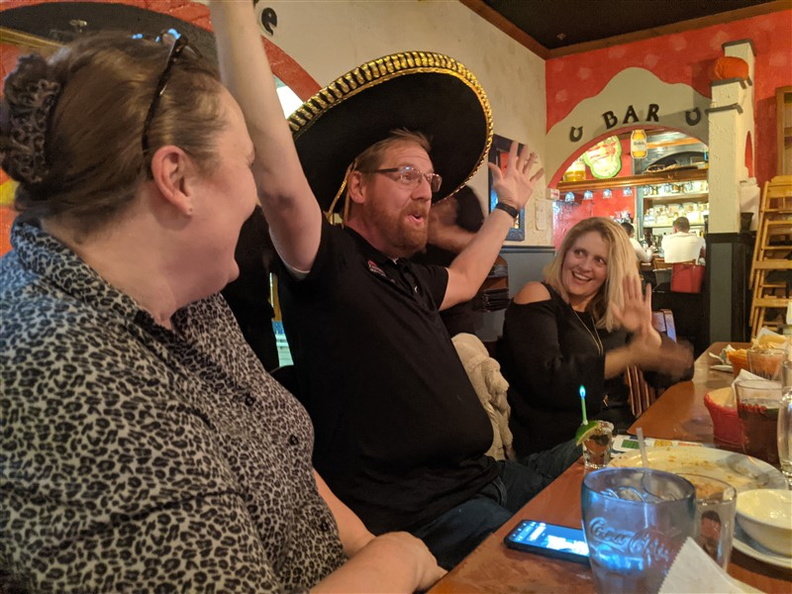 Arriving in Florida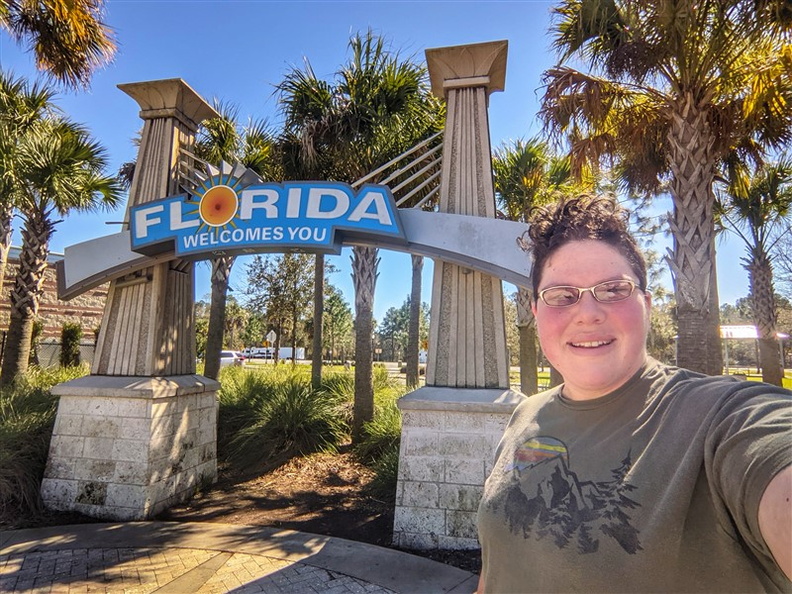 Riding with friends at FWG 2.0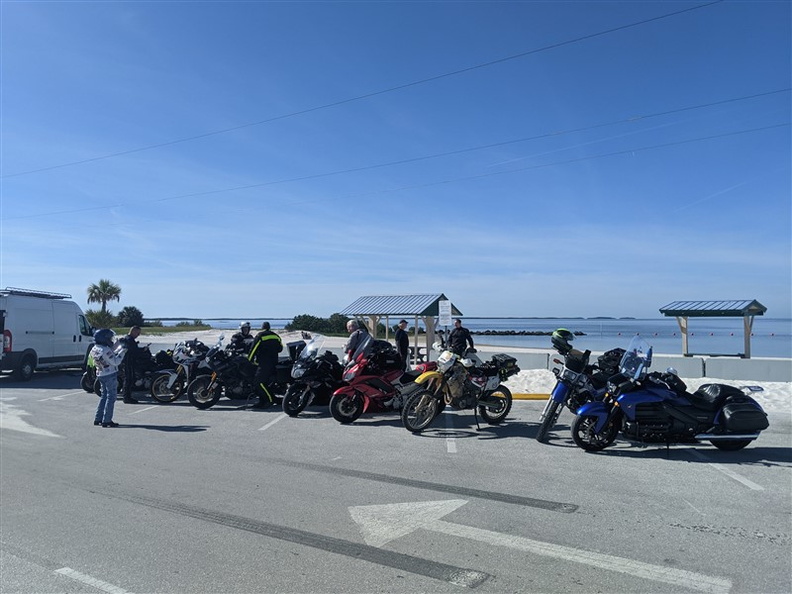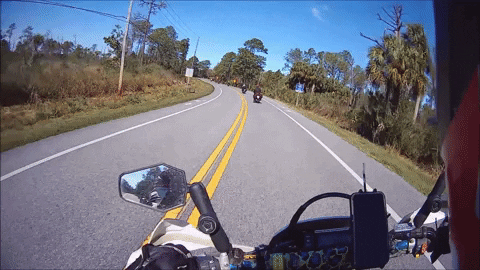 Riding the DRZ in Florida!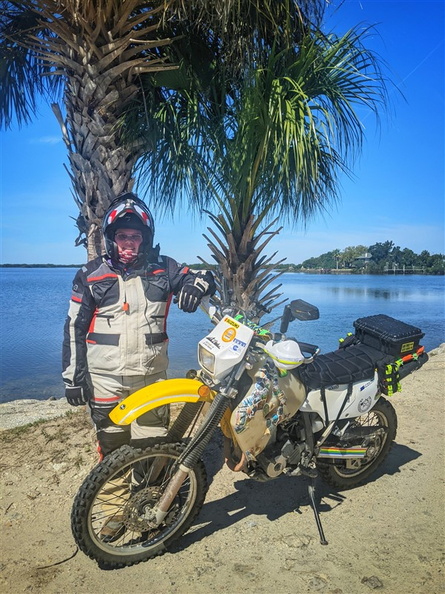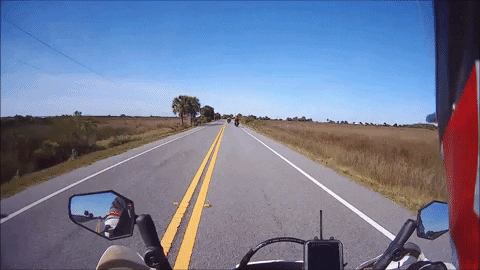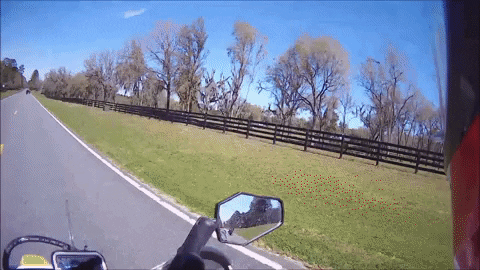 Eating the best shrimp tacos I have ever had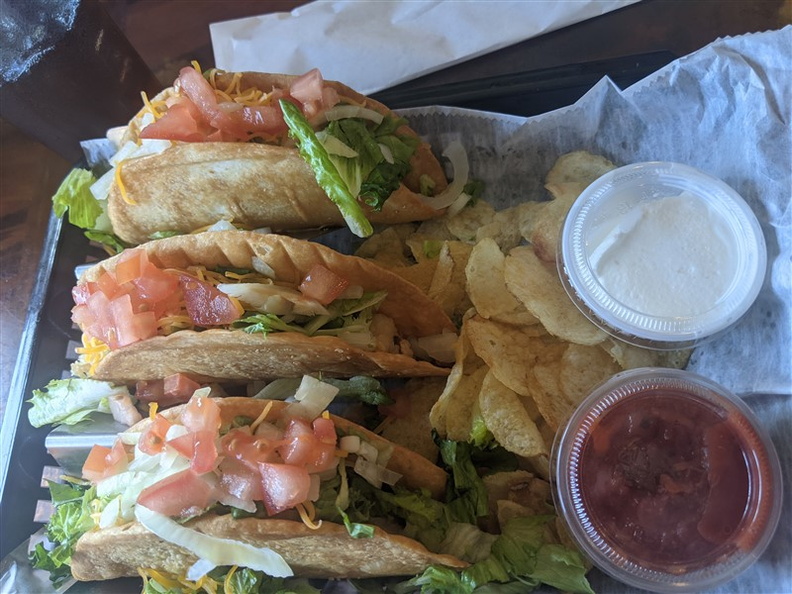 Manatees!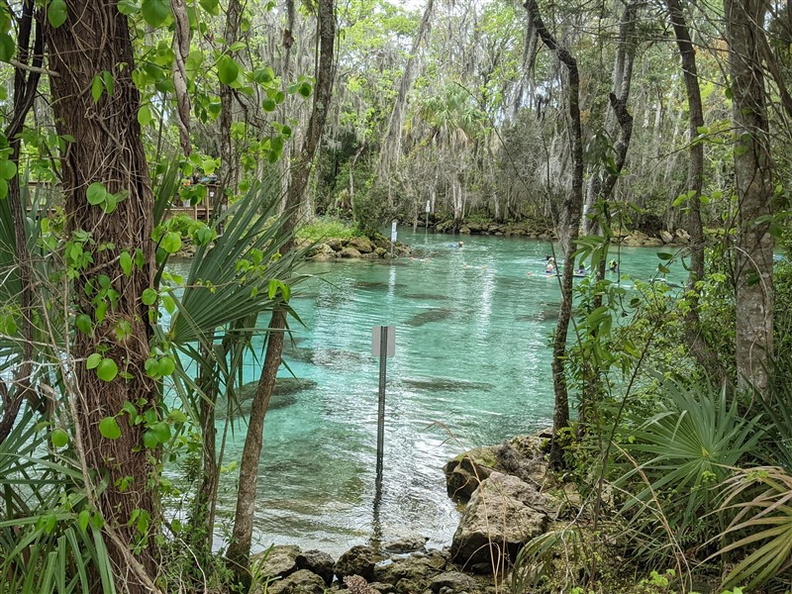 Eating delicious Cubanos!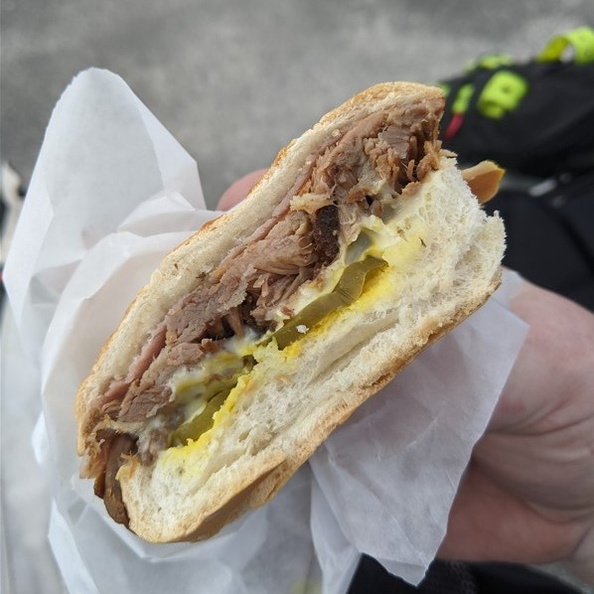 Riding through Tampa on the DRZ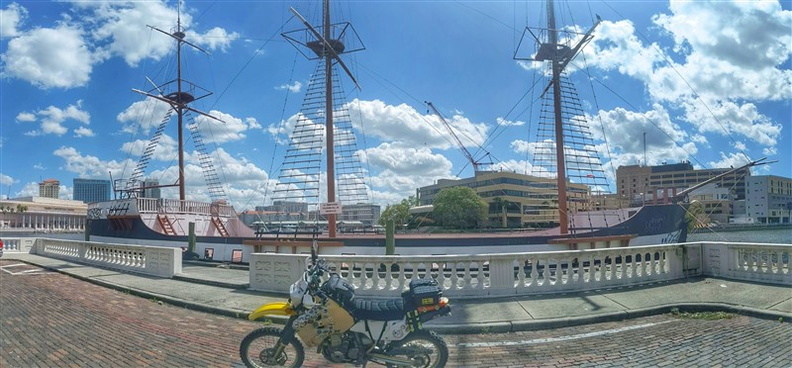 Back home, managed to jump on another group video chat.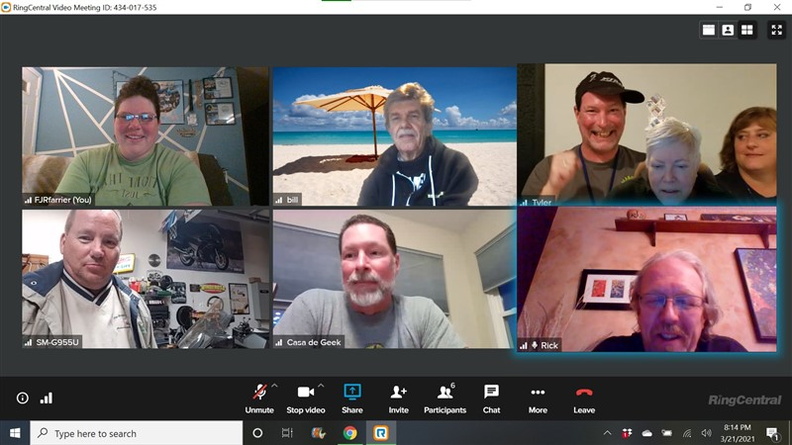 And nearer the end of March it gets warm enough to venture out on the DRZ. Dangerous curve? In my town? Uhhhh….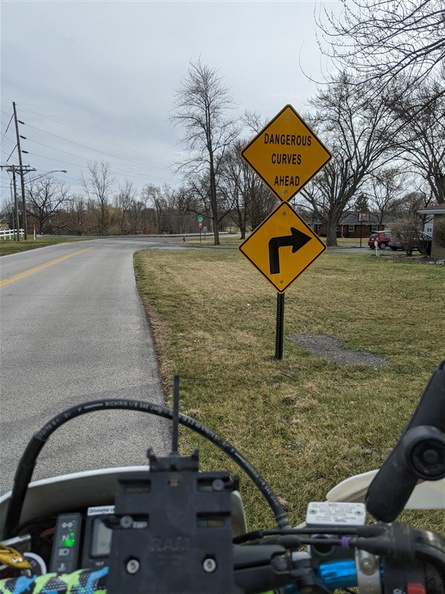 This is what 85 miles in my county looks like. I got to the point on the southern line that I started turning left or right at every road. Just the change it up a bit.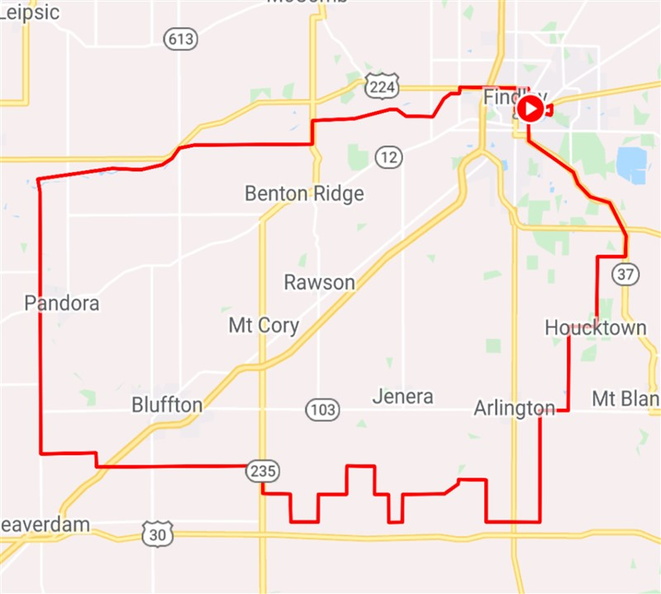 And the end of March closes out with me having to say goodbye to my beloved cat, Creme Puff. She was 10, and I had known her that whole time. She showed up in the various RideReports, usually at the end when I would arrive home to my loved ones.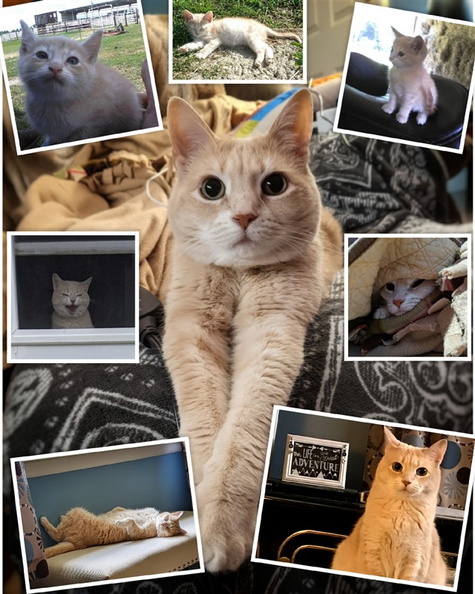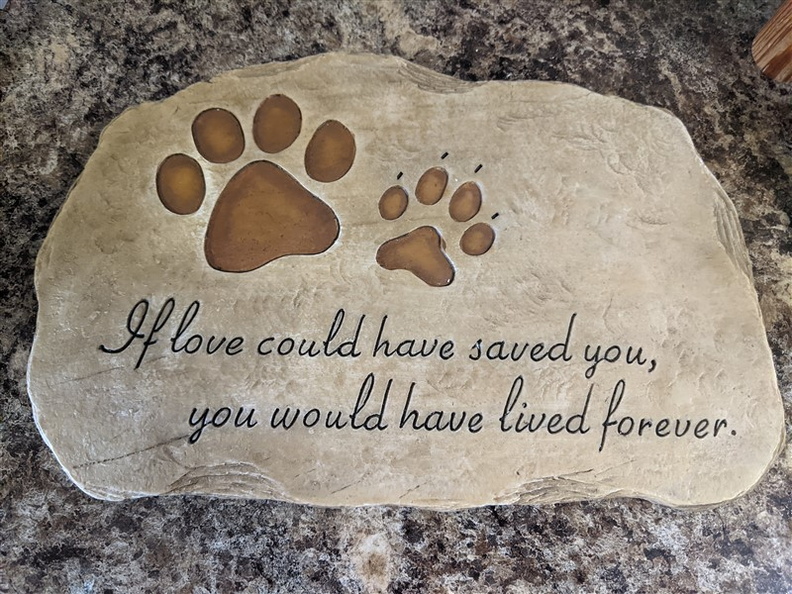 April
rolls in pleasant. The season of harder work is ramping up…
And I got to meet and trim this mom and baby Clydesdale!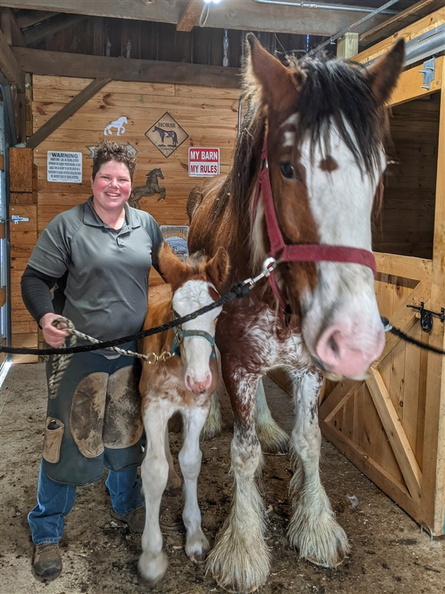 Lots of working, and shoeing and shoeing!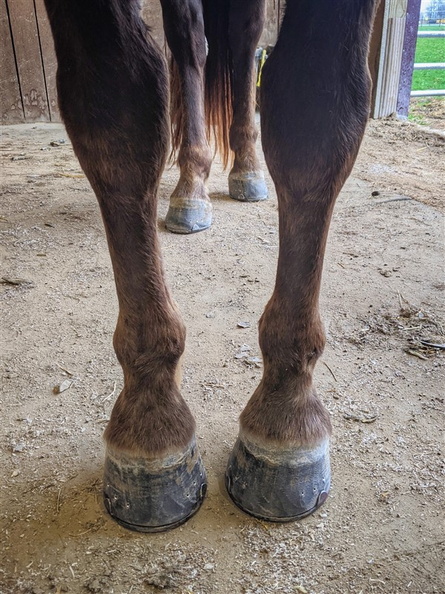 April 10th, and I dig the FJR out of the garage for the first time this year. And take it down to my dad's garage to get new tires!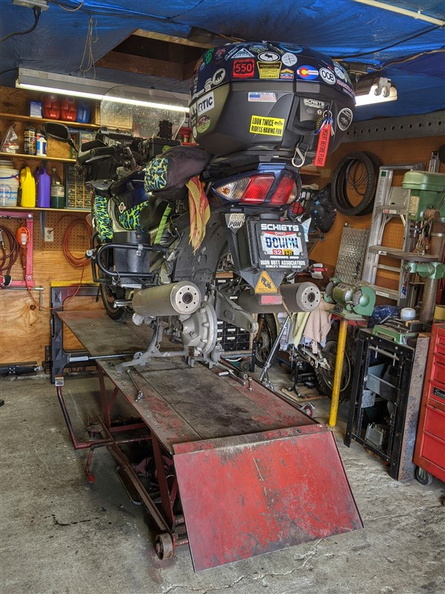 So that on Friday April 16th, I am good to go for a ride. Time to clear the head, so off I go! For 330 miles.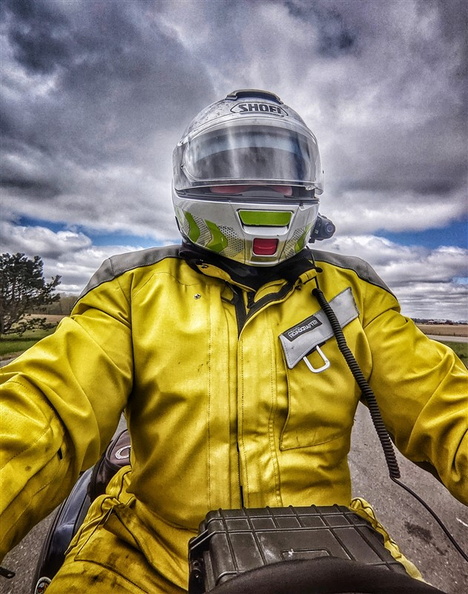 Made it to Amish country. Zig-zagged on the curvy paved roads in the area. Stopped at a covered bridge.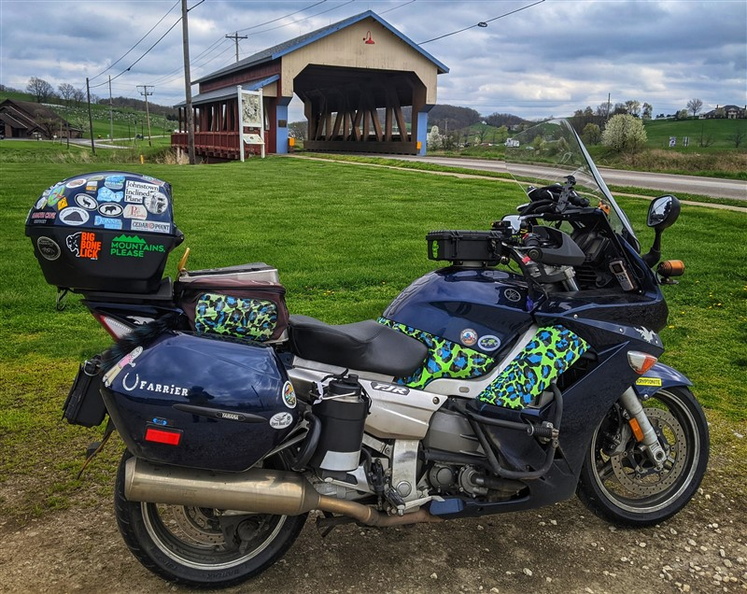 Back to work the next week, and Mother Nature decides to do one last snow drop. It was pretty in the trees and on the grass though.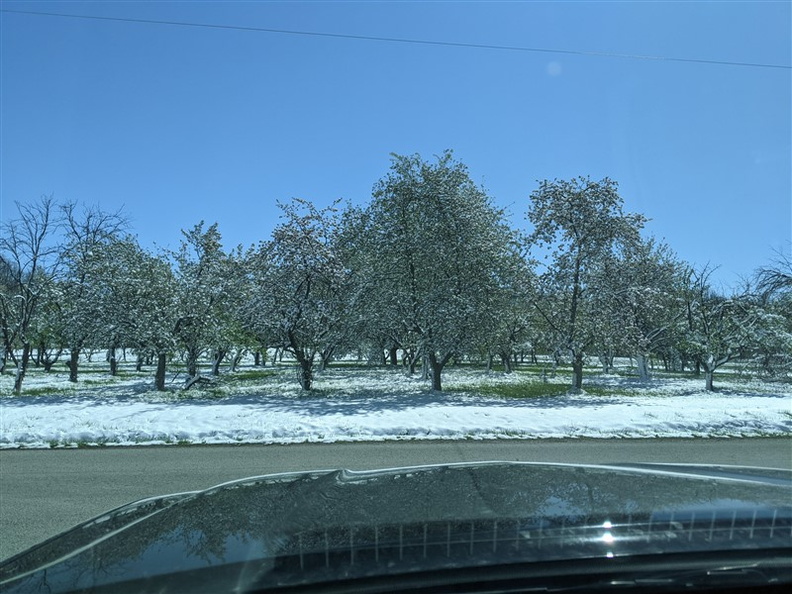 May
comes with the announcement that I was selected as Aerostich's Rider of the Month.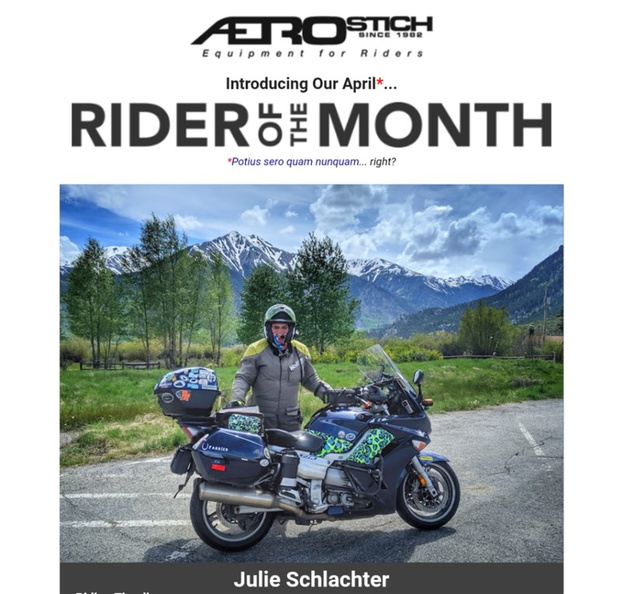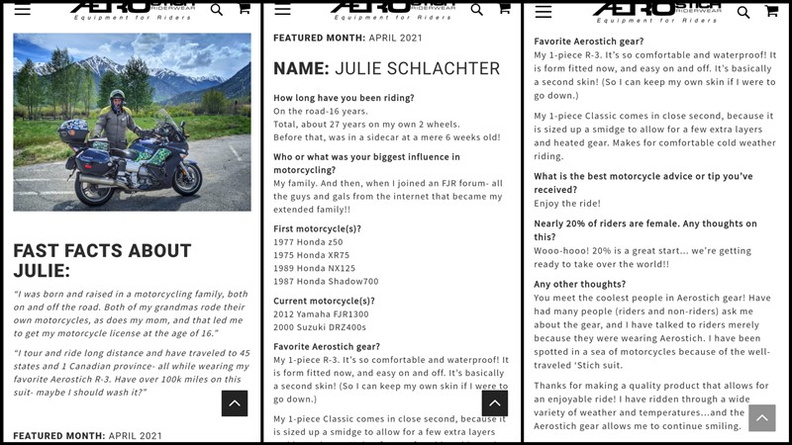 And a Tech Day in Michigan on the 1st. My dad and I rode up to Bust's garage to hang out with the crew.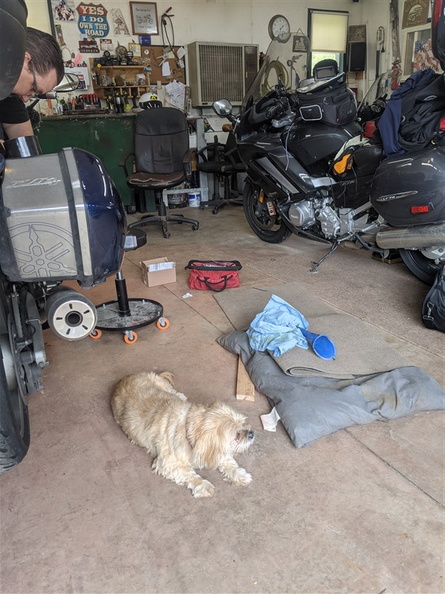 Did some more working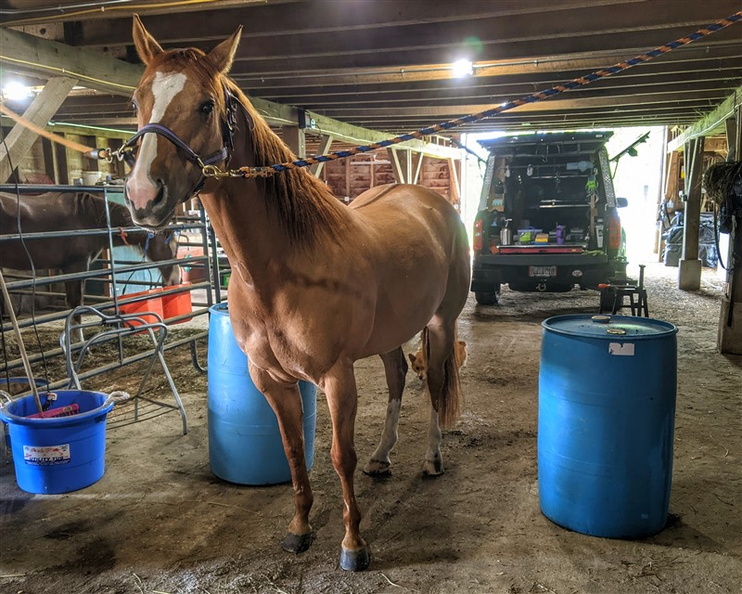 Then Saturday May 8th, and I'm off to Wayne National Forest to go trail riding with friends!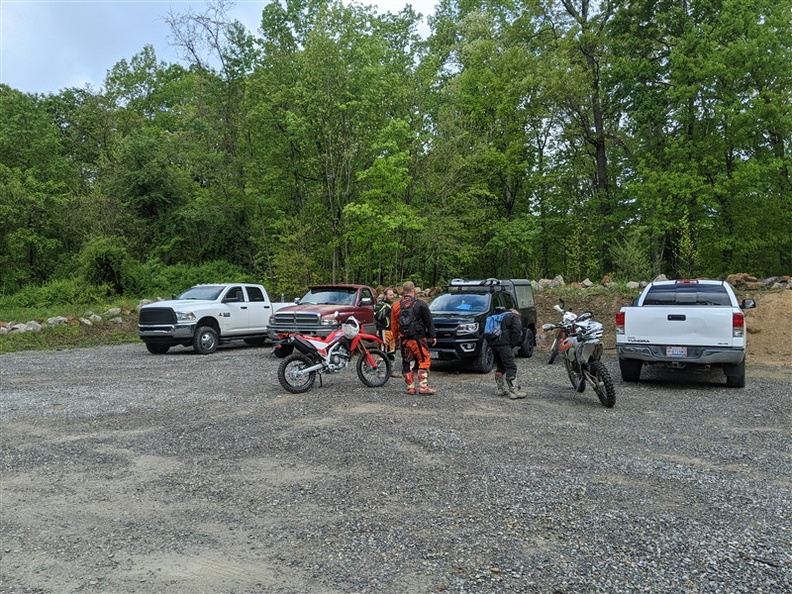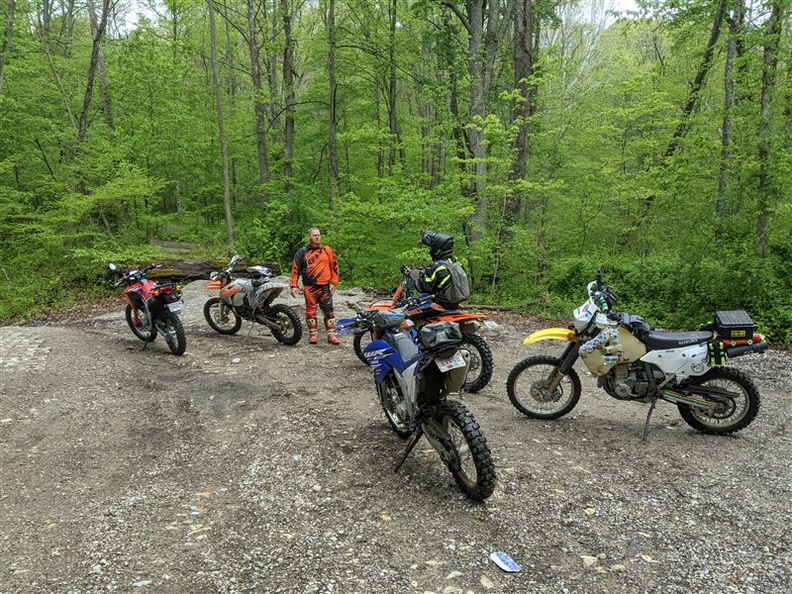 We have a lot of fun together!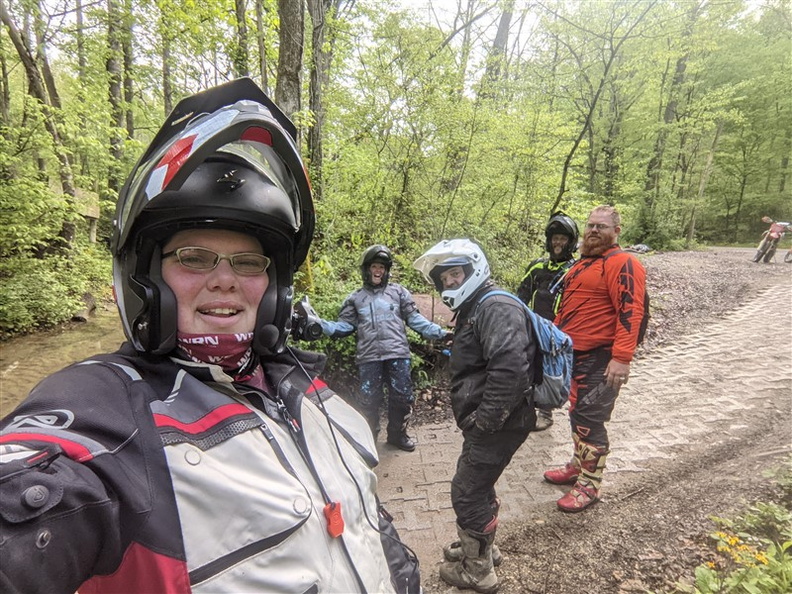 Found a waterfall and cave that was fun to hike down into.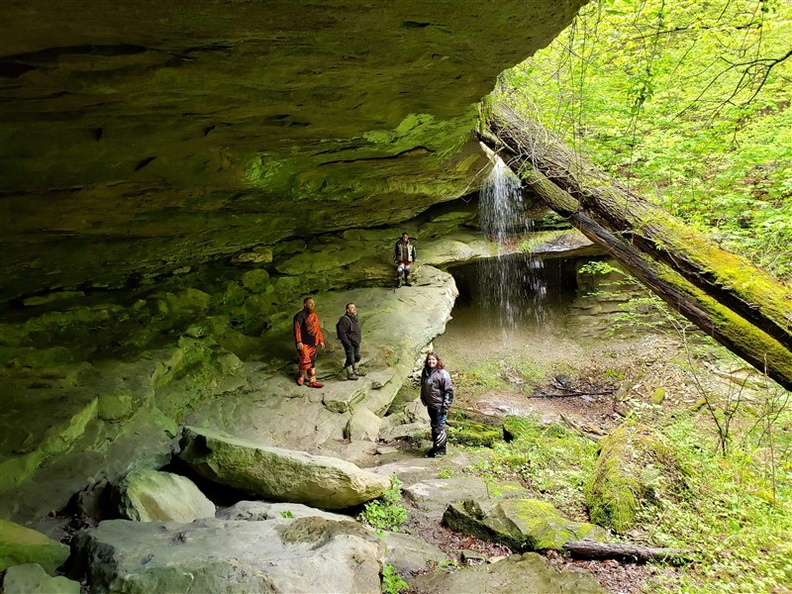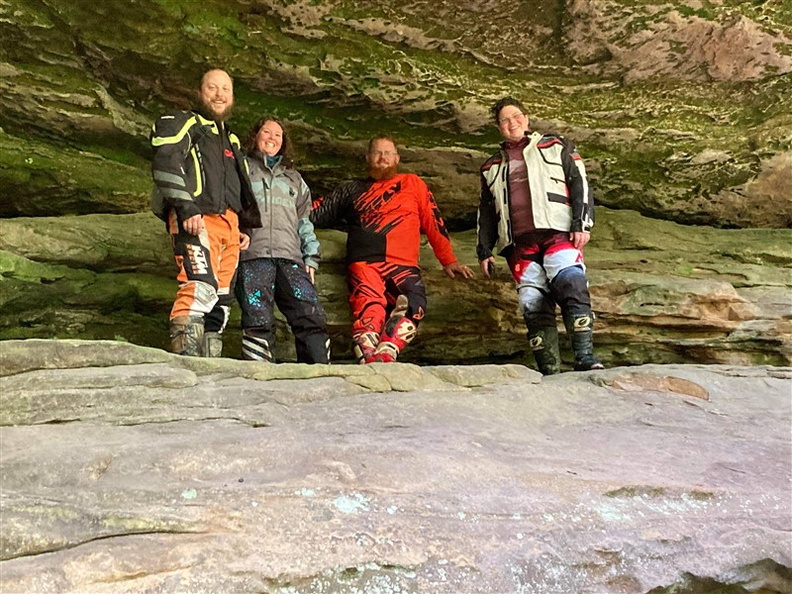 Ran across some other friends while out on the trail.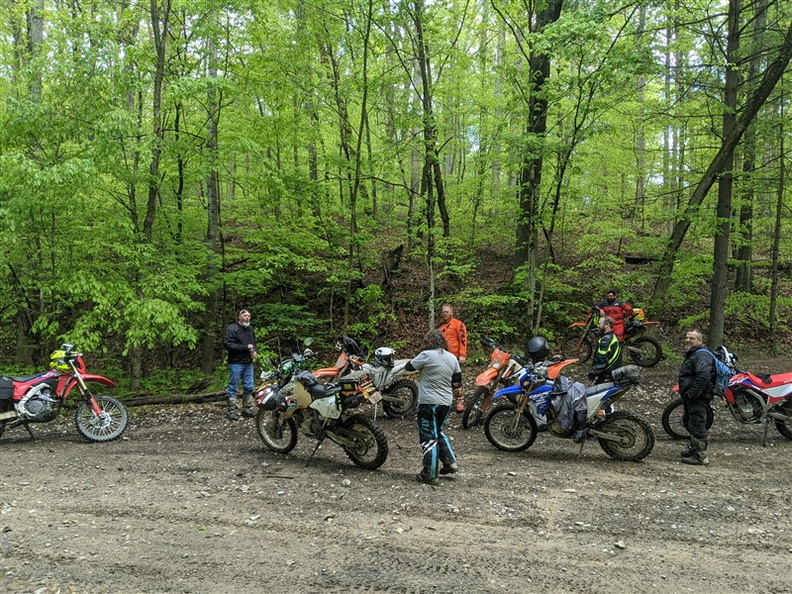 This girl right here learned to ride 2 wheels only last year… and now she's ripping up the trails on a WR250!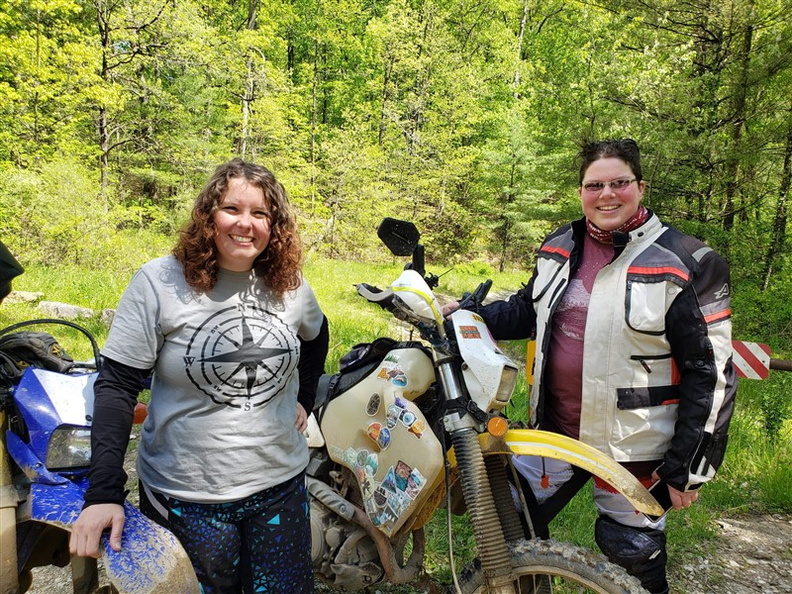 Back to work for the short week before the next adventure… but that included getting new work chaps.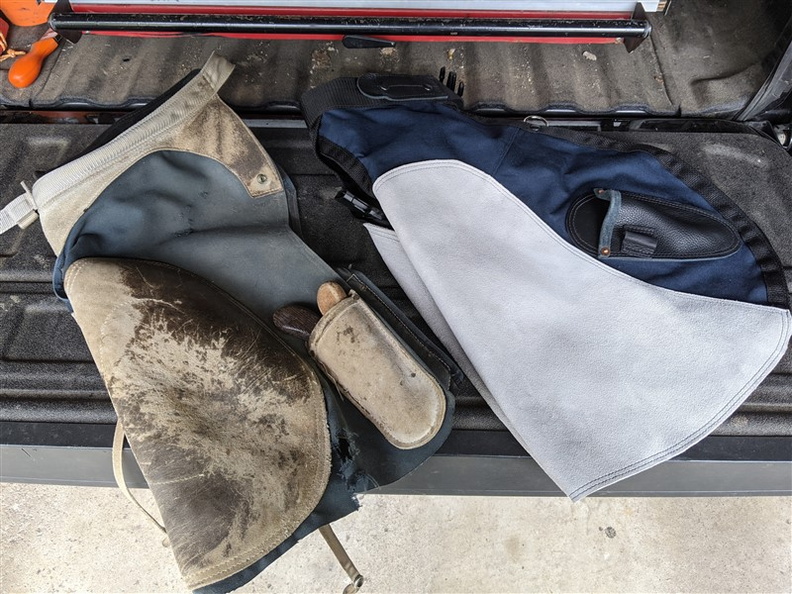 And then taking care of this little girl with the humane society. She felt a lot better when I was done. Left foot is the after, right foot is the before.
Thursday May 13th and I'm loaded up and on the FJR! Headed southeast…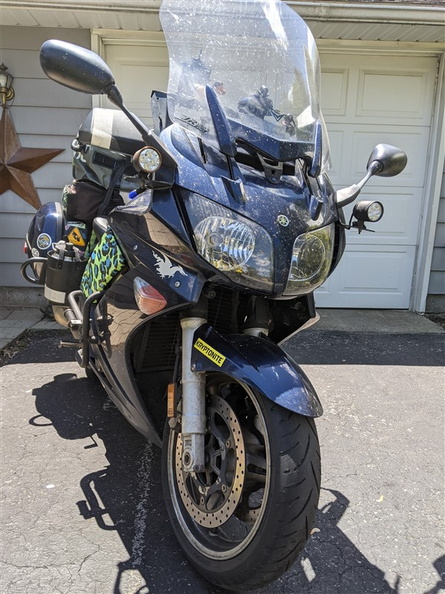 Made a stop at the Ohio State Reformatory, in Mansfield, OH. Did not go inside, only viewed from the parking lot.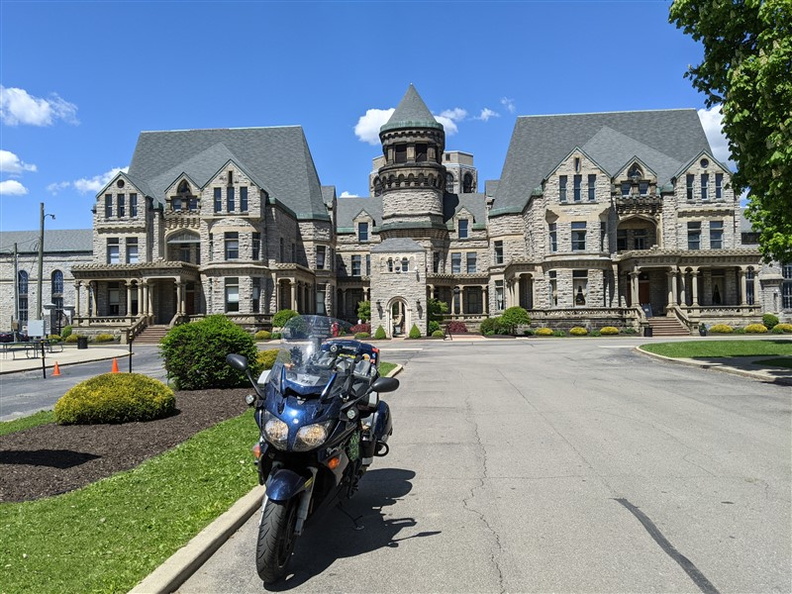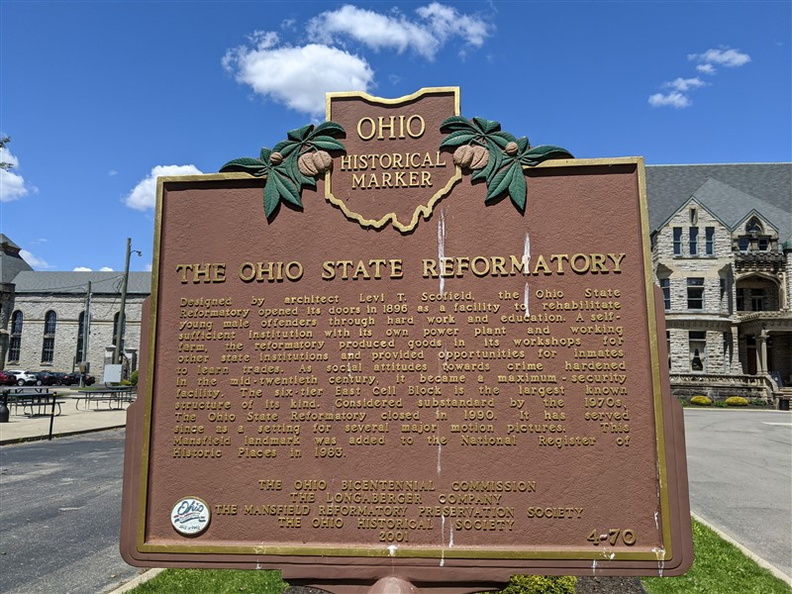 Eventually pulled into the hotel parking lot to meet up with all the other hooligans who showed up in Marietta! And witnessed my bike being sticker bombed…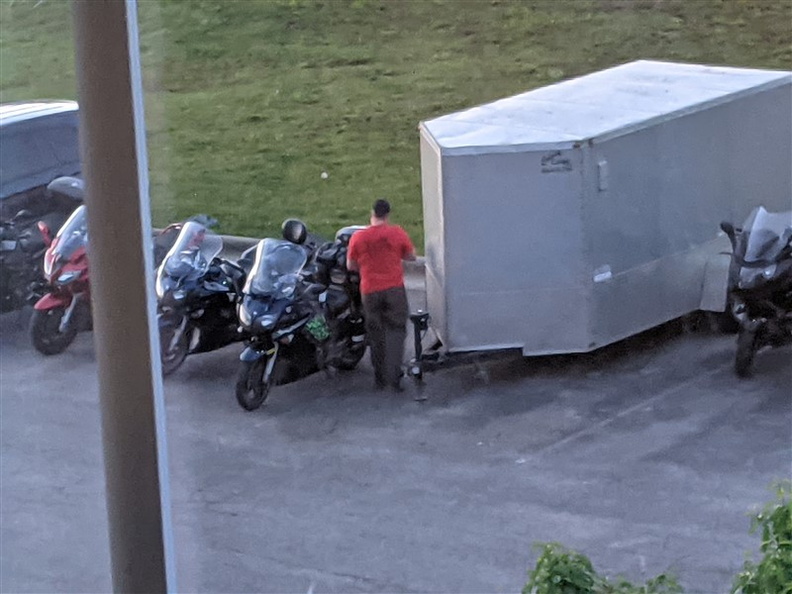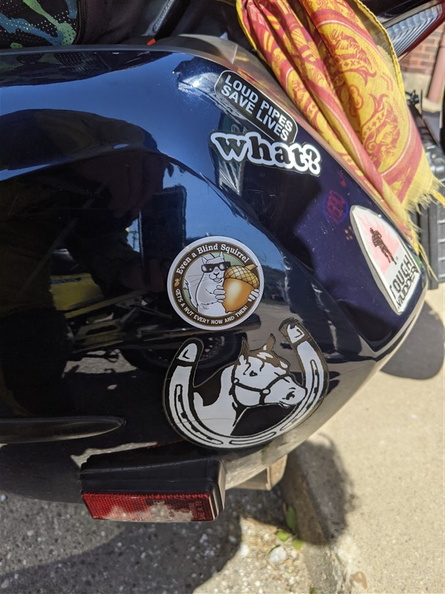 The next day, I'm headed off…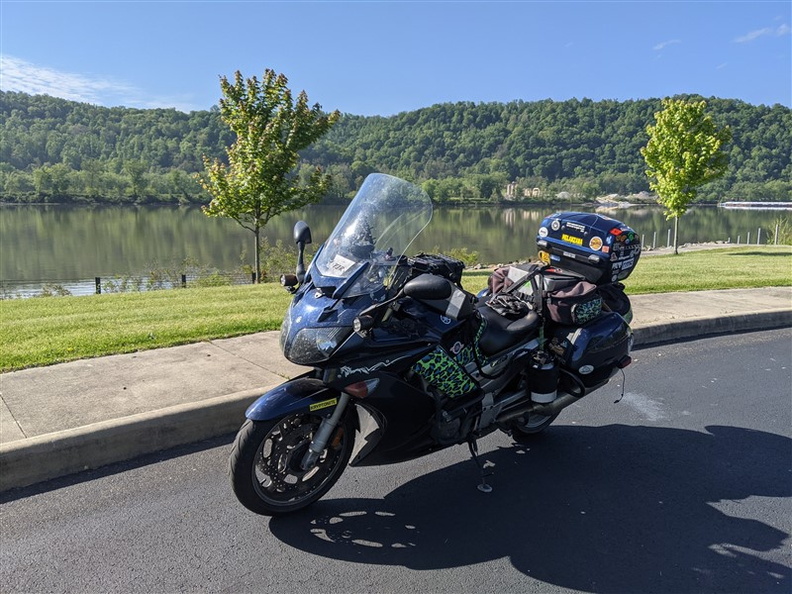 With 2 riders joining me for a day of fun!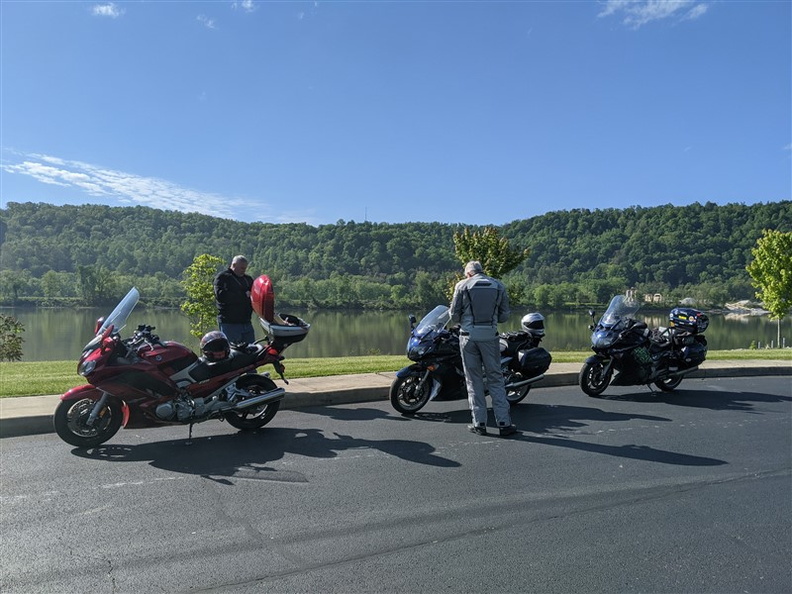 Lunch stop at Beallsville Diner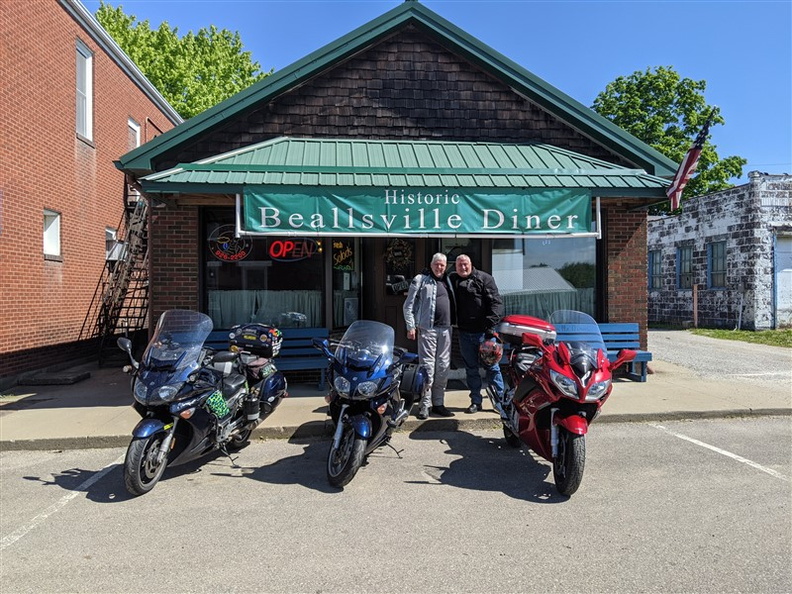 And eventually found our way to Kiedaisch Point Park, overlooking the Ohio River.
Sure are some nice looking bikes there!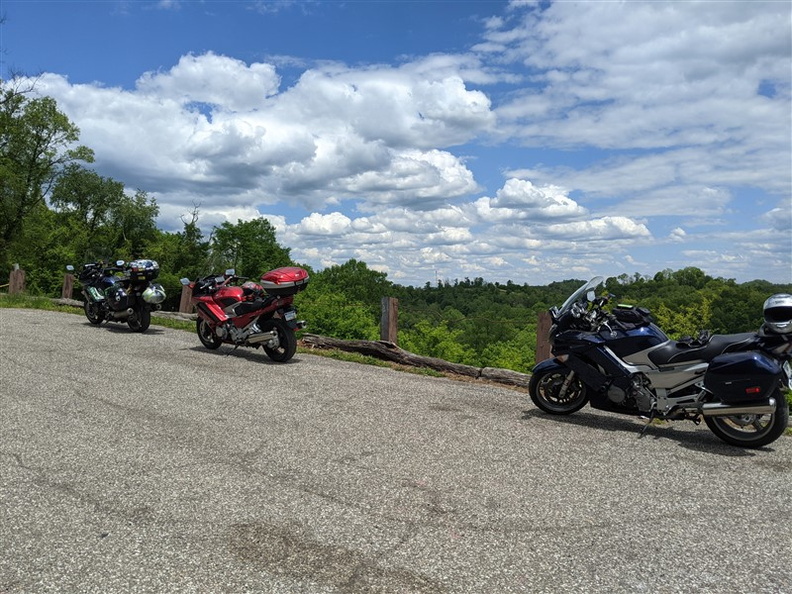 Gorgeous!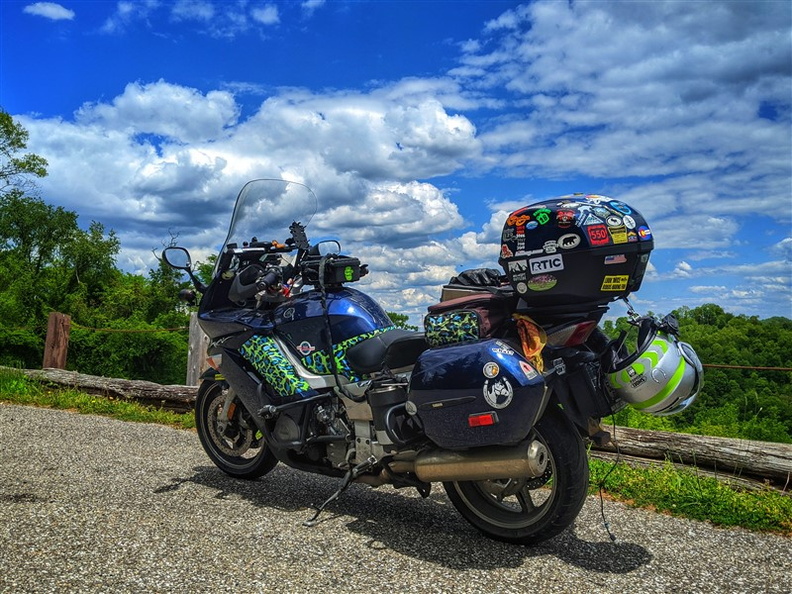 Stopped by Rinard Covered Bridge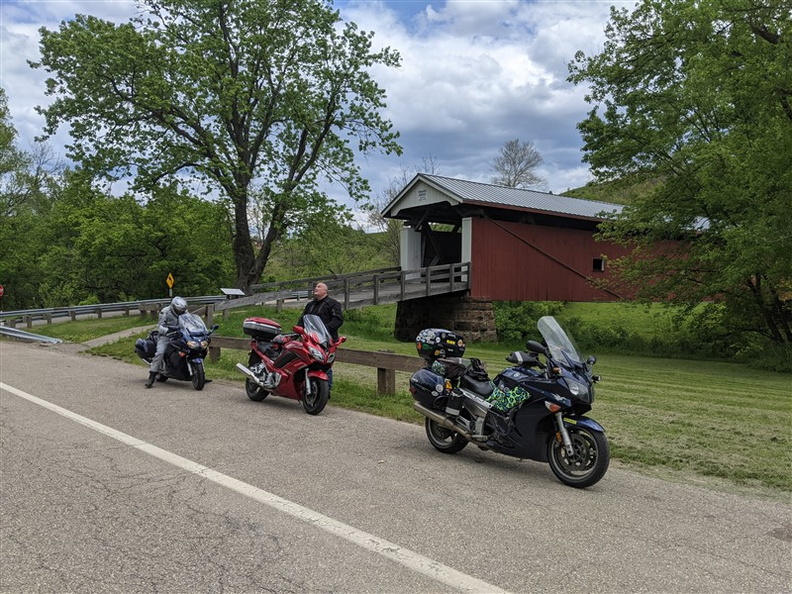 These guys are fun to ride and hang out with!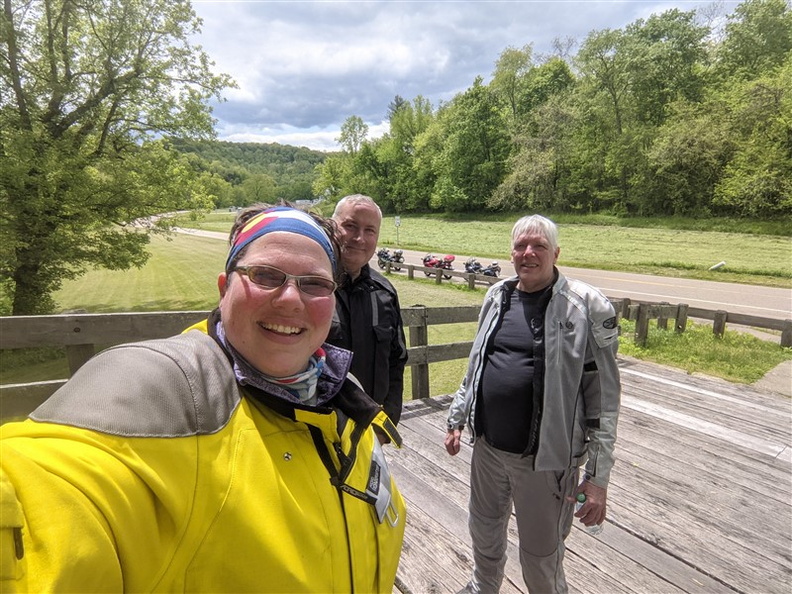 They say there are curvy roads in SEOhio…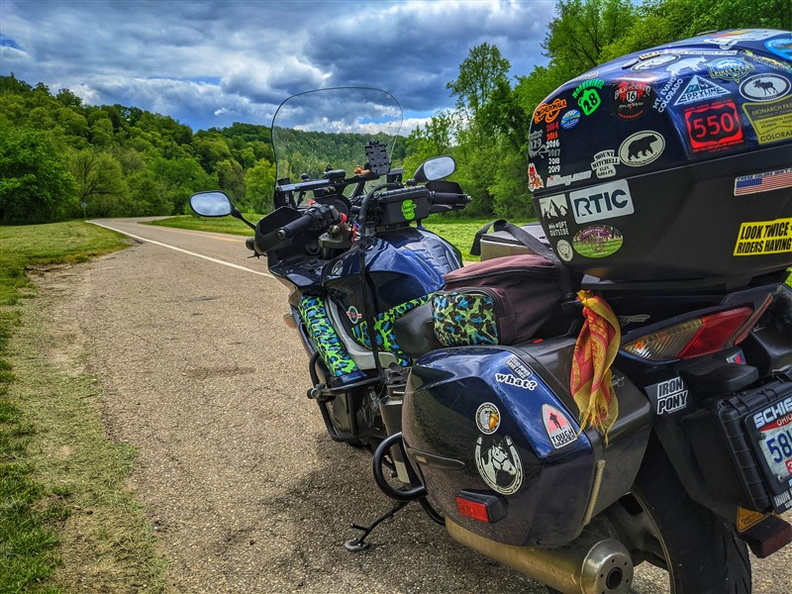 Back at the hotel, gathered up the other banana suit wearers to get a picture for Aerostich.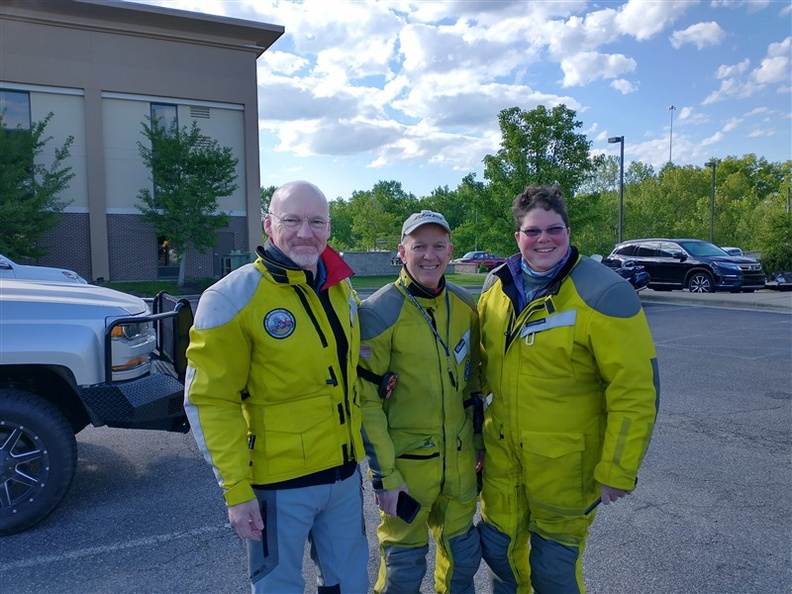 "Sure the bikes are fleet, the scenery is awesome, and the camaraderie is unmatched. But let's face it. It's all about the fashion..."
-Mark, FjrVfr
The next day, and I join up with Brandon to try and find more of those curvy roads they talk about being around here somewhere…
And we found The Big Muskie Bucket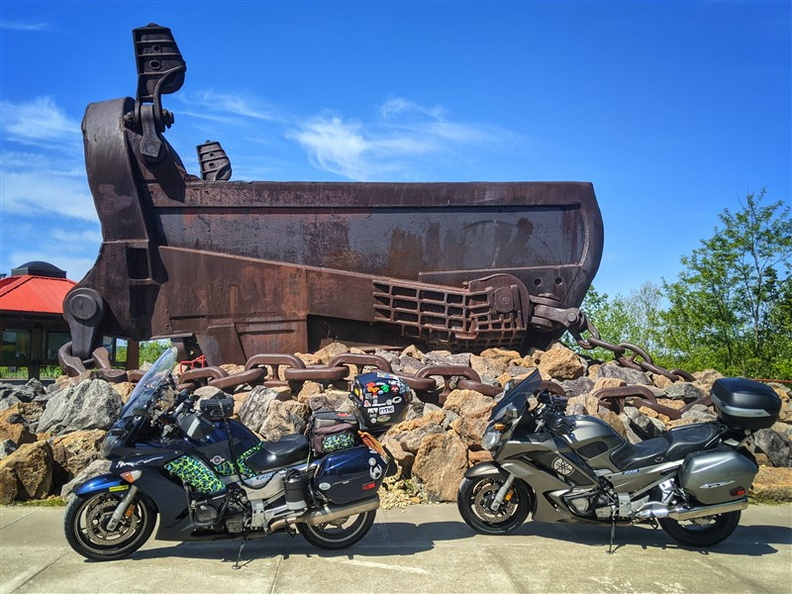 Tried for another Aerostich picture, while there were 3 of us there together.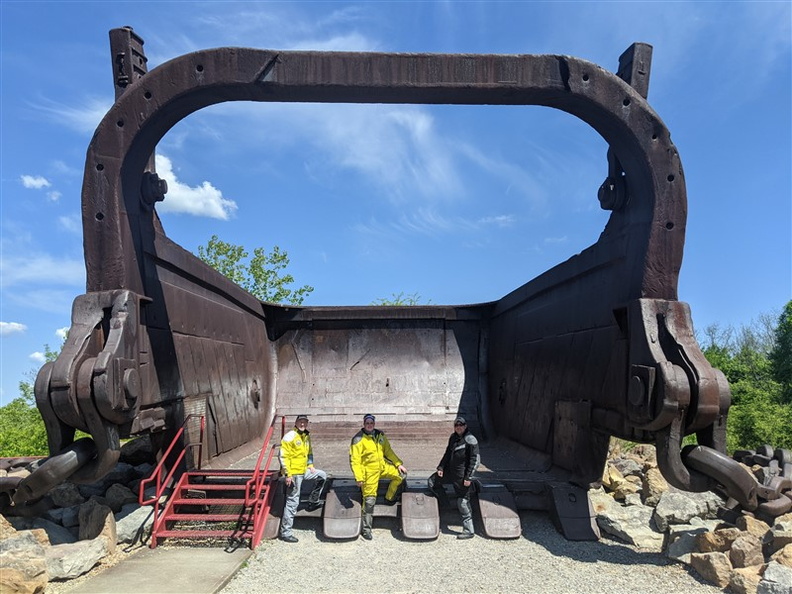 Assume the position!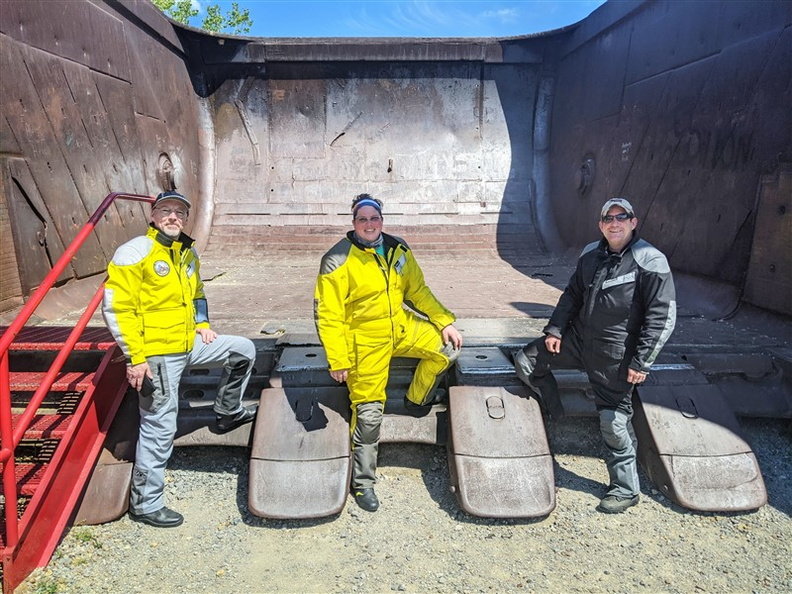 Sunday, and I'm off and headed all the way north to the lake. To Cedar Point! It's opening weekend!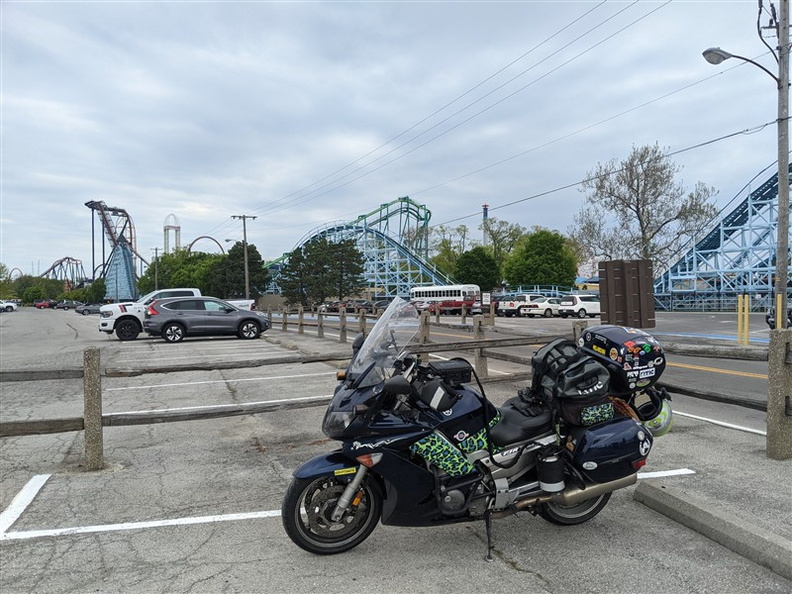 Met up with the rest of the family, to spend the day enjoying the park!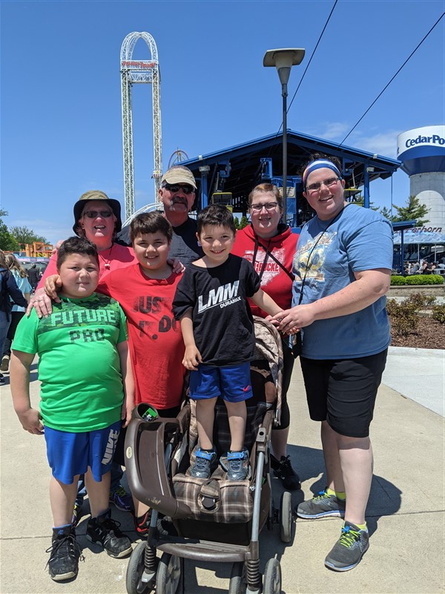 The whole family loves roller coasters!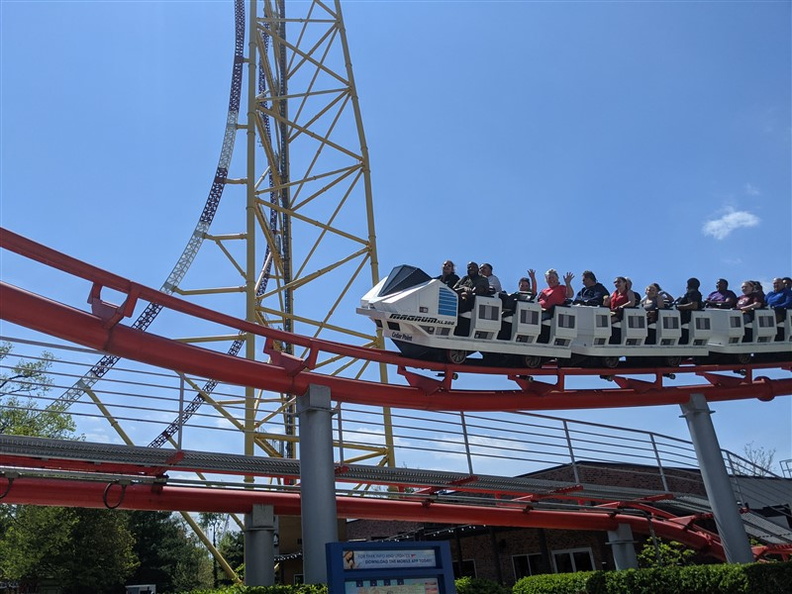 The following weekend, and my sister invites me to go kayaking with her and one of the kids.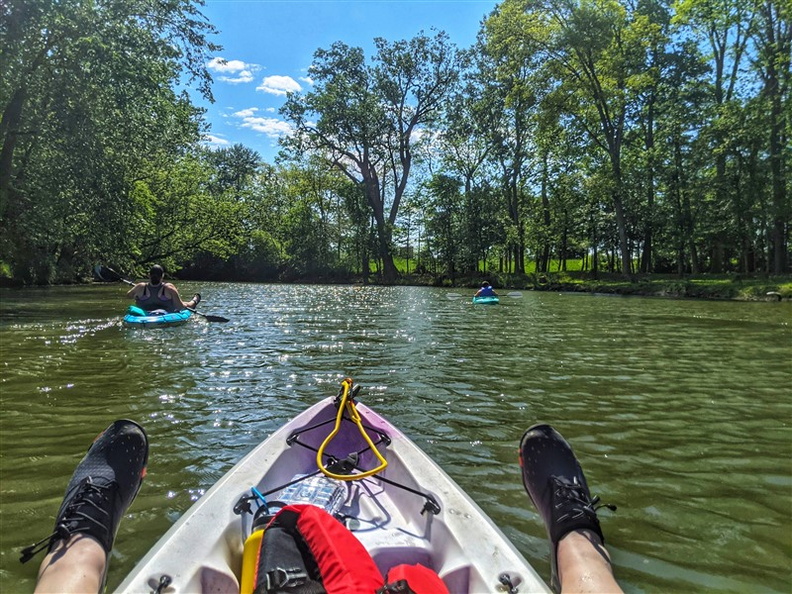 And then jump on the little bikes with the parents in the evening for the downtown cruise…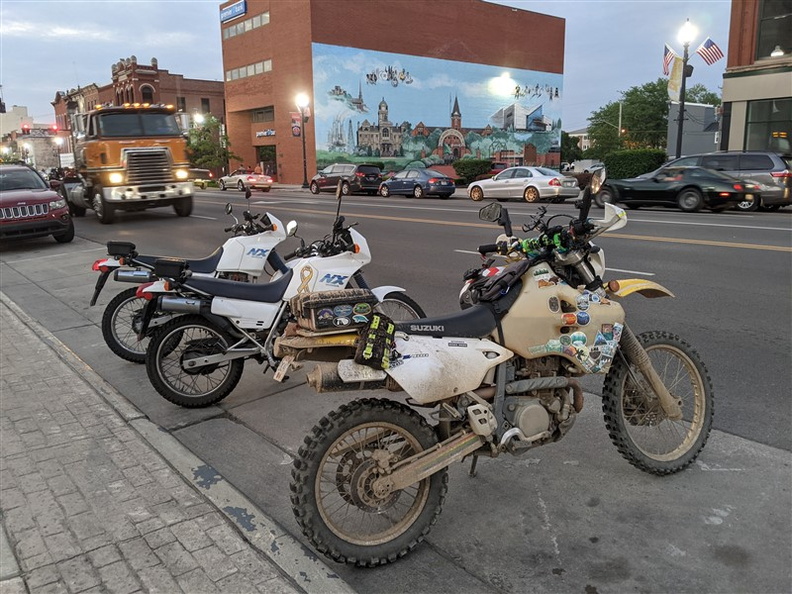 Did some more working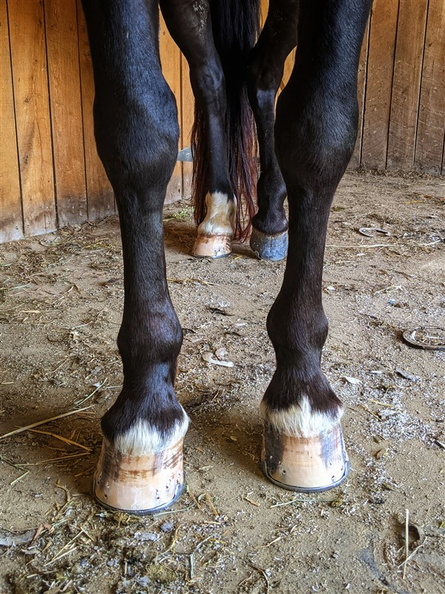 And after trimming these donkeys, we got to play with them!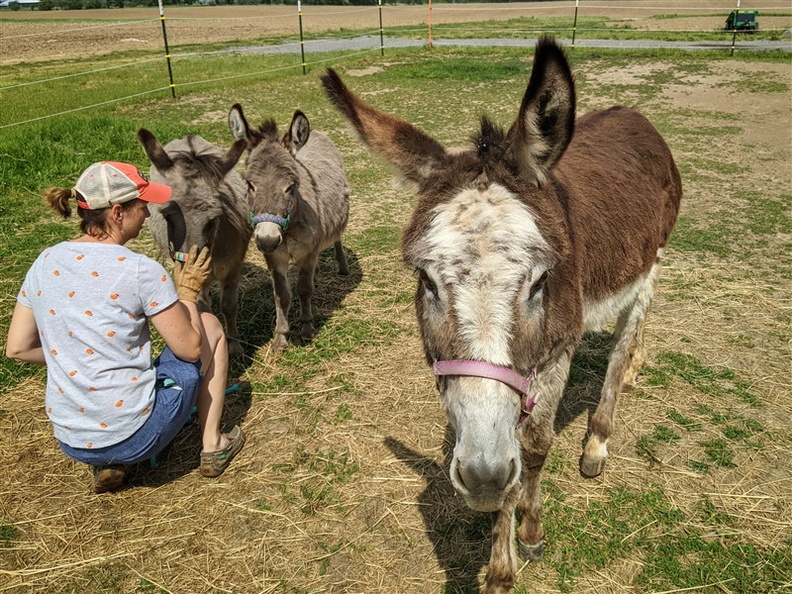 June
comes in with some warm days, so the parents, sister, the boys, and I head off the Cedar Point's water park to play in the sun and water all day! Got a bit of a sunburn…. Oops.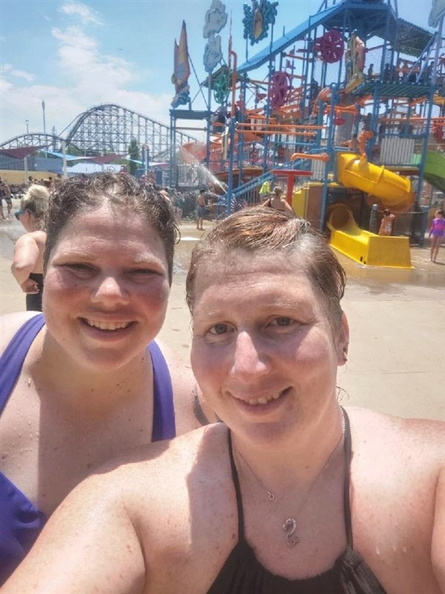 Working some more, and visiting with the roaming long ear on this farm while waiting on the next client to show up.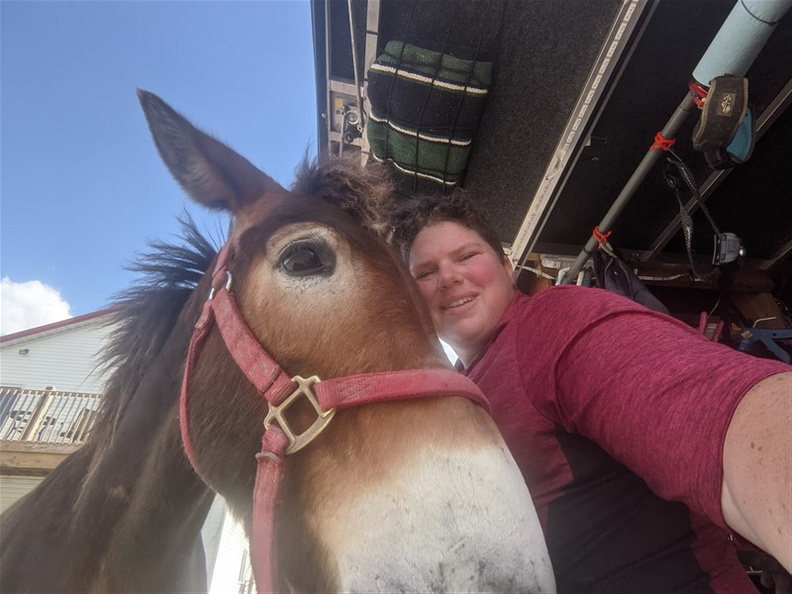 Then on Tuesday June 15th, my dad and I take the day off, and take our bikes to Wayne NF to ride!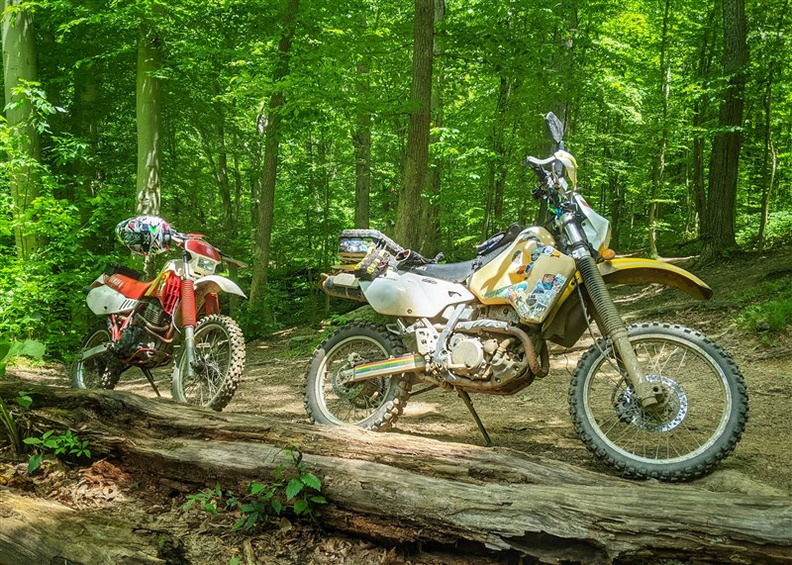 It's my birthday, my dad's anniversary, and his birthday is the next day. We decided we wanted to celebrate by riding!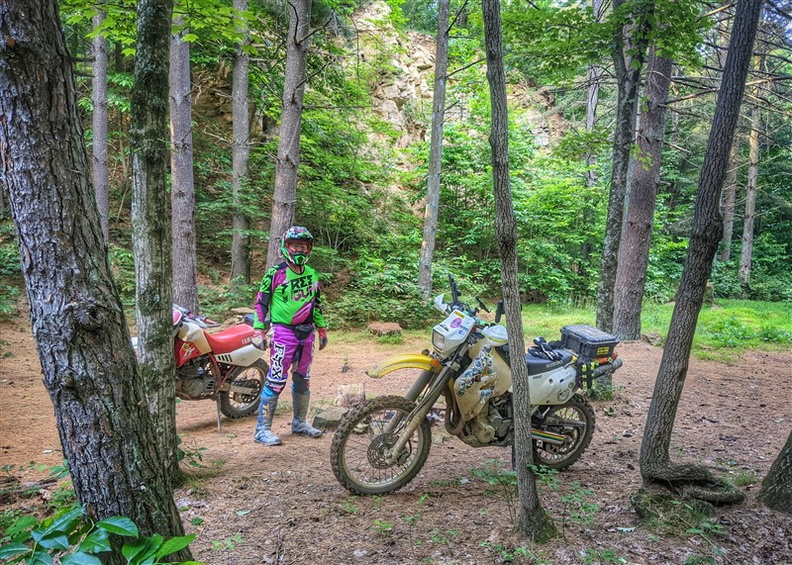 It was a blast riding with my dad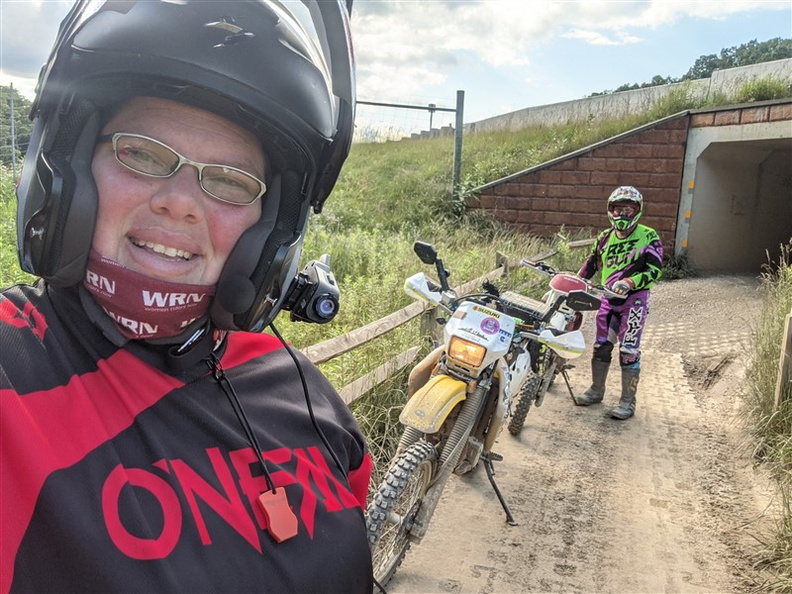 And I am loving this bike, and loving trail riding!
The following week, and it's the beginning of fair season for the surrounding counties. So I head over and watch my clients run their horses in the 4-H speed events.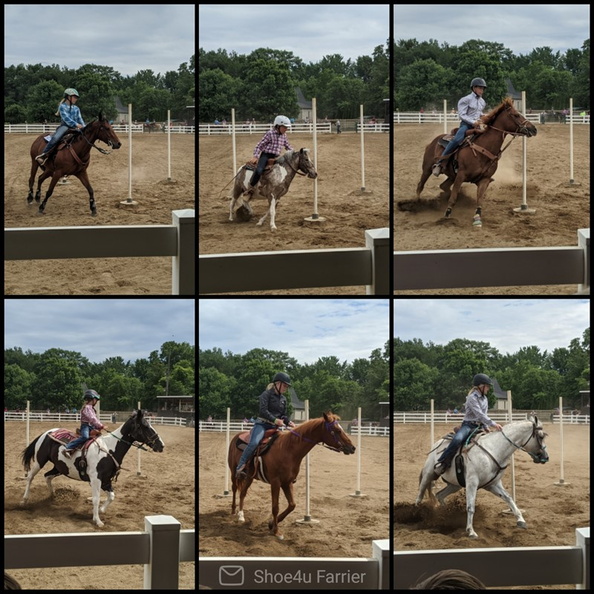 June finishes off with a beautiful sunset and some pretty flowers outside a client's barn.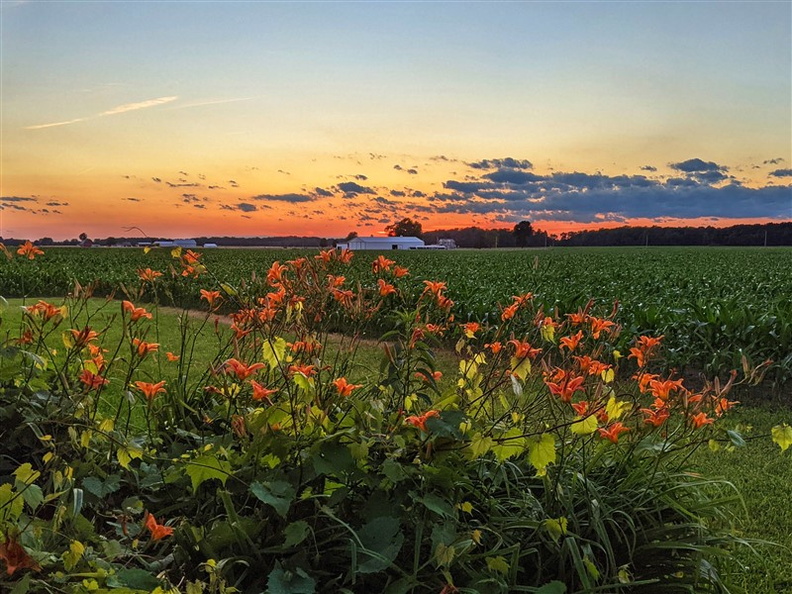 Holiday weekend in
July
comes about, and I'm loading up the DRZ and headed out. Headed to the adv area around Mohican and Amish country in Ohio.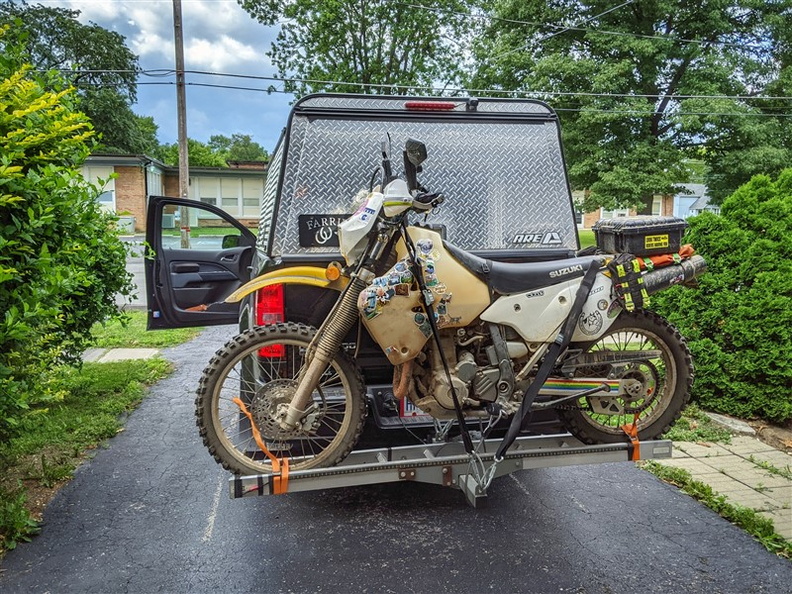 Stayed the night at the friend's house, so that we all could get an early start on the day.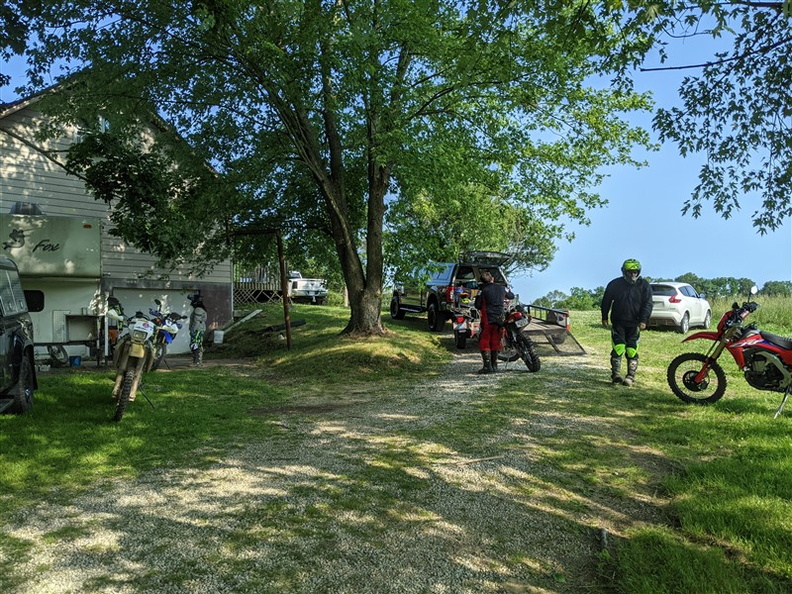 We enjoy riding around the backroads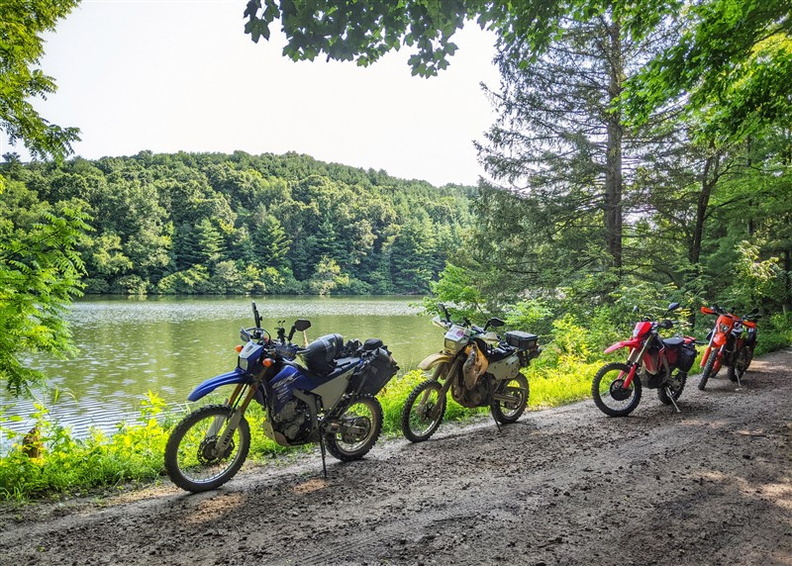 And hitting the "hero" sections of old abandoned roads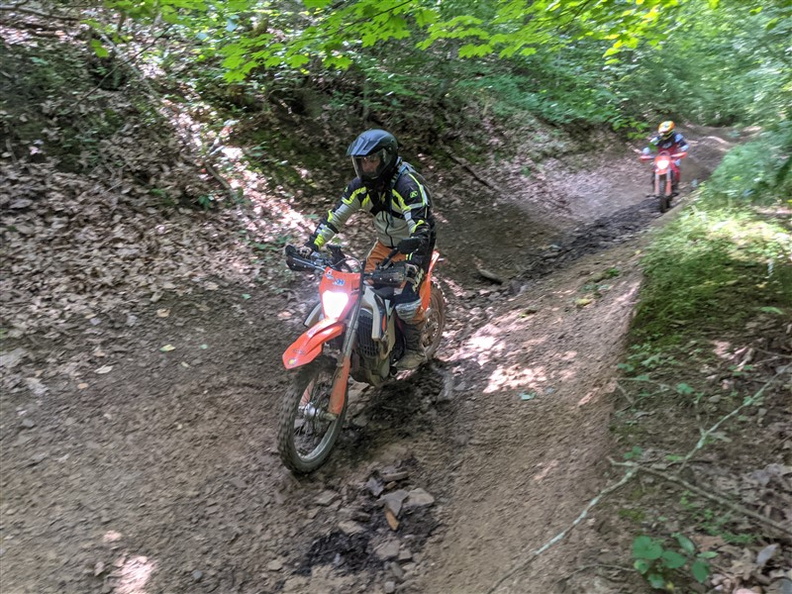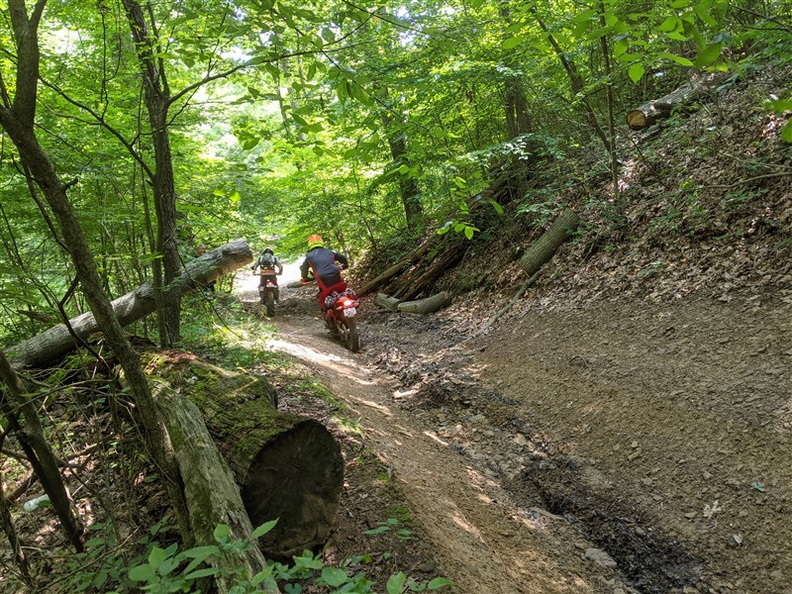 The warm day made this water crossing feel great!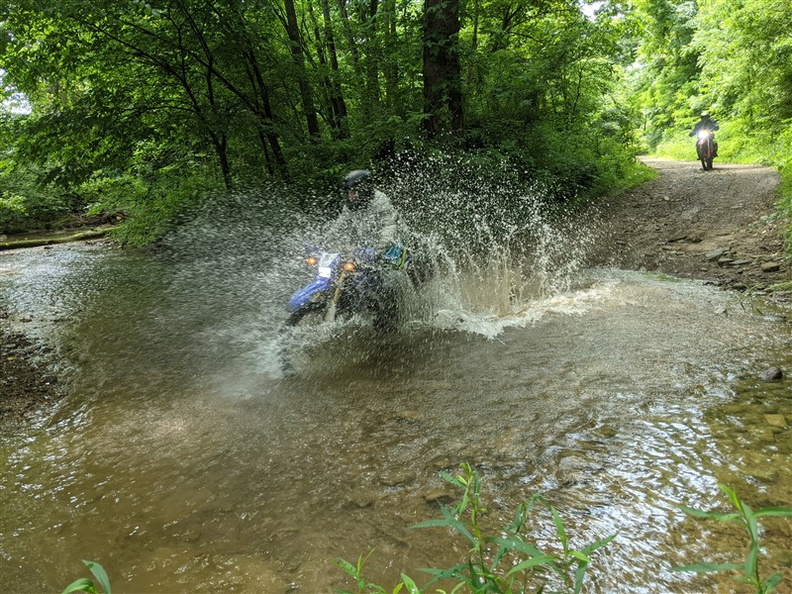 Lunch at a restaurant in Loudonville. 5 bikes to a parking spot, and 5 smelly and sweaty and wet riders coming in. Lol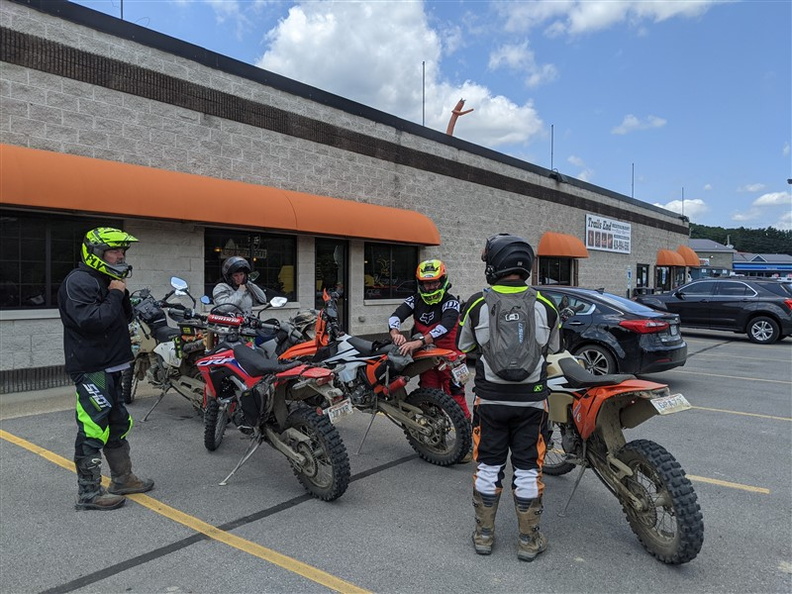 Back out on the roads and having a blast!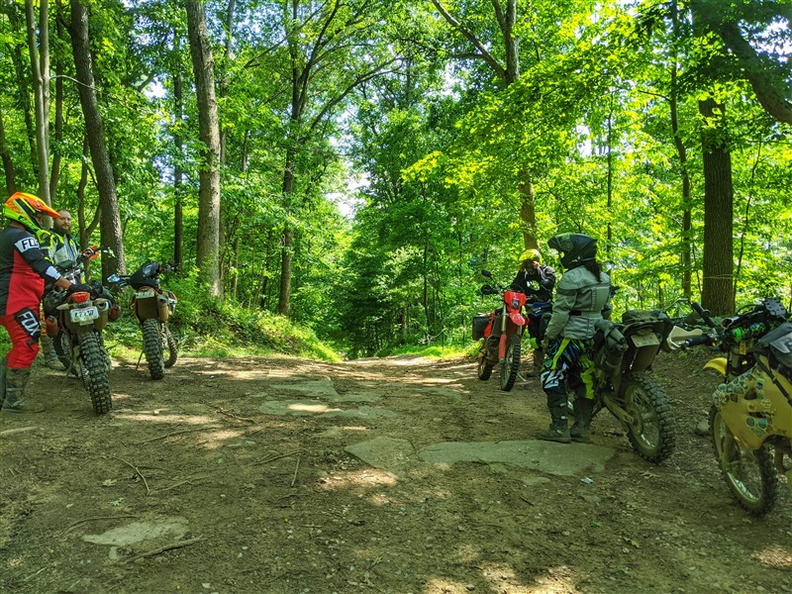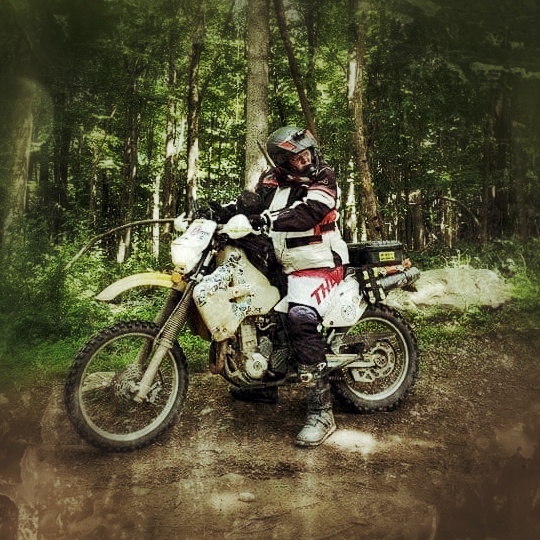 Found a neat tunnel to take some pics.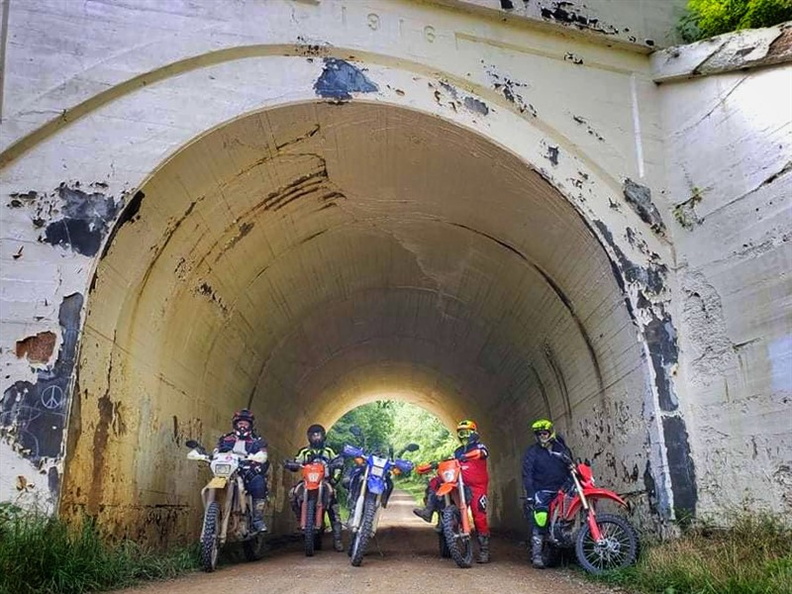 These guys rock. We mesh really good as friends, and riders. So happy to have met them, they have changed my life.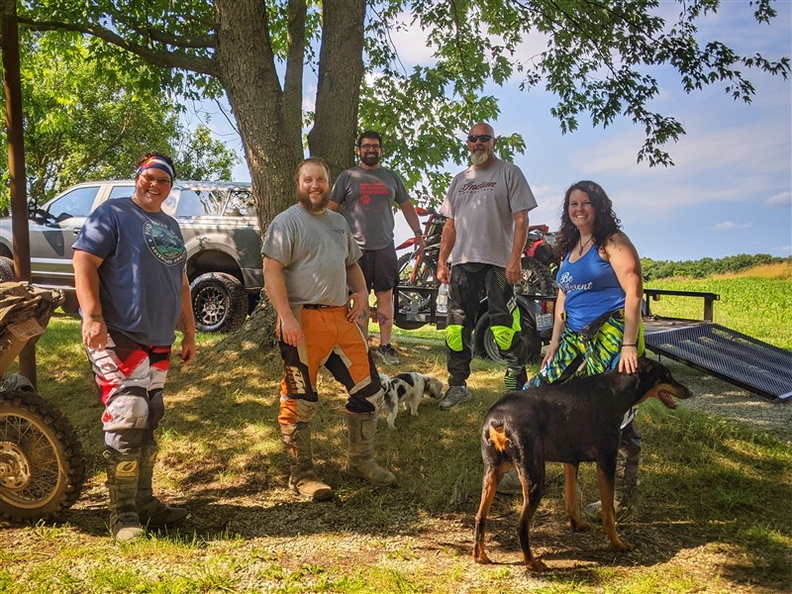 After all that fun, gotta work some more.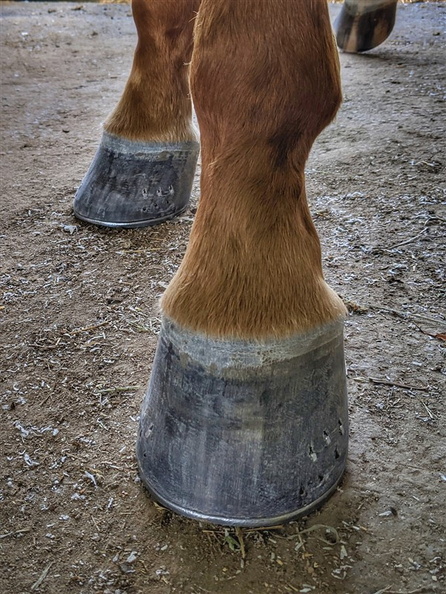 But they say, if you like what you do, then you never work a day in your life.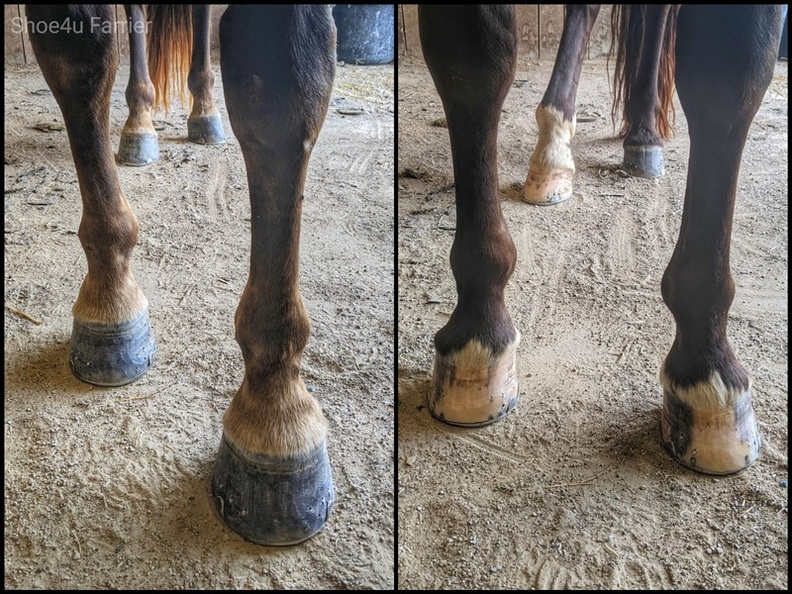 Friday July 16th, and my sister and I decide to brave the weather and take the boys to Cedar Point. We managed to score the VIP package!! Included fast lane passes.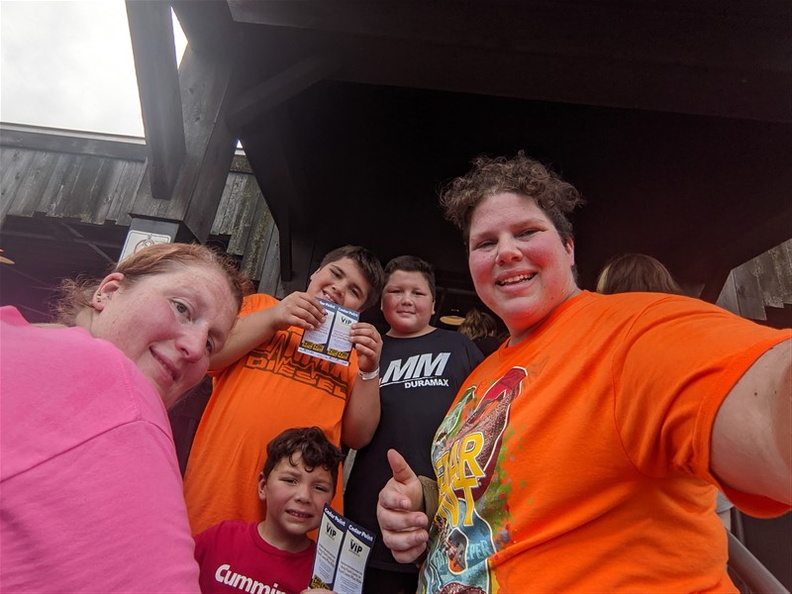 And VIP lounges, where we got to chill and play cornhole RIGHT UNDER the Millennium Force!
And with the forecast of rain, we knew we would probably end up wet for part of the day. But we enjoyed that too!!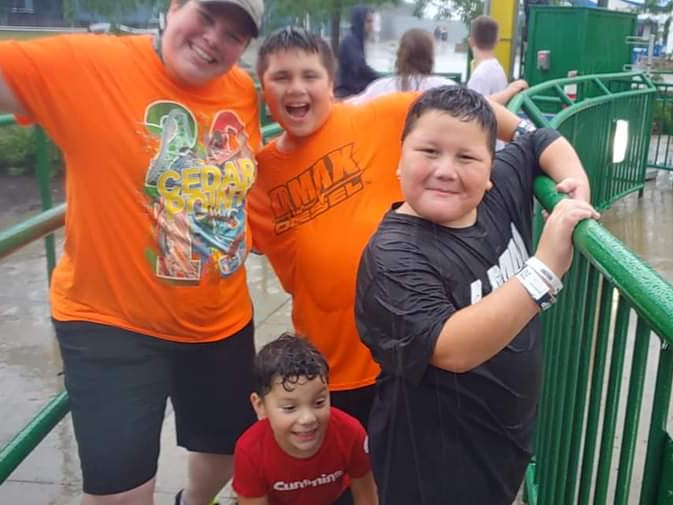 The rain ended just in time to watch the Celebration Show in the front row.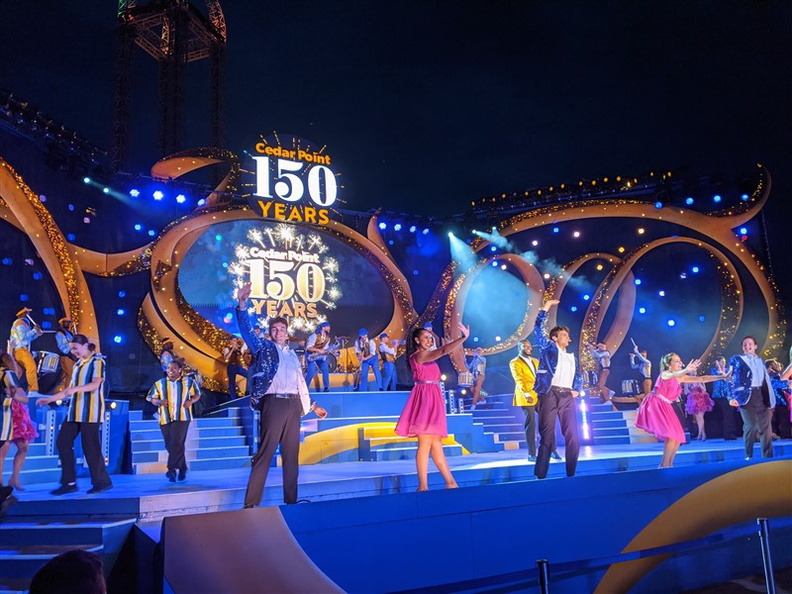 Back to work, and helping more horses at the humane society. These bad cases are either surrendered, or part of a seizure case. Either way, a trim has helped them.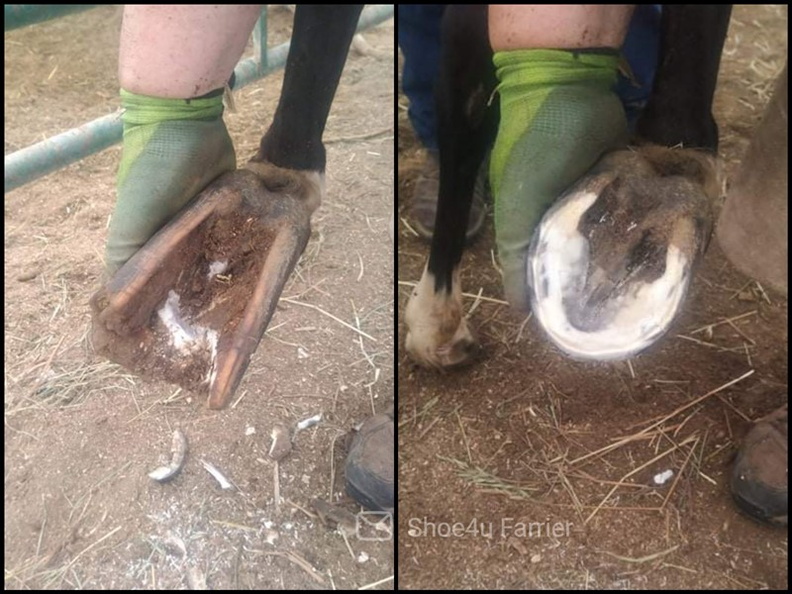 And this horse, here, is a success story from the humane society. He was adopted from there, and has a young girl as a human. And this girl got a toy horse that looks like him. I got to put shoes on him, so they can ride all summer together.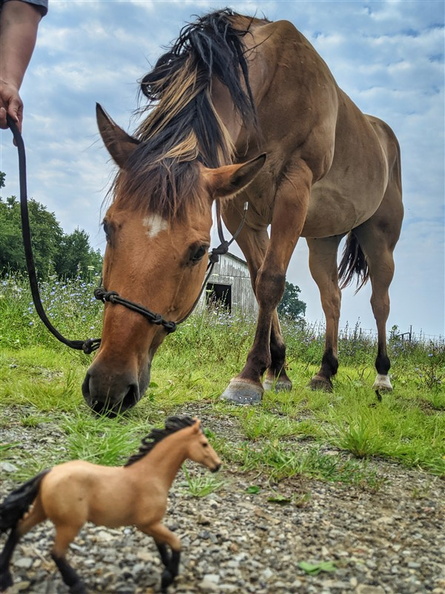 Friday, July 30th, and it's time for the small village of Vanlue to have its' fest. The mayor, who is a friend of mine, was in the parade on a 6-horse hitch of Clydesdales!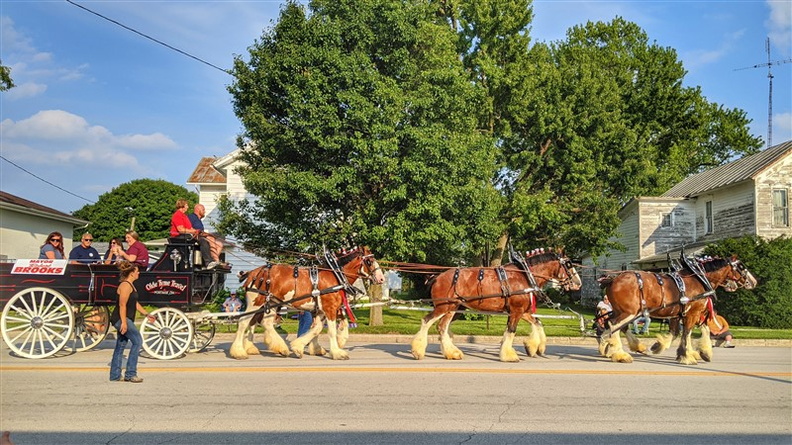 And then on Saturday I was at Wayne NF to trail ride with friends!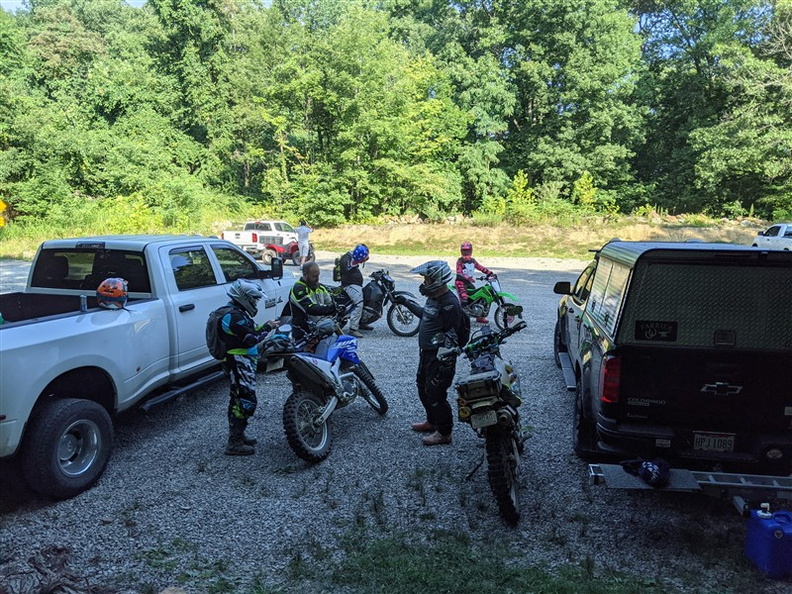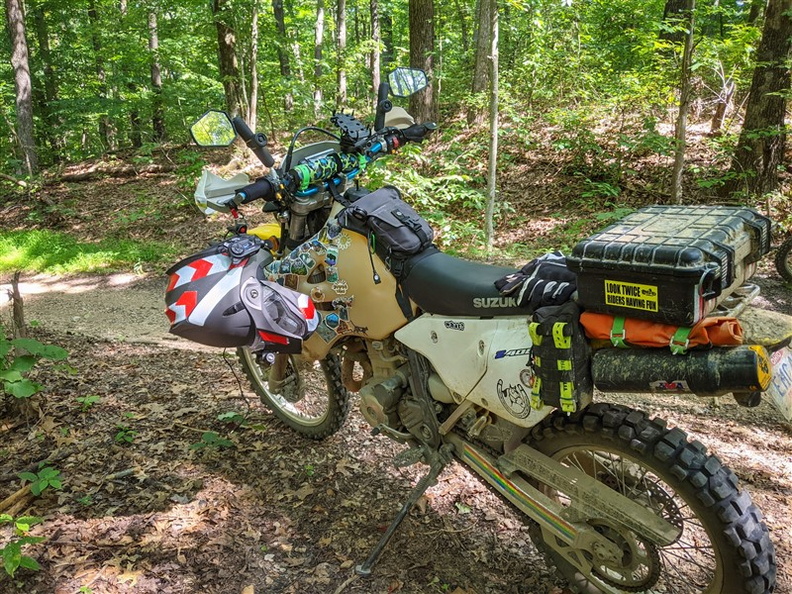 Smiles all around!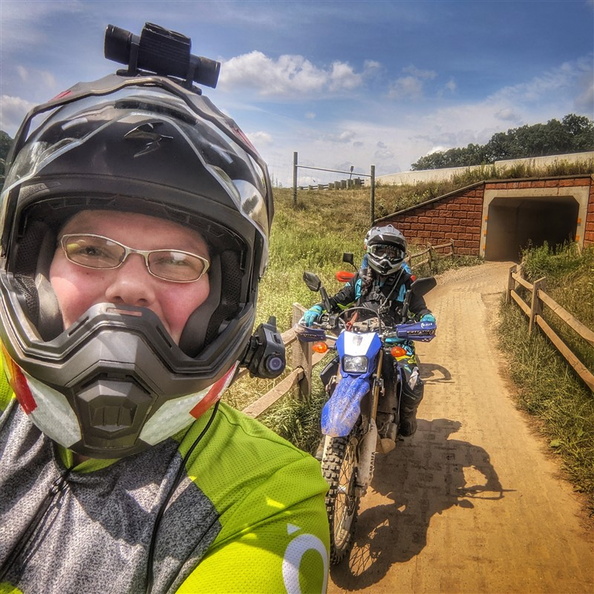 After riding all day, some of us set up camp at the trailhead.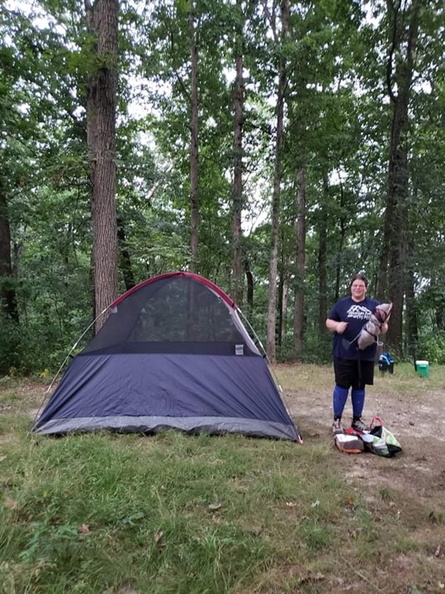 Then some of us rode into town for dinner. While others drove in. (they weren't staying the night)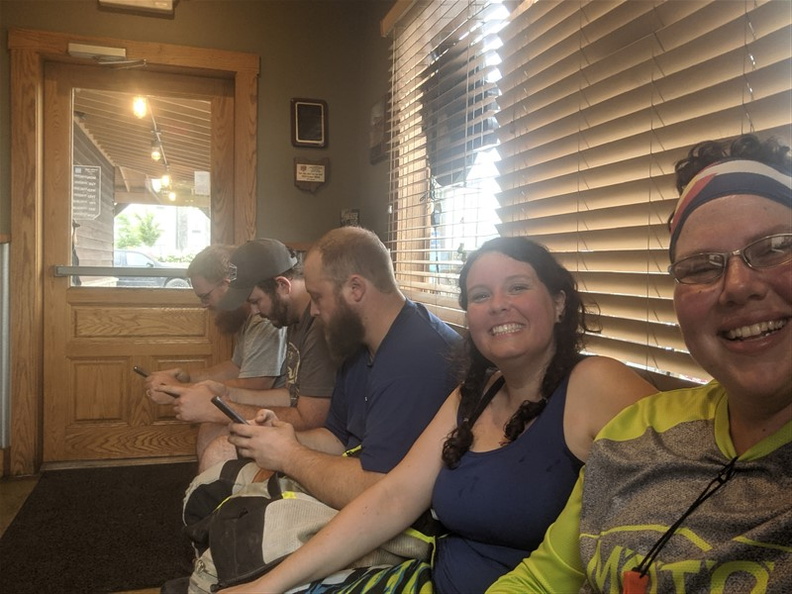 Came back to the trailhead and one of the riders and I went out on the trails for a night ride. It was awesome!
Then it's
August
1st, and we are waking with the sun. Our camp was behind our trucks, tucked up in those trees. It was peaceful.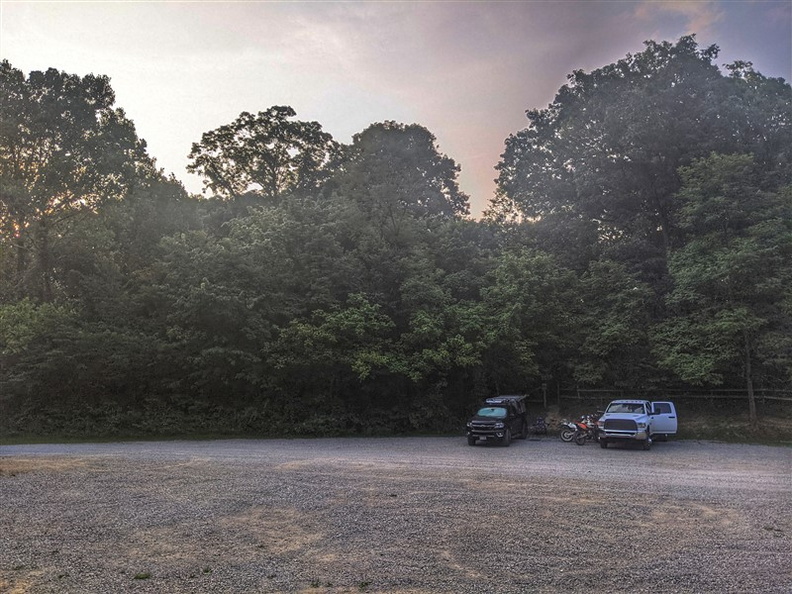 Riding trails makes me happy.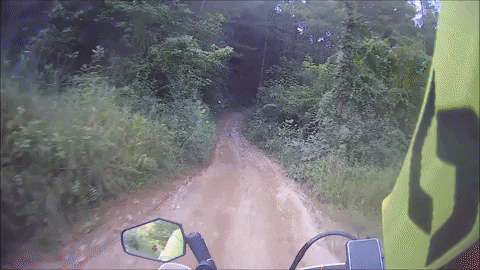 Time for work work work. And hot hot hot.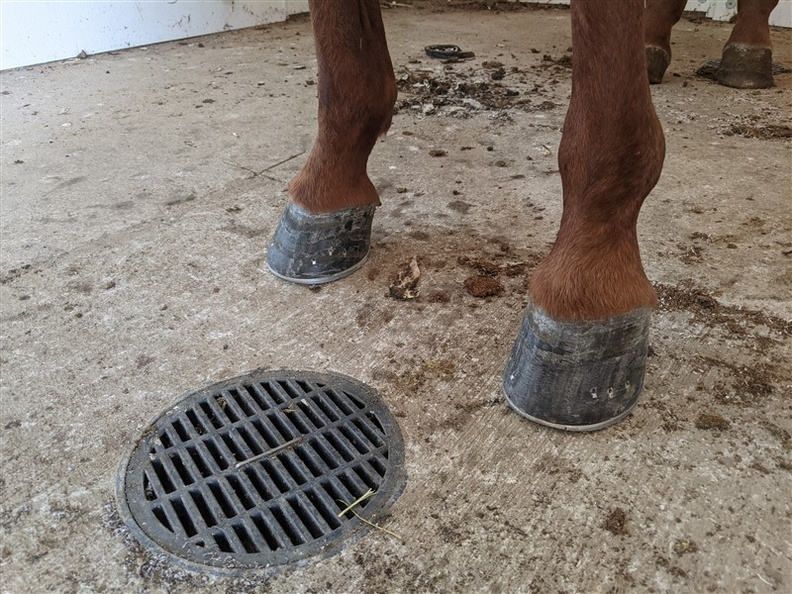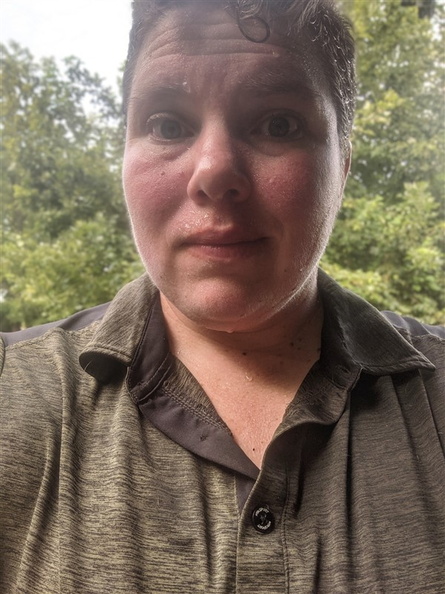 Oh, but wait, by Friday August 13th, I was at Cedar Point again!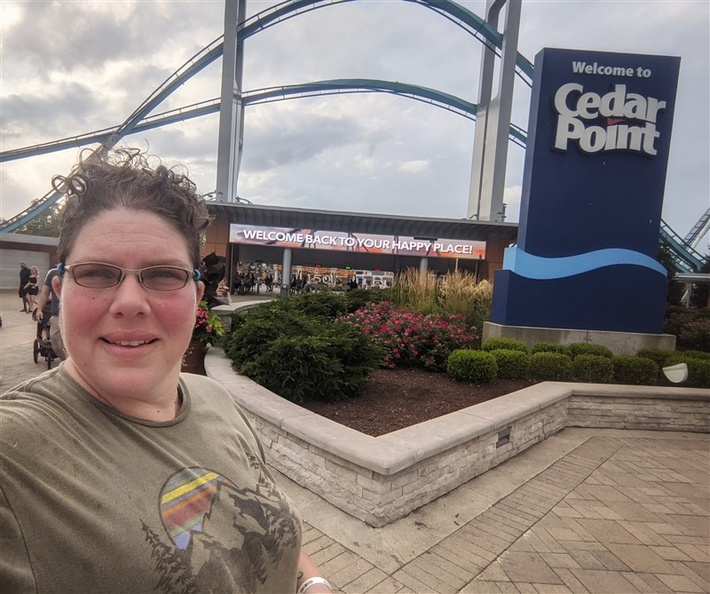 It's another one of my happy places…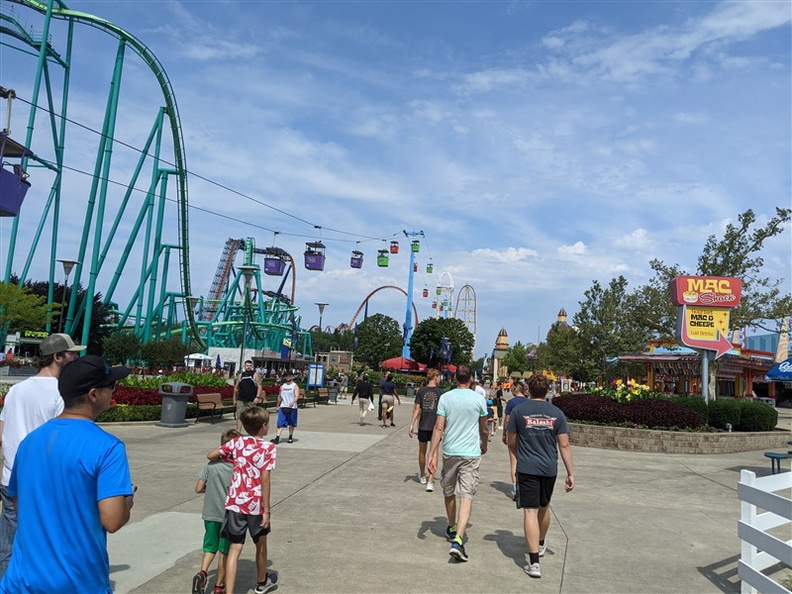 Our family has an engraved brick in the sidewalk at the park! And our family motto.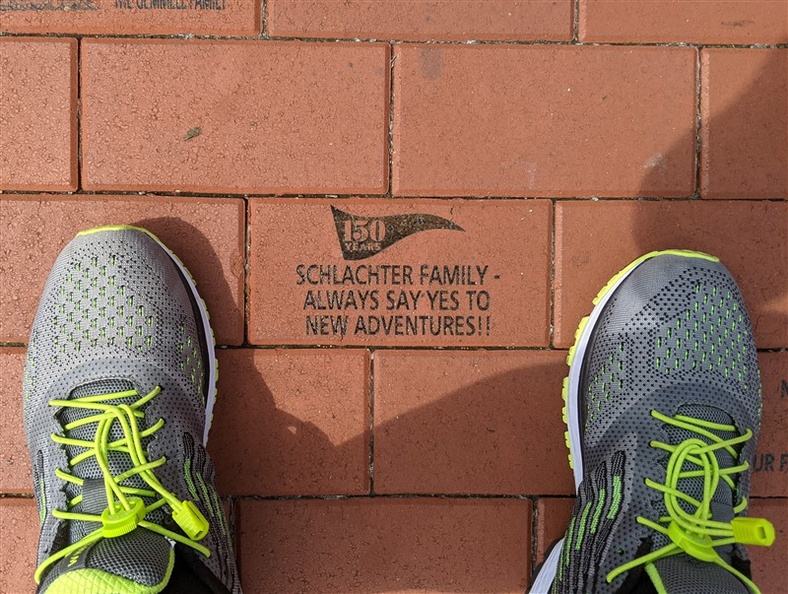 The very next day, I'm back at the park and brought my aunt with me!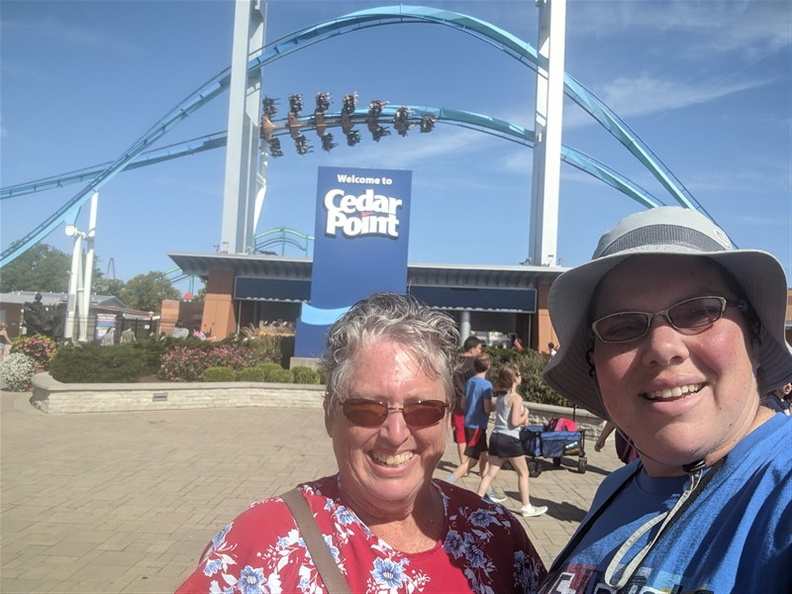 And we run into my parents there!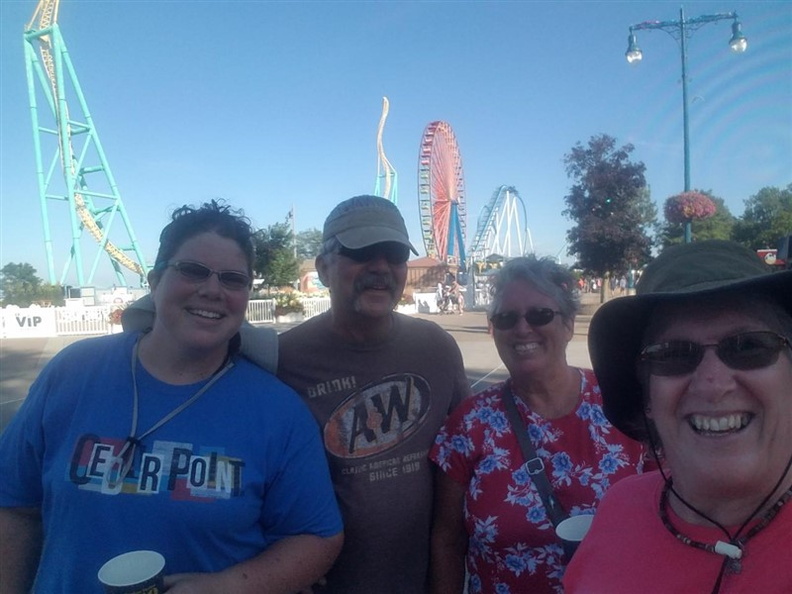 The setting sun and the coasters was pretty.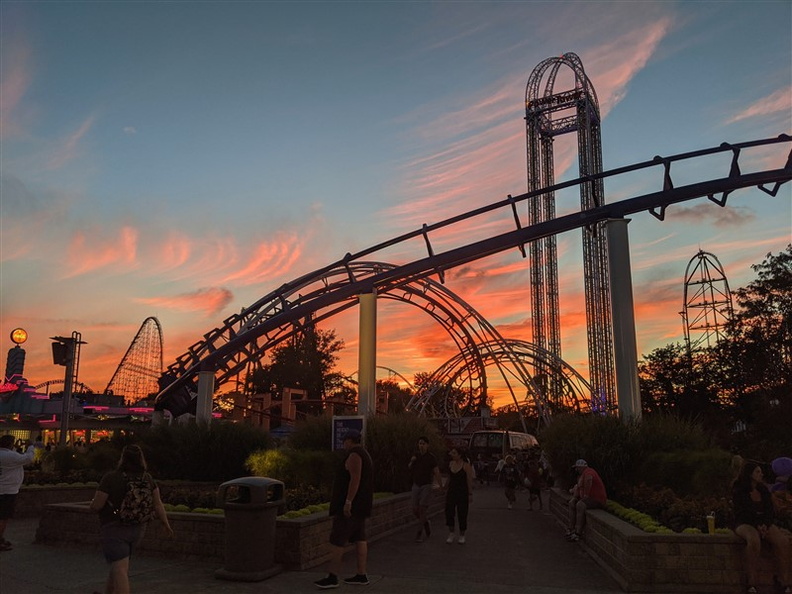 Watched the Celebration Show again. This time a lot busier and from farther away…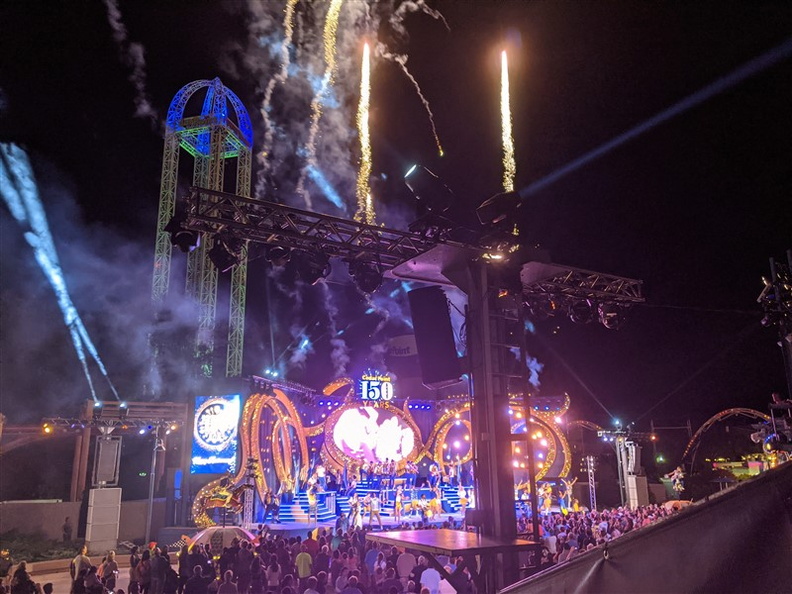 Mid-August is crunch time for getting all my 4-H kids and horses prepped for fair!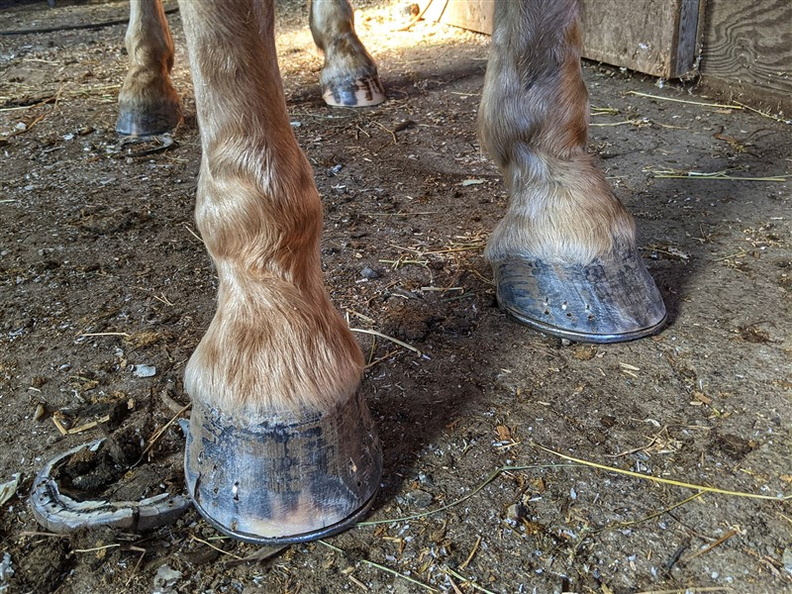 Making sure everyone is polished and shined and ready to go!
Also got the FJR out so it could get prepped and checked over for its' next adventure.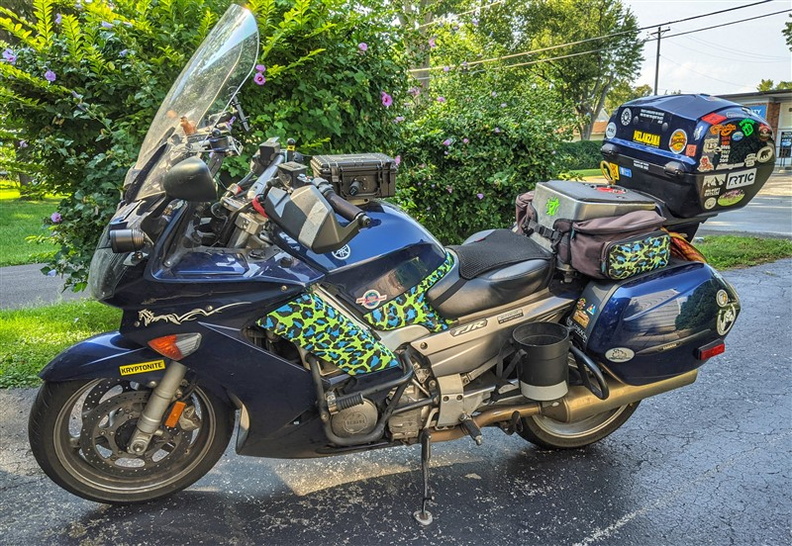 Beginning of
September
, and got to trim this mammoth donkey! Look at those ears!!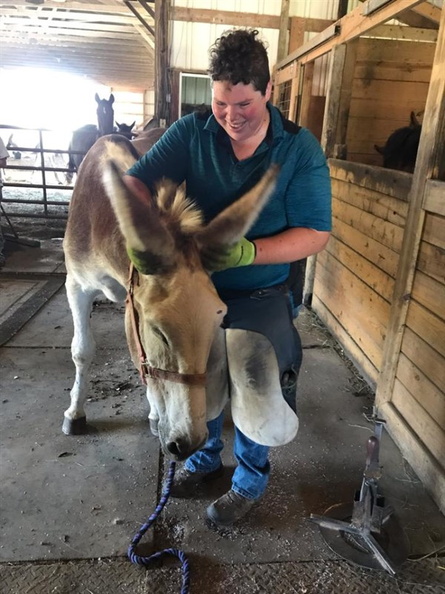 And now it's our fair time! Was there to watch some of my clients ride and show.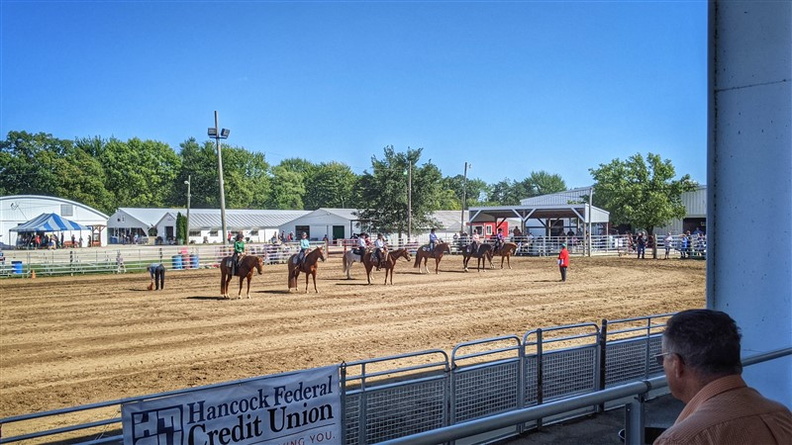 Draft horse pulls on Friday evening. Such a beautiful display of power and teamwork!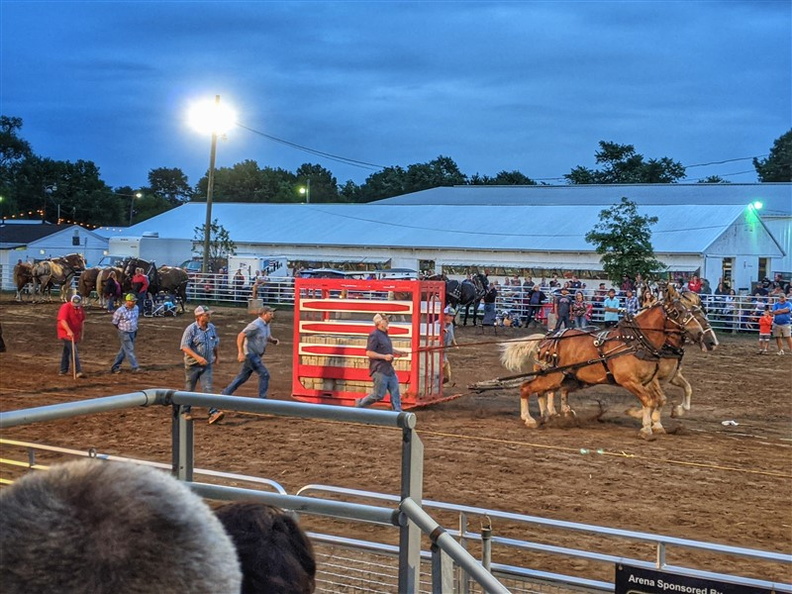 And just look at the size of these horses!
Packing clothes between the trips to the fair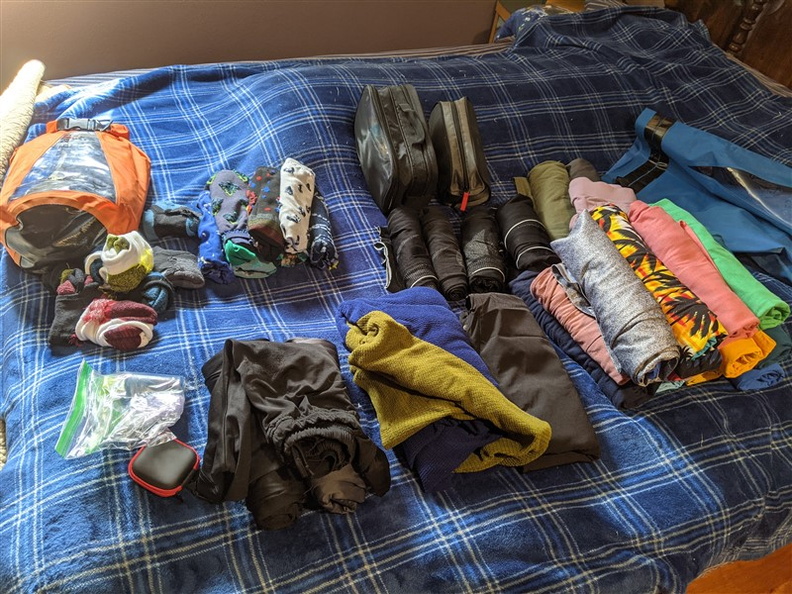 So that on Wednesday 8th, I could head out!
Eastbound and Down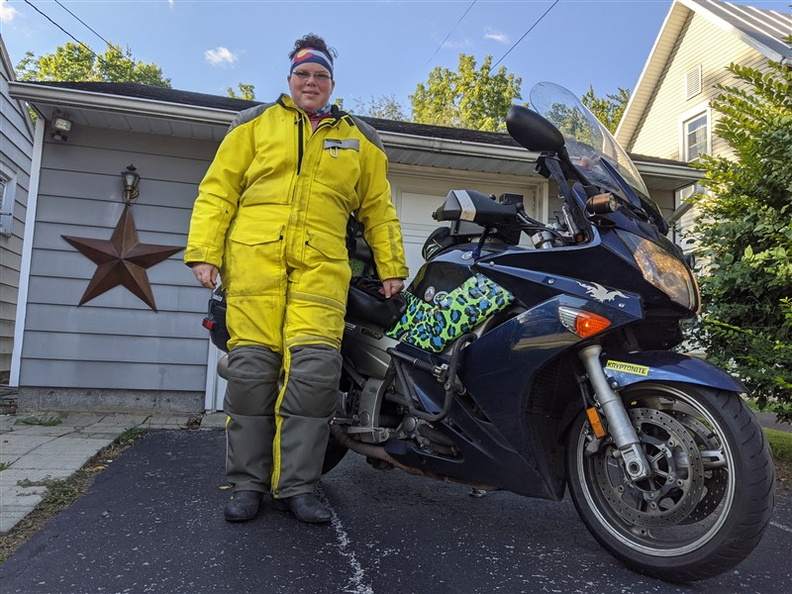 Highlights include things that I didn't take pics of the bike with. Lol.
And visiting friends.
And riding ferries.
And eating delicious food.
And watching the sunrise over the ocean.
And EOM.
Just read that RideReport, okay? But here's a couple pics.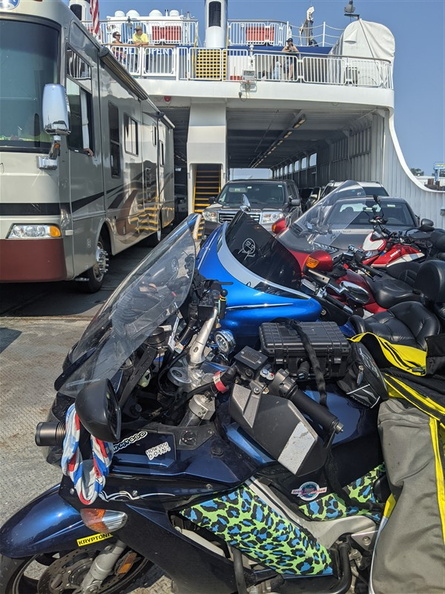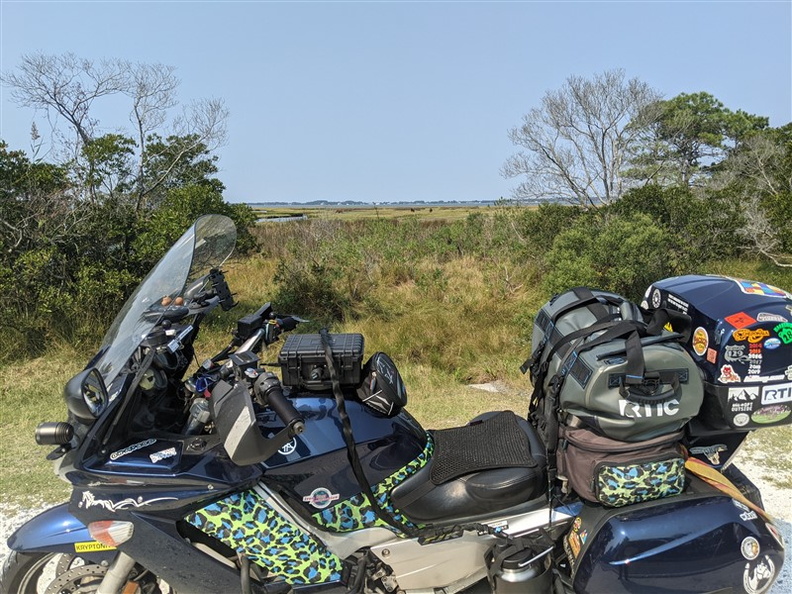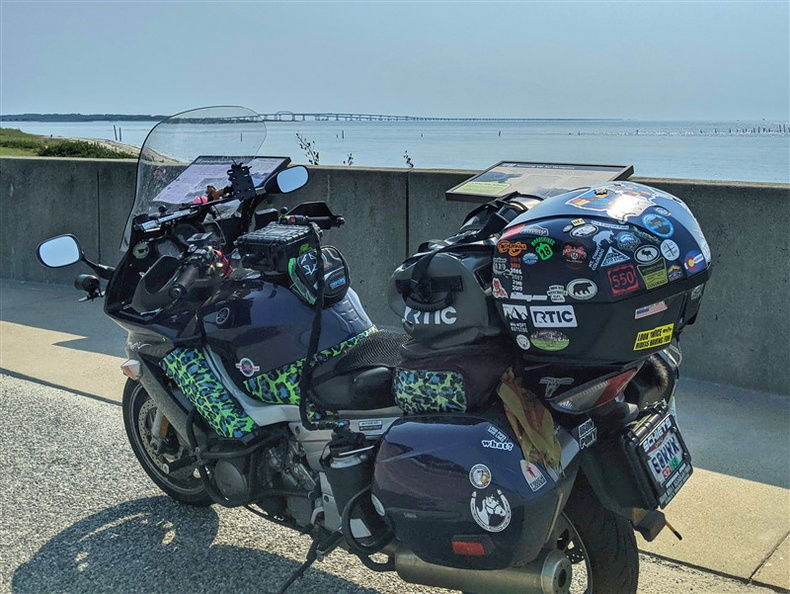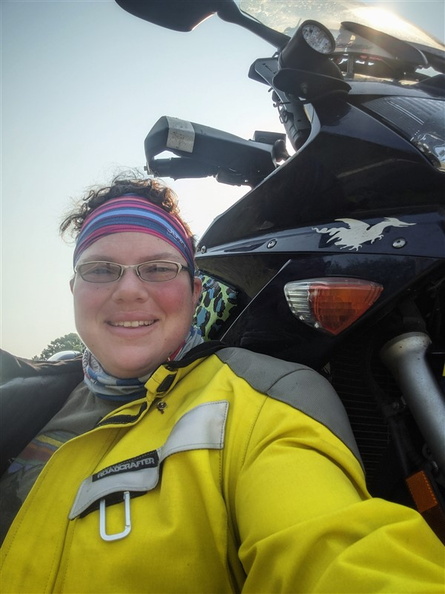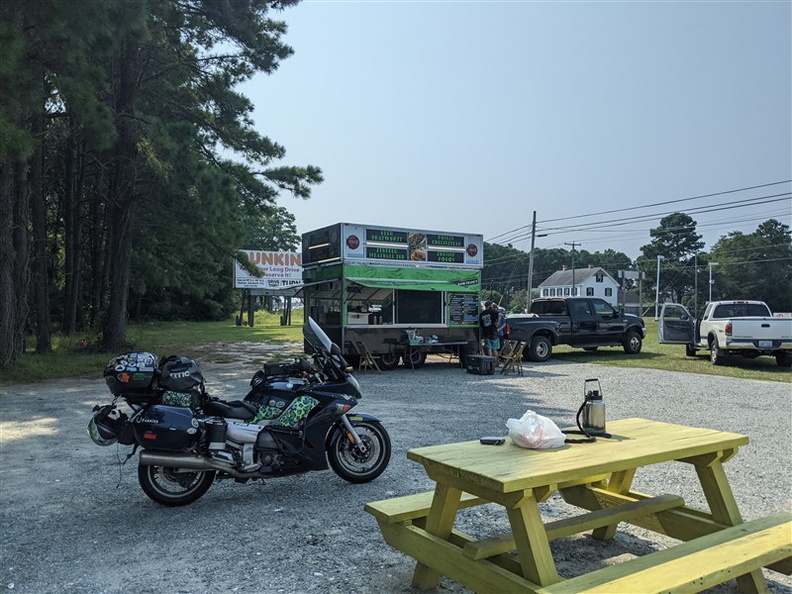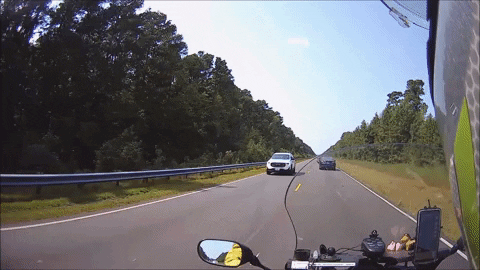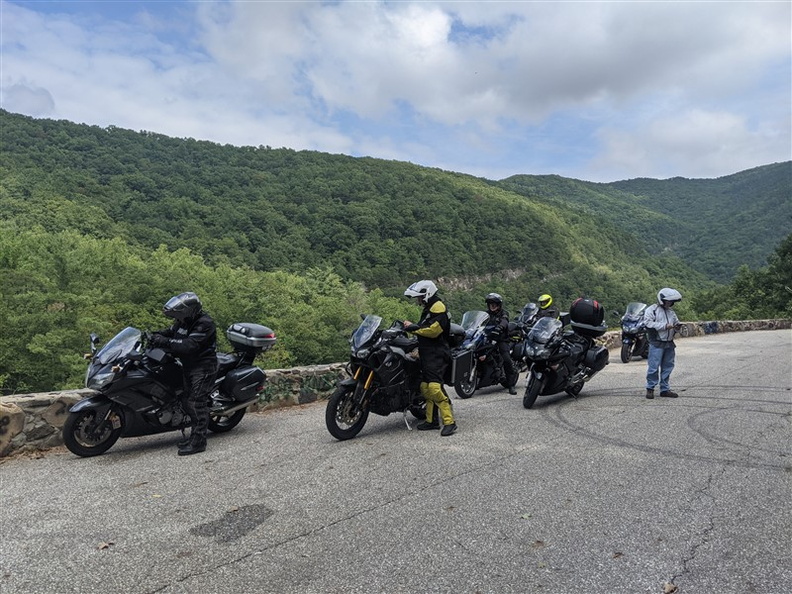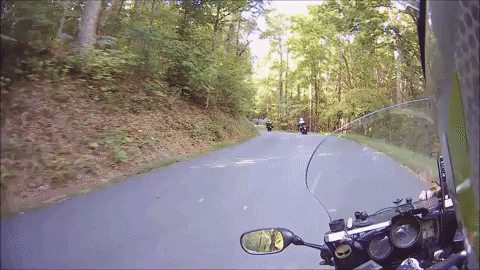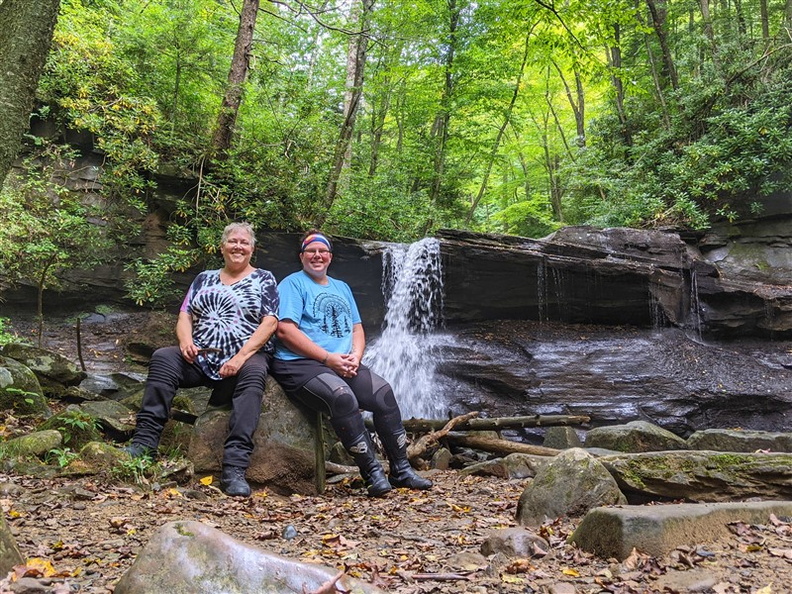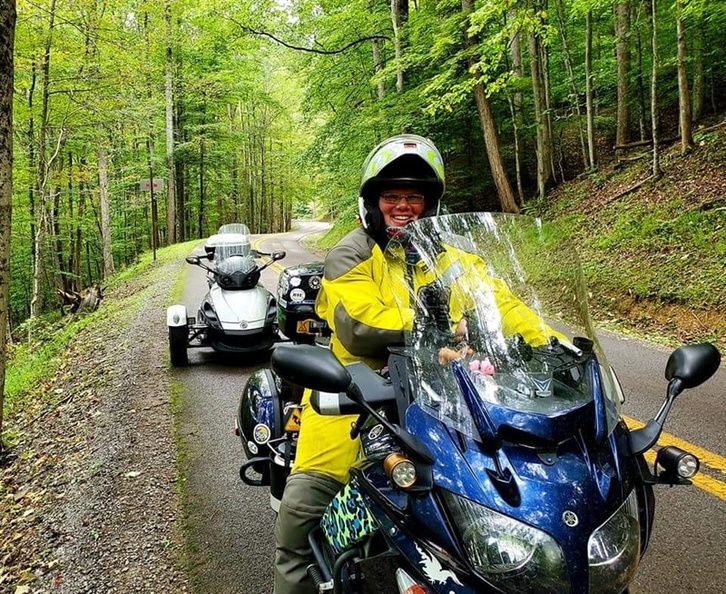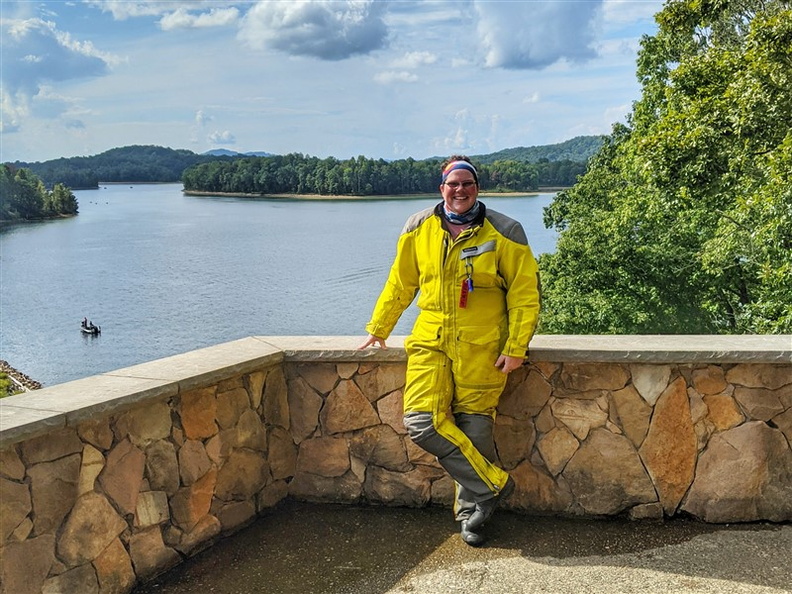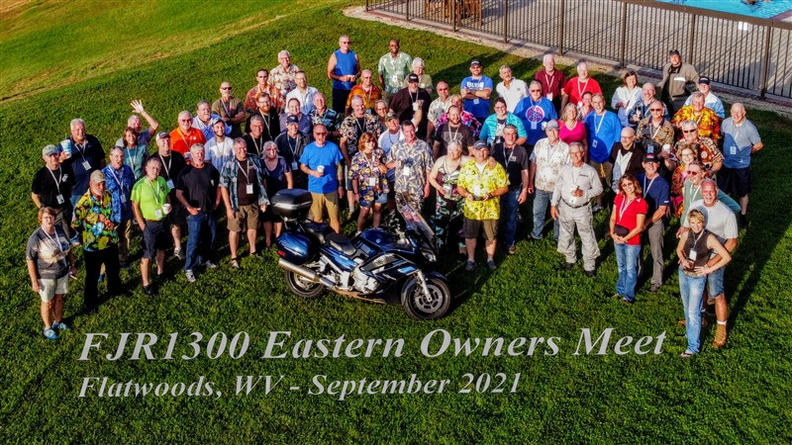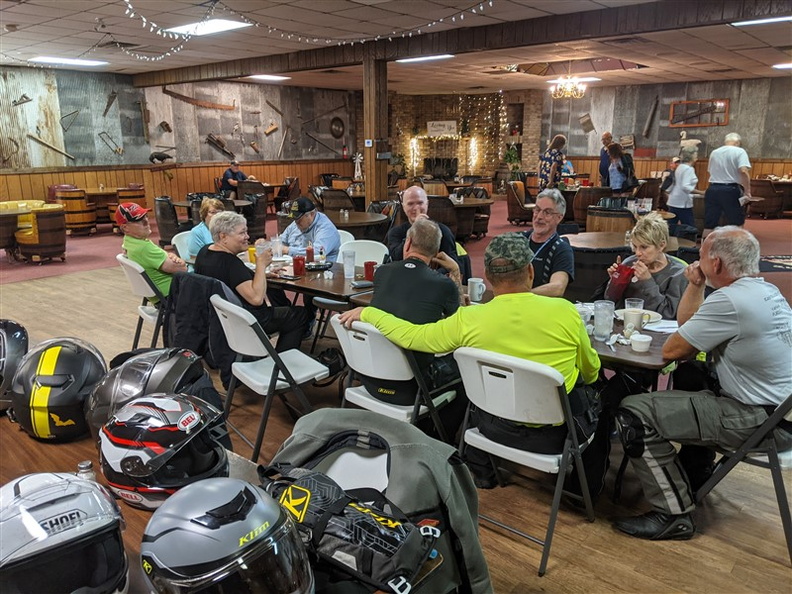 2,480 miles in 12 days. But lots of memories.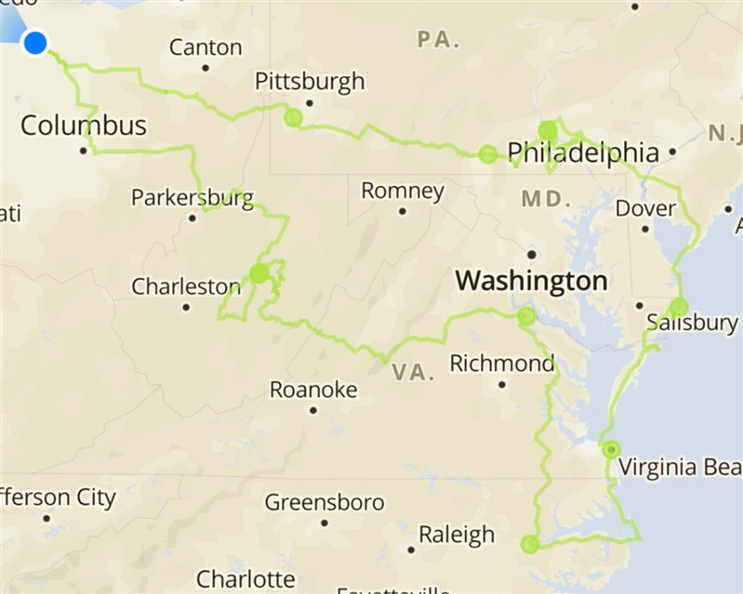 And just like that, it's back to work.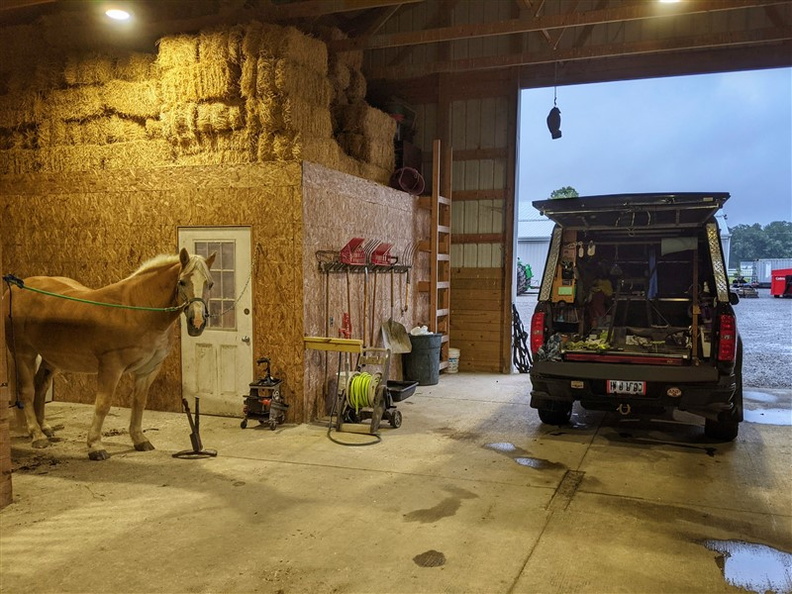 But sunset evenings and old horses teach you to slow down and enjoy the moment.
Friday,
October
1st rolls around and I'm off kayaking with my sister and some friends.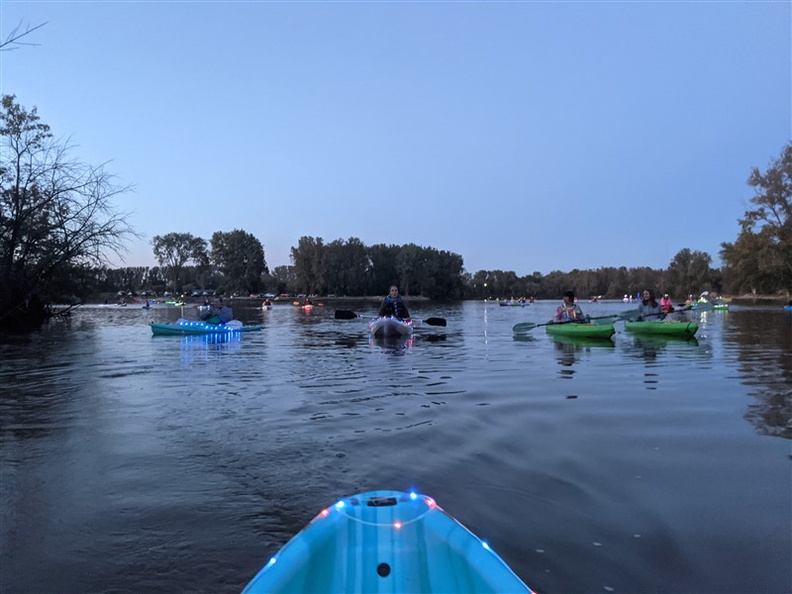 Glow kayaking this time!
From dusk to dark, it was an organized event on the Sandusky River in Fremont Ohio.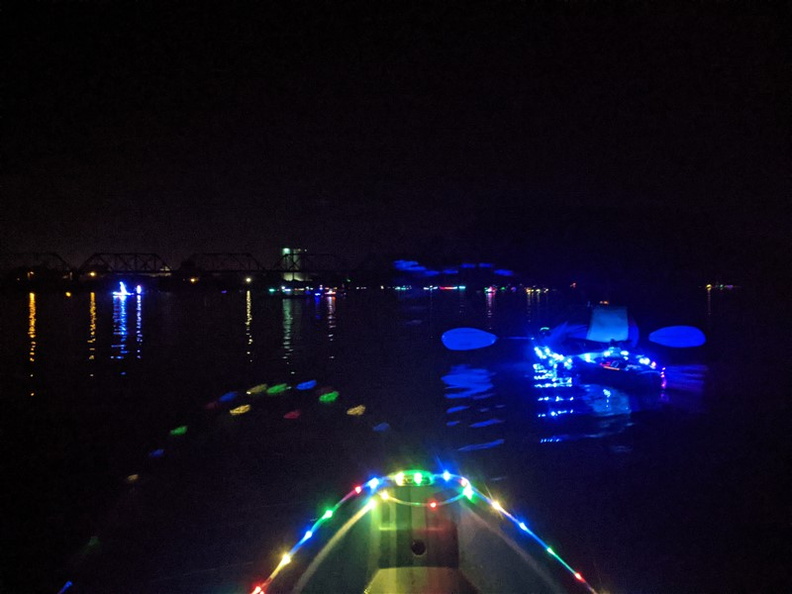 And THEN the following week… I get to have Tyler as a visitor!! And she followed me to a barn for a morning…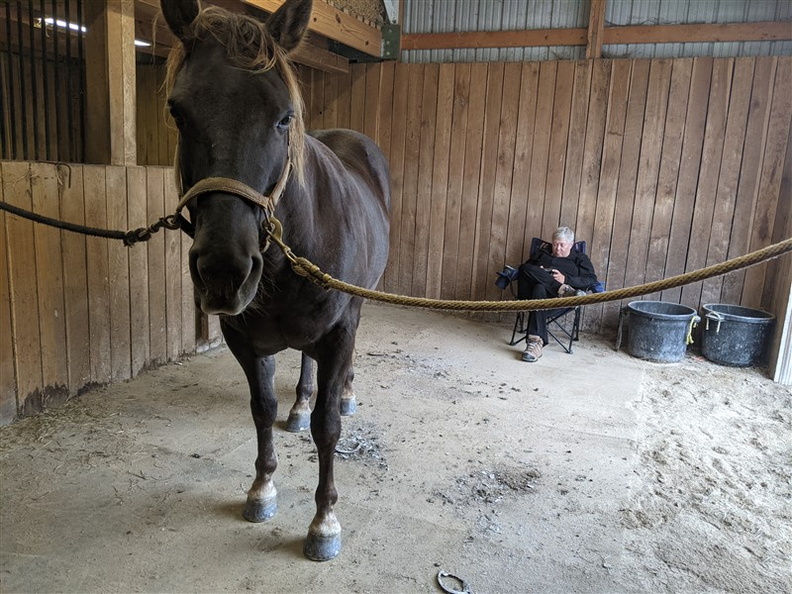 To watch me work.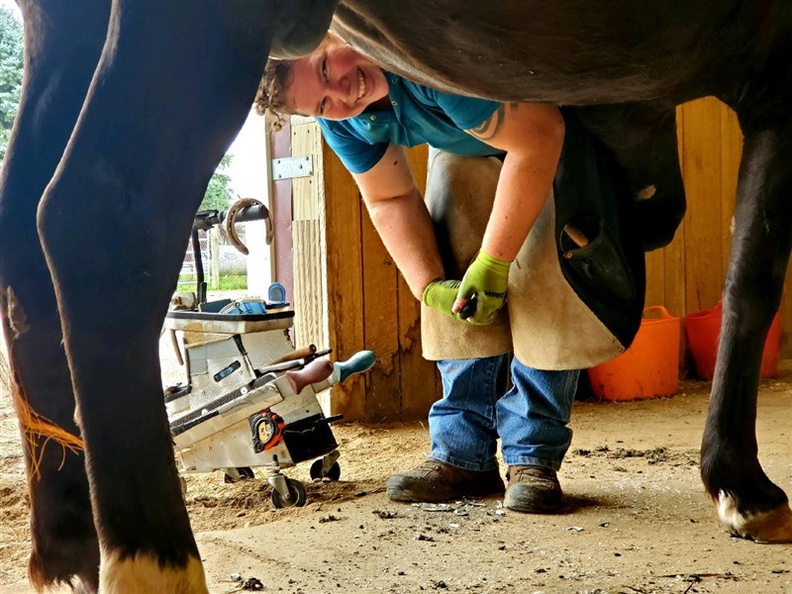 And then we went to the cider mill…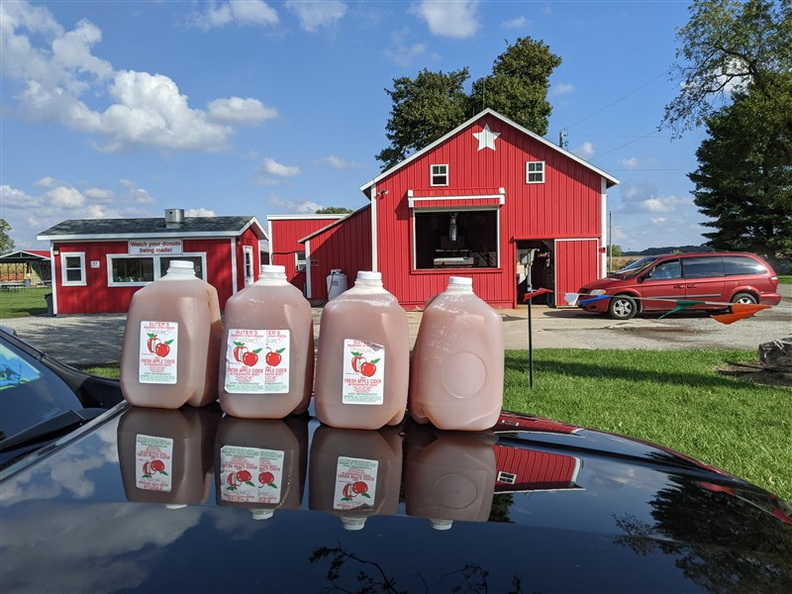 Which also had a corn maze on the property. And Tyler went up the stairs, even though it wasn't open. Lol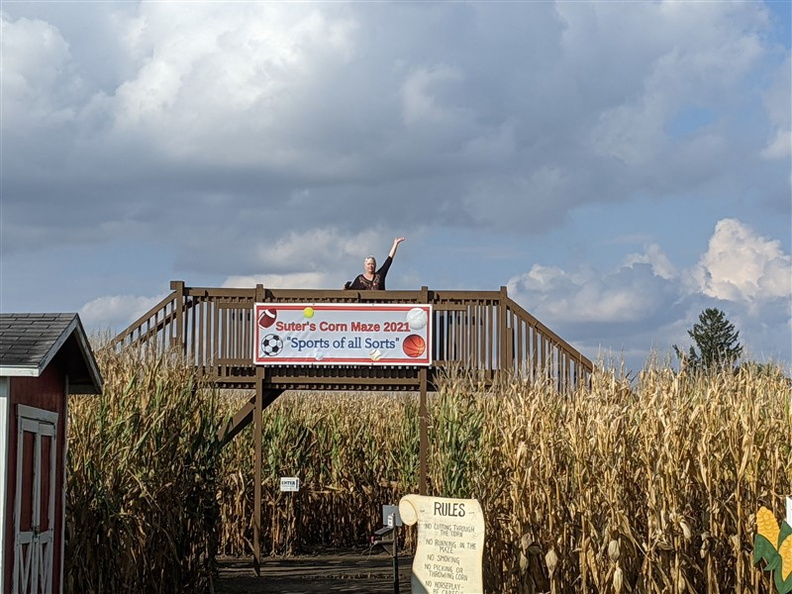 The next day, and we jump on the bikes with my parents in tow!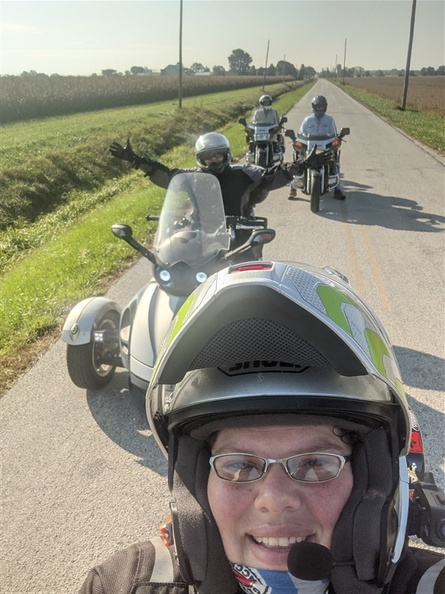 Off to the Lake Erie shore. Port Clinton first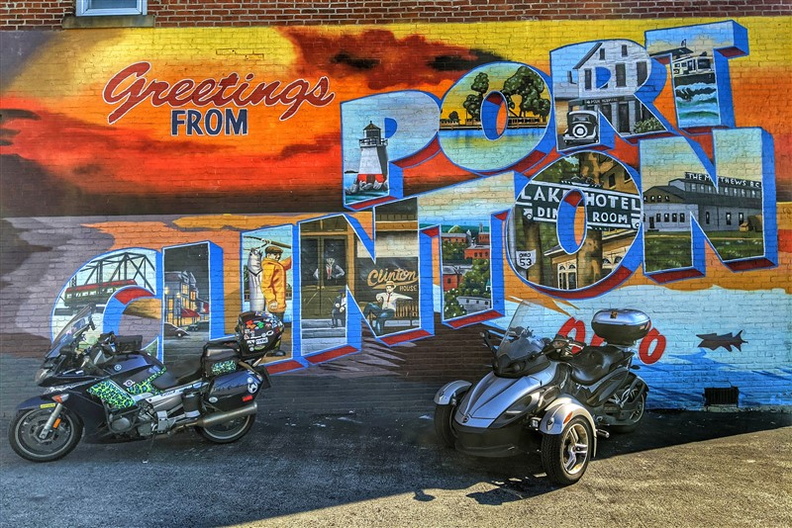 A big fish.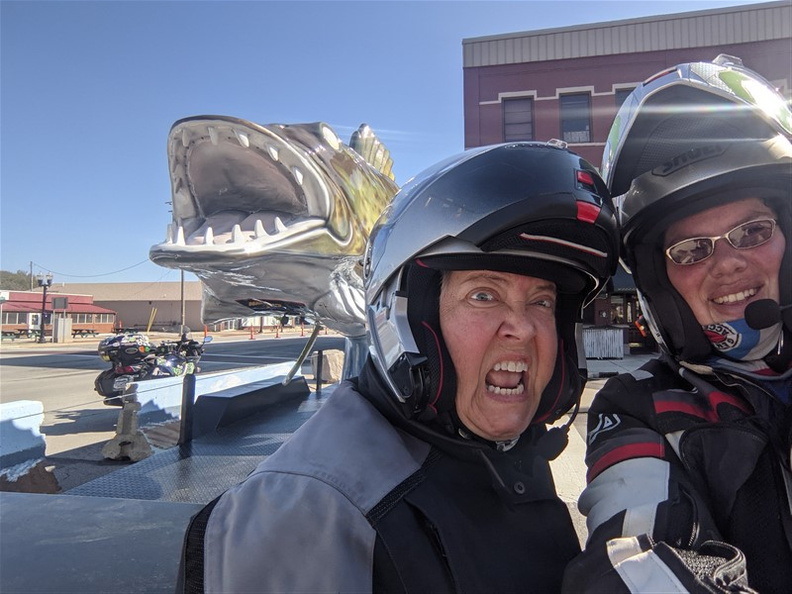 Lakeshore group picture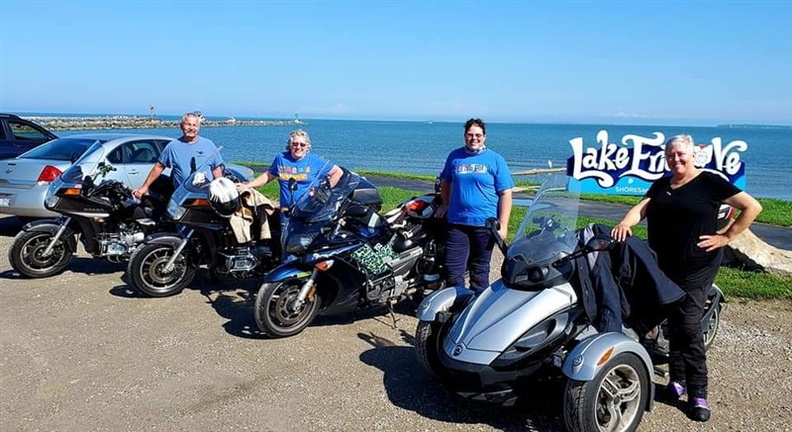 And to Marblehead Lighthouse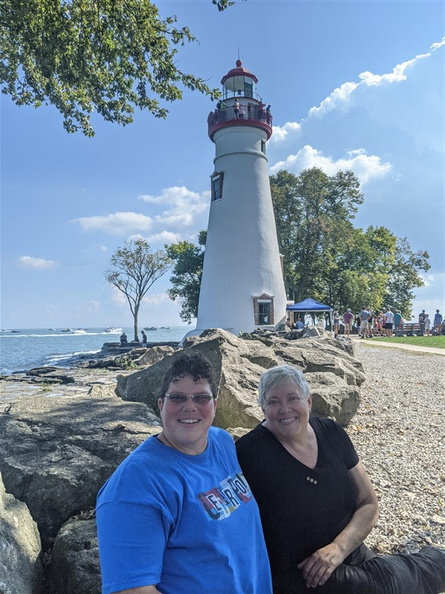 And Tyler and I climbed to the top of the lighthouse! View of Cedar Point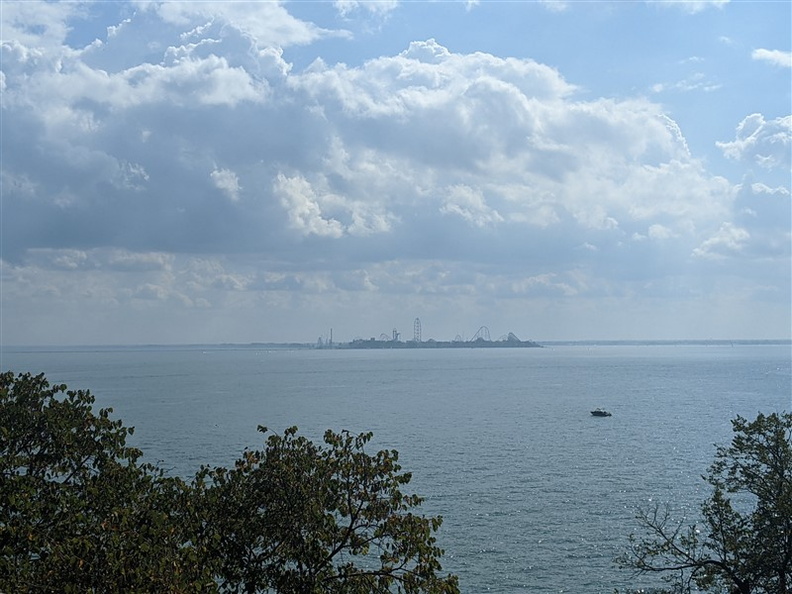 This was when I learned that not everyone is fond of heights… Lol. Sorry! But I am super proud of you…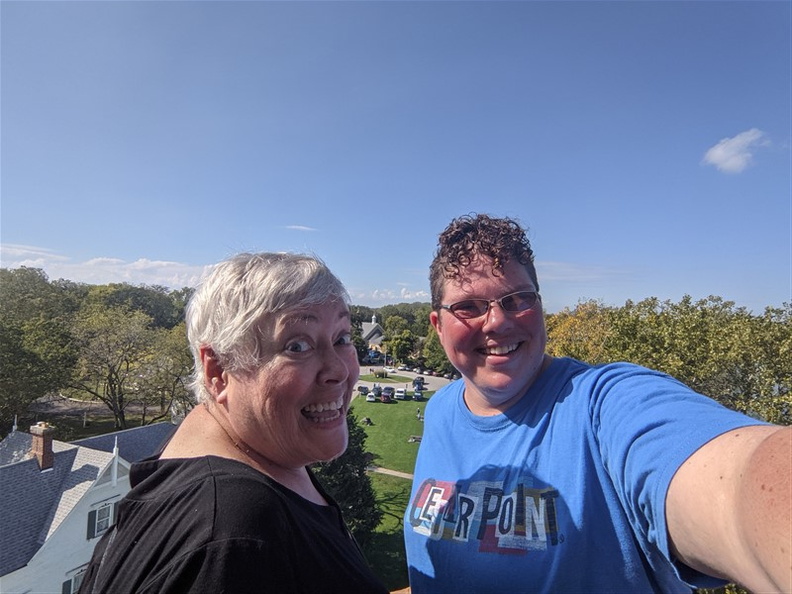 Then we took Tyler to Cedar Point! Drove around the perimeter road to the back parking lot.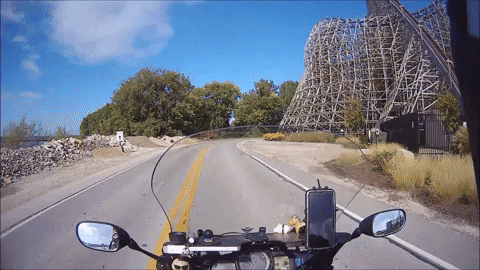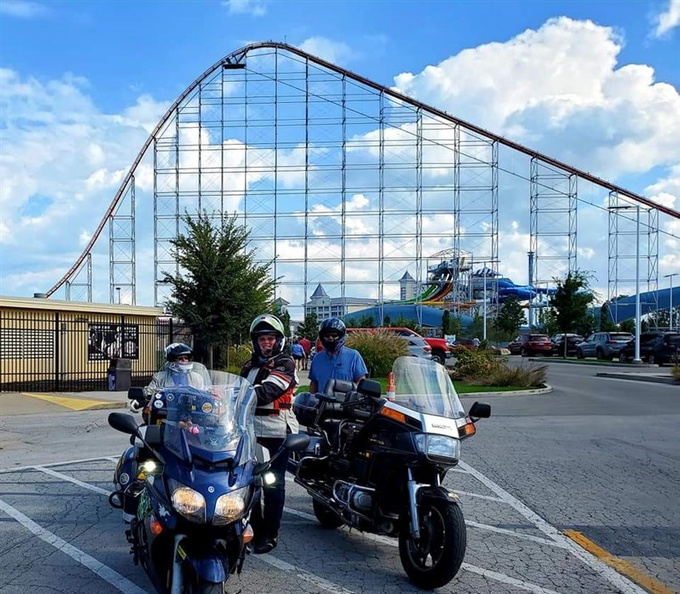 On the way home, stopping so Tyler can take pictures…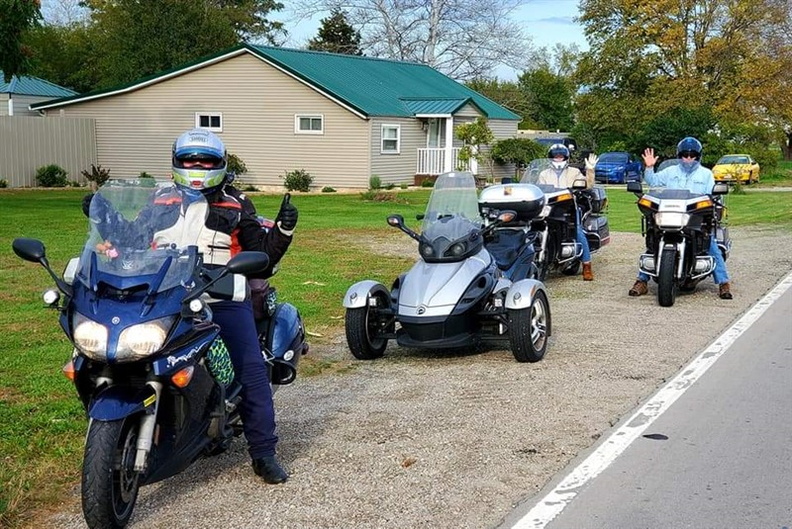 Then Tyler and I went downtown for a bit to watch some of the downtown cruise that was going on.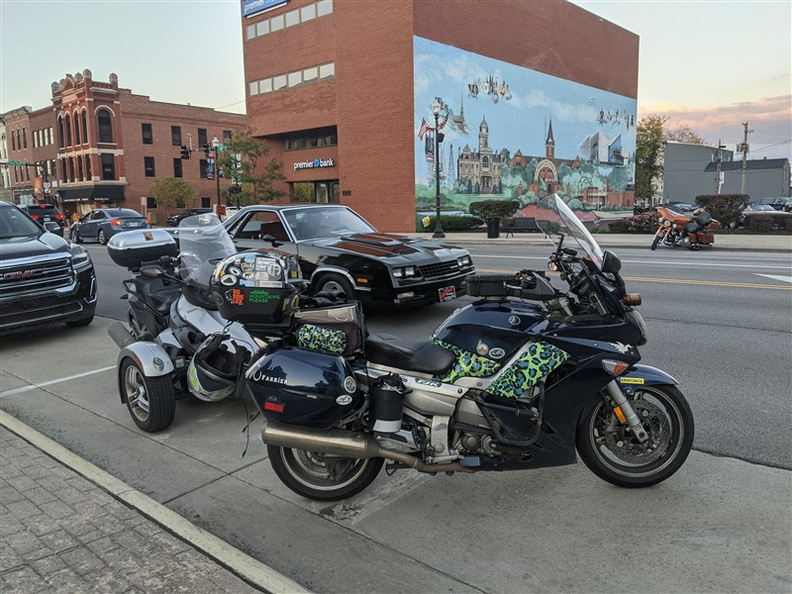 And then to an empty parking lot, where I ended up test driving the Spyder.
The next morning, we are up and at em and headed to Columbus to meet up with Andy and Susie for brunch.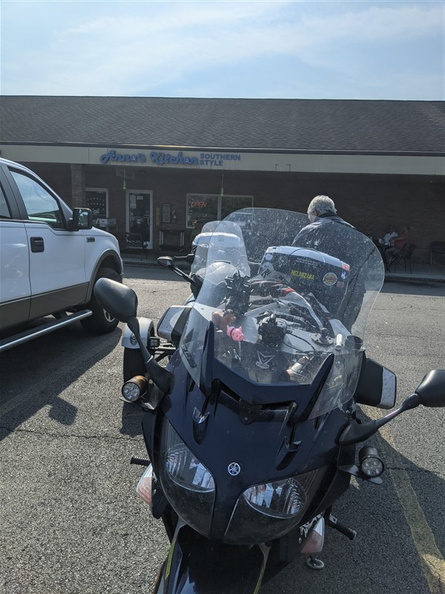 And then over to Iron Pony to do some shopping!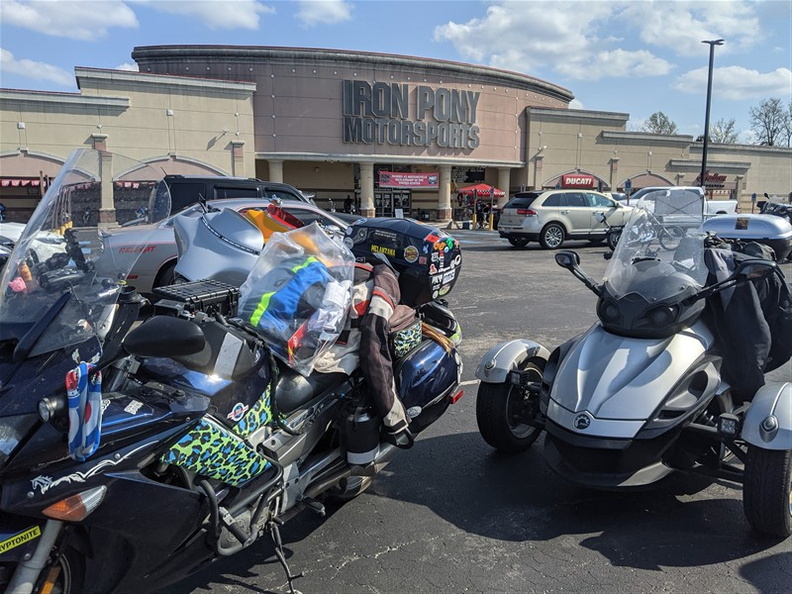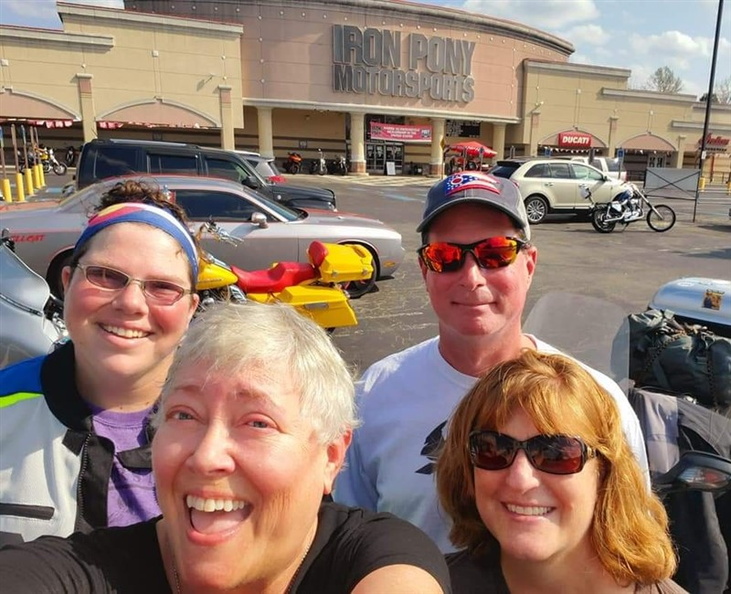 Tyler got new boots, and I got a new jacket!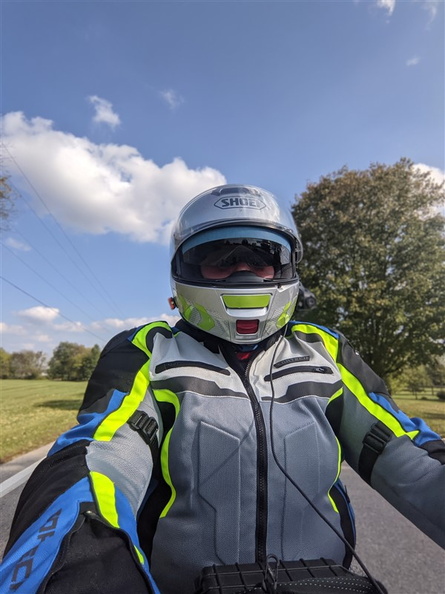 Because it's cool, and matches my bike… Lol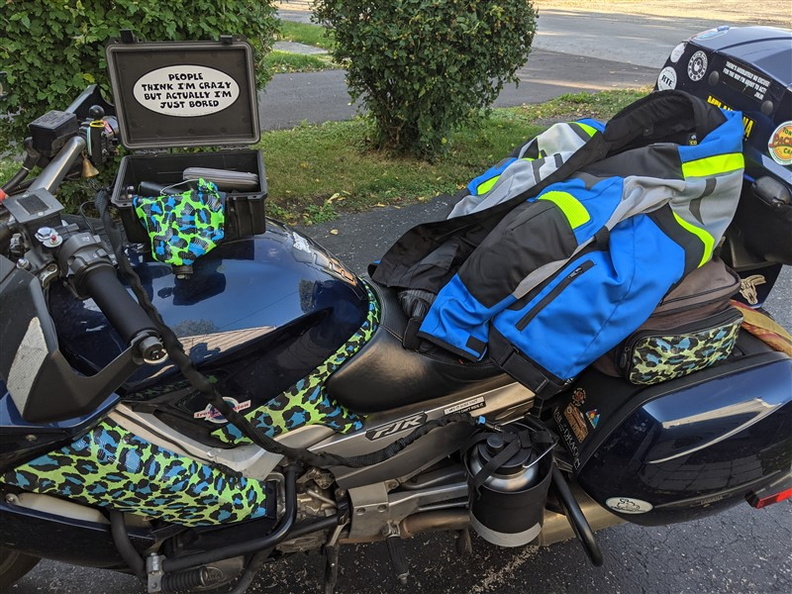 Then some more working…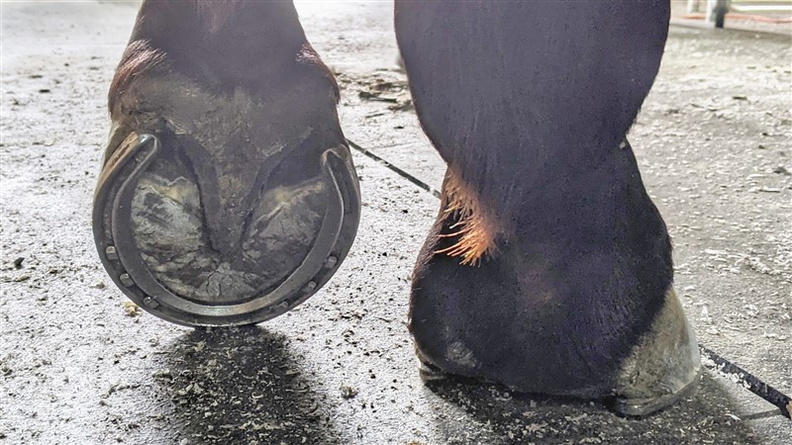 And before ya know it, I'm off on the next adventure! October 16- Meeting up with friends again at Wayne NF.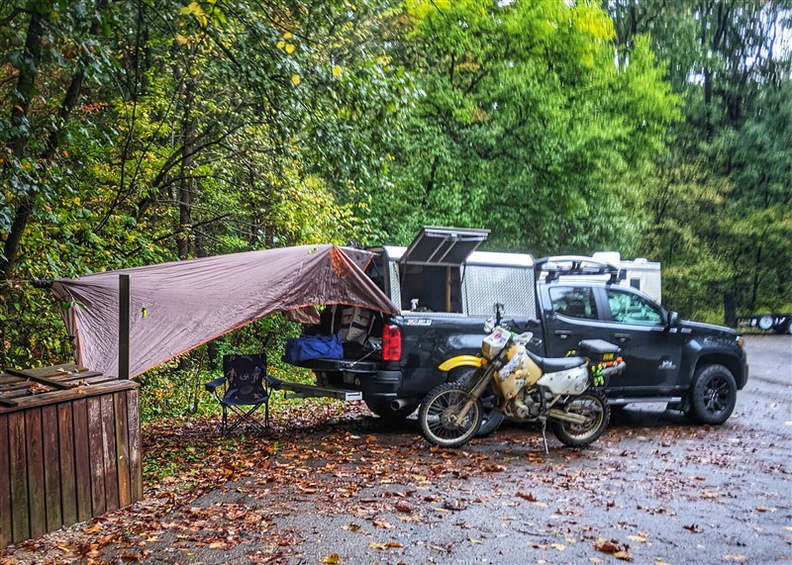 It was raining that morning, so I tried hanging the tarp while I was waiting on the others to show up.
They get there, and we are ready to go!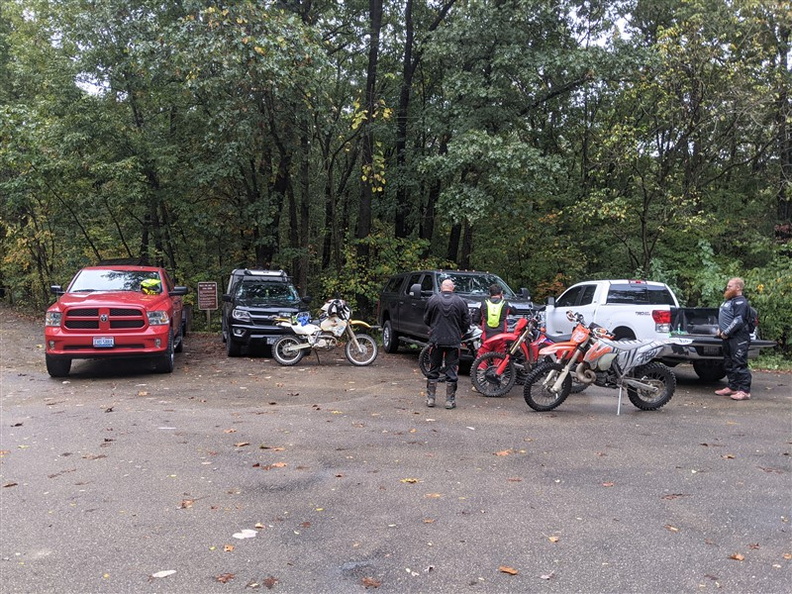 My face might not show it, but I was having fun!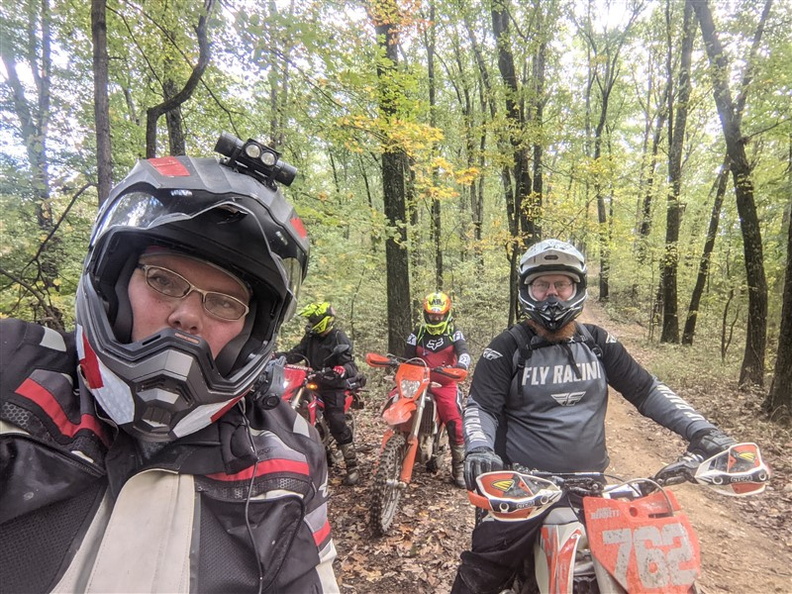 These guys are so much fun to ride with!!
By riding with them, I have in turn improved my riding. And had a blast while doing it!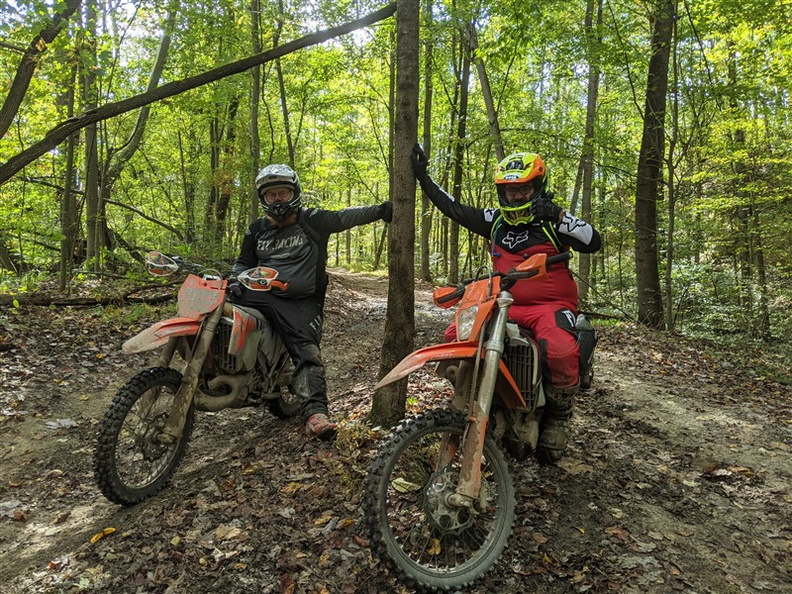 And the bike has gotten its' fair share of dirt and mud baths…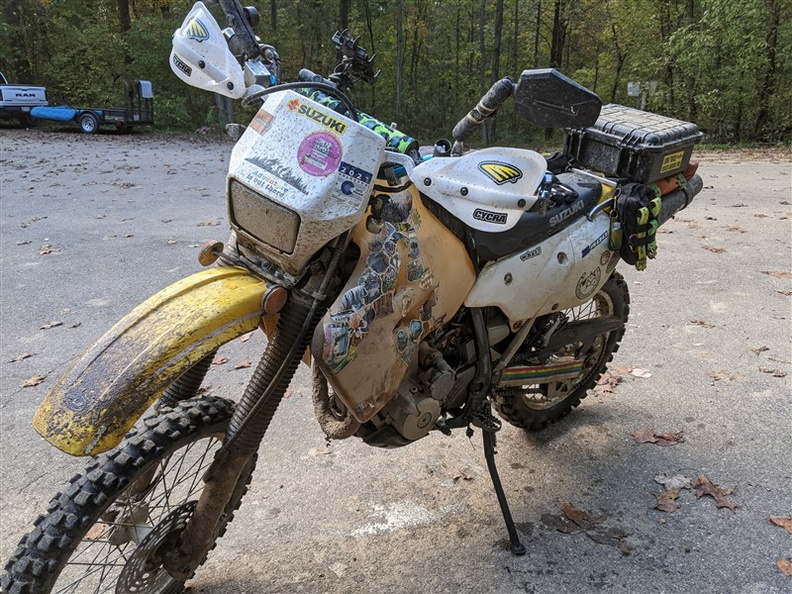 Back to work for a week, and watching sunsets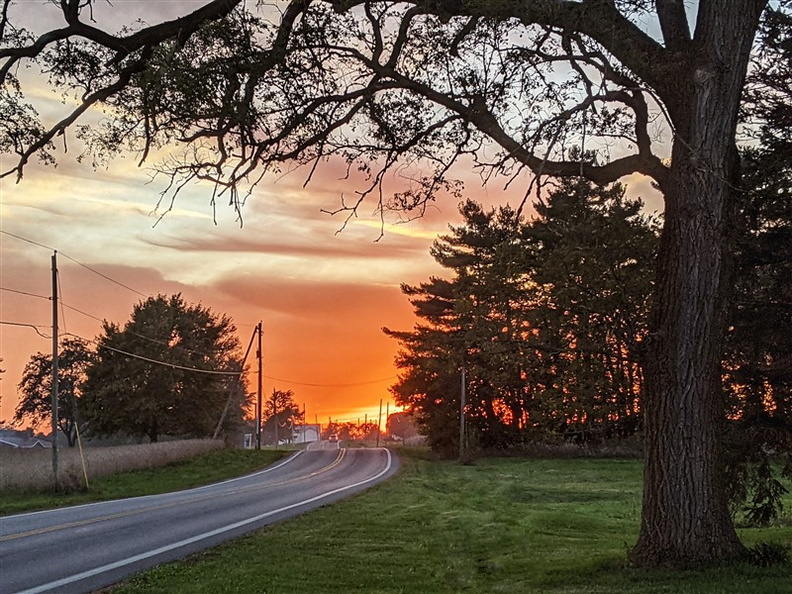 And back to Wayne NF the next weekend! This time with my dad, my uncle, and family friend.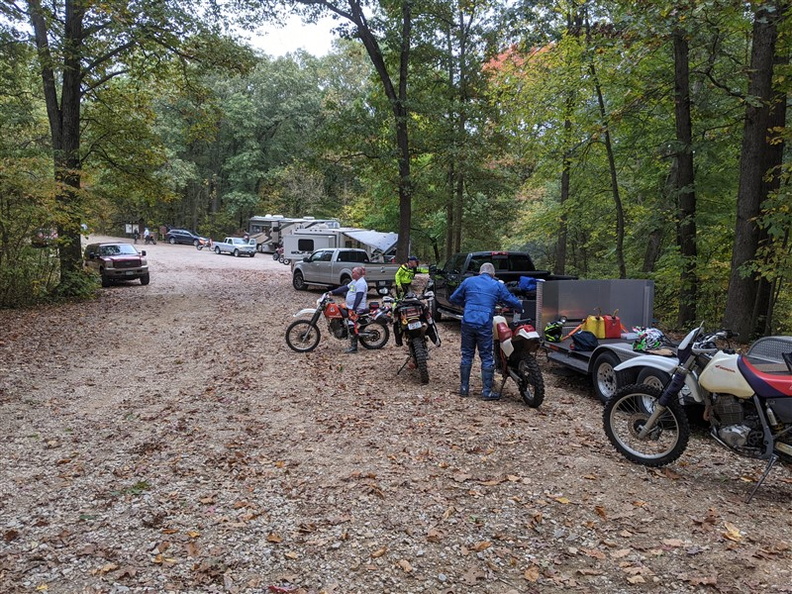 On Friday, it was just the 4 of us riding.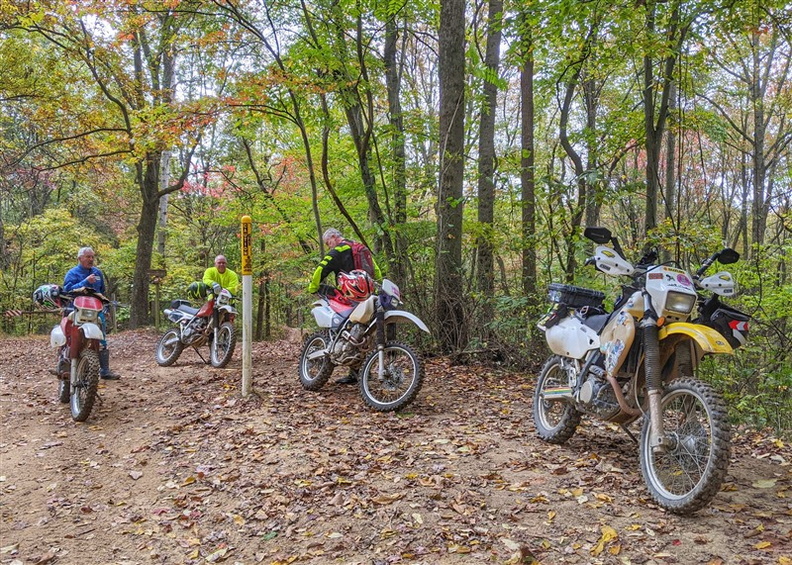 On Saturday, my friends joined us!
That was a splendid day of riding and being with friends and family!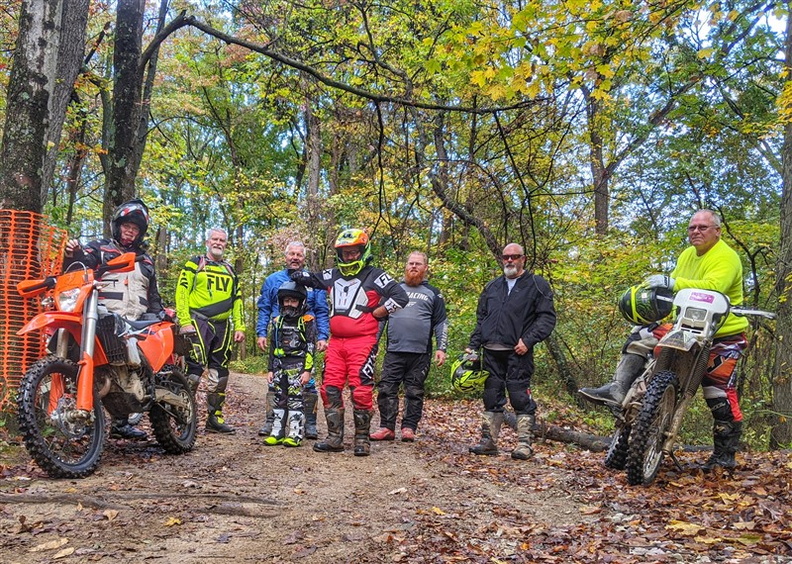 This friend brought his 7 year old son to ride with him. And they did awesome!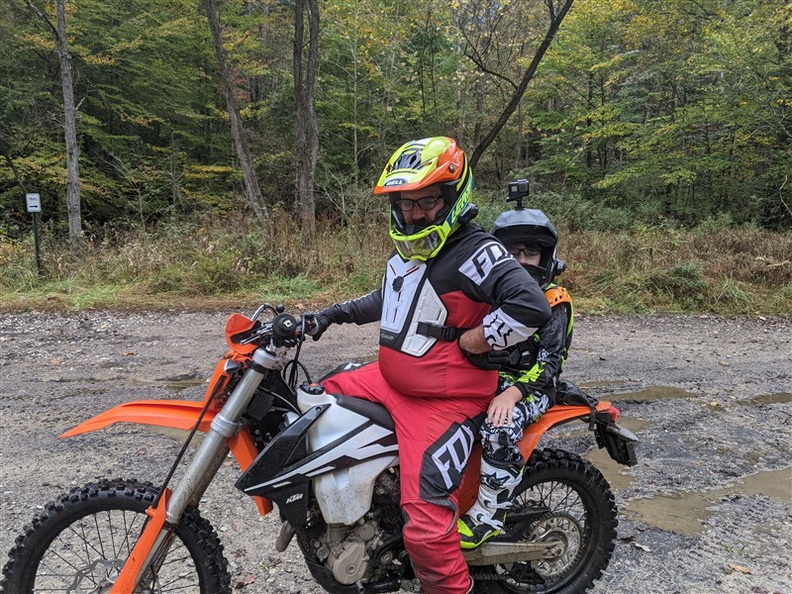 Even when not riding, even if just sitting around conversing and eating lunch, we have a great time. Making memories.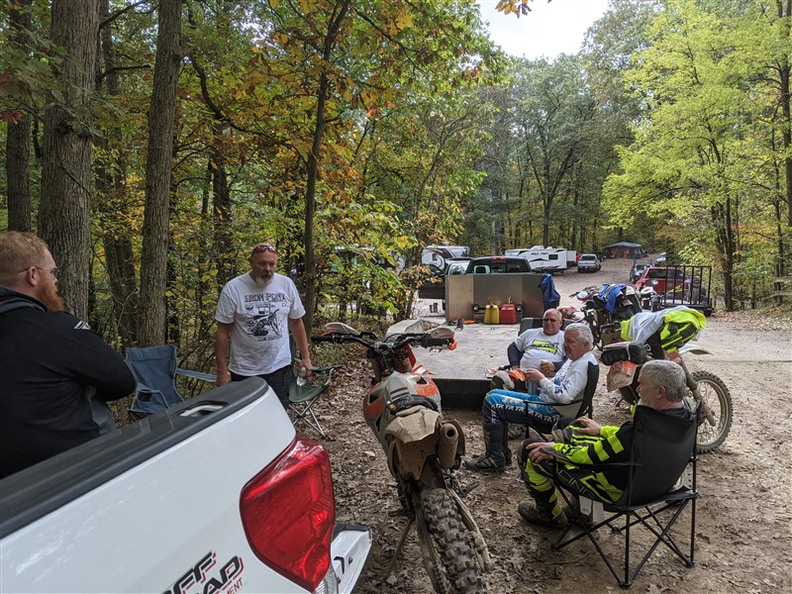 Stumbled upon 2 of dad's work colleagues while out on the trails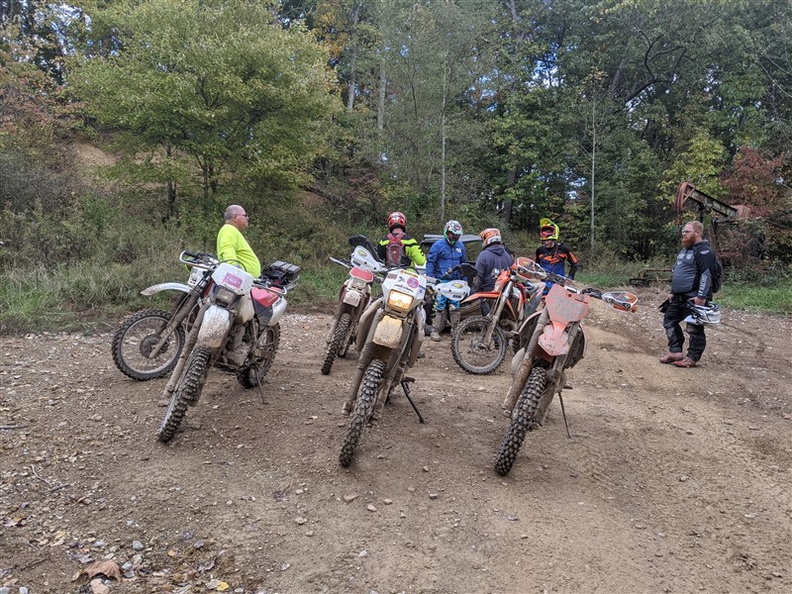 The bike got a little dirty, but oh so happy!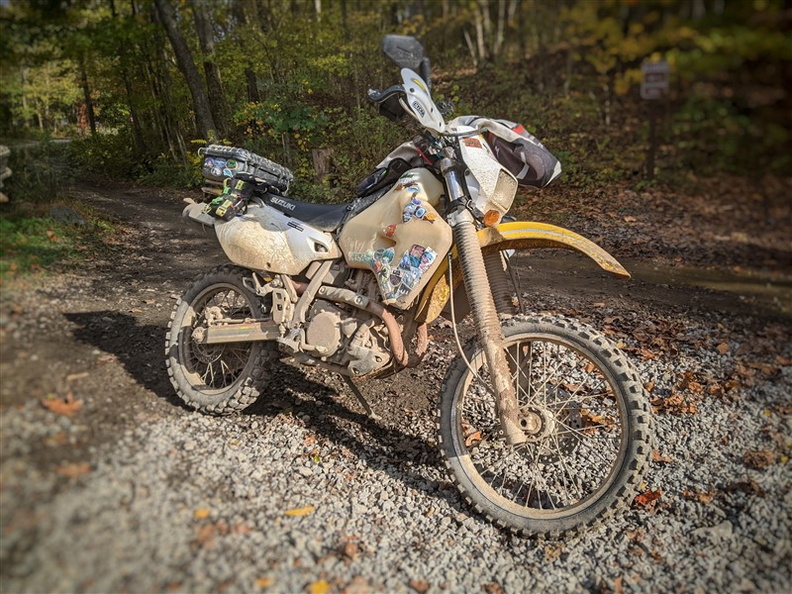 And since we got rained out when we woke up on Sunday, we headed home, with a stop at Iron Pony, of course.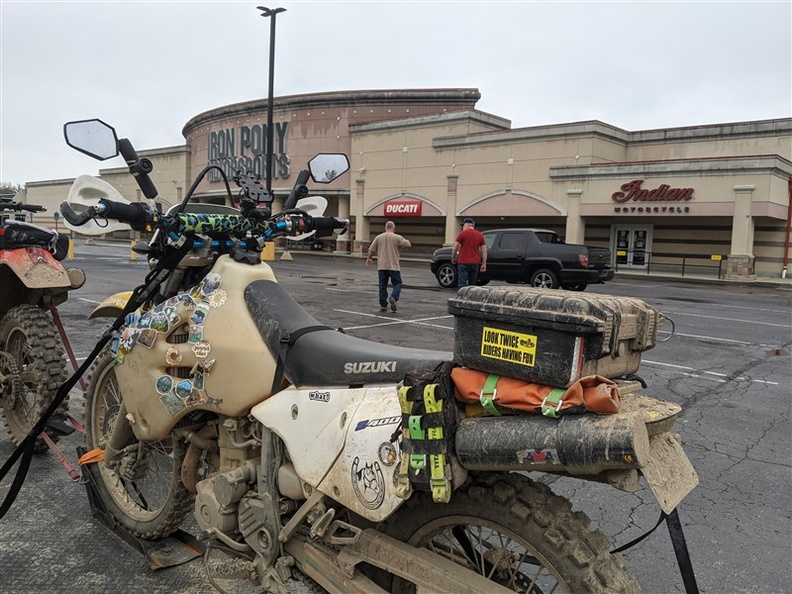 First of
November
comes about. And doing some working.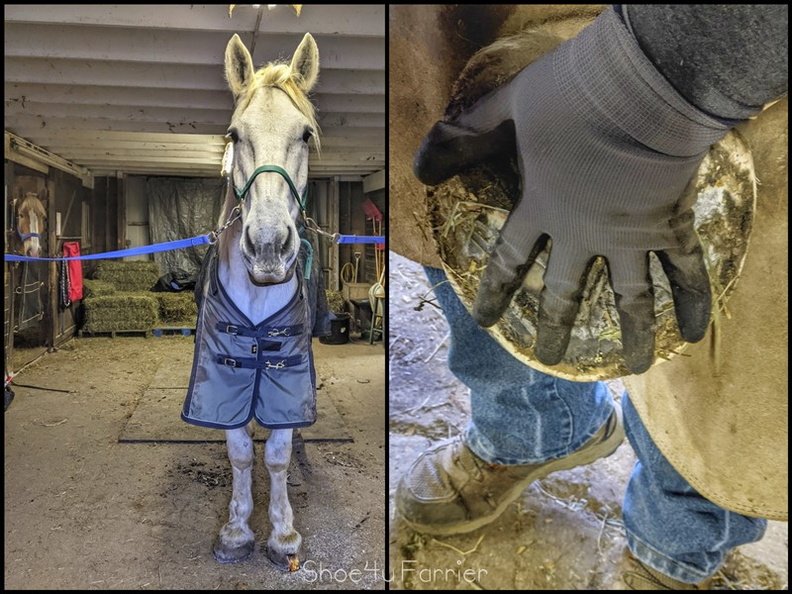 Then Friday the 5th, and I take off on the FJR. Did some scouting for pretty colors in the trees…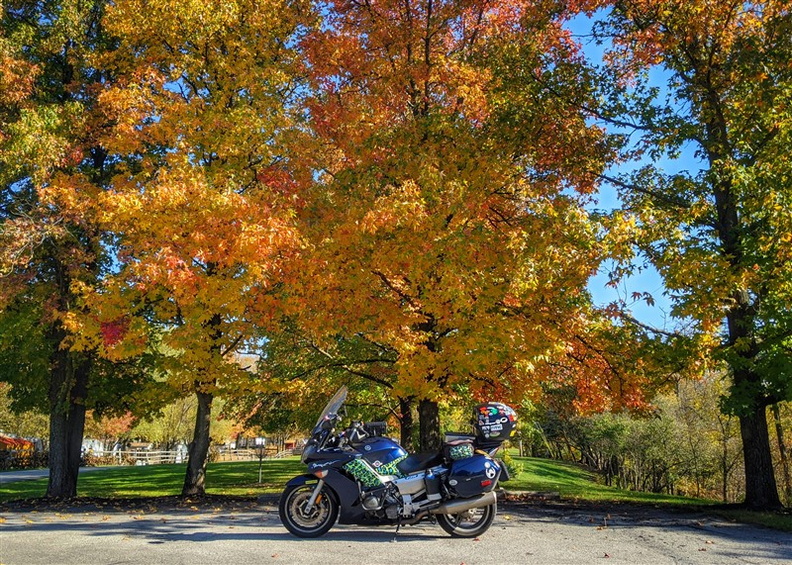 Calendar worthy shot? I suppose it is.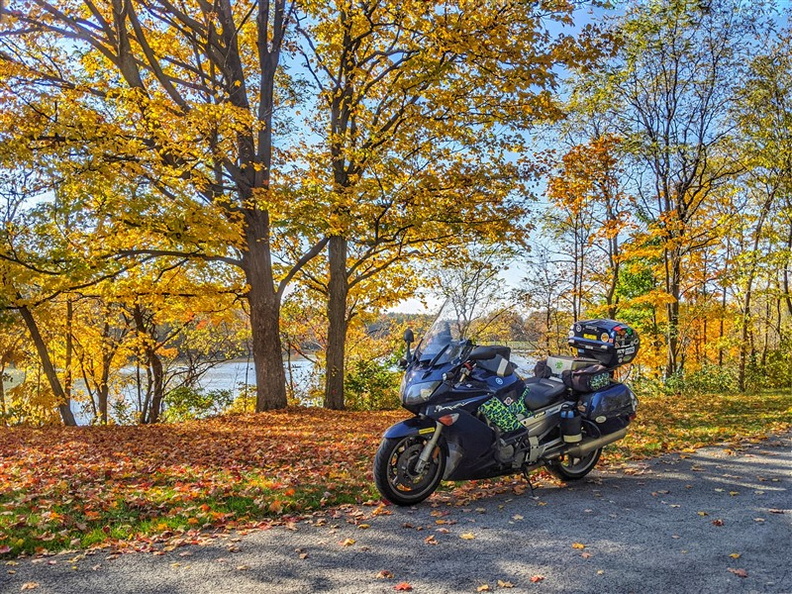 The next day, my dad jumps on my DRZ and follows me back to the state park.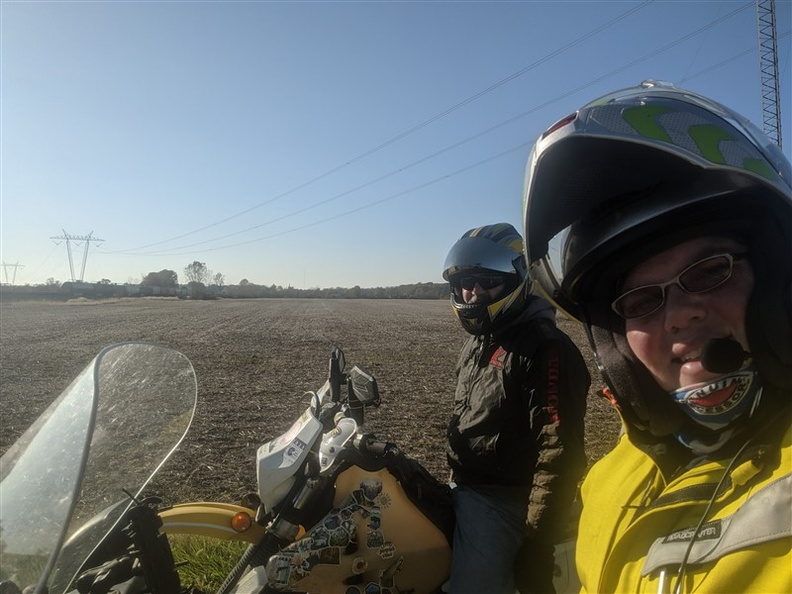 So I can get both the bikes in the same picture with the pretty trees.
And me in the shot, too!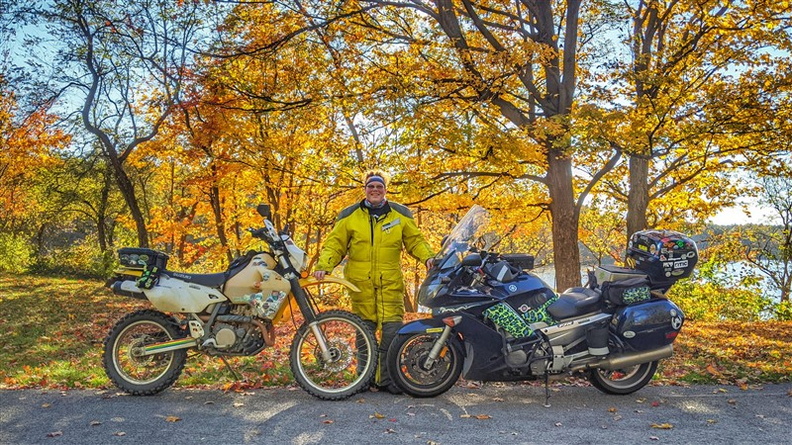 Assume the position!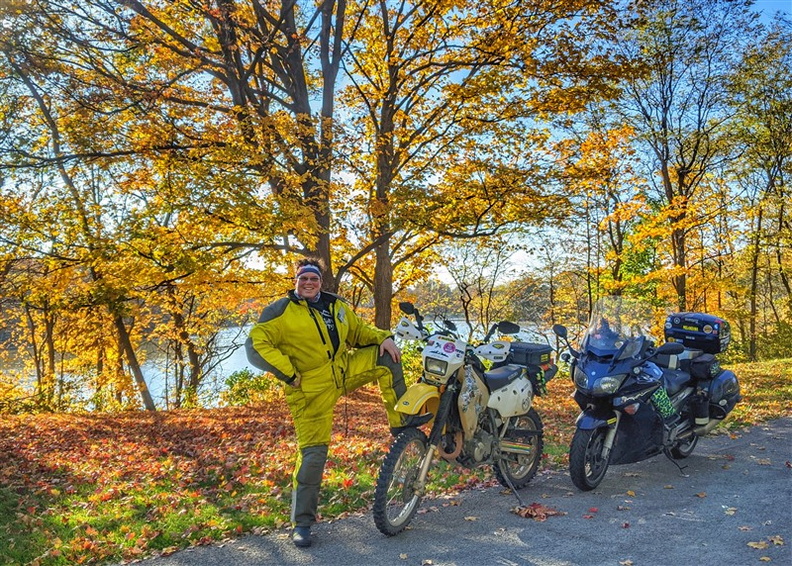 I just felt the DRZ belonged more in nature and less on the pavement…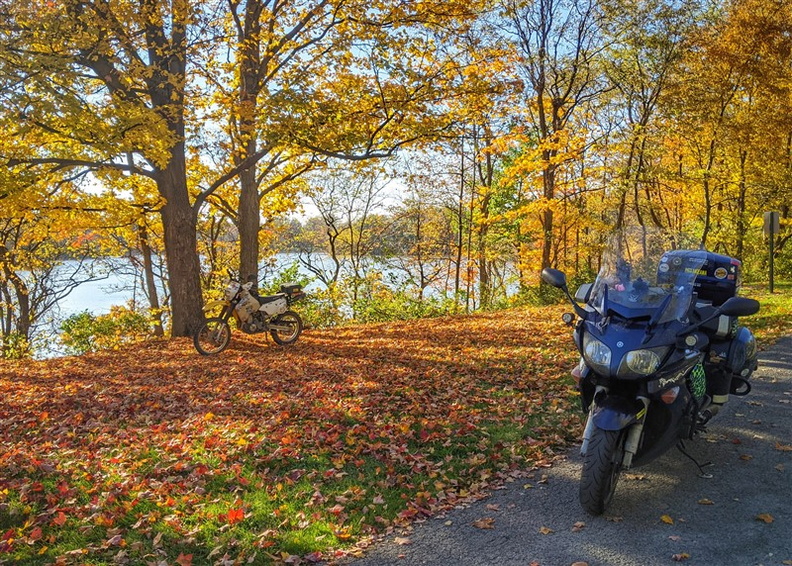 The state park had plenty of beautiful trees for a pretty backdrop.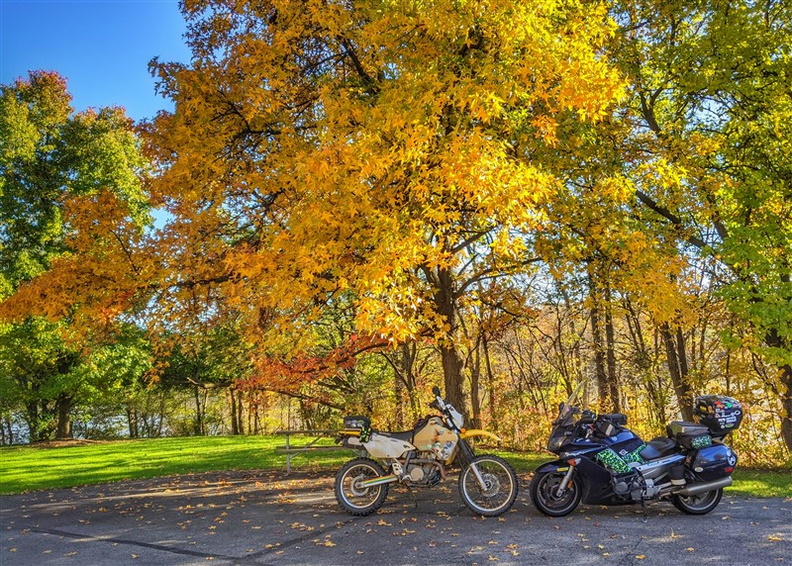 And then the following weekend, and I load the DRZ and head back to the Amish/Mohican area. Made it partway there on Friday night so I could do some business shopping at an Amish store nice and early the next day before meeting with friends.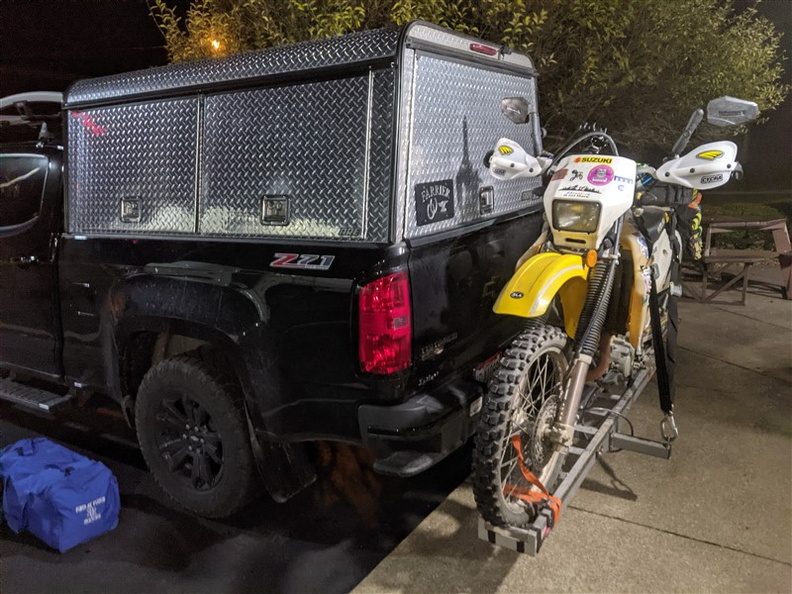 It was a *little* chilly this weekend… but we were still having fun!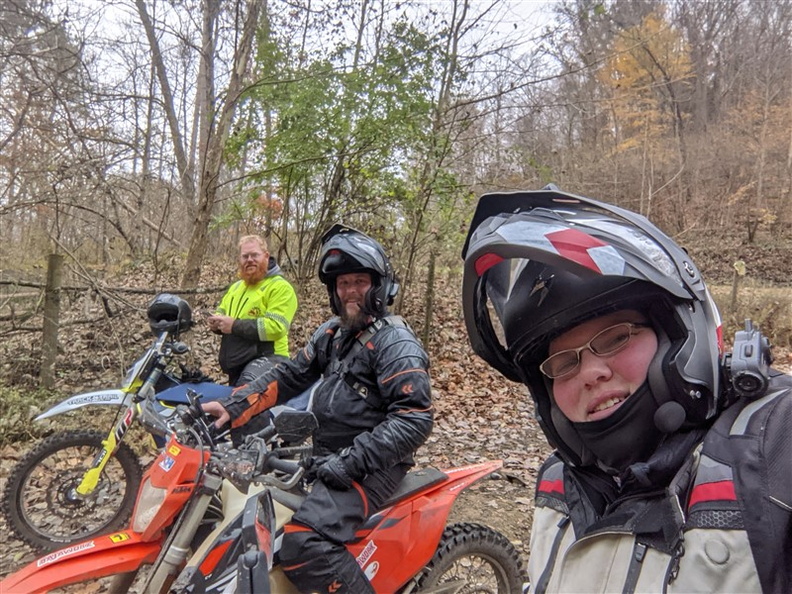 Had lunch at a Mexican joint in Coshocton.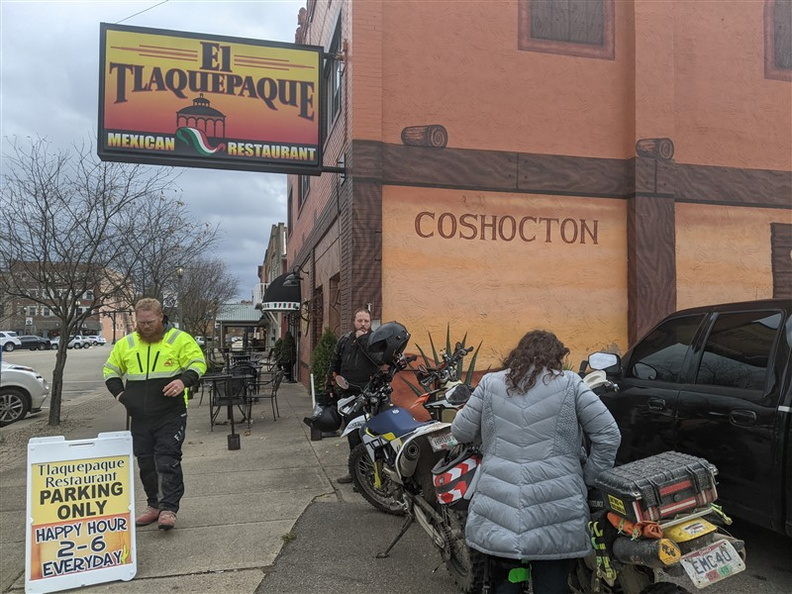 The temps hovered around 40 for the day, and we were being sleeted on pulling back into base and loading up.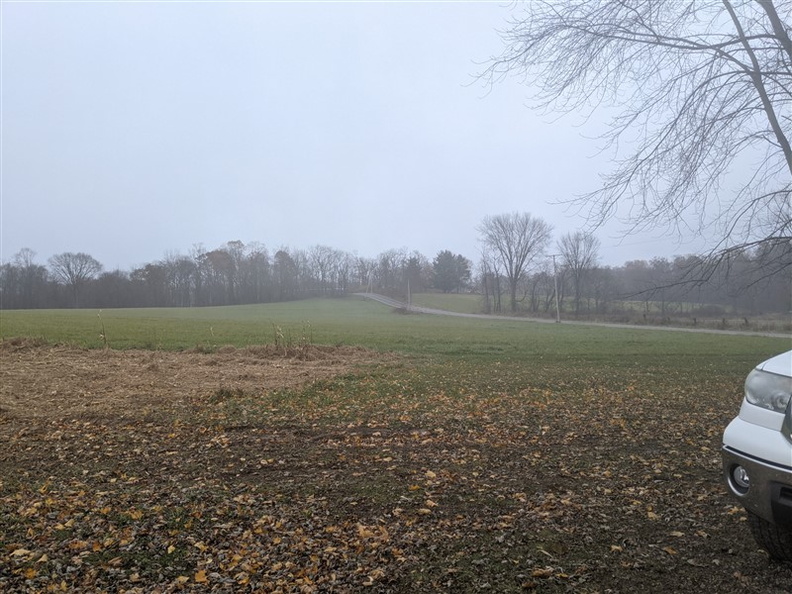 100 mile ride on the dual sports, great lunch, lots of laughter and storytelling- put a smile on my face for the whole day. Even though it was cold, I'd do it all over again. Because these friends are awesome.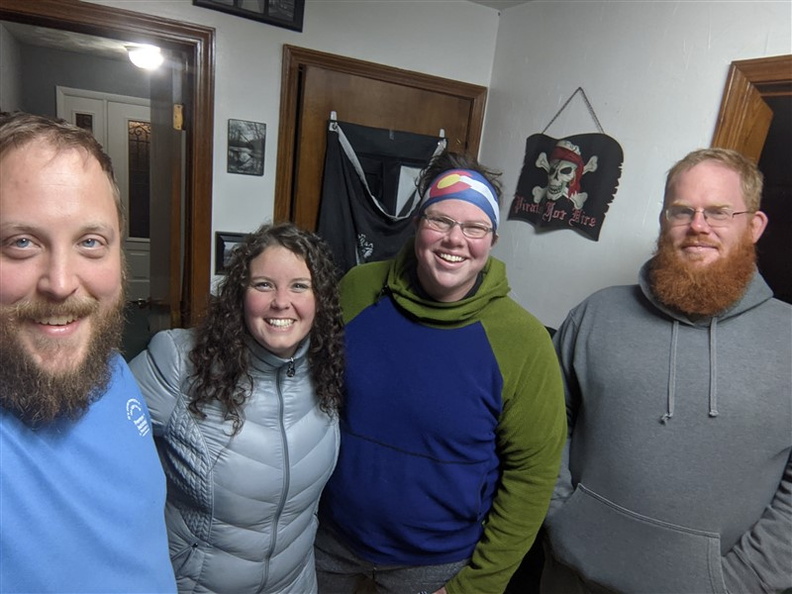 The next weekend, the 20th, I went to the Reformatory in Mansfield. (that one I only saw the outside of in May, before the ramble.)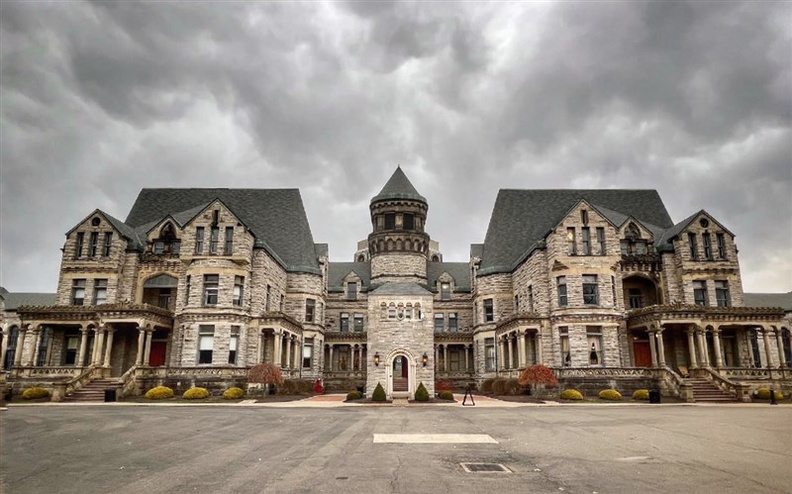 And a friend and I toured the inside of it. Awesome!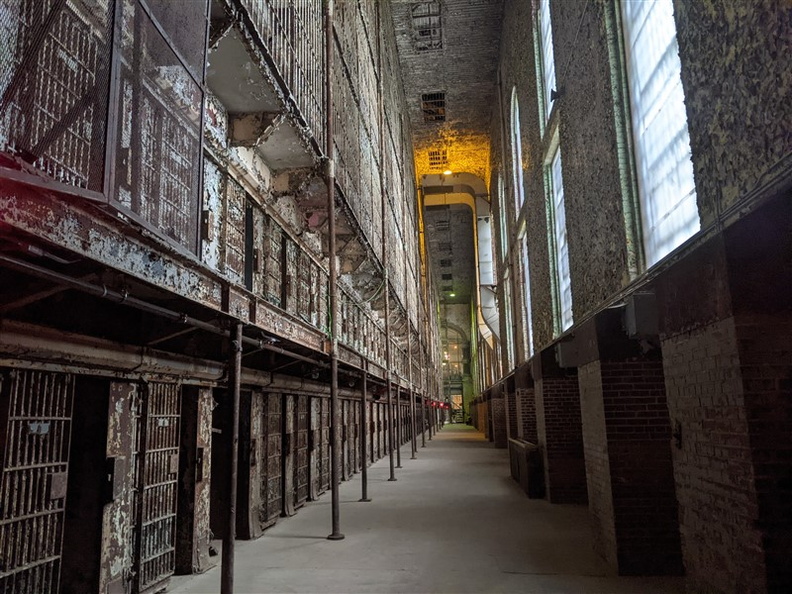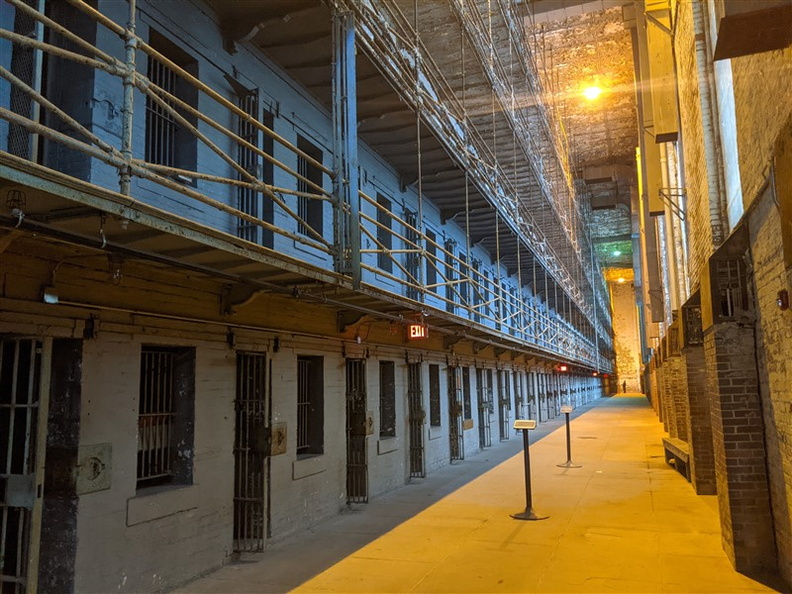 The following weekend, after Thanksgiving, I was going on a motorcycle ride.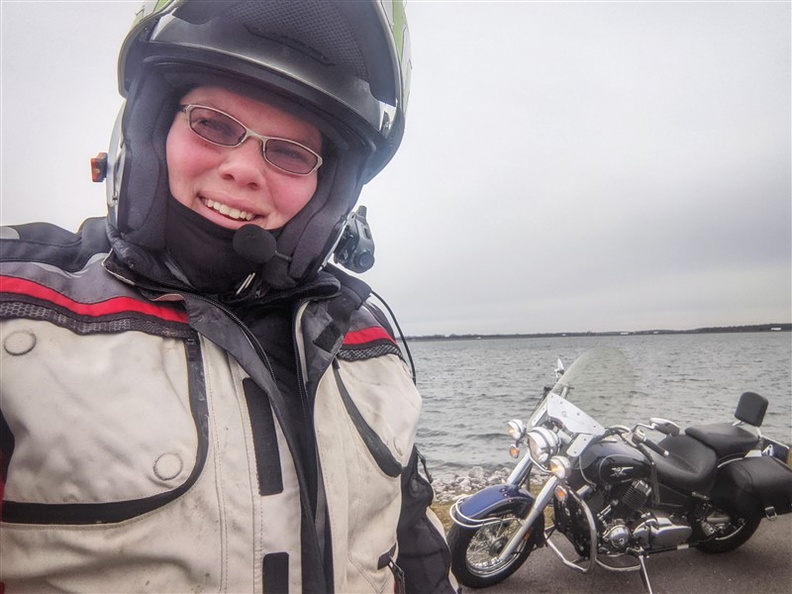 It just wasn't my bike. I was asked to ride my new friend's bike to a different garage, to be stored for the winter. He is just learning to ride, and didn't feel comfortable taking it there. So of course I said I would! But, that ride consisted of more than just straight to the garage… Lol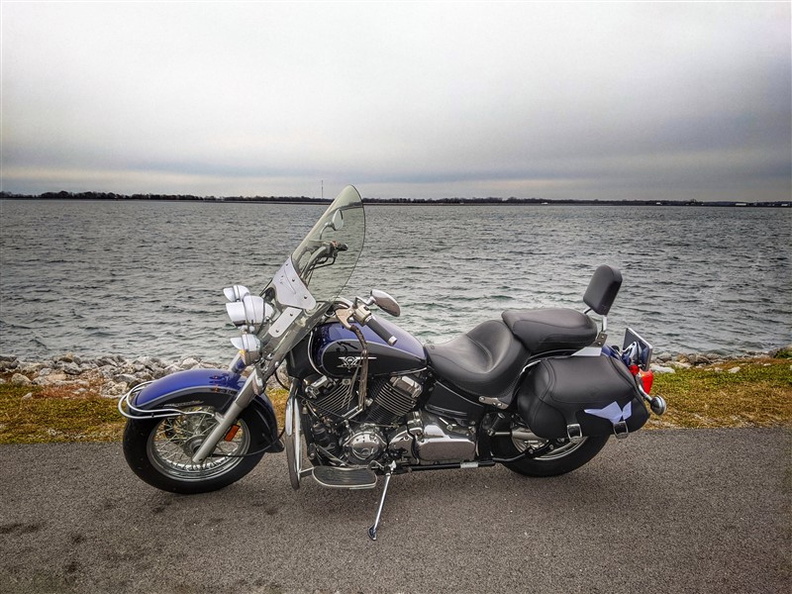 First weekend of
December
and the entire family and I went to Nelsonville for the weekend, to ride the Santa train.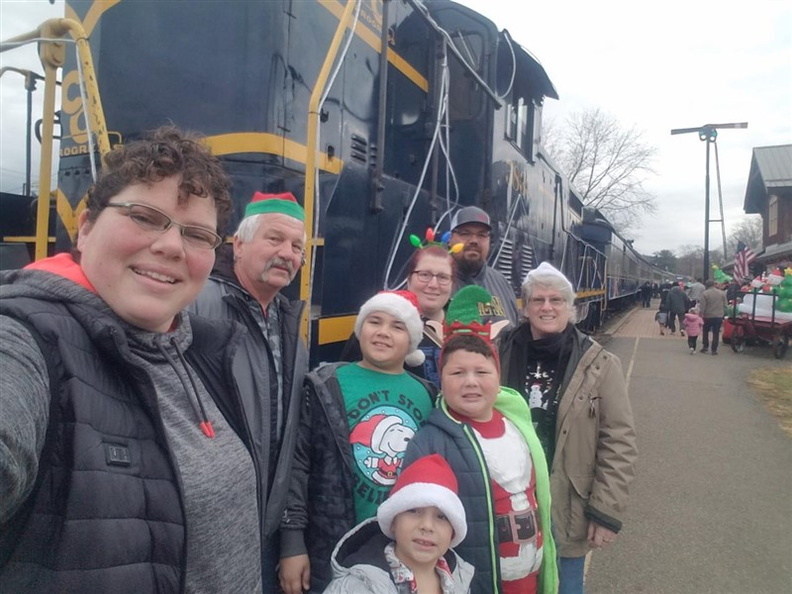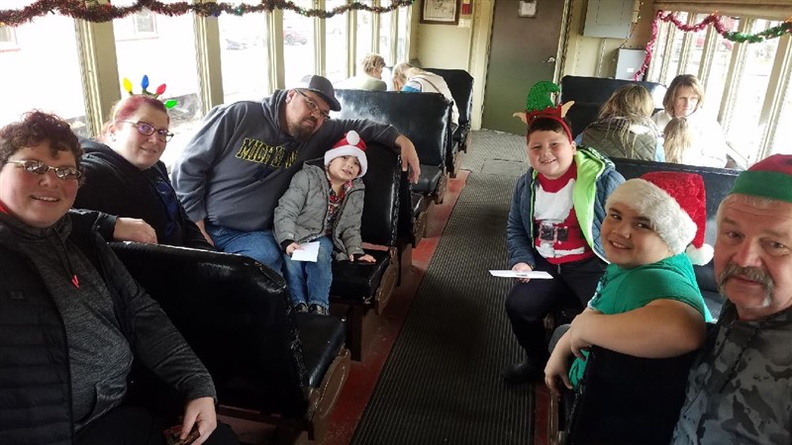 On Wednesday the 8th, my friend and I went to Iron Pony! Lots of variety of bikes for him to sit on, and see if any are more comfortable that the V-star. His problem is how tall he is. Yet, still needs a learner bike. We decided that a KLR 650 would fit the bill for him. So now it's time to scour the internet and find a bike for sale.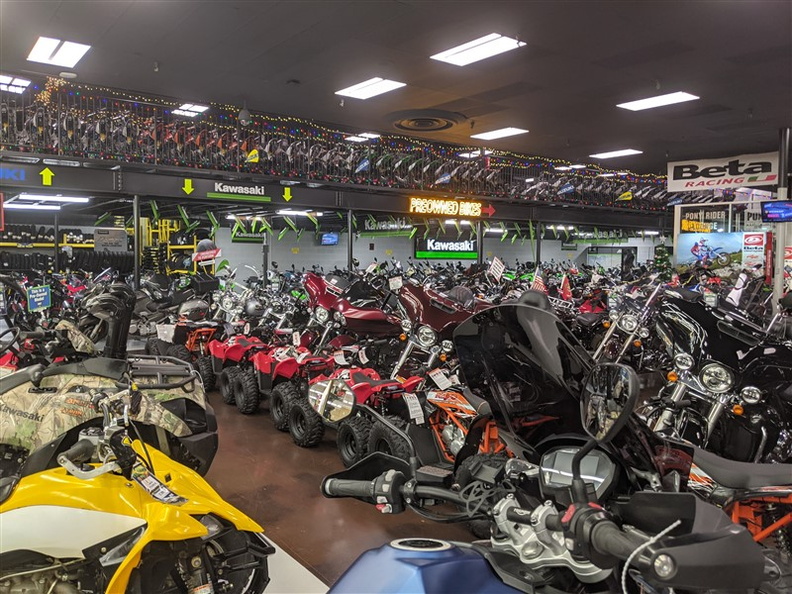 Sunday, December 19th, and we take his family's RZR 800 up to Maumee State Forest and do some trail riding. Holy crap, what fun!!!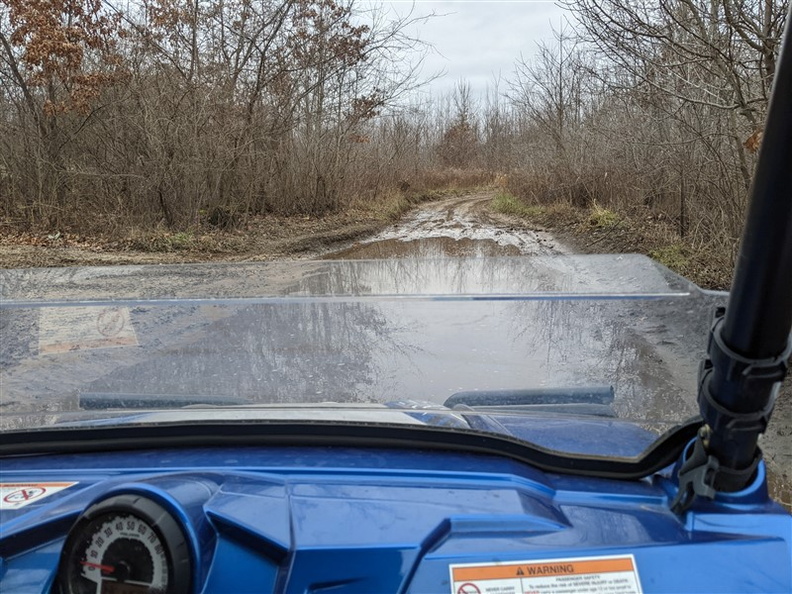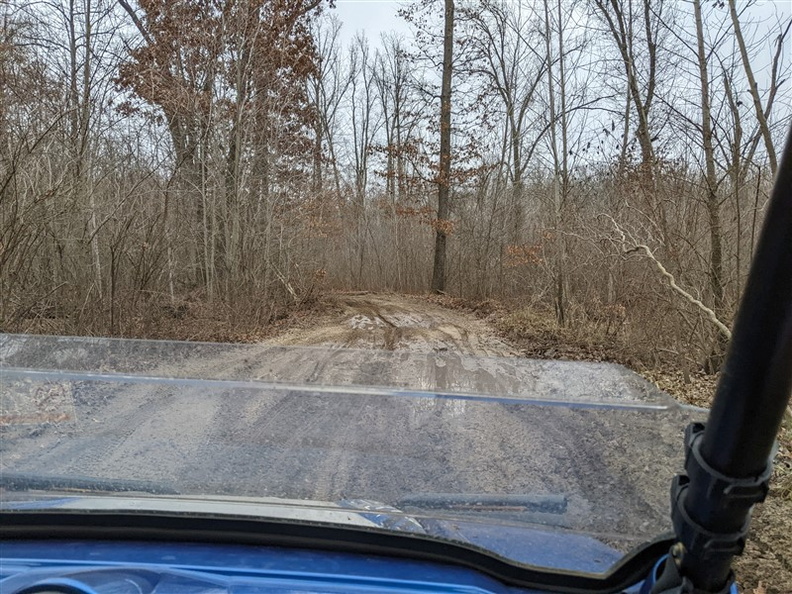 So much fun! I couldn't stop giggling!
Christmas Day, and my dad and I get out for out 12th annual Christmas Day ride!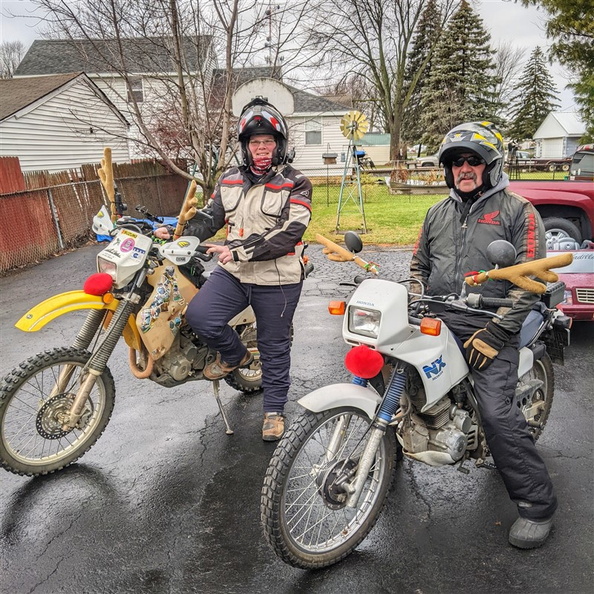 Downtown city tree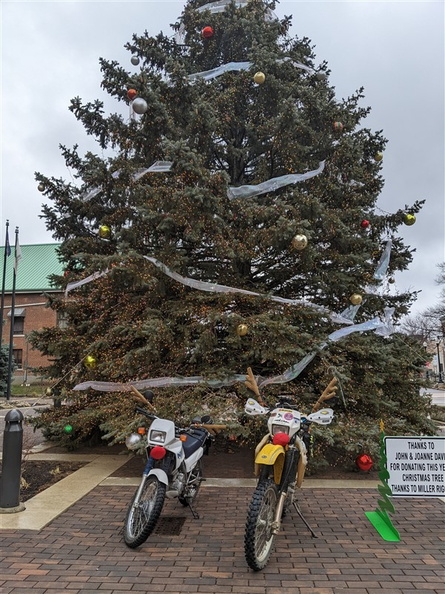 58*, and just a smidge rainy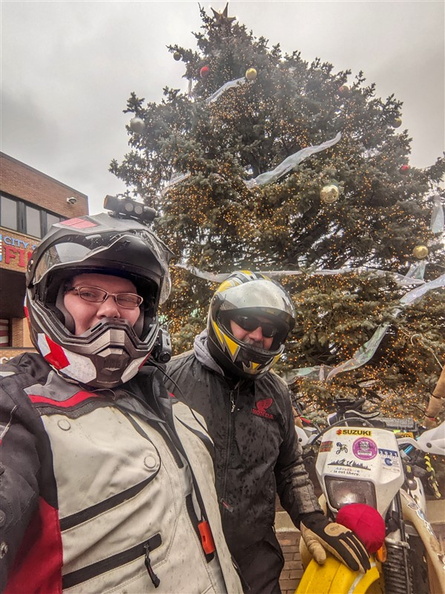 I wasn't sure how I would get my presents for the whole family from my house to my parent's house. Didn't feel like starting up the truck, to go 2 blocks. Well heck, mom and dad have a little red wagon! So I towed it home with the DRZ! And then walked it back later, full, for our Christmas. Reindeer and its' sleigh??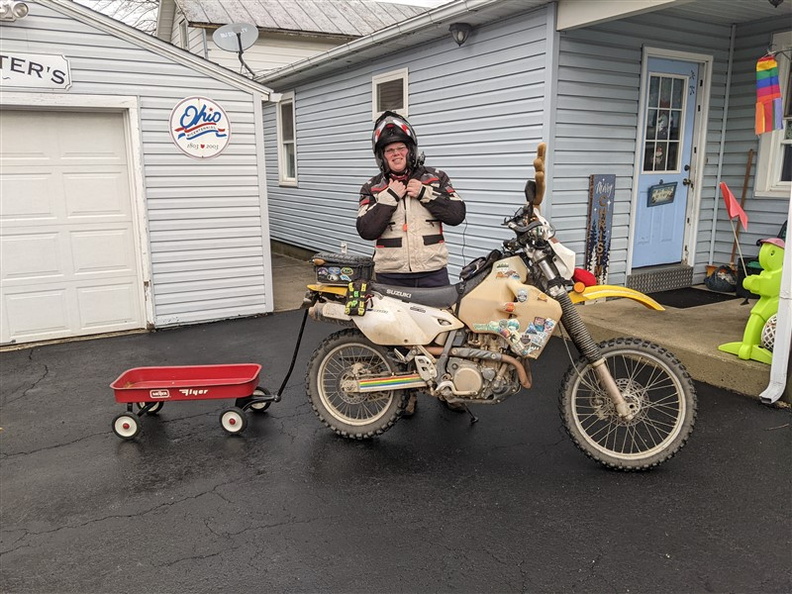 The next day, my sister had 2 tickets to a Toledo Walleye hockey game. Outdoors, at Fifth Third field!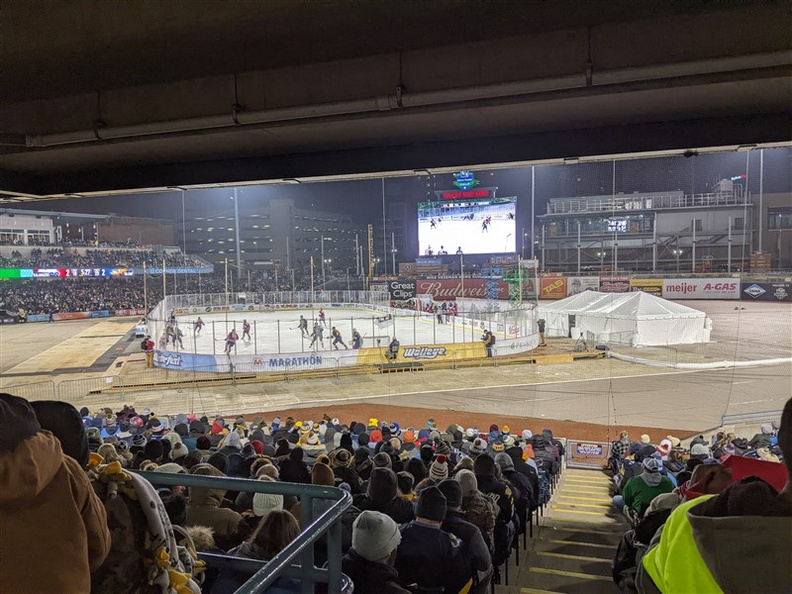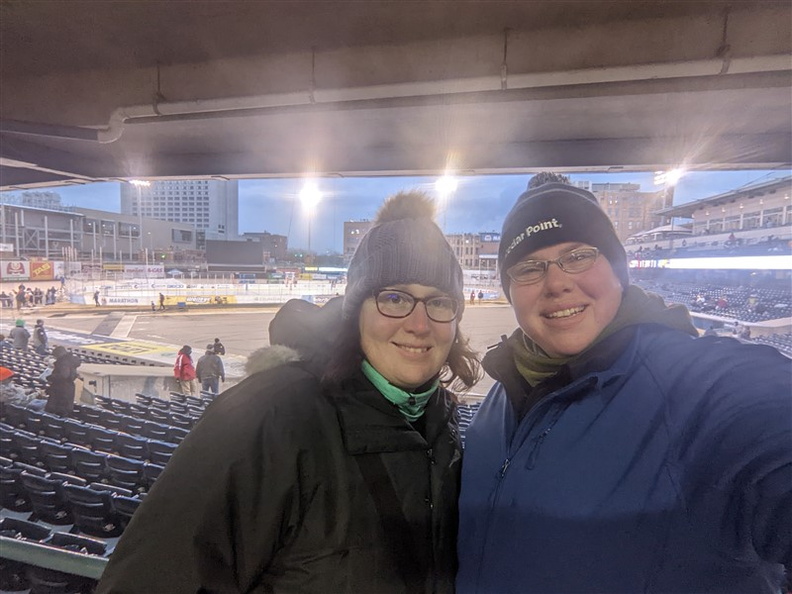 Did a bit more working for the rest of the year, and then on New Year's Eve day, my friend and I went to the Henry Ford Museum in Dearborn, Michigan.
And then a happy hour lunch nearby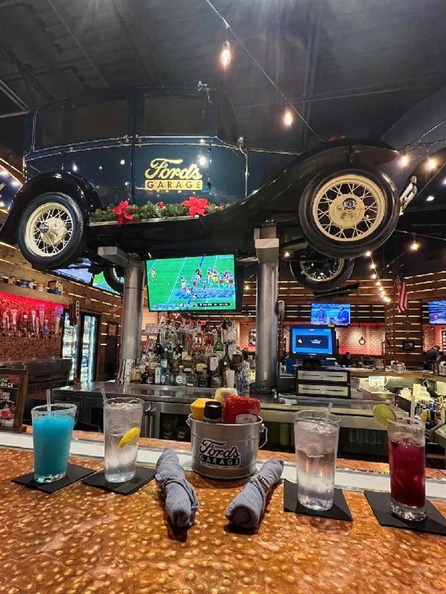 And then some shopping at Cabela's to close out the 2021 year.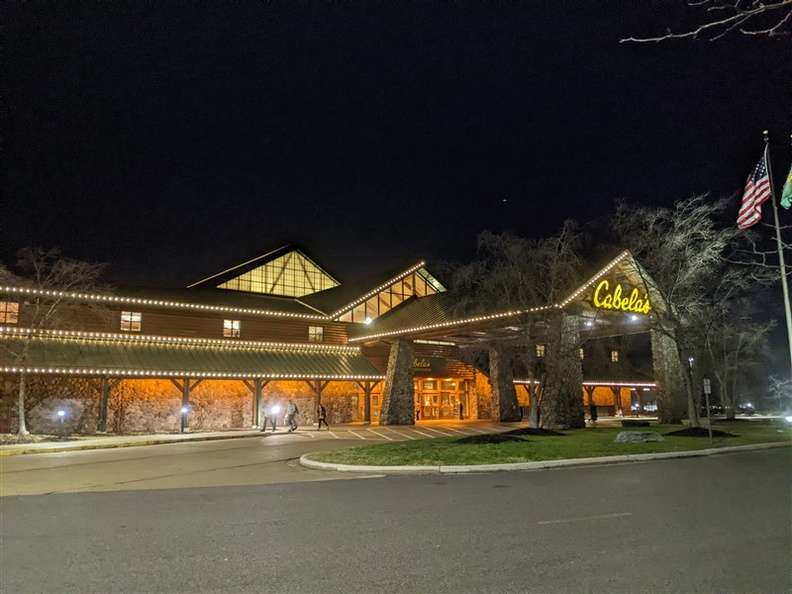 So that was my year of riding and living.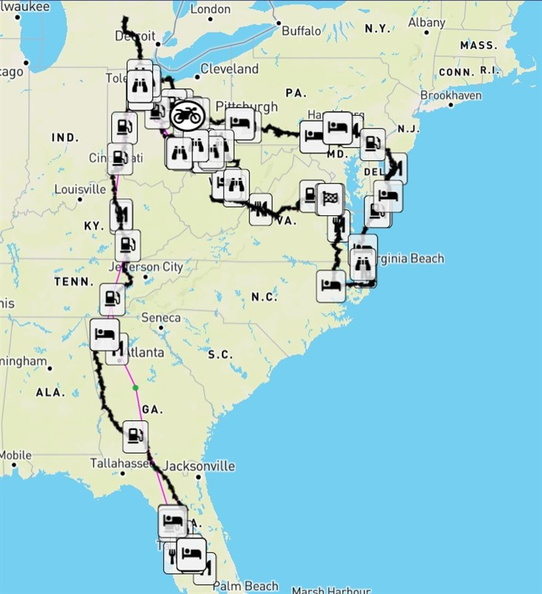 2021 Spotwalla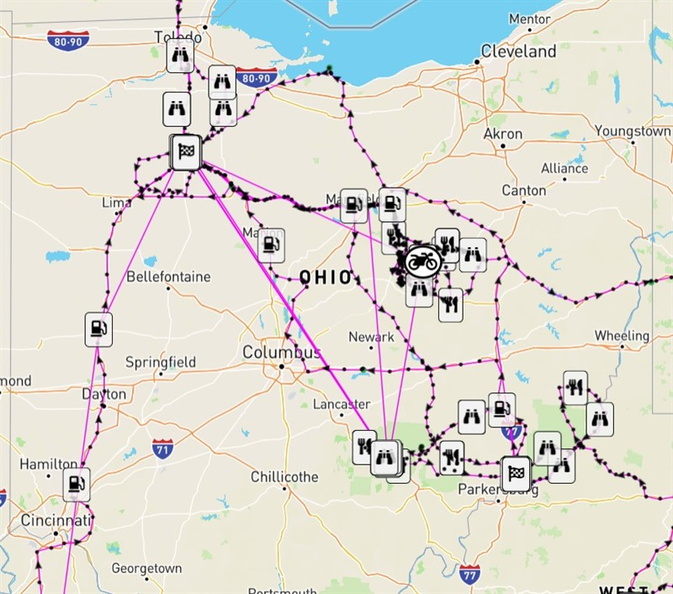 End of the year stats:
FJR odometer- 116,058
FJR miles for 2021- 4,498
FJR states ridden in 2021- 9
DRZ odometer- 8,909
DRZ miles for 2021- 1,228
DRZ states ridden in 2021- 2
New states this year- 1
Total states gathered- 46
New stickers- a few…
Memories- MANY MANY MANY!!!
Lots of videos from vacation and the DRZ adventures on my
youtube channel
Thanks for following along! See you on the next adventure! Cheers to 2022!