Sunshine On My Shoulders
FJR FWG 2.0 with my DRZ
Wednesday, March 3rd.
Time to leave Ohio!! Packed up the night before, so I can hit the road early-ish. A little after 8am, and I'm pulling out of my driveway. Some snow still on the ground, the remnants of the piles from the week before.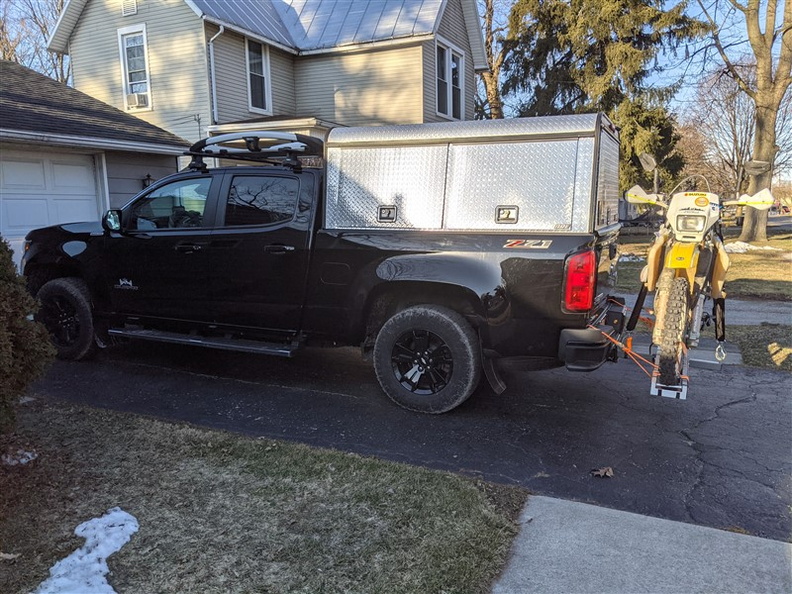 Spotwalla Stalker Link
I hadn't messed around with the new Spotwalla and Bubbler enough to figure out what was wrong with the tracking. Didn't figure it out until right before I came home. Lol. So the trip down is the long sections, that only pinged the check ins.
Not much excitement on the drive south. Interstate 75 for the entire duration. Fuel, food, and rest areas occasionally.
600 miles, and 10 hours later… made it to JWilly's home in time for dinner! Off we went to a Mexican joint, to celebrate his birthday!!
There were margaritas consumed. They were delicious.
Thanks for letting me stay the night and enjoy the festivities of the evening!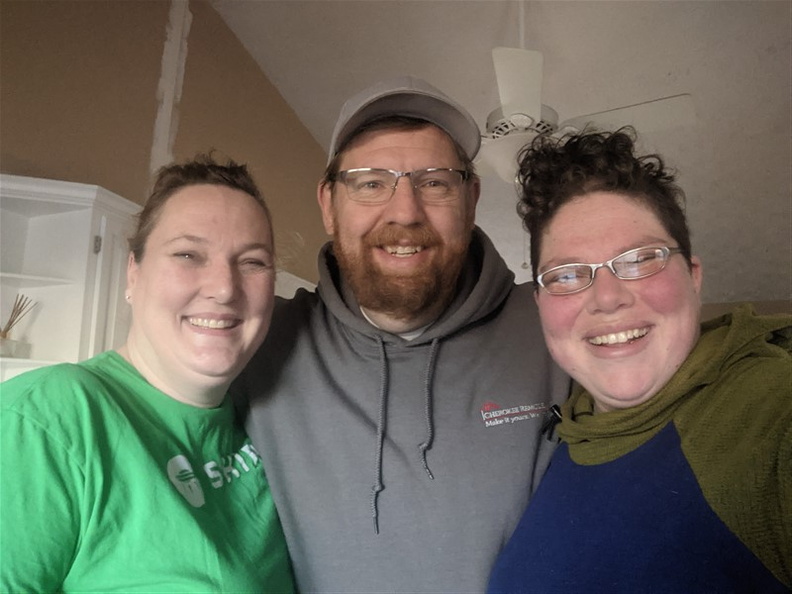 Thursday, March 4th.
On the road, through Atlanta after the rush, and continuing south. Came across some big fancy semi rigs. On their way to Daytona for bike week races?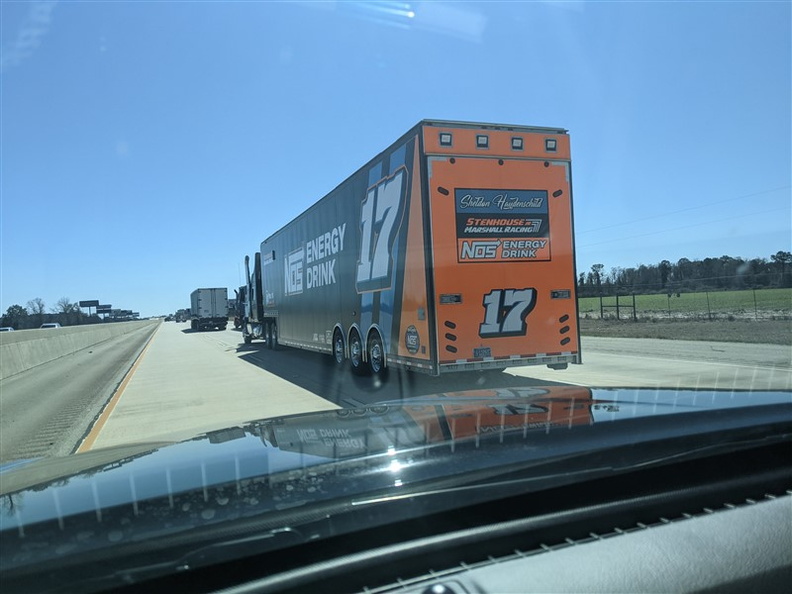 And into Florida!!!!! YAY!!!!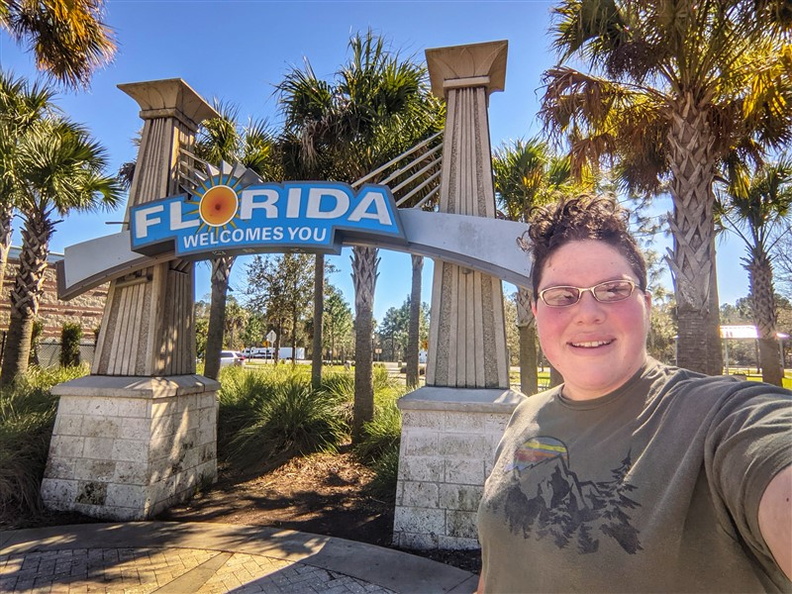 I really do enjoy traveling in my adventure rig… oh look! palm trees!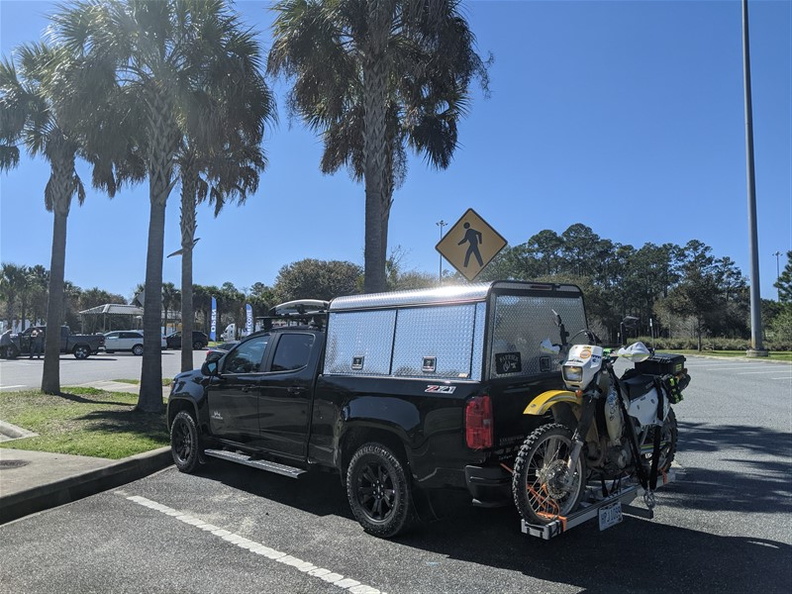 420 miles, and 8 hours later… made it off the interstate and to Dan's cabin property near Crystal River for FWG 2.0. Set up for the weekend.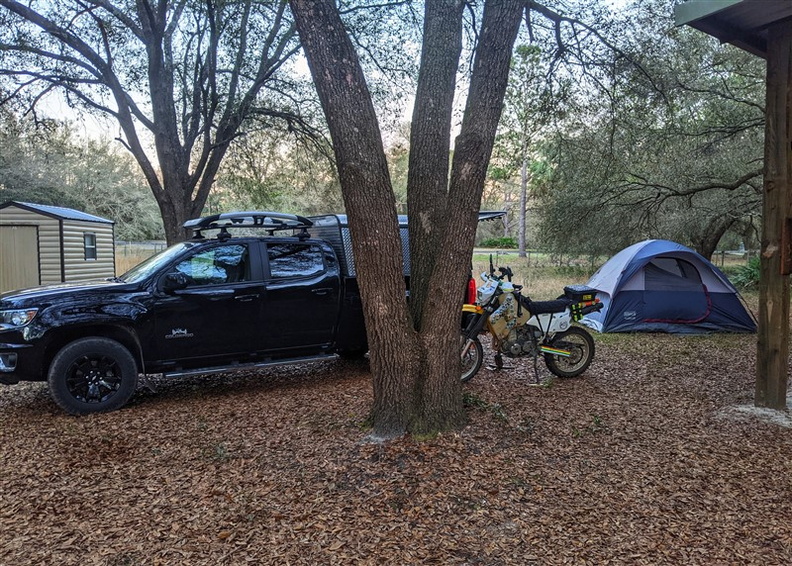 Well, that was where my tent was located for the first night. After being surrounded by men sawing logs, I relocated to the other side of the property to be able to sleep better at night. Lol.
Tina caught me cleaning and lubing my chain. Fully self-sufficient in my little rig. Lol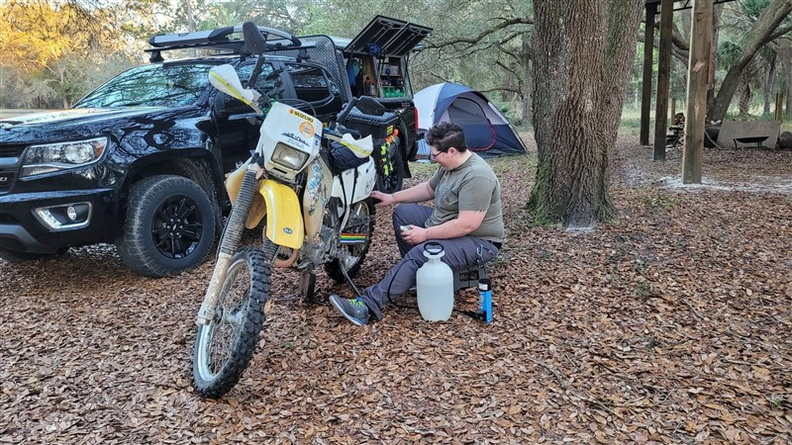 Campfire that night was enjoyable. Felt nice to sit outside around the ring and watch the wood crackle.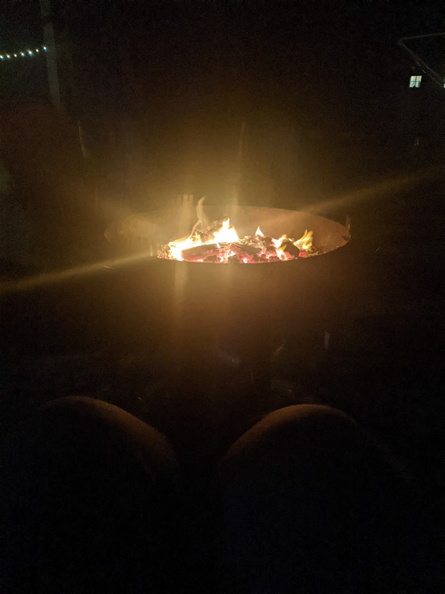 Friday, March 5th.
Group ride today!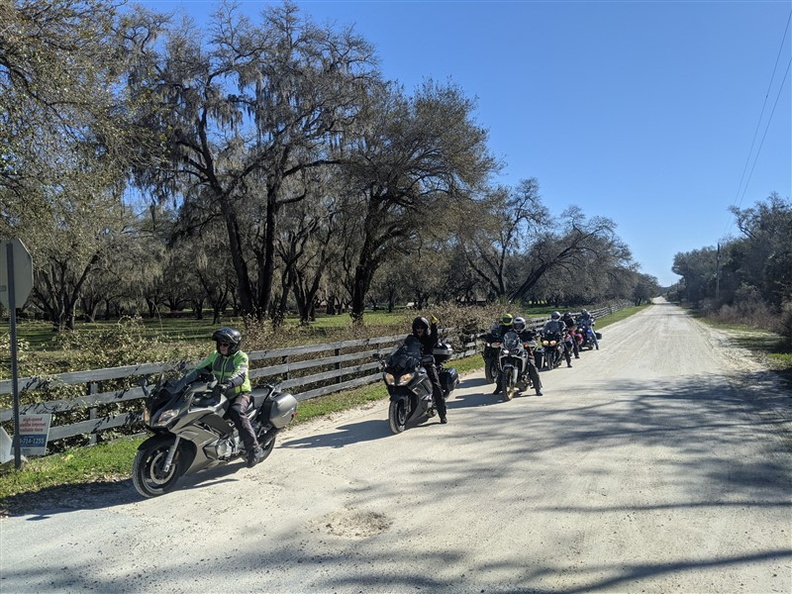 Love you too, FYBob.
I'm rolling with the big boys…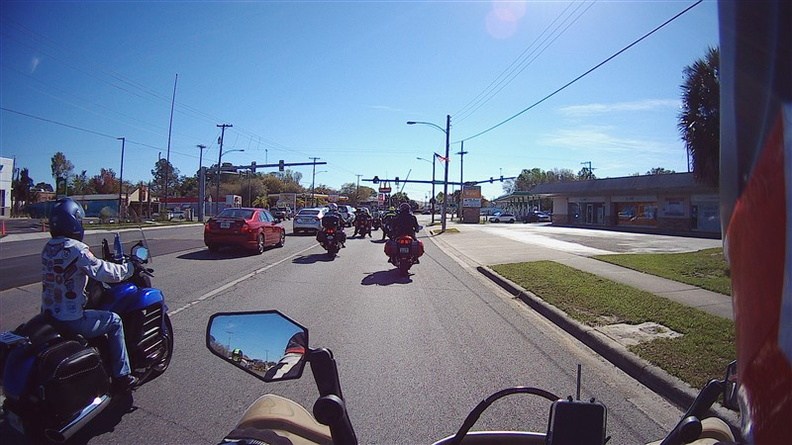 Well, and one other little guy.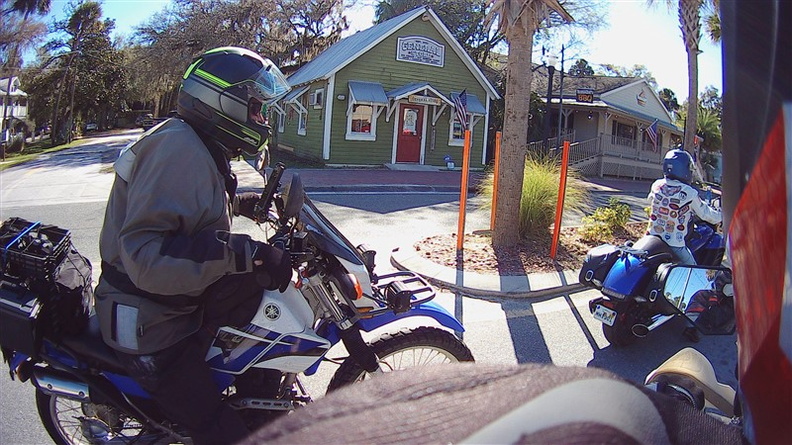 Off we go on Fort Island Trail. Some nice curves…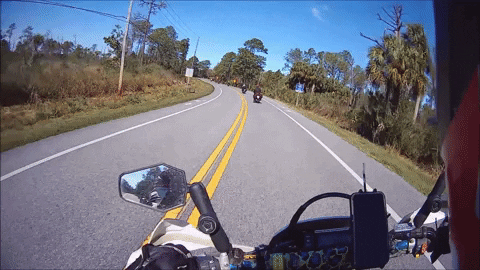 Farther we got to the end, the less trees and more open it is…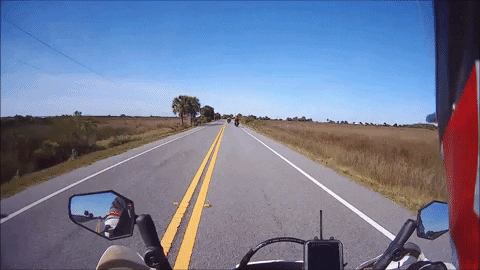 Got to the end, to the beach!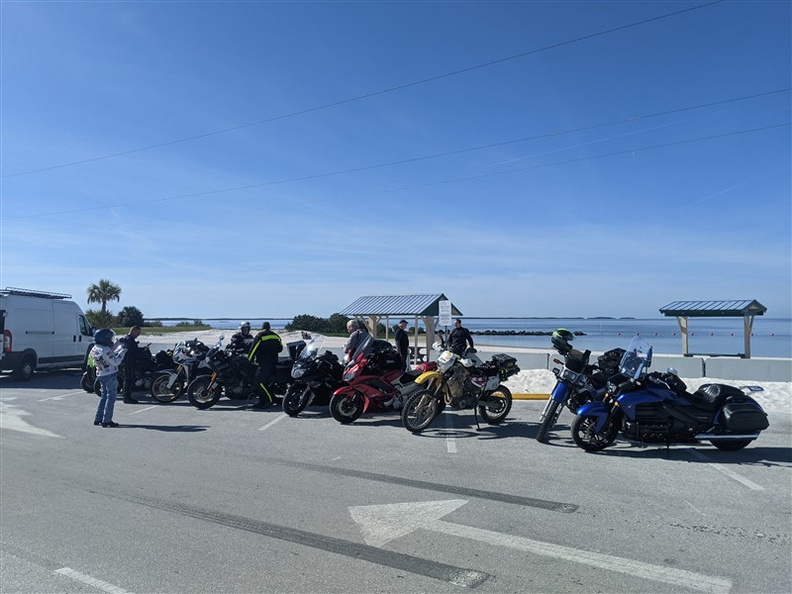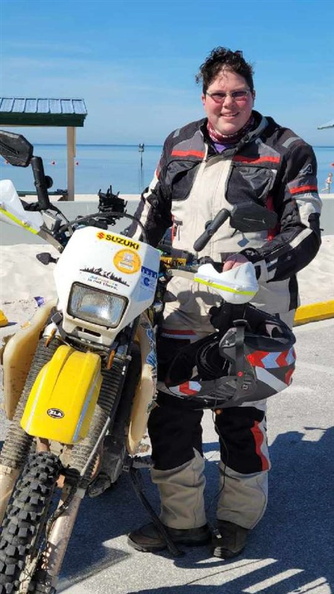 Happy to be standing on the beach, with the Gulf behind me and the sunshine encasing me in a warm hug!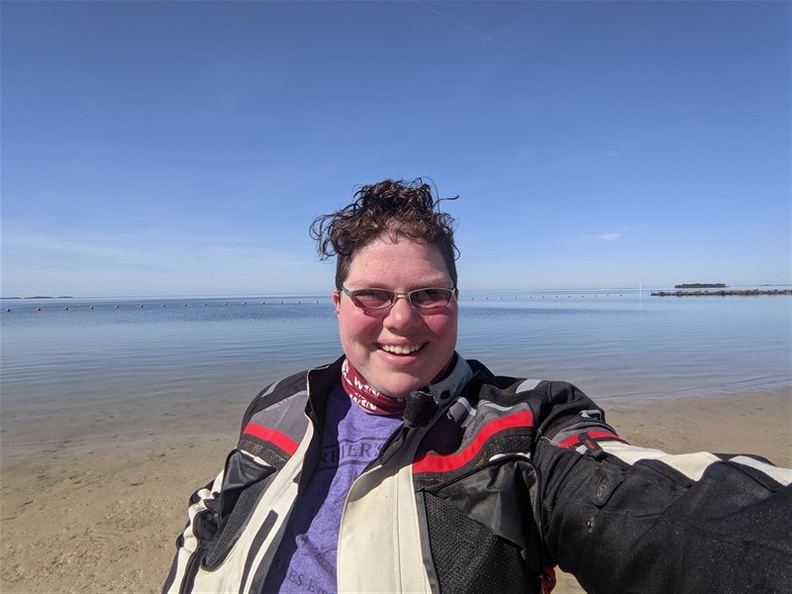 Touching water!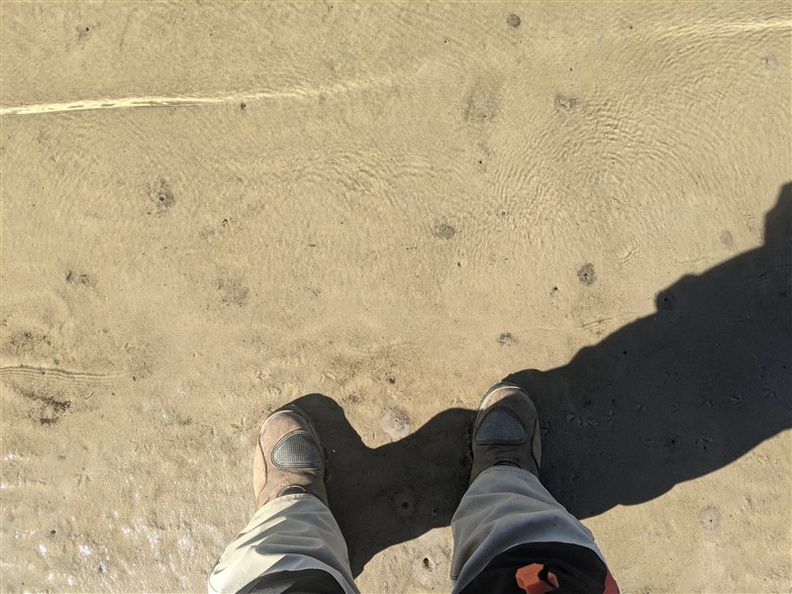 Bunch of fully geared guys standing around on the beach…. yeah, we don't stick out like sore thumbs...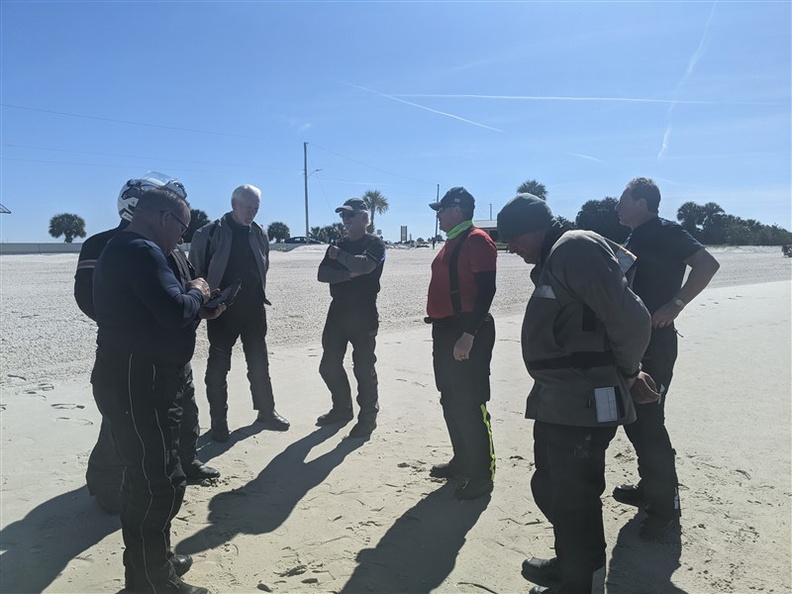 Saw a dolphin as we were standing there!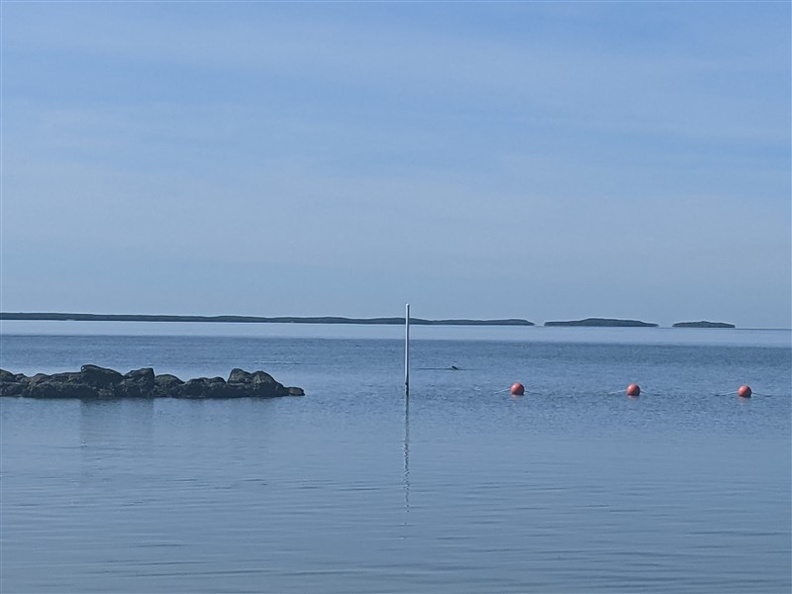 Stopped at a bridge for another pretty view…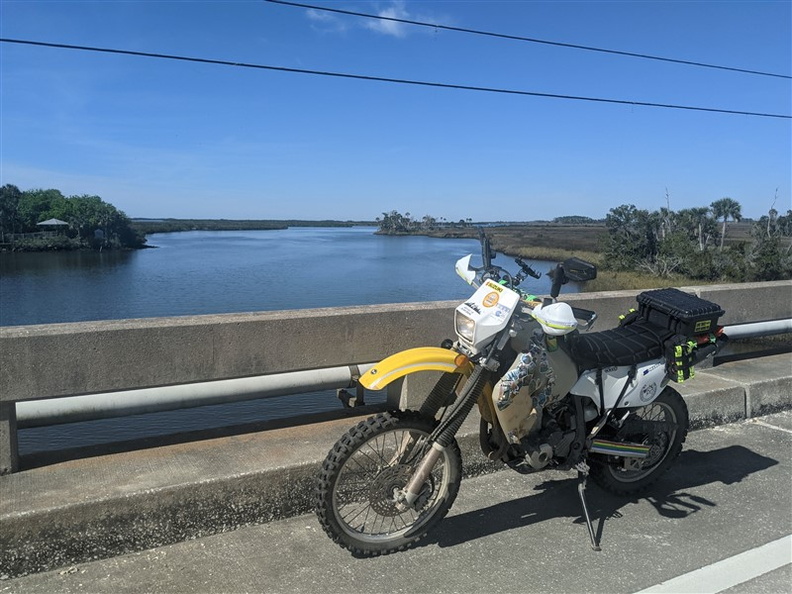 Then we went down another road that led back out to the Gulf. Ozello Trail. The big bikes got away from the little bikes, and ended up passing us on the way back inland.
But that's okay. Because I stopped for some pretty pictures!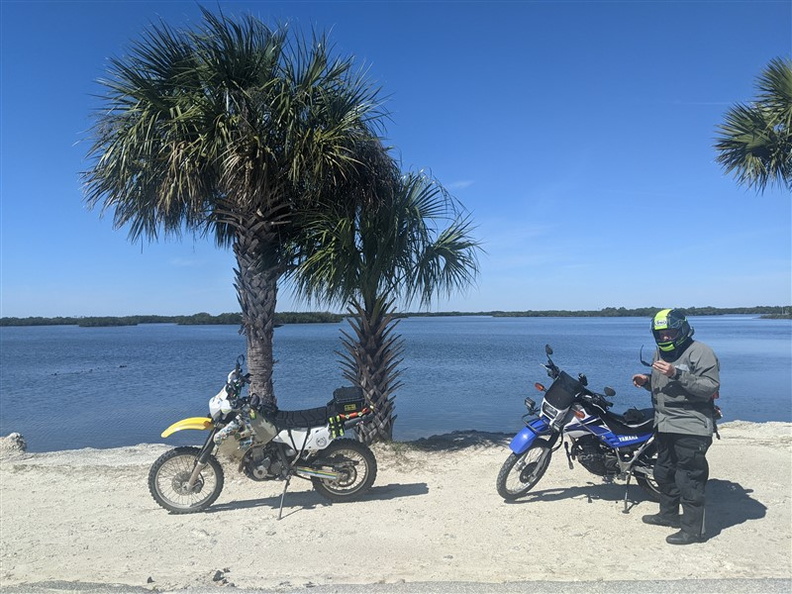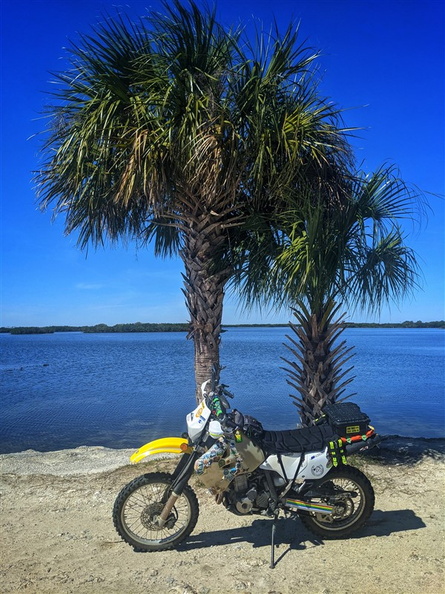 In the words of FYBob… this doesn't suck.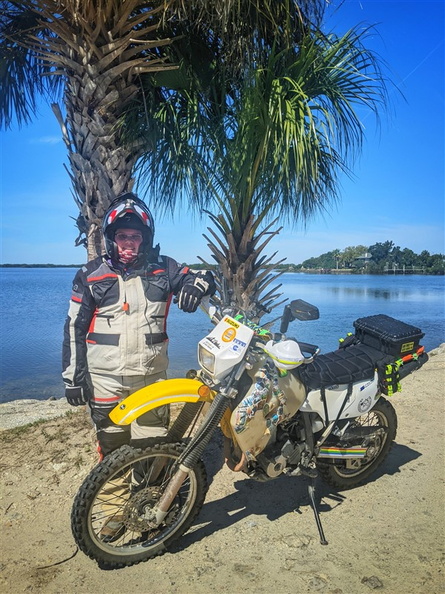 And this guy is just crazy… I'm speechless about it. Lol. Proud to call him my friend.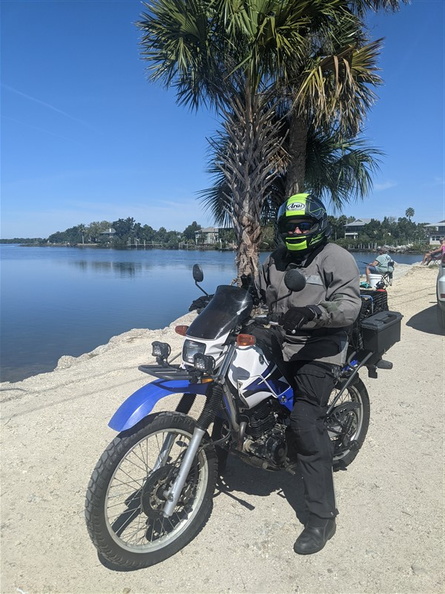 Met back up with the rest of the group, and we continued on our group ride. Passed an area of prescribed burning…
And then we ventured up into horse country area. And I squealed when I saw this farrier truck drive by…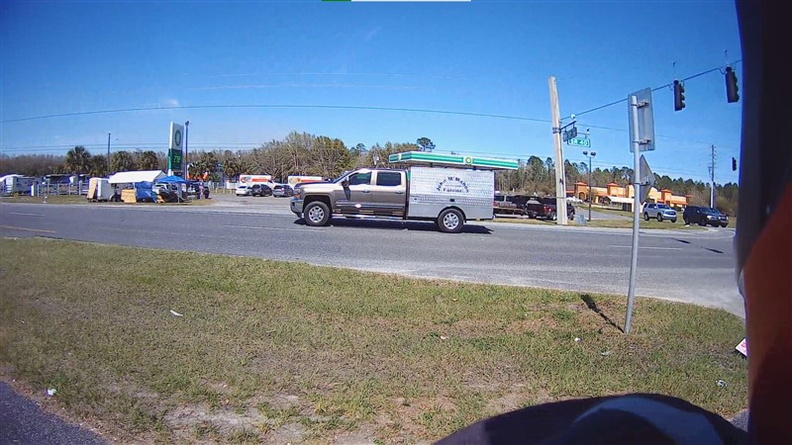 And then my head was on a swivel the entire time we were riding along these country roads! Girl was riding a jump course at this farm.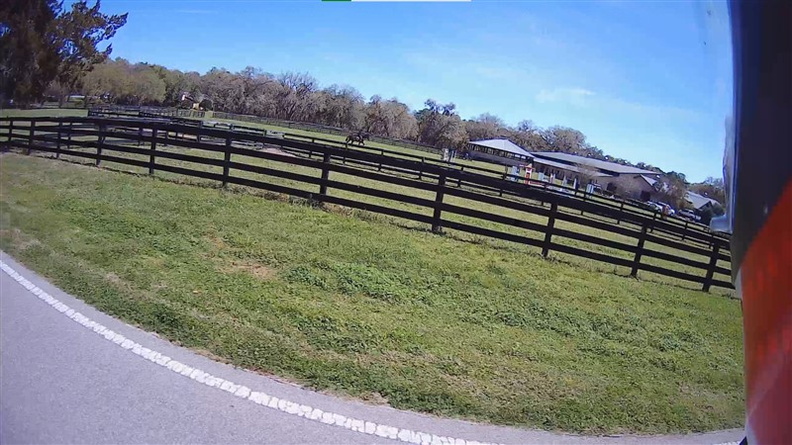 The sena footage would make you dizzy to watch it. I'm also excitedly reading the names of the farms and talking to myself about the barns and fencing and what's in view.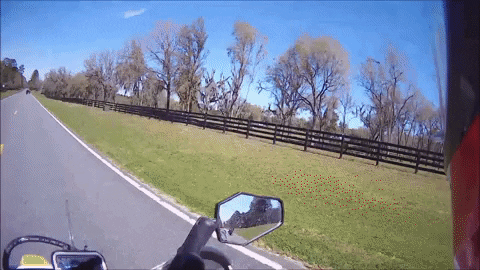 Another farrier was working at this barn!!!!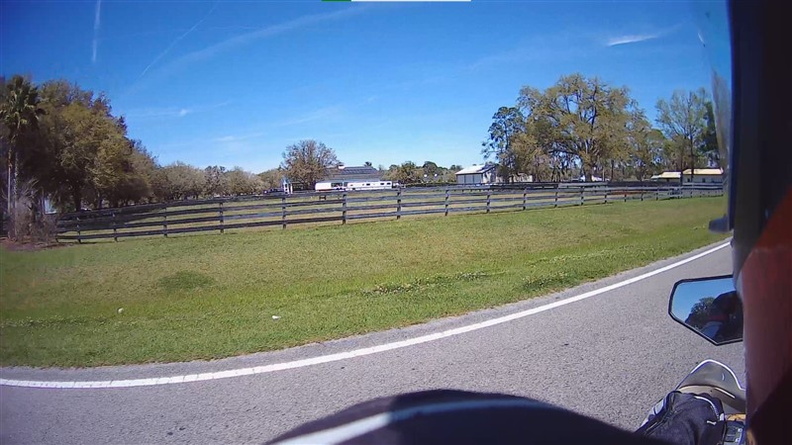 I enjoyed every second of riding those roads…
Especially to look forward and see all the guys in front of me.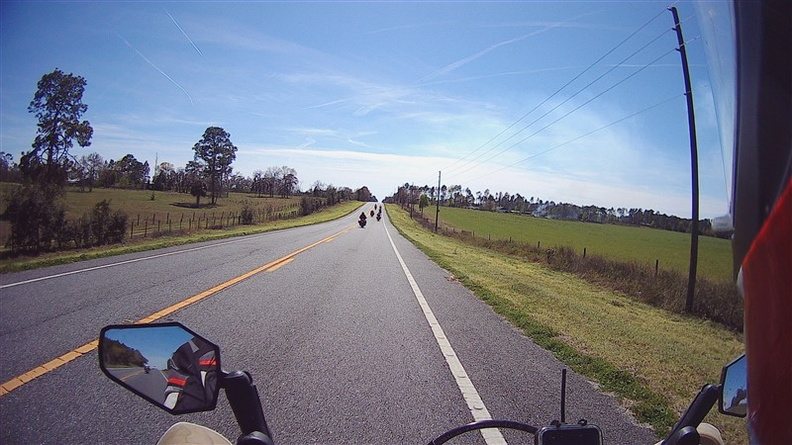 I mean, I am riding my bike, in Florida, at the beginning of March. Happy!
Stopped for lunch, at Shrimp Landing in Inglis. Had some DELICIOUS shrimp tacos. Those shells were amazing!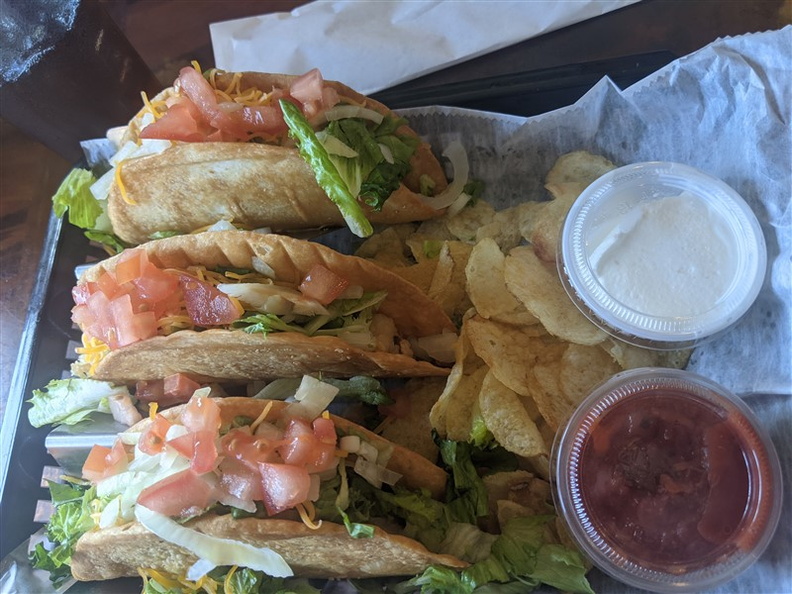 After lunch, 5 of us headed to Hunter Springs Park in Crystal River. How many bikes can YOU fit in a parking spot...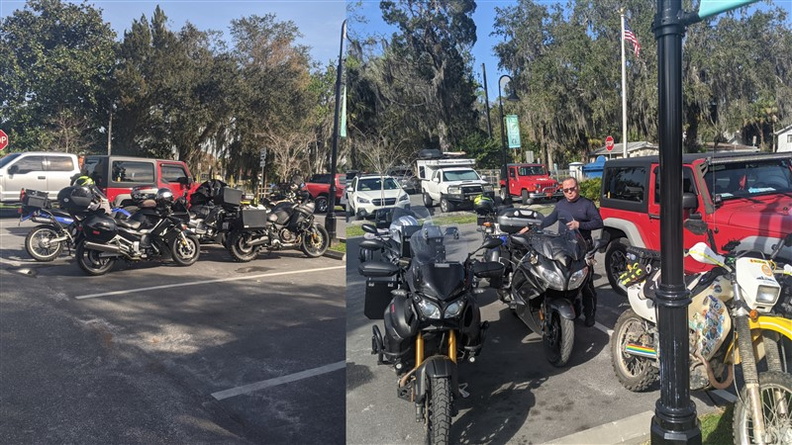 Thought we might see what we could see, with an off chance of seeing manatees. No such luck, but it was pretty.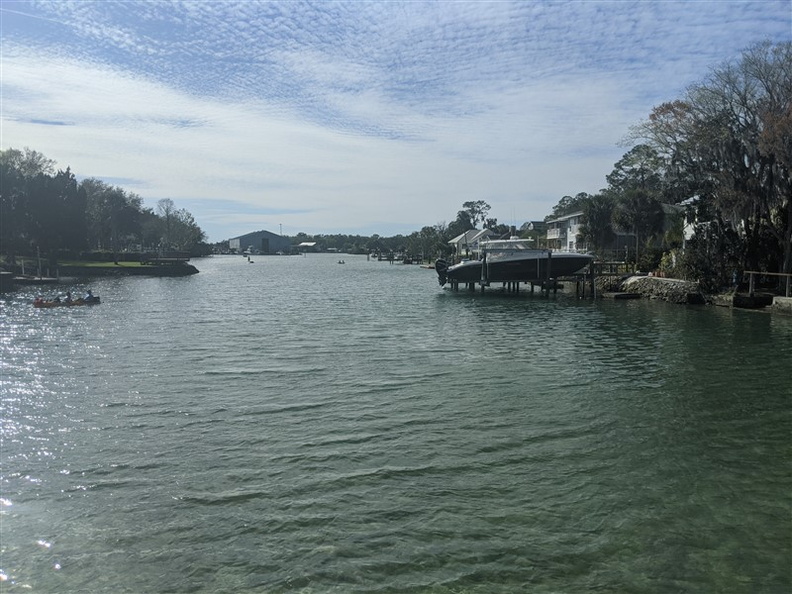 Pulling back into the driveway at the camp…
167 miles for the day.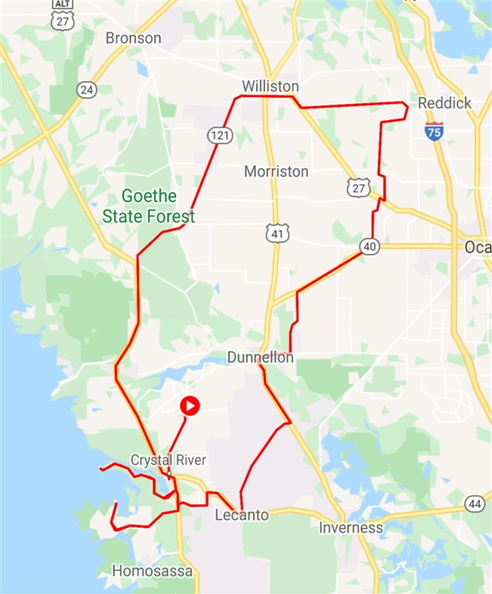 Back to camp for dinner and socializing. Big bonfire this evening.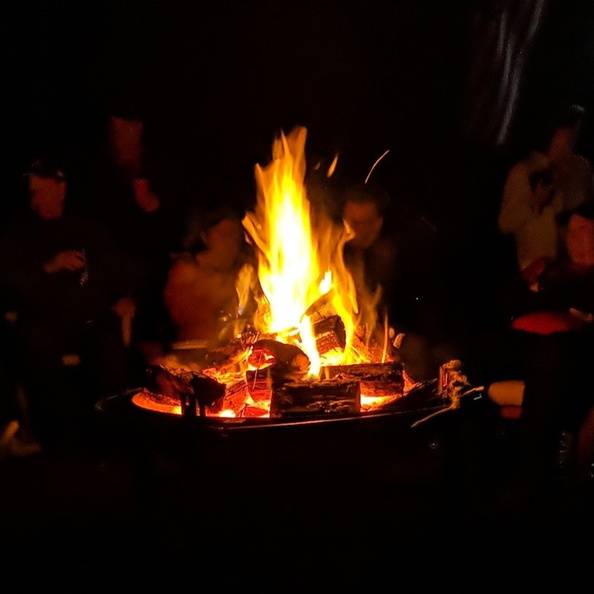 Saturday, March 6th.
Wake up to rain and dreary skies. So we pull the campfire pit under the barn shelter, and we sit around for the morning. Eventually, we get a break in the rain, but no one is motivated to go for a ride. I wanted to see manatees and the Three Sisters Springs. So I load up 4 guys (all that I had met from the internet, mind you) into my truck and off we go. Three Sisters Springs.
MANATEES!!!!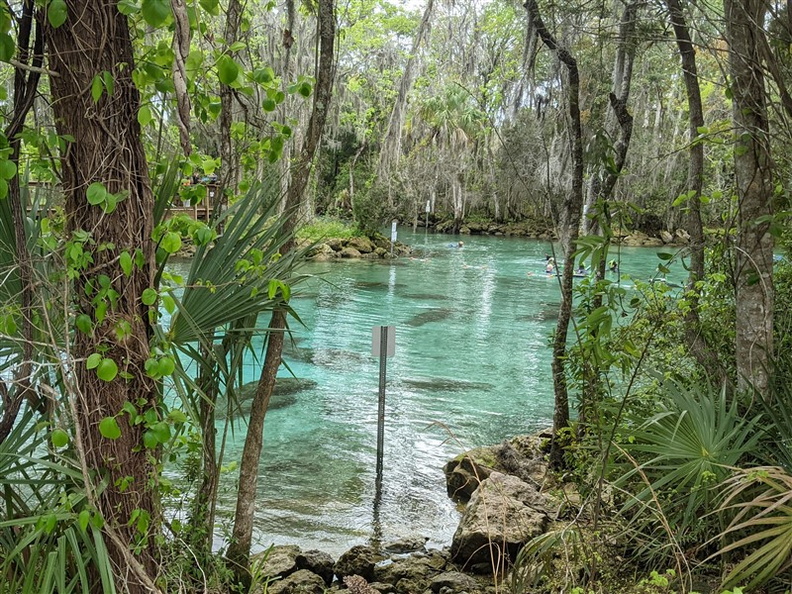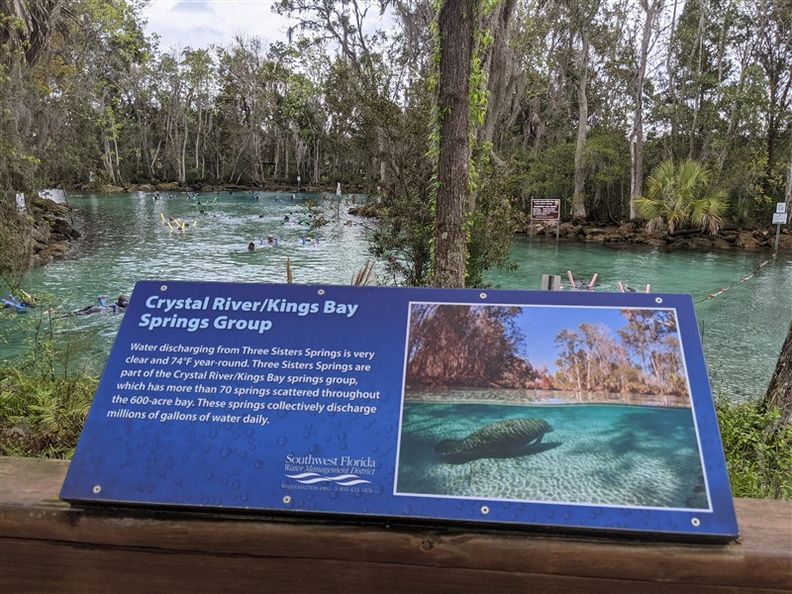 I'm pretty thrilled to be seeing these creatures!!!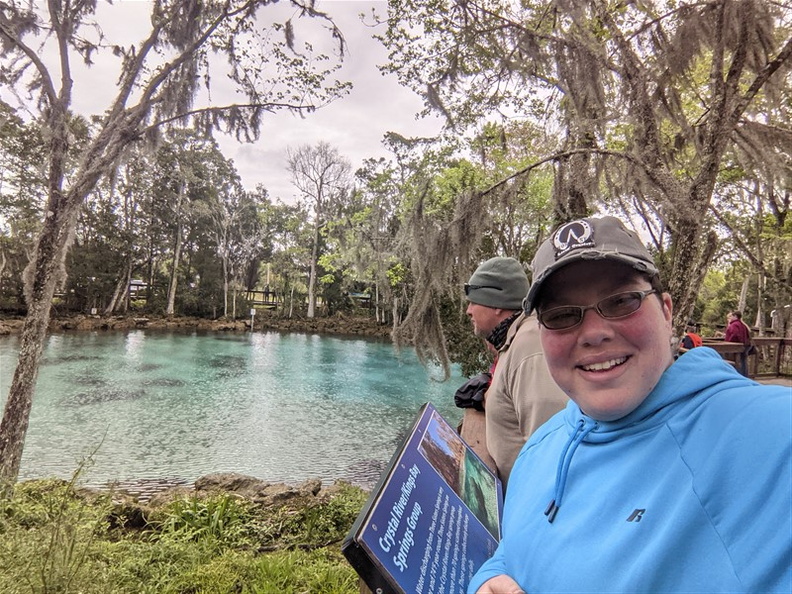 I think we all had a good time.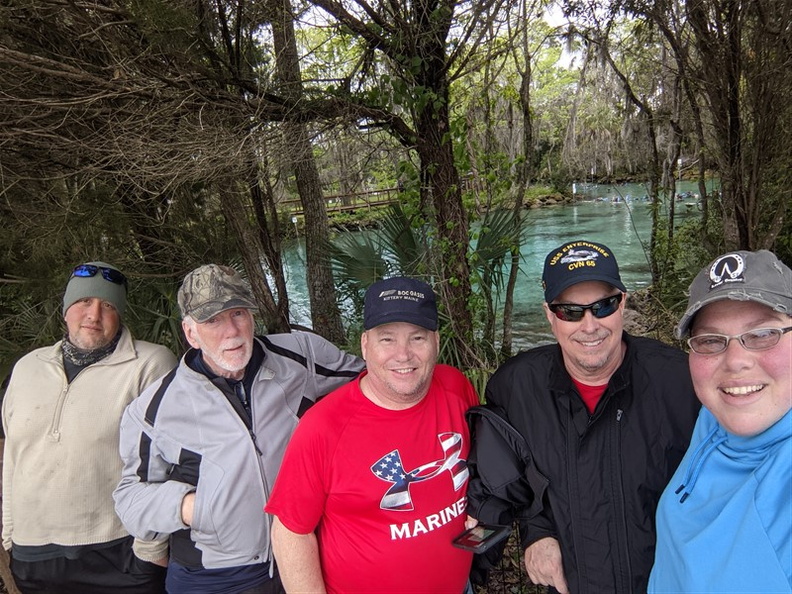 Then back to the camp, drop off two guys and pick up one. And off we go to Rainbow Springs.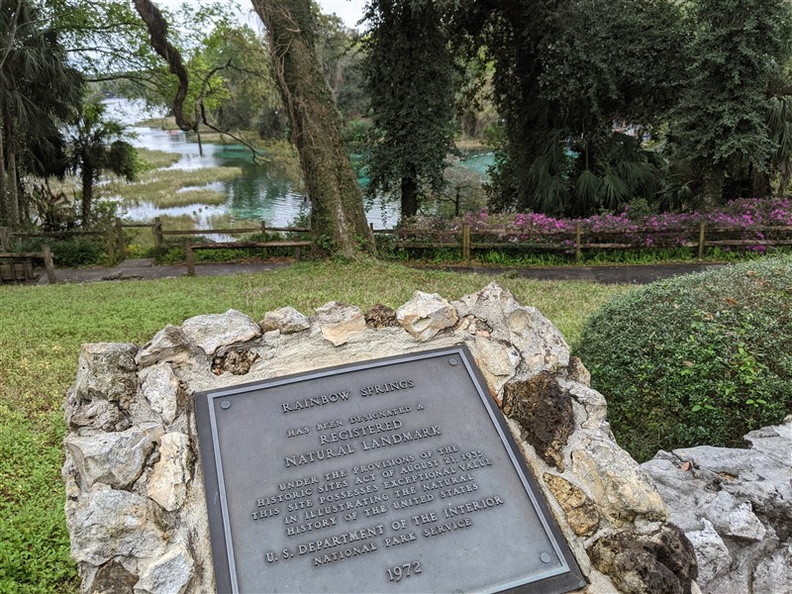 Got to take off my shoes and dip my feet in the springs!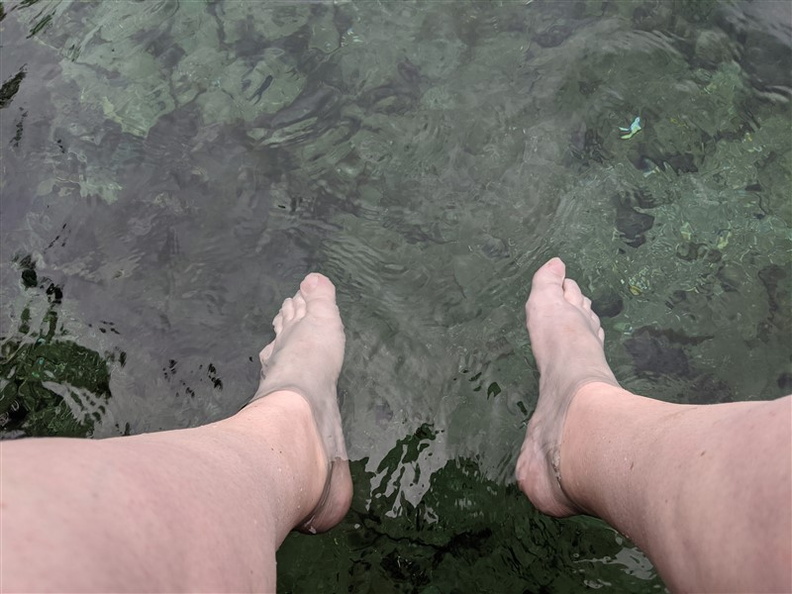 The others didn't take up the offer of swimming in skivvies…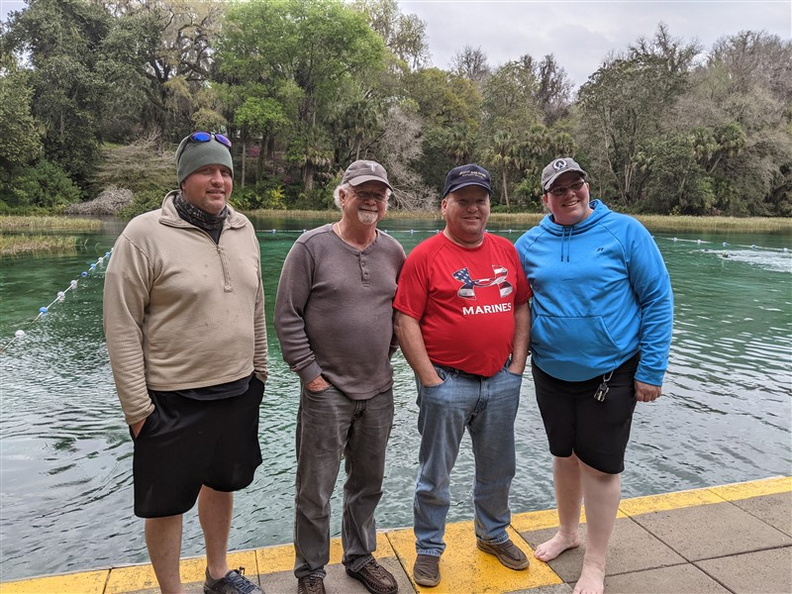 My Tyler picture of the trip. Blooming flowers are pretty! The headwater of the river in the background.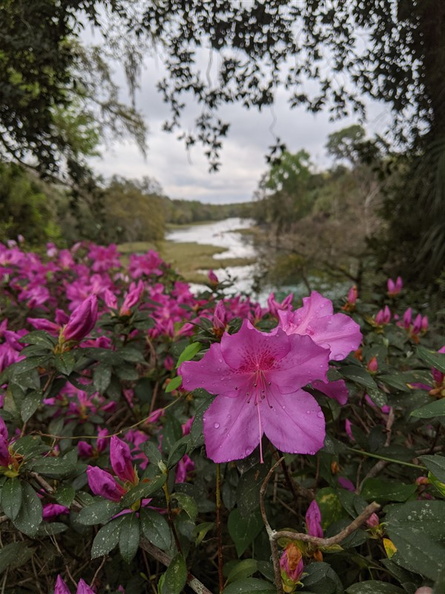 Back to camp, and we sit around and socialize some more.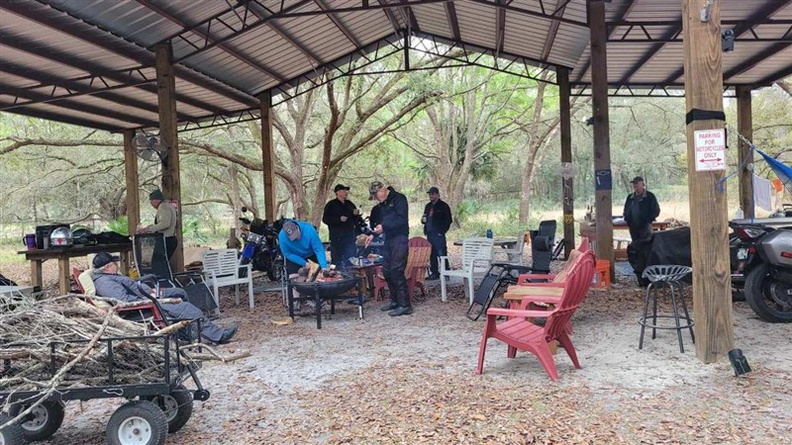 Roasting marshmallows!!!!!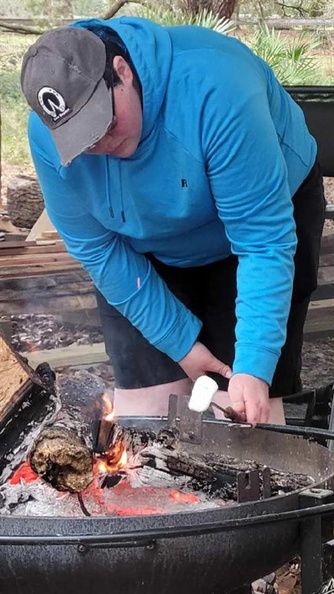 This was my relocated camp site… because Bob.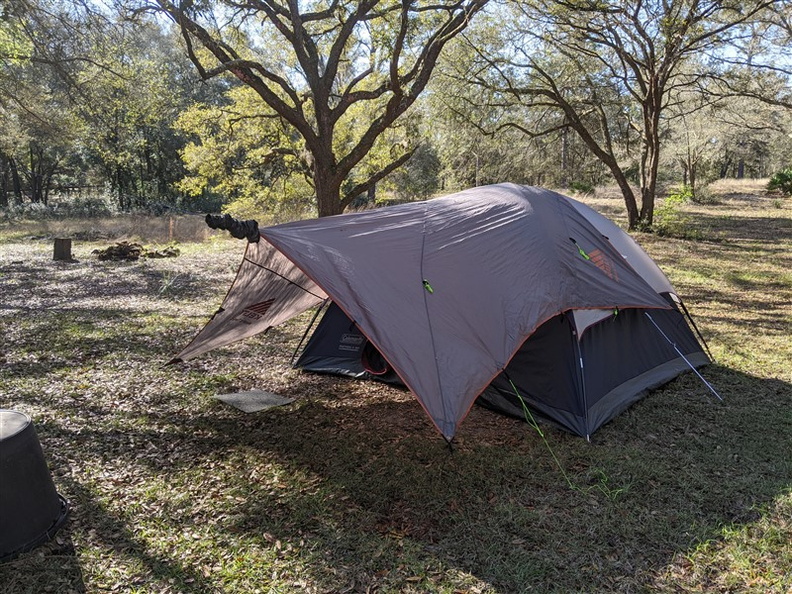 Trying out the extra tarp as a porch covering. Mostly playing around and experimenting with it…
I make quite a homey tent, if I do say so myself…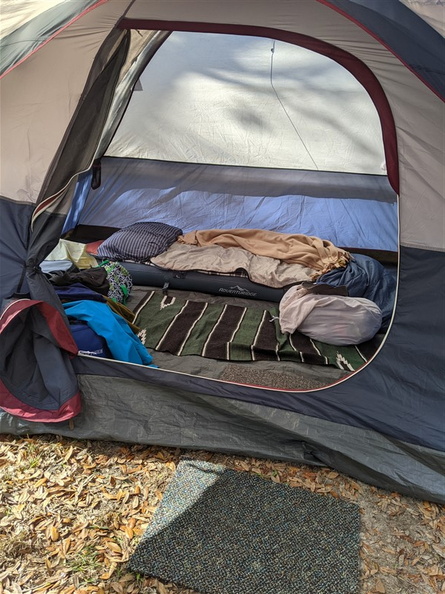 Dinner by headlamp!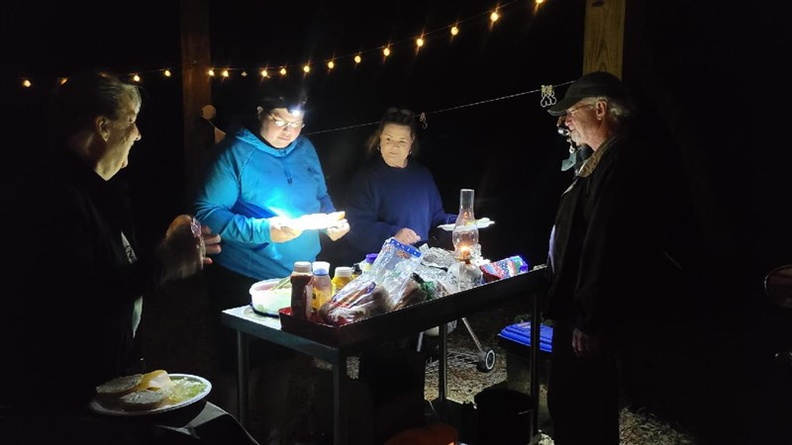 Sunday, March 7th.
Pack up camp, head into Crystal River and do some walking around town and visit the little stores. And then, head on down the road to Lakeland. Move into LKLD's home for the week.
Monday, March 8th.
Mount up the DRZ, and off I go on a backroads tour to the south. Through the citrus groves. They smelled so nice!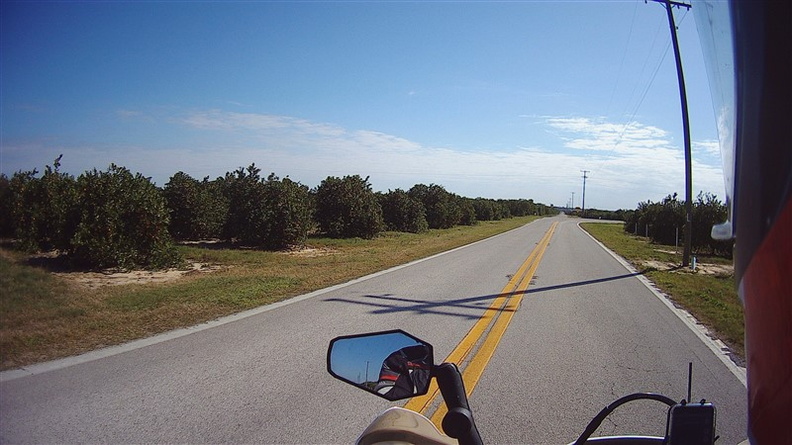 And then I eventually land at my grandma and grandpa's winter home!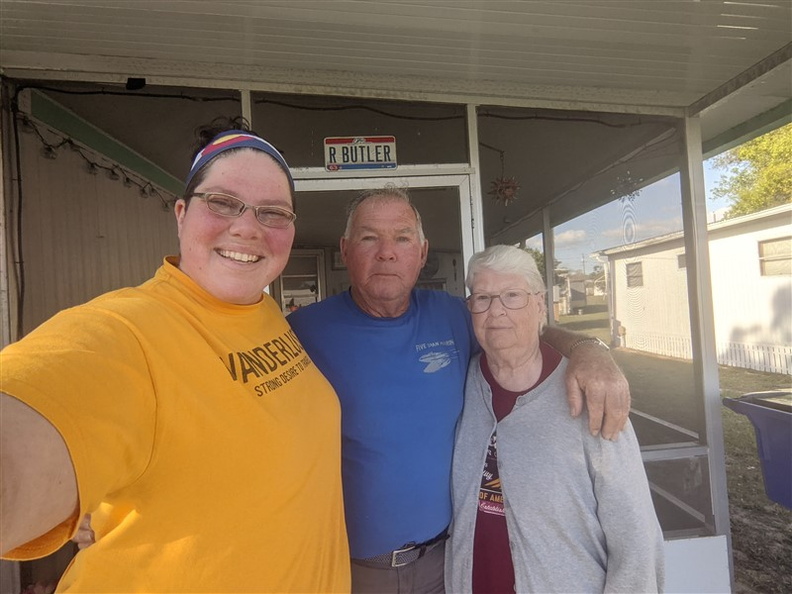 Sit and talk with them for hours on their porch just enjoying the Florida weather. Love them, truly.
Then I had to leave, so I could be sure I was home by dark. Stopped by a roadside fruit stand and picked up some fresh strawberries. YUM!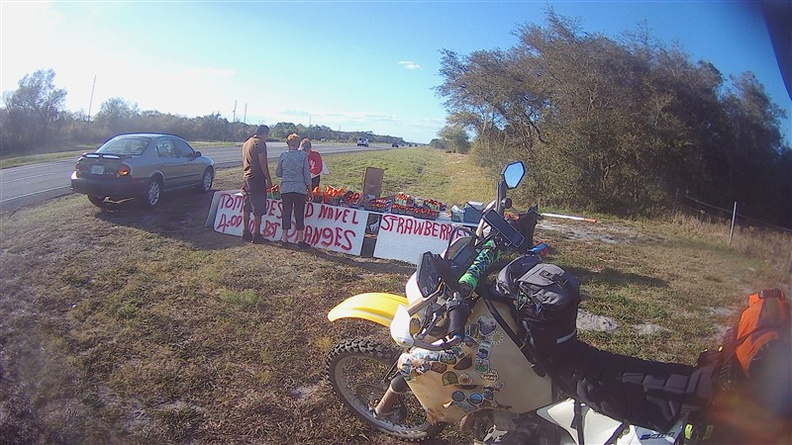 110 miles for the day.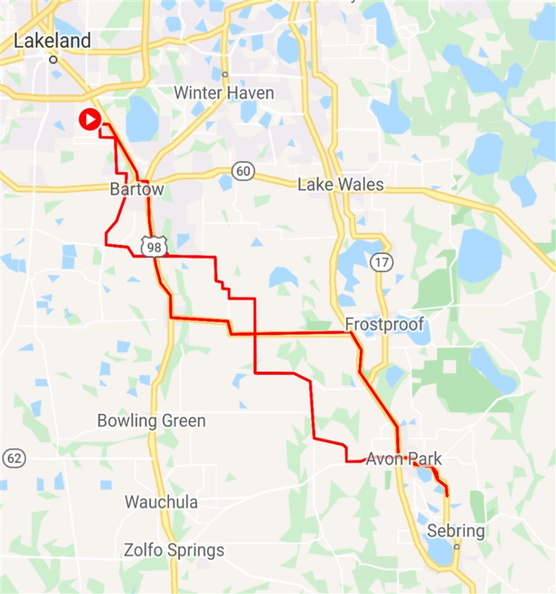 Tuesday, March 9th.
Time to go to the Zoo! Drove the truck to Zoo Tampa, at Lowry Park.
Got to see some rhinos! The baby, which was born a couple years ago and got to see born on the TV show!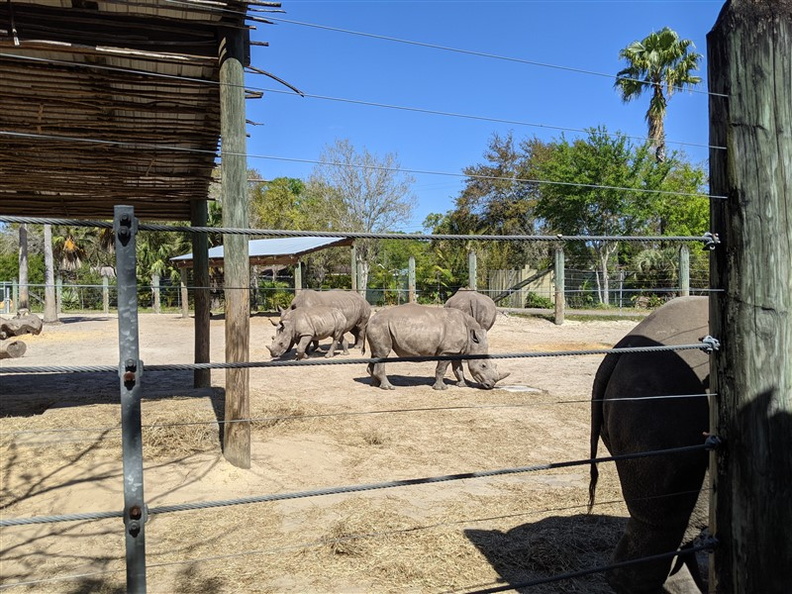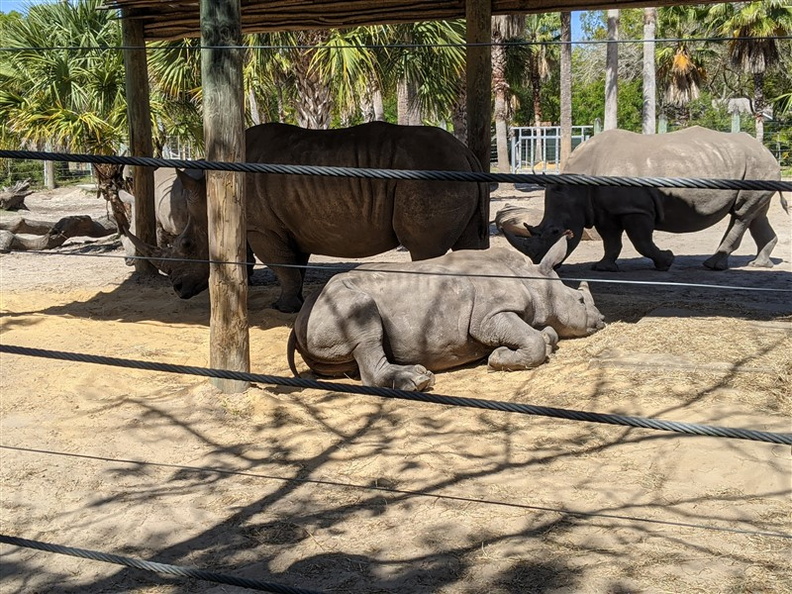 Koala was cute, how he was all snuggled up on his branches taking a nap.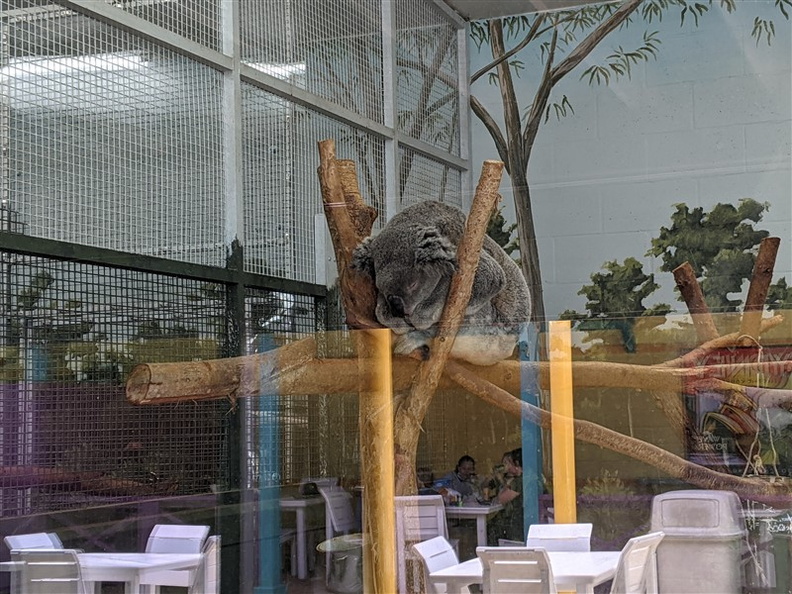 Flamingos were so vibrant!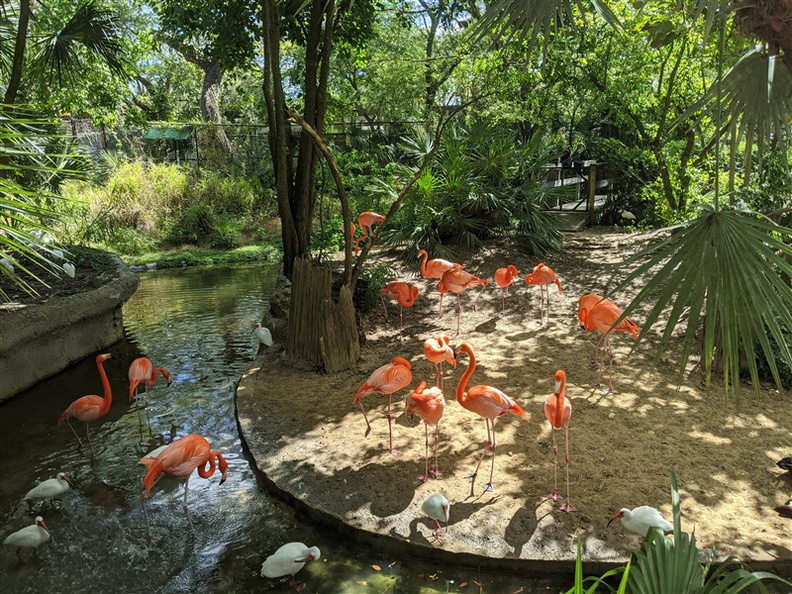 Here kitty kitty kitty… pspspspspsps.
Gator. *shiver* I don't like these creatures. Ugh.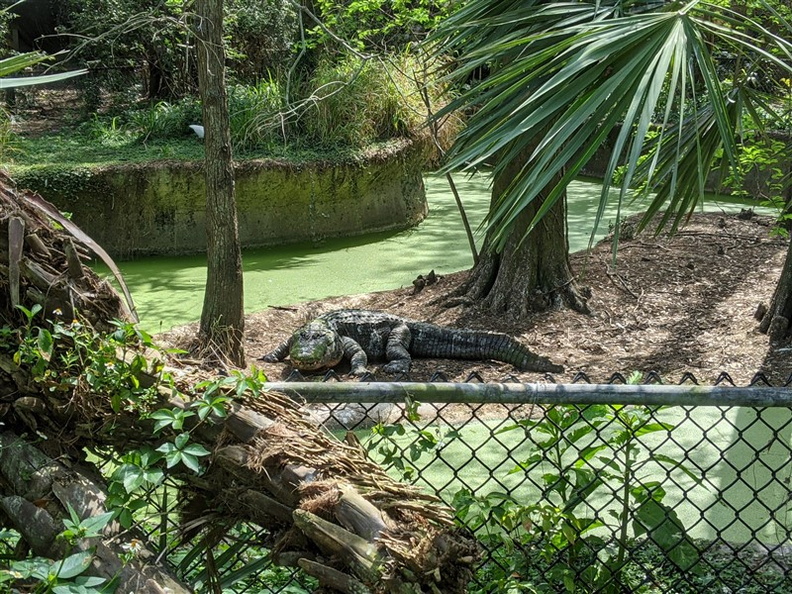 And then some more manatees!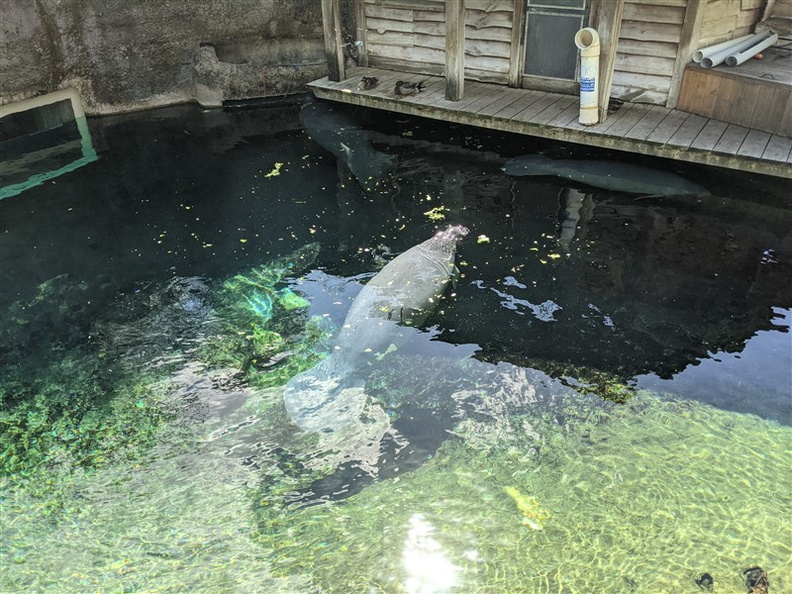 The zoo here has a wonderful rehab and release program. Very nice facility and care staff.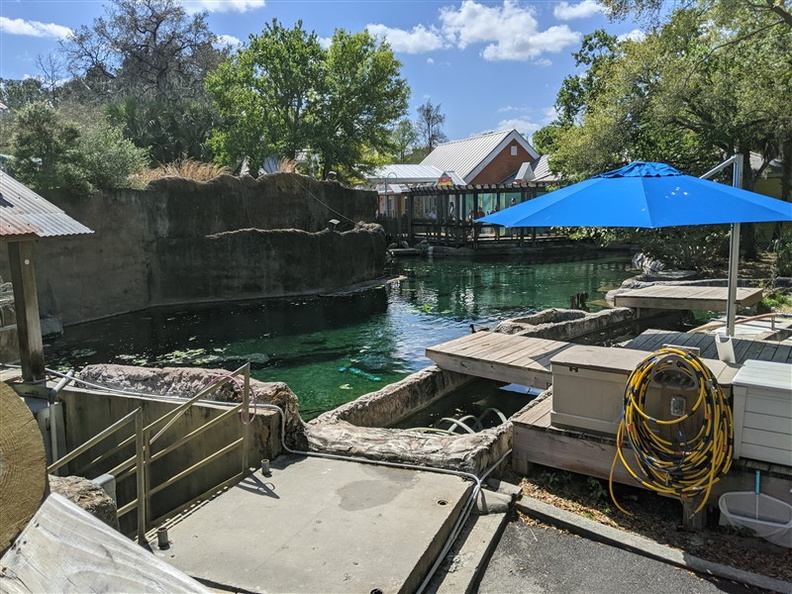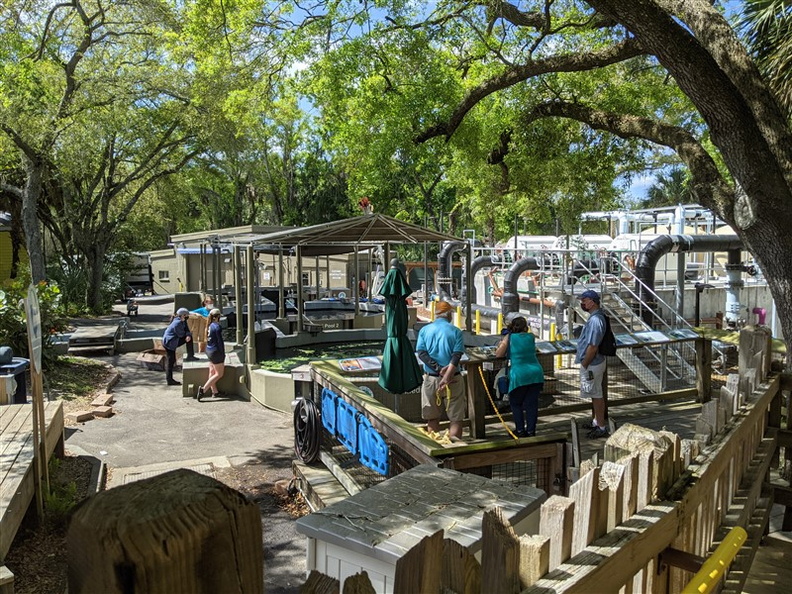 I loved the underwater viewing area! Got to see their cute little faces!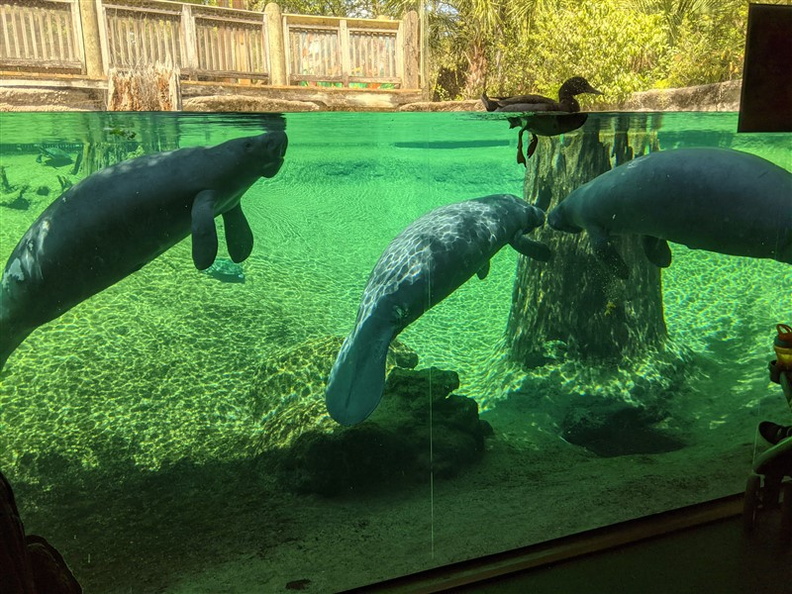 I just want to smoosh those cheeks.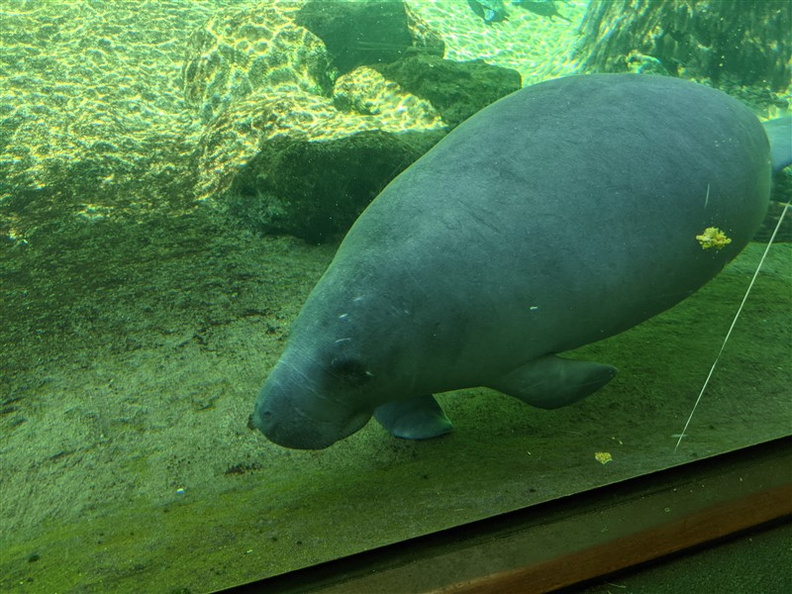 Can see the damage done on this one. Ouch.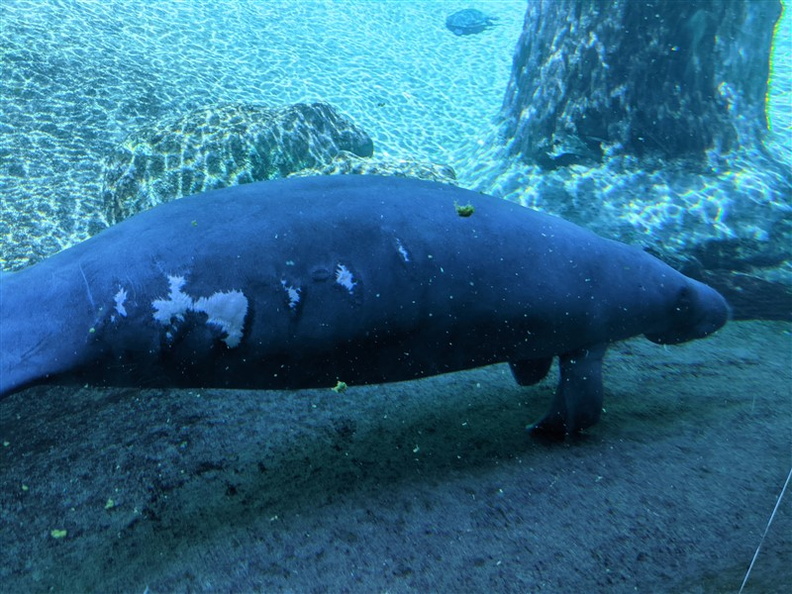 The way they eat and use their fins to help shovel the lettuce in. So cute!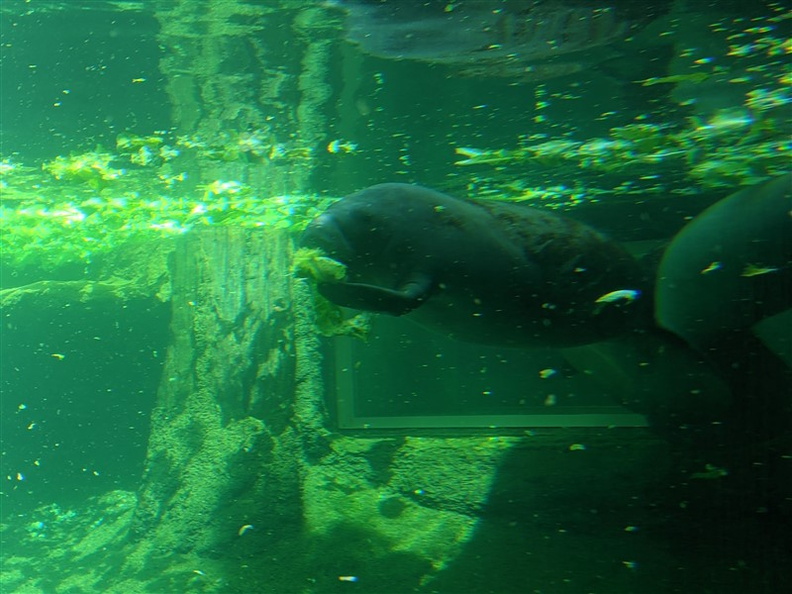 I'm just fascinated by them…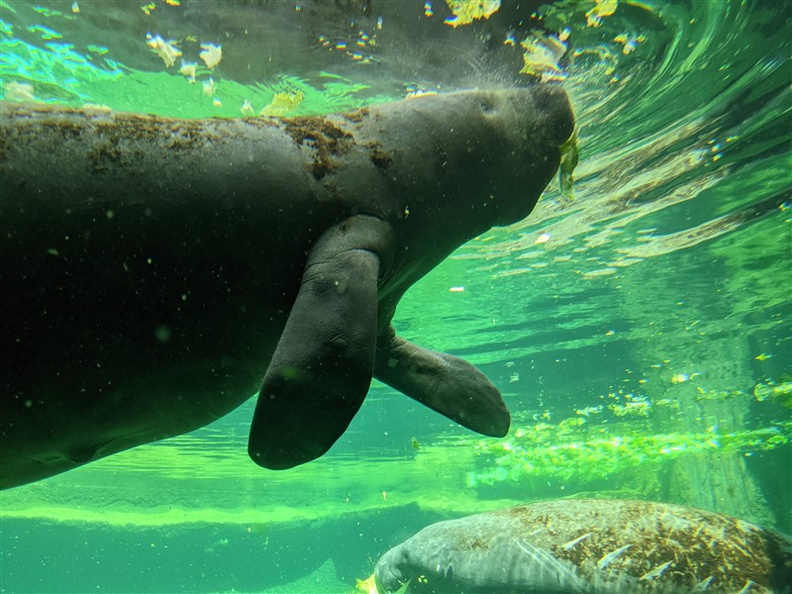 And look at the size of that one compared to the others!!! Wowshers!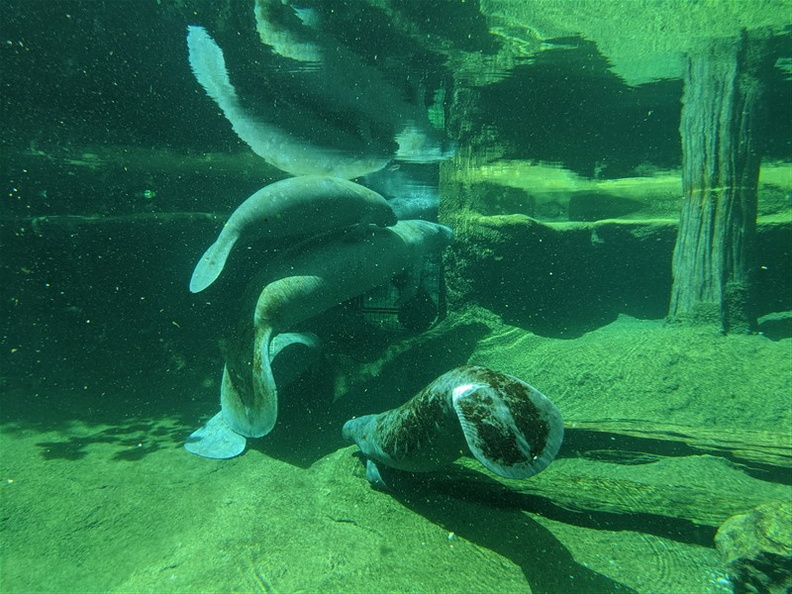 Bald eagle! Safely away from me and my motorcycle…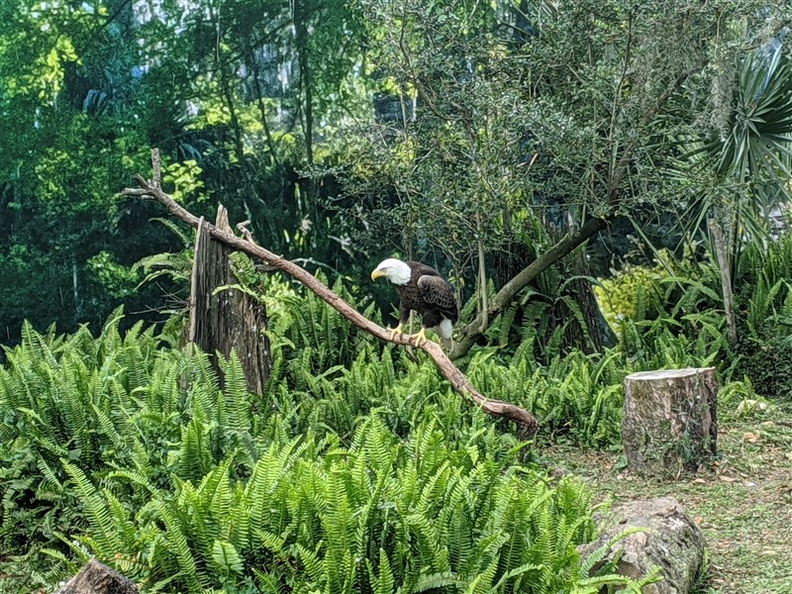 Penguins! Who's going to be the first to dive in…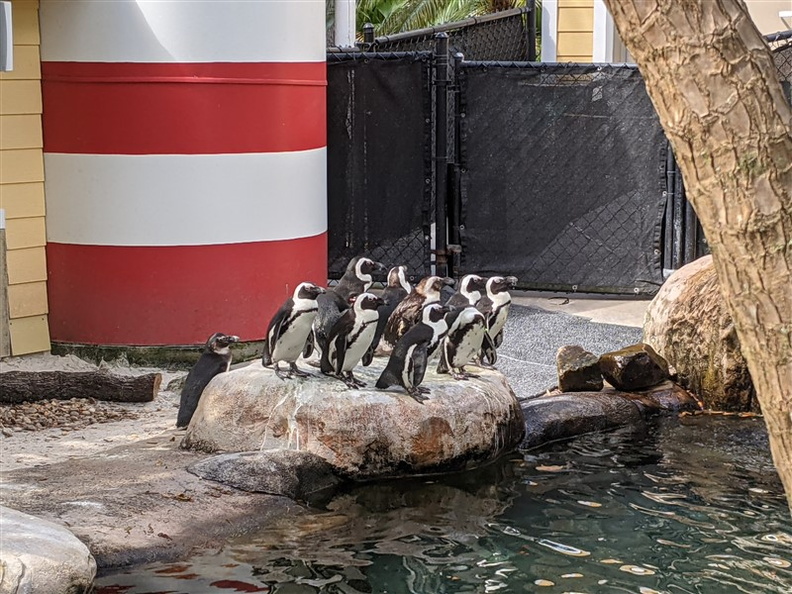 Giraffe and zebra. Gorgeous creatures.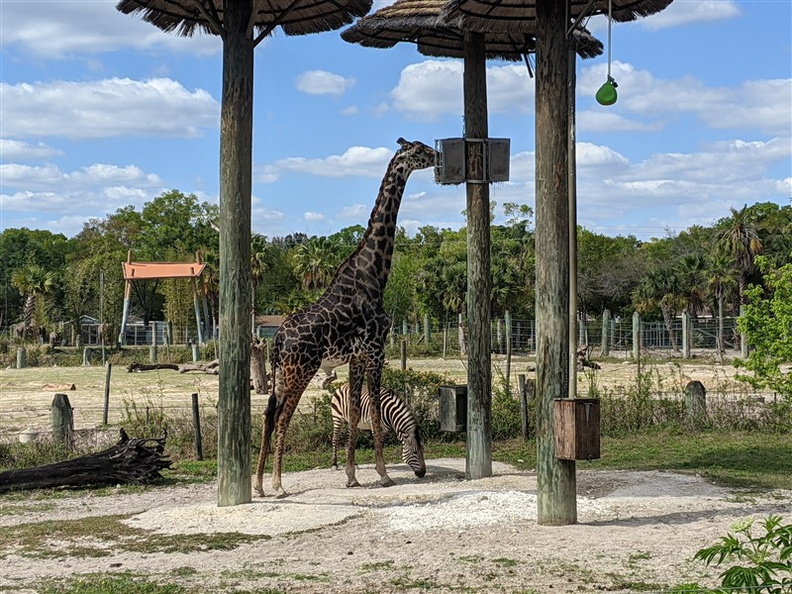 HUGE
THANK YOU
to Tyler, and her sister Dr. Cynthia. Without these two, this zoo trip wouldn't have happened. It was a brief moment that I got to meet Cynthia, due to her being busy at work. But still nice to actually meet her in person and thank her.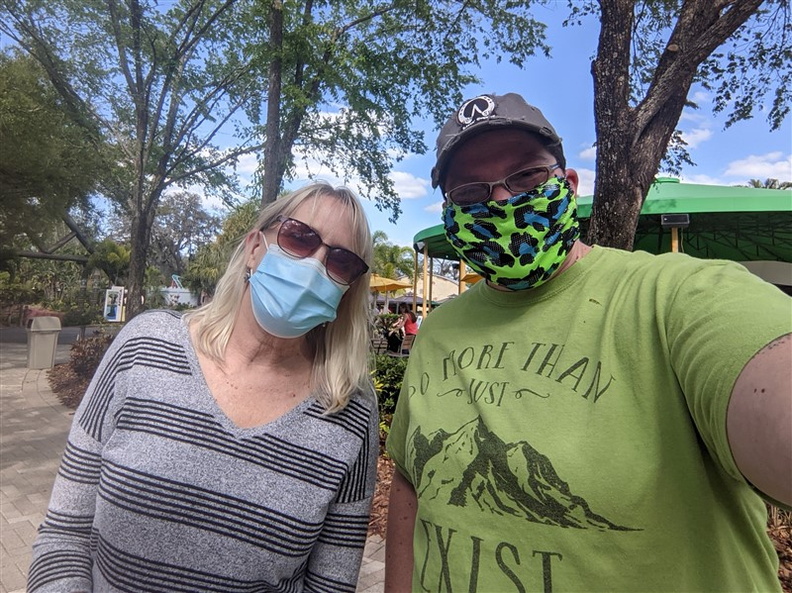 Wednesday, March 10th.
On this day, I made time for family again. This time, meeting up with my 2 uncles who now permanently reside in Florida. And happen to live in Lakeland area. Was nice to hang out with them and chat about family and growing up on motorcycles.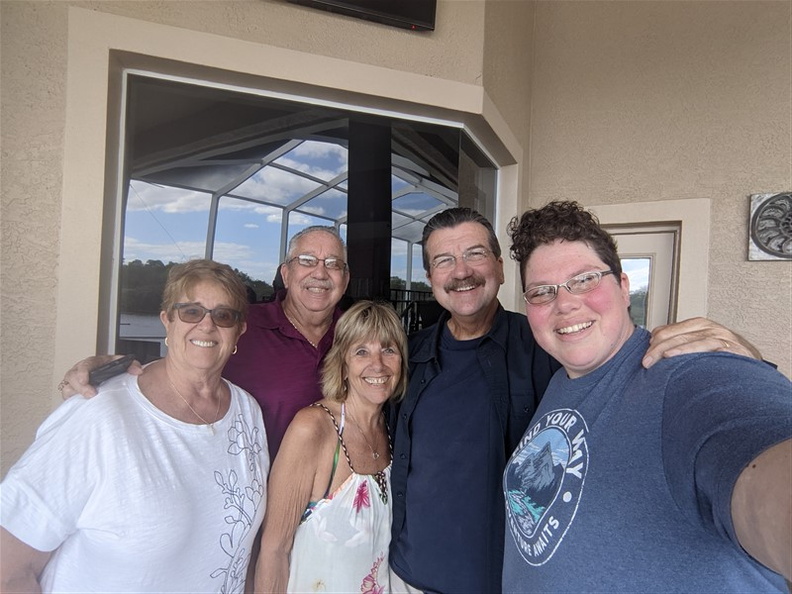 Afternoon, I then saddled up the bike and went for a short ride around Lakeland. Pretty sunshine and palm trees!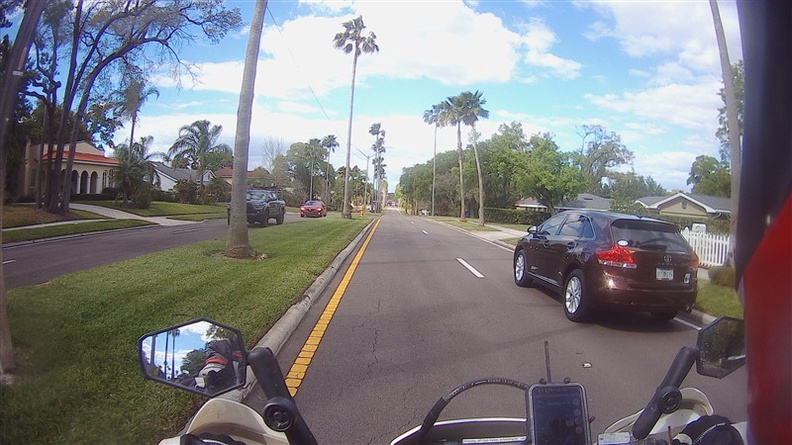 Headed to a Cuban restaurant, which was recommended to me, and claim to have the best Cuban sandwiches in Central Florida.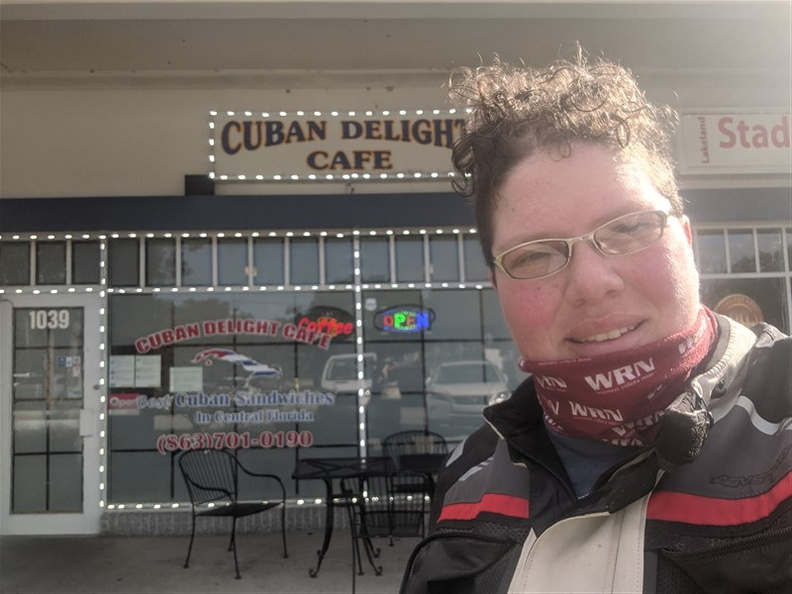 By the way, I LOVE Cubanos. Just might be my favorite rare sandwich. And I will say, these guys had a darn good one!
Back on the bike and up into the land of lakes. Pretty trees with their canopy over the street and the Spanish moss(?).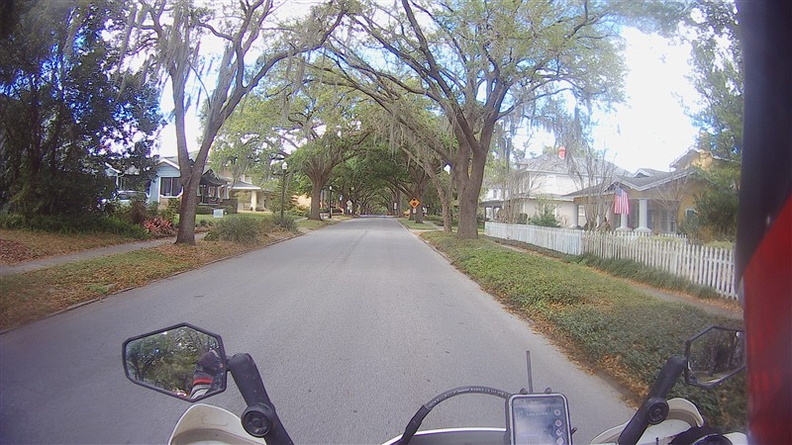 Lake Morton. Known for their swans.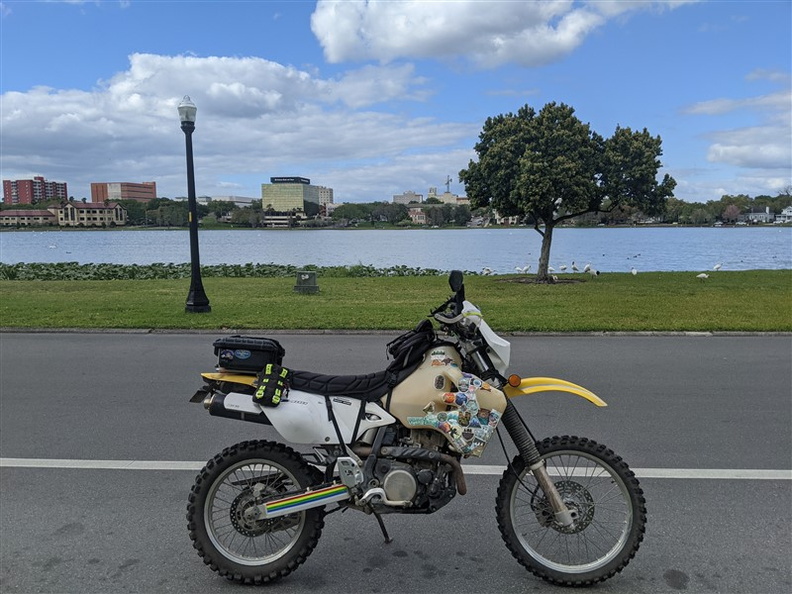 Swan nesting boxes to the right. Those green fenced areas.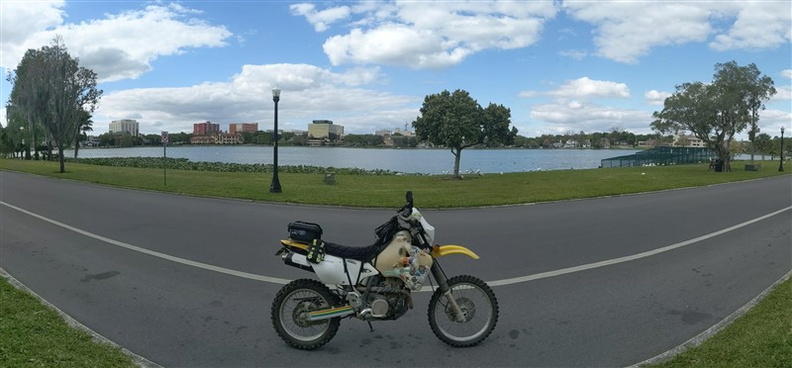 And a nesting swan there!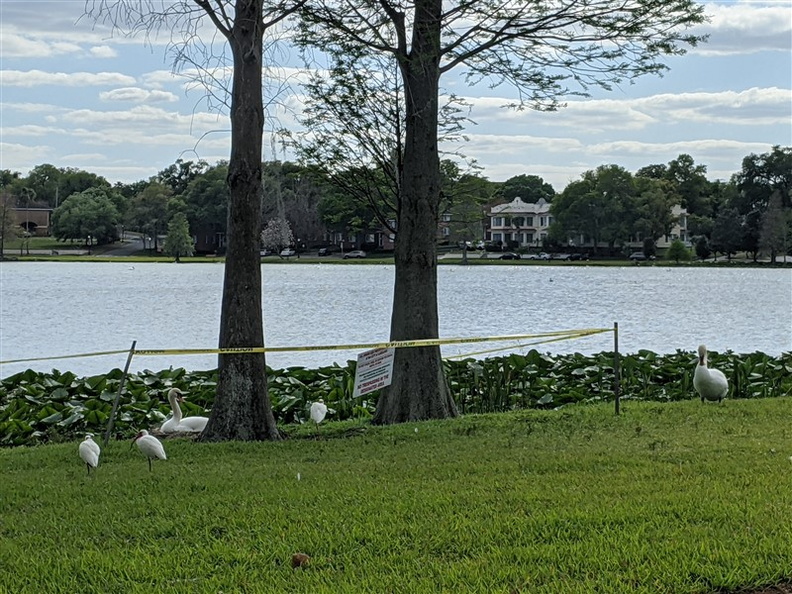 Then rode around Lake Hollingsworth, which is where Florida Southern College is.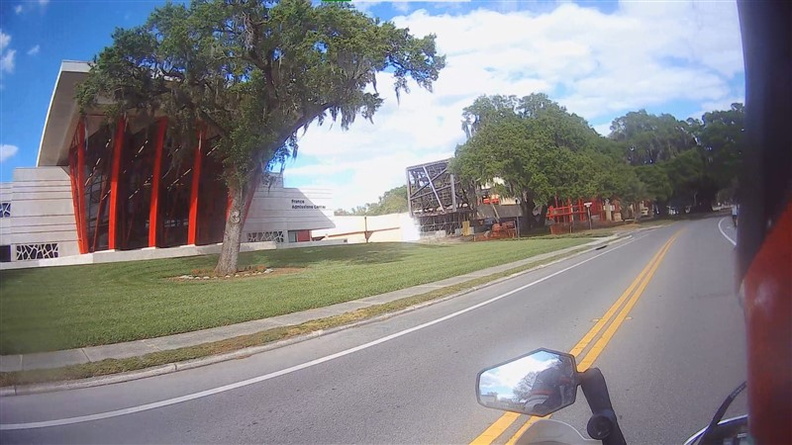 Are these supposed to slow traffic down? 5mph recommended. HA!
And yes, it would require turning if not on 2 wheels…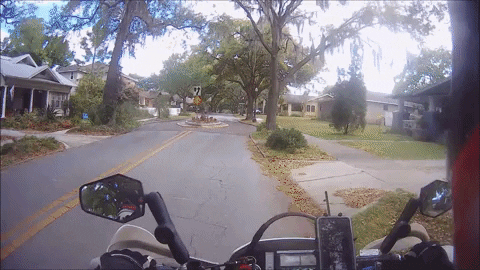 Back to homebase. Which includes a hill, that I believe is bigger than any of the hills in my neck of the woods. I thought Florida was flat? Lol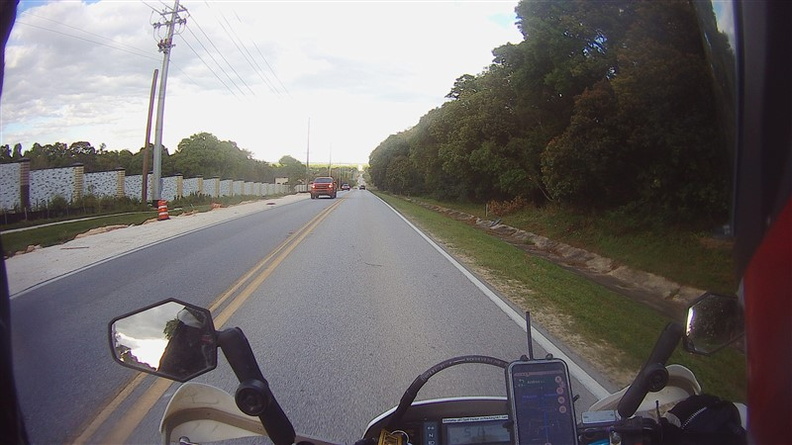 That truck looks pretty spiffy sitting in the driveway of a Florida home…
30 miles on the bike. Included going around the lakes multiple times… Lol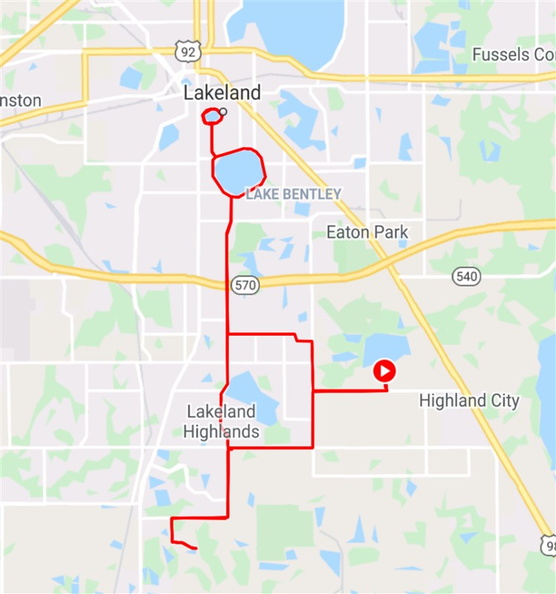 Cubano #2 for dinner! From a different restaurant.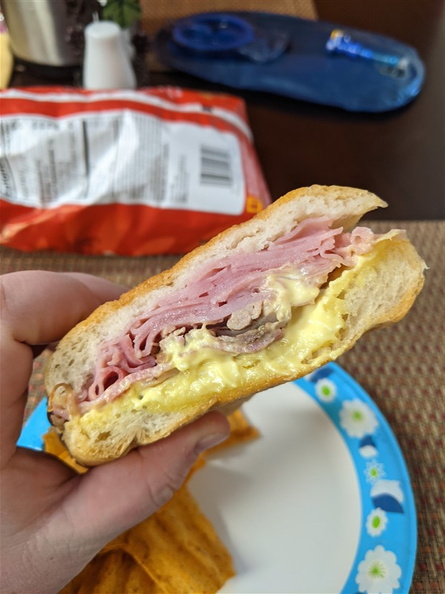 Thursday, March 11th.
Out on the bike, headed west. To Tampa! This time, in search for more Cuban sandwiches! But first, some strawberry fields!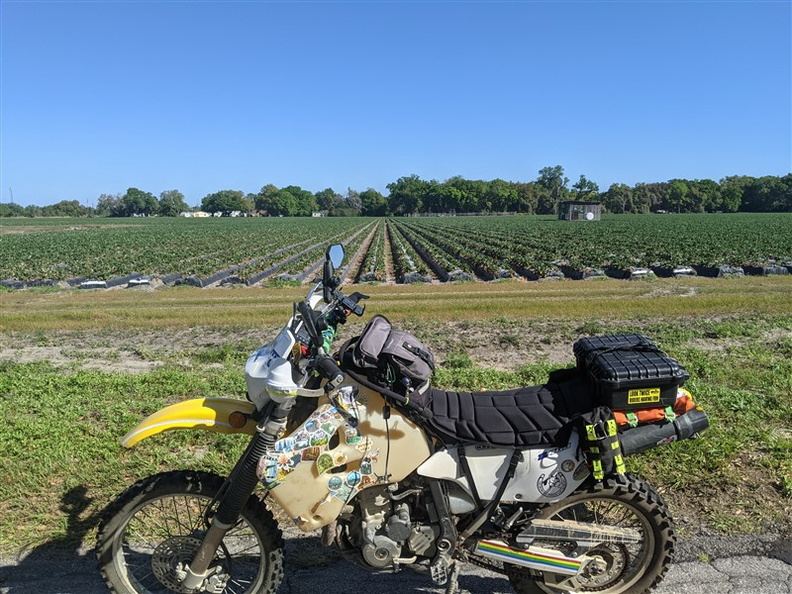 Nearby town was having a big strawberry festival this week…
This was the last picture I got on the sena… before I had the brilliant idea to wipe off some bugs and dirt with my gloves…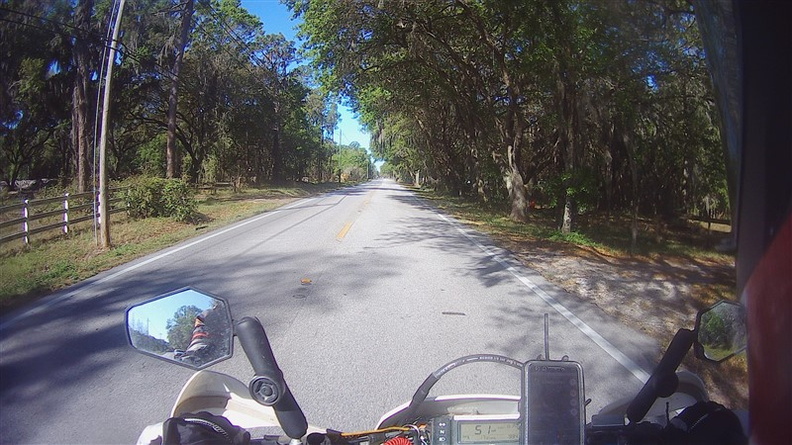 Because come to find out, all I did was smear it. Of course, didn't know it until I got back to the house and pulled the SD card and uploaded to the computer…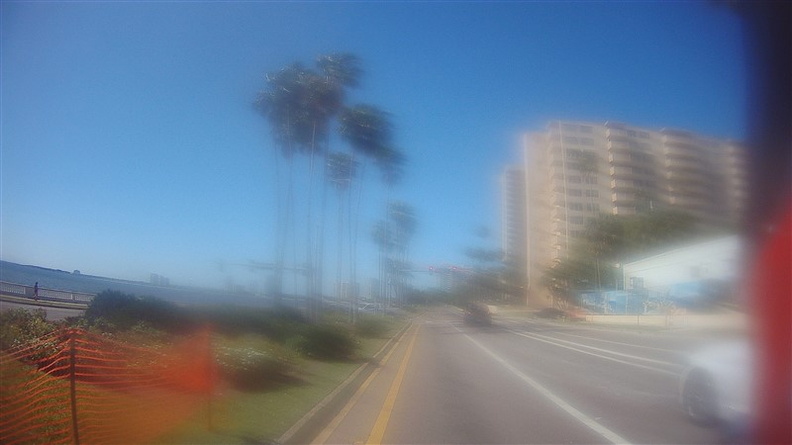 But the blue skies and palm trees, and Bayshore Boulevard… made for some happy footage! Just smeary.
Went to Interbay Market, for a Cuban sandwich.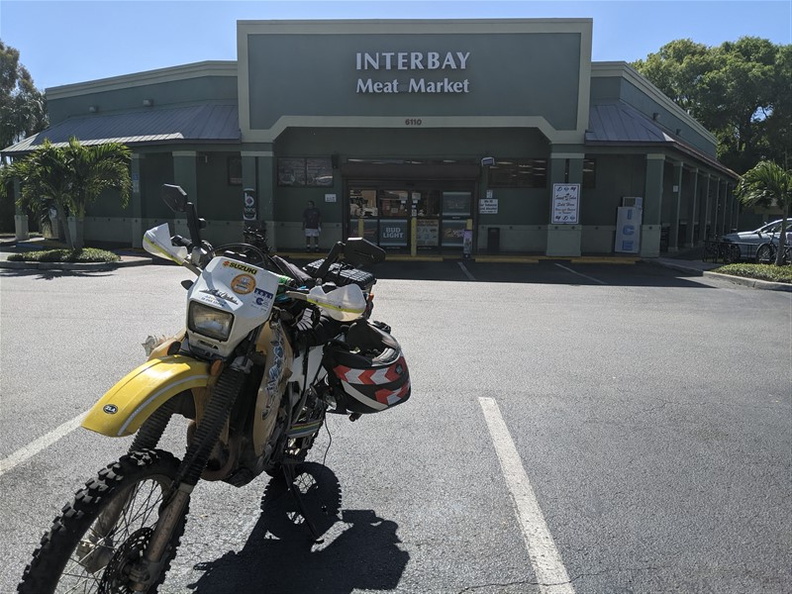 Picked it up and went to a nearby park to eat a picnic lunch, overlooking the Hillsborough Bay and Tampa.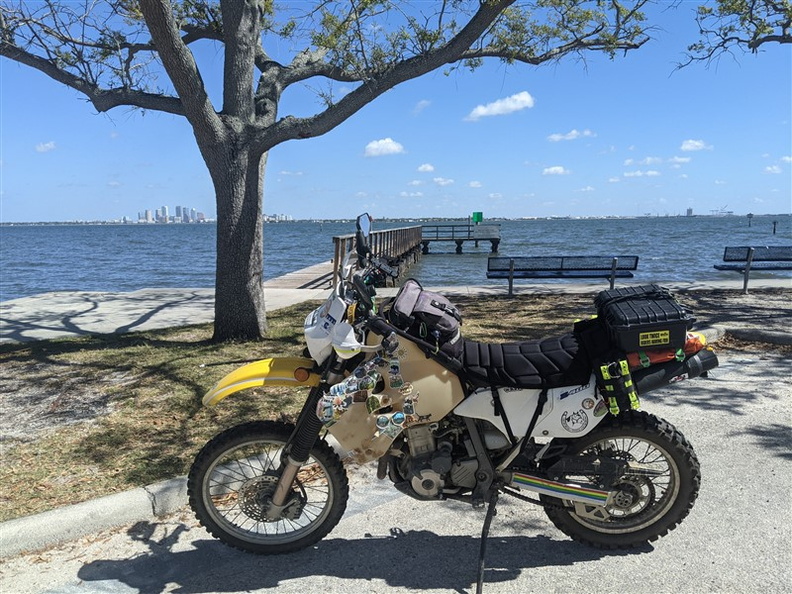 It was a tasty take on a Cuban sandwich. The lettuce and tomato were different, but still yummy.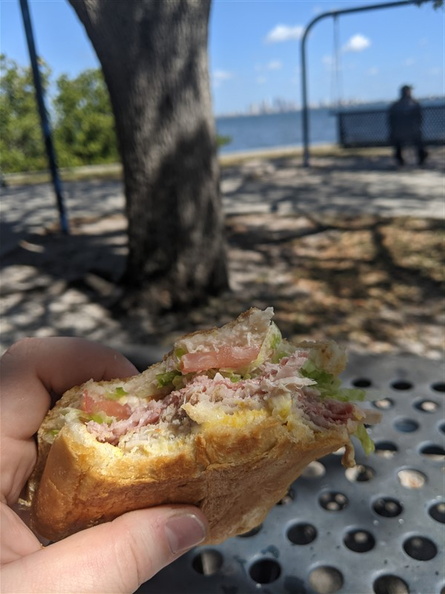 Walked out the boardwalk pier.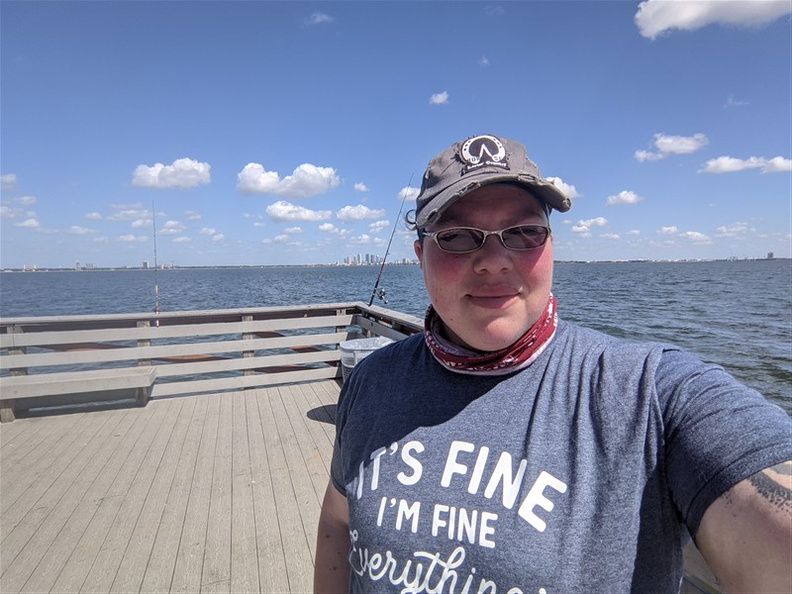 While the camera was running on my helmet, which was hanging upside down on the bike. So I have 30 minutes of blurry footage of the bike upside down. And then I popped into the view to throw the jacket on before I realized it was running. Duh, Julie.
Found a pirate ship along the boulevard…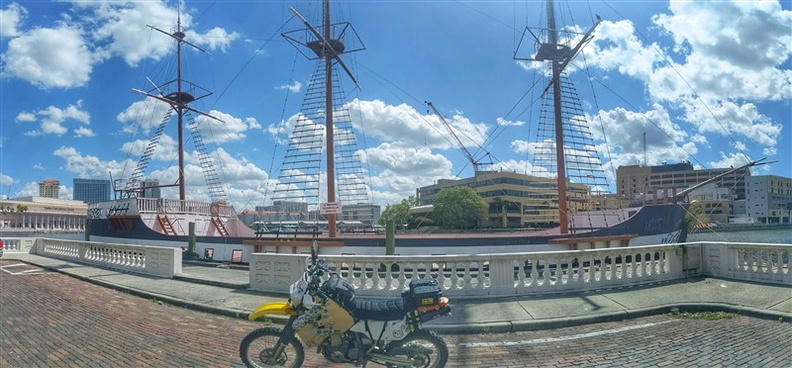 Tampa ultimately surprised me with traffic and the roads. I was expecting worse, but I was happy that I managed, and enjoyed, the ride through the city on the DRZ.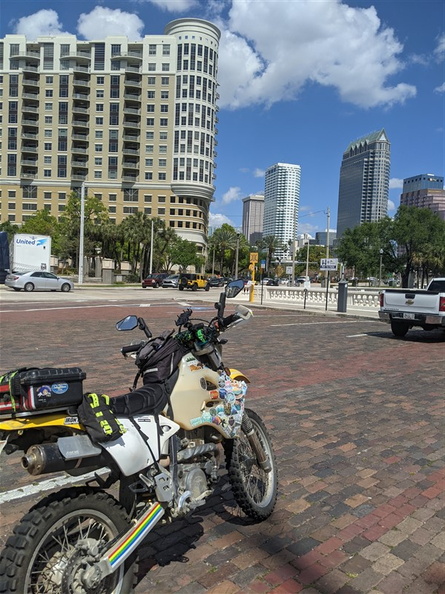 Back out into the countryside, and I stumbled across a gravel side road, which was back access to a state park. Alafia River State Park. Was a pretty area.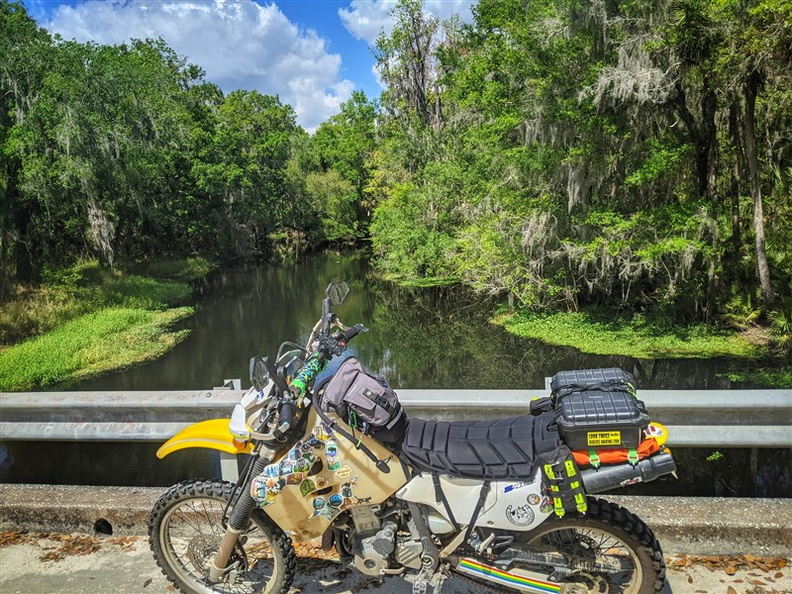 And then into another town, for another Cuban sandwich. Havana Delight Cafe, in Bartow.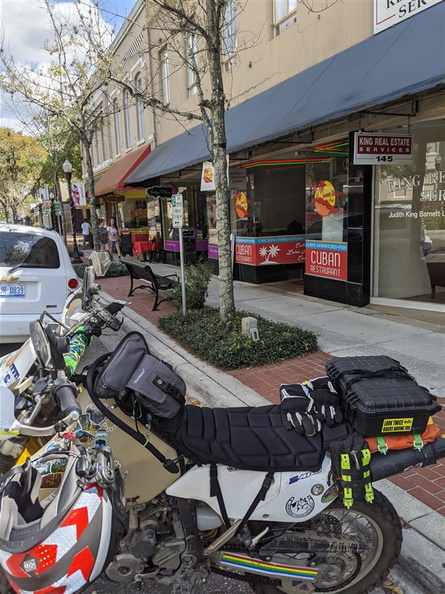 Also picked up some guava cheese empanadas to go along with the cubano. YUM!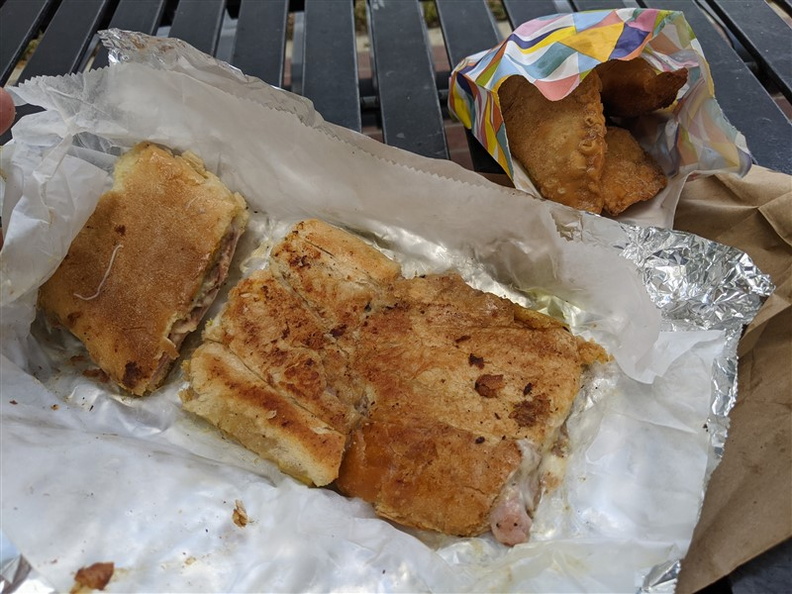 These things were hot and delicious!!!
Back towards Lakeland, and I swung by a Publix to pick up a shopping bag as a souvenir. After getting one in Alabama during SFO19, it is now a thing I'm going to do. Lol. And then I went back to the first Cuban restaurant, Cuban Delight, and ordered 6 cubanos to take home with me. They really were the best ones to my liking!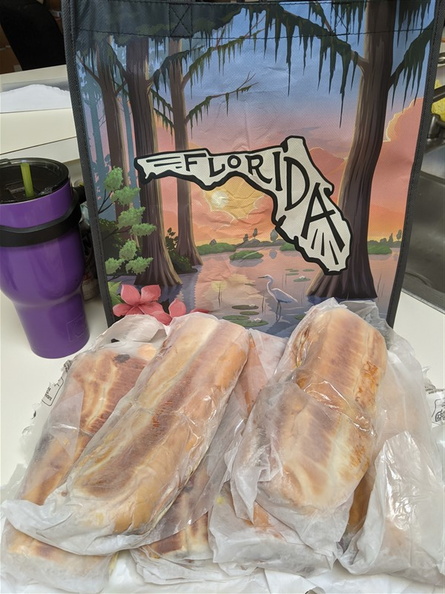 Friday, March 12th.
Forgot to get a picture with Rob and Marie before Rob left for work. But I made sure to get one with my Florida mama! Thank you both for allowing me to come into your home and make myself comfortable! The week flew by, and I enjoyed every moment with you guys. I miss you something fierce, and I look forward to seeing you on our next adventures!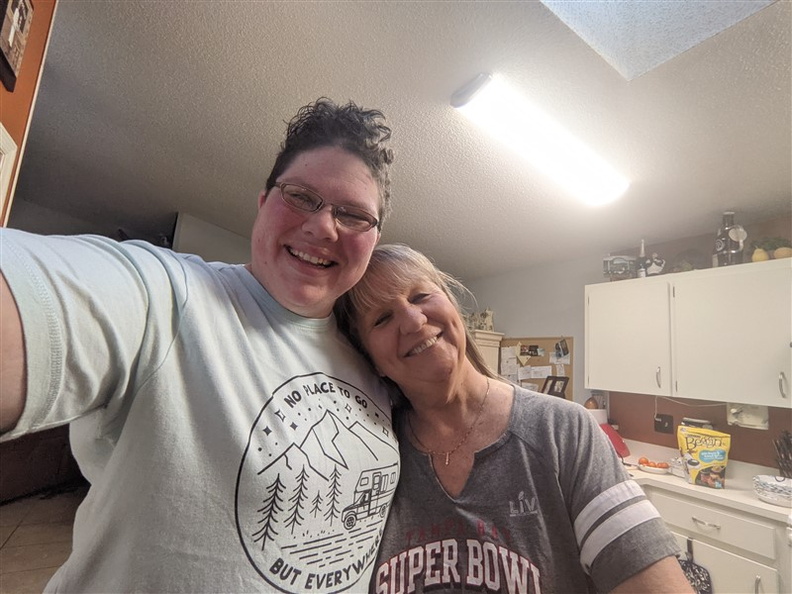 So I loaded up the truck, and left to head north. Made a quick detour off the interstate to visit with a client who comes down to winter in Florida for a couple months. Down the driveway to her farm…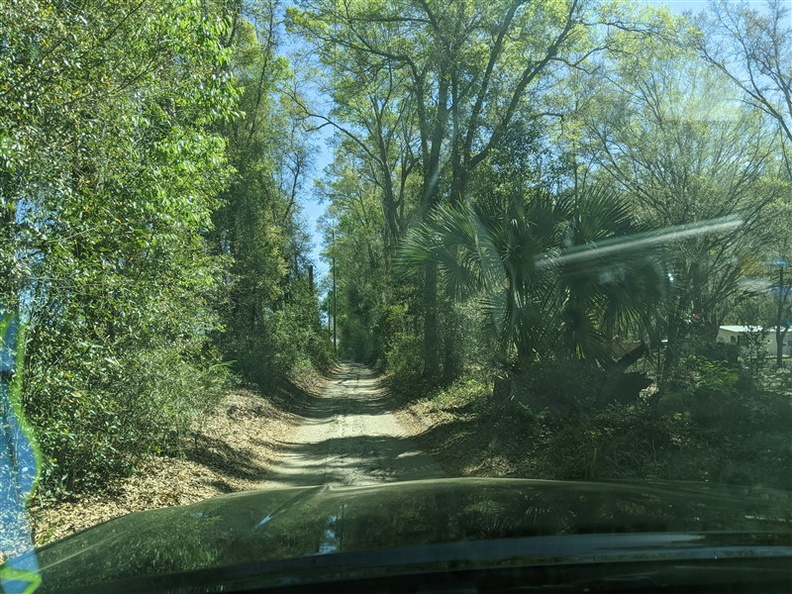 And I know I'm in the right place when I see faces that I recognize!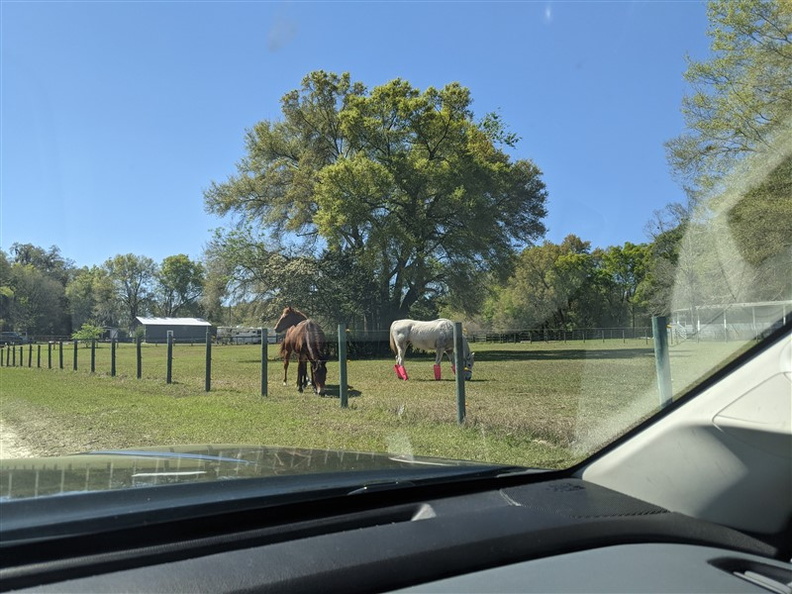 Back on the interstate, and out of Florida. I then decide to head WAY out and around Atlanta. It was looking like I was going to hit Atlanta about 5 or 6 pm. On a Friday. No thanks!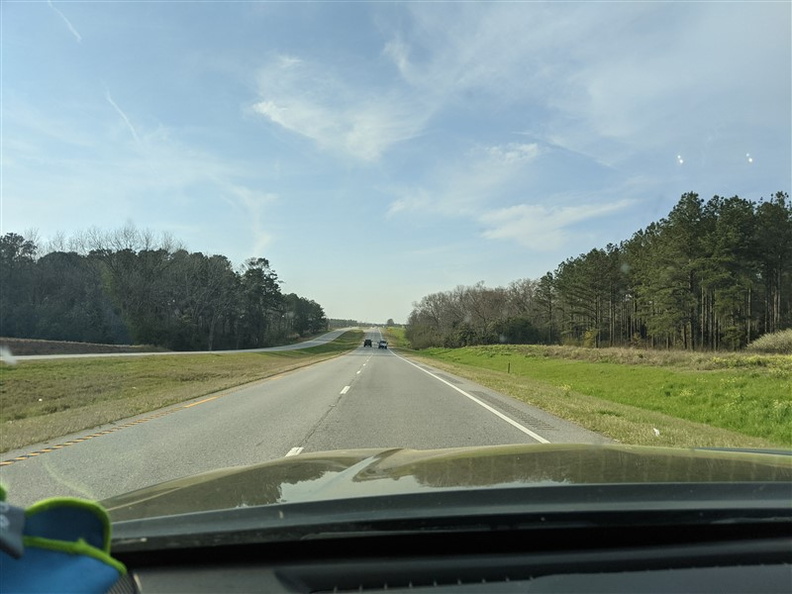 Way out and around. Was it worth it? I think so. I kept moving, was on all 4 lane roads anyways. And got to see some neat towns.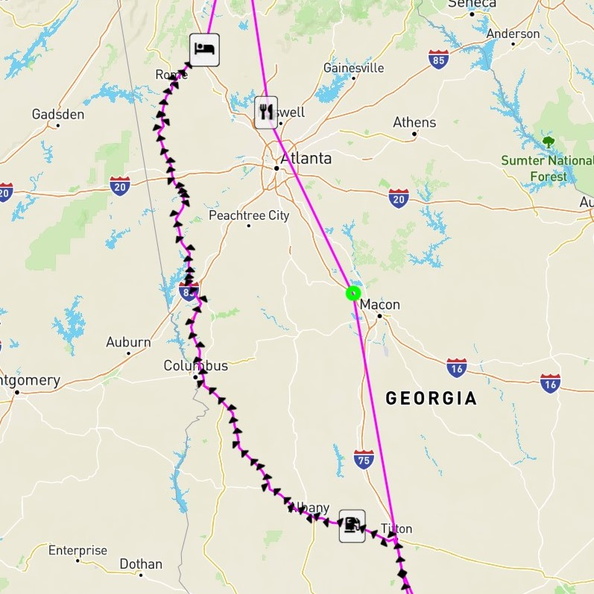 Checked into a hotel once I got back to the interstate on the north side of Atlanta.
Saturday, March 13th.
Was rudely awakened at 6am to the fire alarms going off. And in the confusion of "where am I?" and "what is that sound?" and "oh goodness, it's the fire alarms"… I jumped out of bed. And directly into a wall. Hahaha! That will wake you up…
Then the fire alarms stop. Ok, false alarm? Back to sleep? Not that I could sleep after the adrenaline is pumping through me… And then they blare again. Fine, I'm leaving. As I was checking out, front desk guy is apologizing and saying it's a malfunctioning system.
Too bad, I'm getting an early start to the day!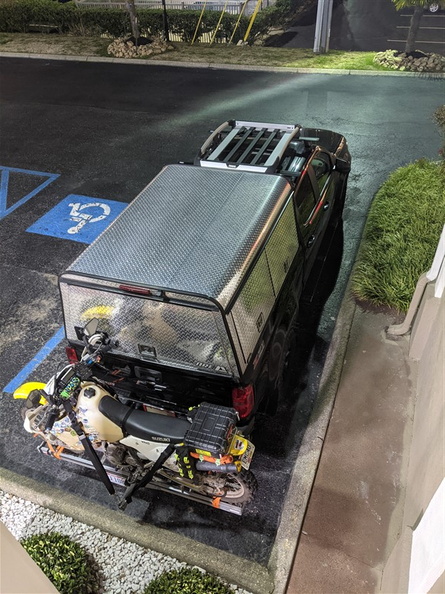 When traveling with me on the FJR, I will always have snacks in the trunk.
When traveling with me in the truck, I will have snacks in the cooler in the back, in the tote in the back, in the snack bag in the back seat, and on the passenger seat next to me…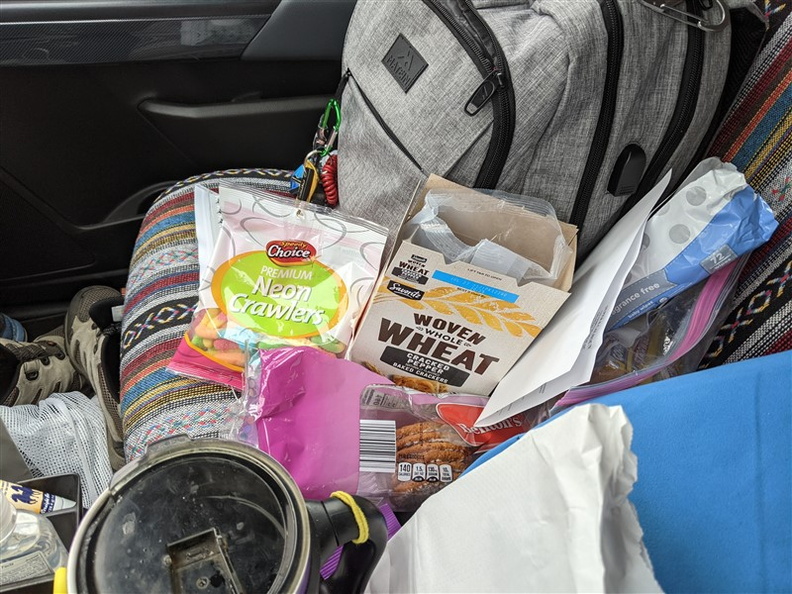 I knew I was getting closer to home, and back to "winter" when the colors of nature are back to brown. And I could tell they were calling for yucky weather in the next day or two, because the road crews had been out spraying brine on the bridges and roads. Ugh.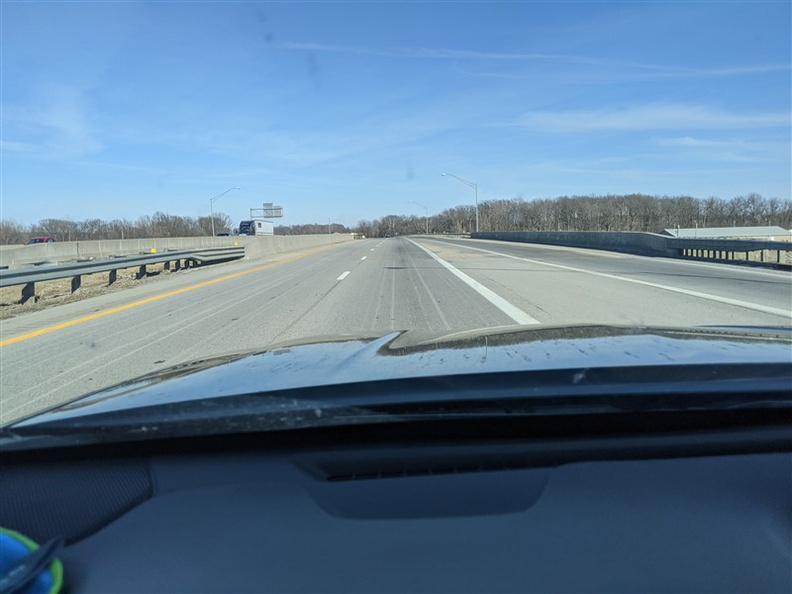 And with that, I'm back home.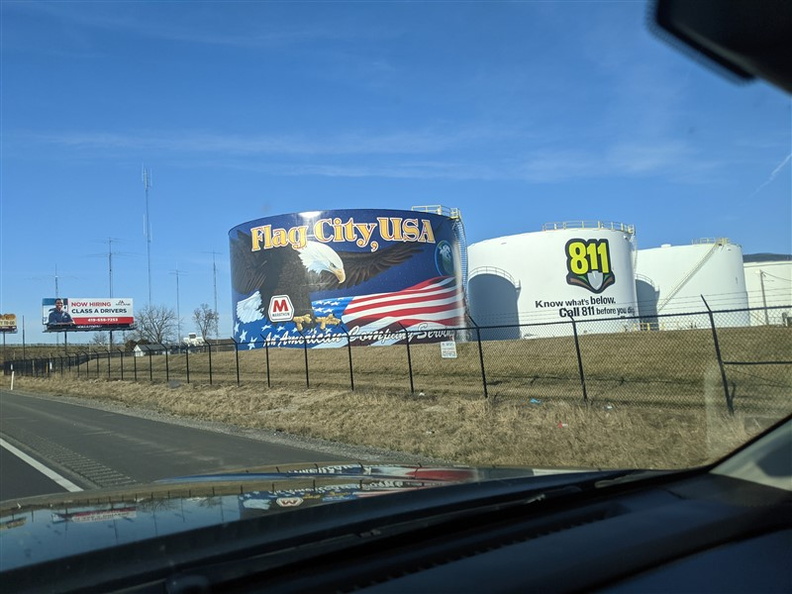 I pull into my parent's driveway and am welcomed home by 2 of my nephews. They then want to help me unload all my stuff. So we head down to my house, and they help carry things into my house, and then help to remove the hitch carrier. That little one likes working on vehicles, just for the sole reason of being able to lay down under the vehicle. He's cute.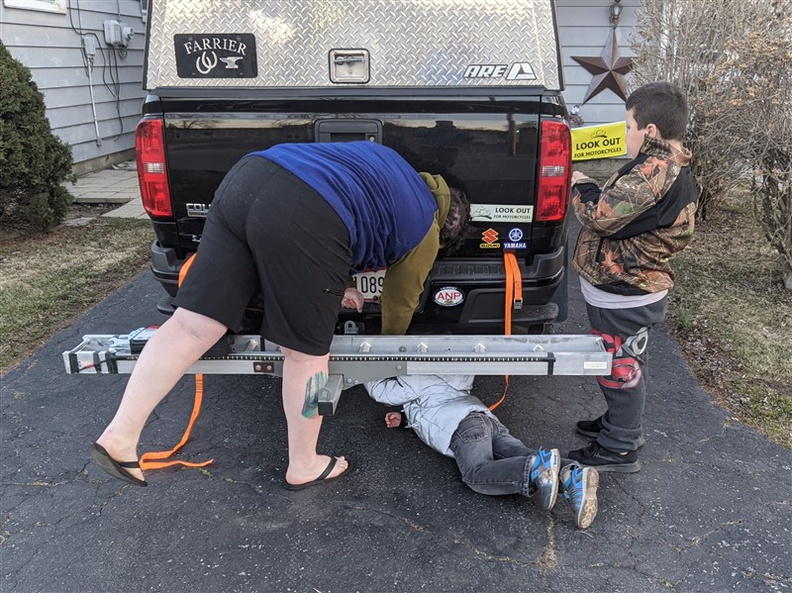 And by the next day, I had all my motorcycle adventure things out of the back of the truck, and it was returned to its work duties.
This trip was not my usual vacation, it doesn't seem. It was not the usual season, and not the typical location I would deem as an adventure. So I had been hesitant about the trip the entire time leading up to going. It was just awkward of me to imagine myself going on a trip, in March, to Florida.
But it definitely turned out to be a great vacation!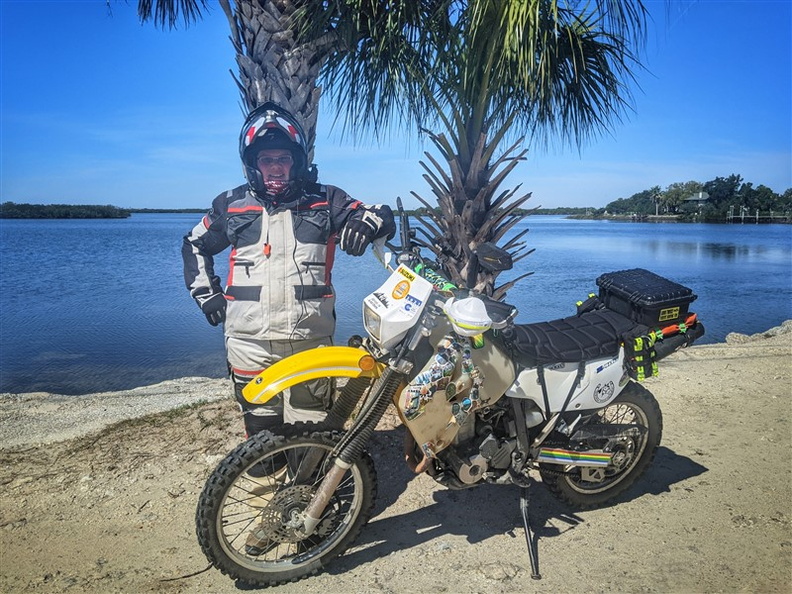 The sunshine, the friendship, the riding, the roadtripping- it was all good for the soul.