Holy crap…. 2020.
Last year was a good year.
2019- that's a wrap
What I considered a slow year for the FJR… didn't realize it could get worse.
So the year starts out, January 1. Polar Bear ride?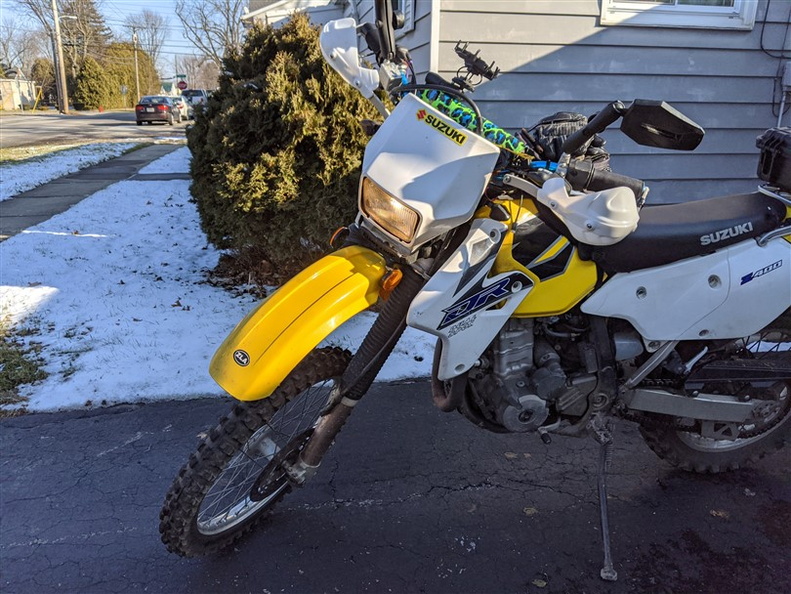 Dad and I take the little bikes for a New Year's Day ride.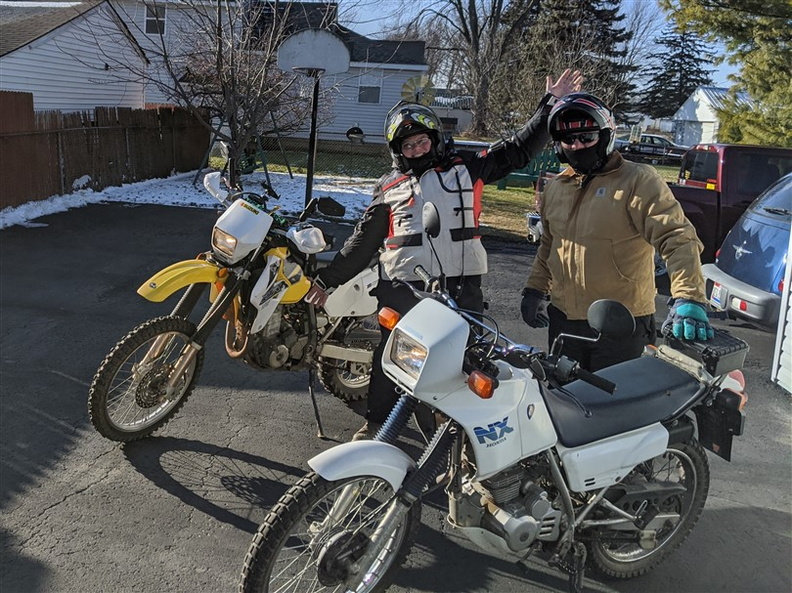 Some snow on the ground in places, but this lake wasn't frozen. Sun was shining nicely.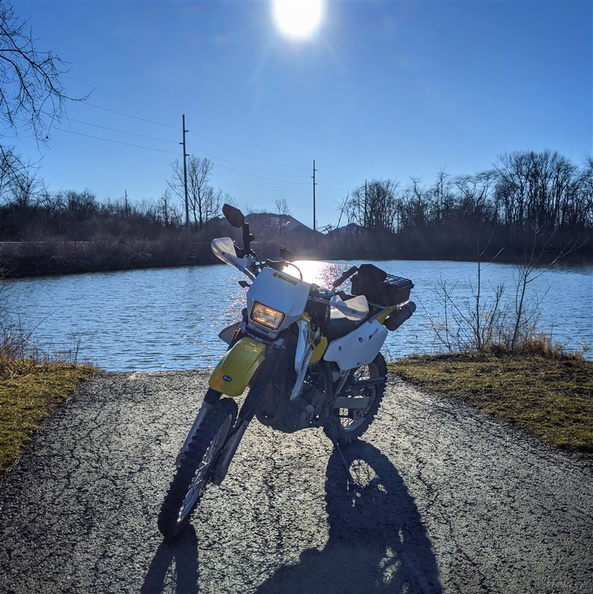 The rest of the month was just working. Cold days are easier when the barn is heated and I can pull the truck inside!!!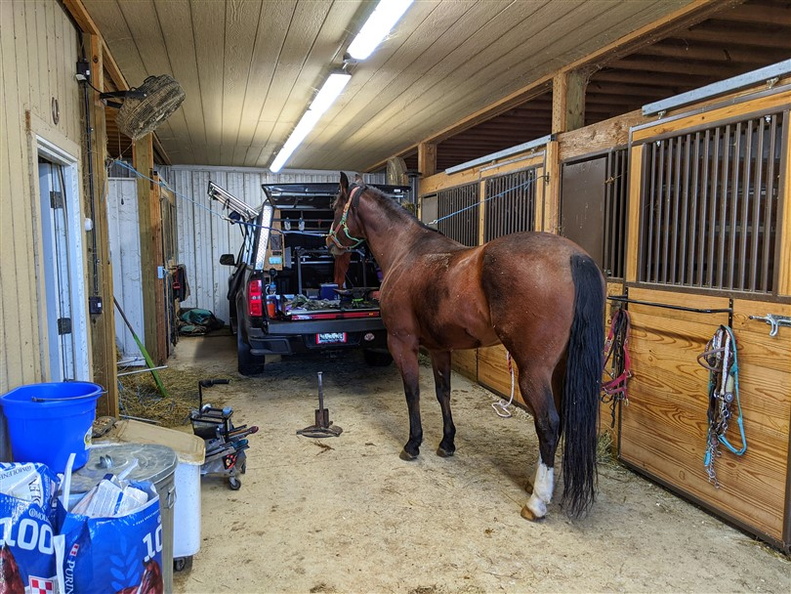 Sunday, February 2nd was a decent day, and I had sold a motorcycle jacket to a guy 100 miles away, so we met halfway. I decided to take the FJR.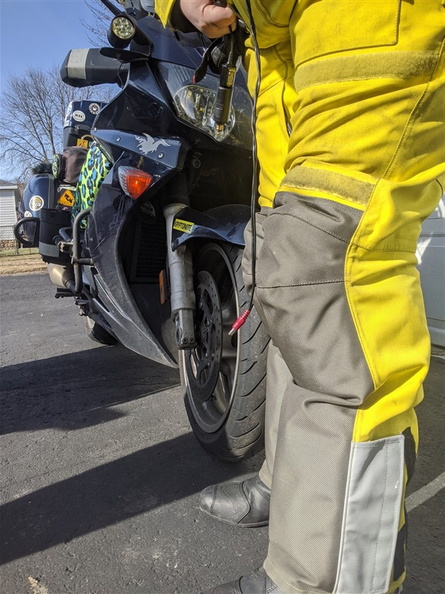 With the temps reaching 55 degrees, my dad decided to join me also. After the exchange we rode around, and headed over to Indian Lake. Still a frozen layer in the middle.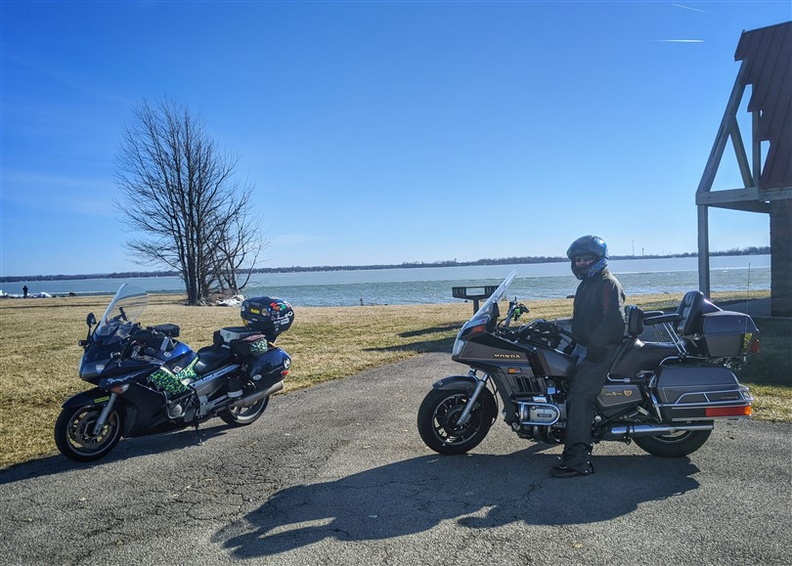 The rest of the month was filled with snow and working.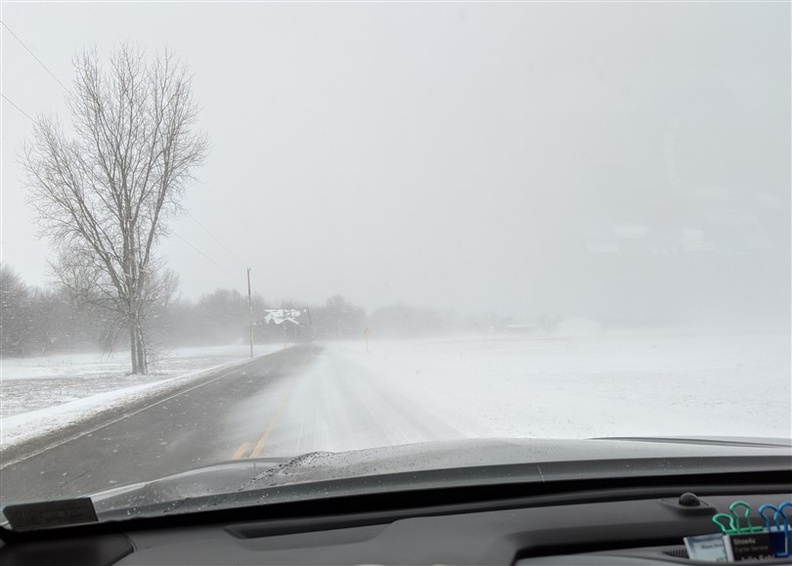 March comes along… and the country and states start going into lockdown- Covid-19. Fortunately for me, my job continues on as normal. Except that I received a tip of Lysol and Clorox wipes from one client. Lol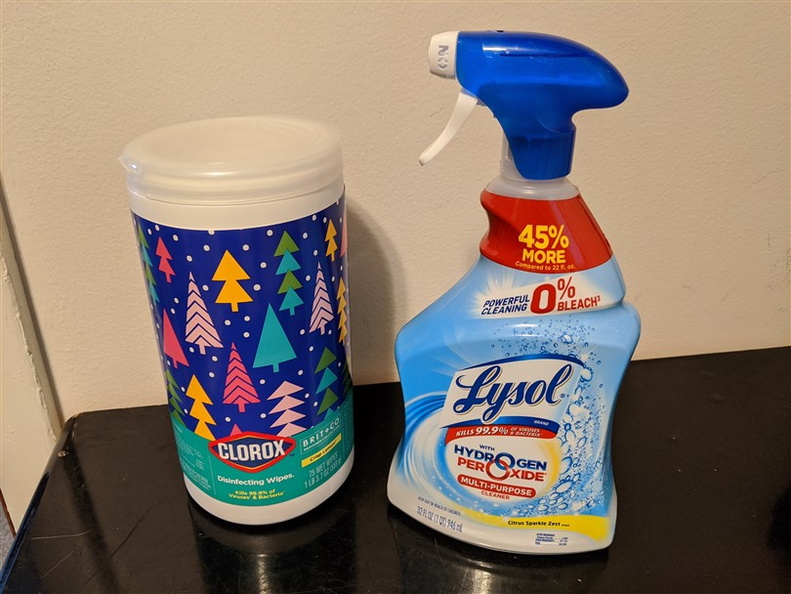 I eventually needed to get out and clear my head a bit, so I jumped on the DRZ and went for a rip around the county.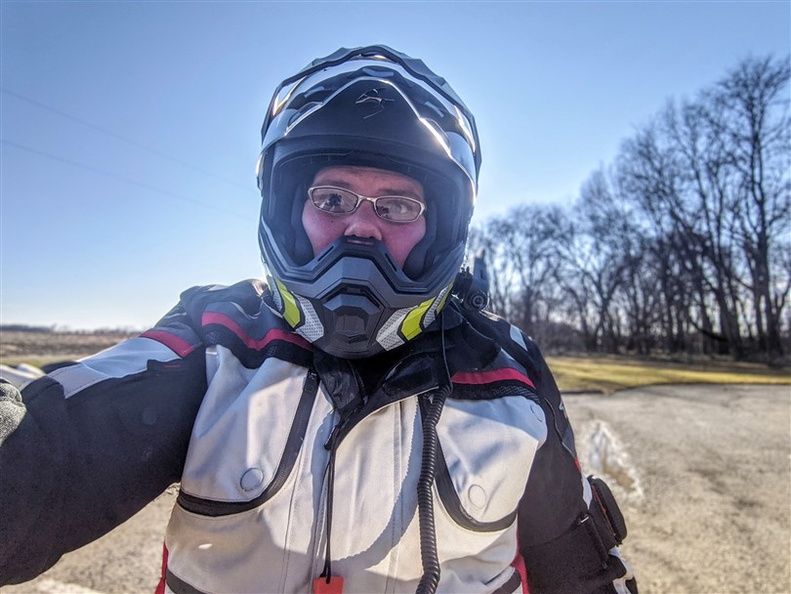 Beginning of April, and the weather is getting beautiful. I want to play around on the DRZ. Take it to the empty parking lot in the neighborhood and practice some mounting and dismounting maneuvers.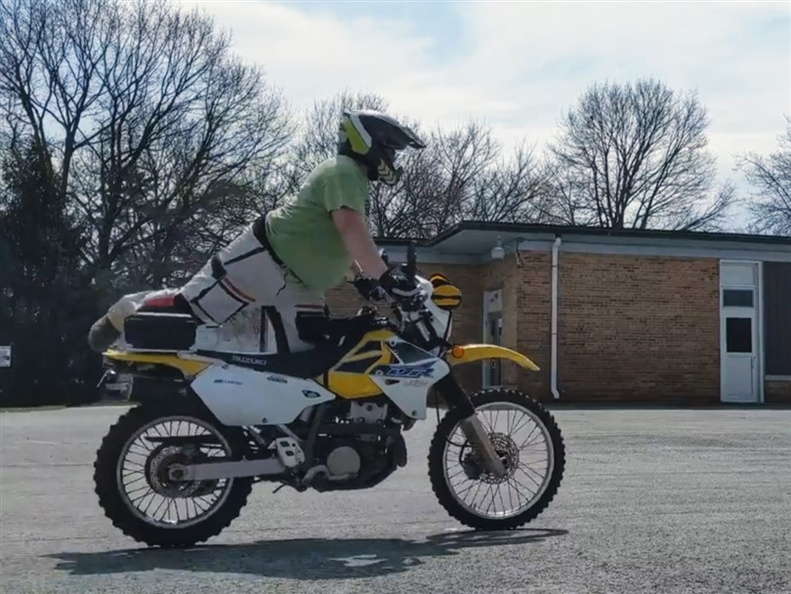 The rest of the month was just work, and staying home.
Beginning of May, the SEOhio Ramble usually takes place. But that organized gathering was cancelled.
And I had recently made an internet friend who introduced me to a facebook group of ADV riders in Ohio. They were having a meet up on Saturday, May 2nd, in Killbuck. I decided to load the DRZ up and join them!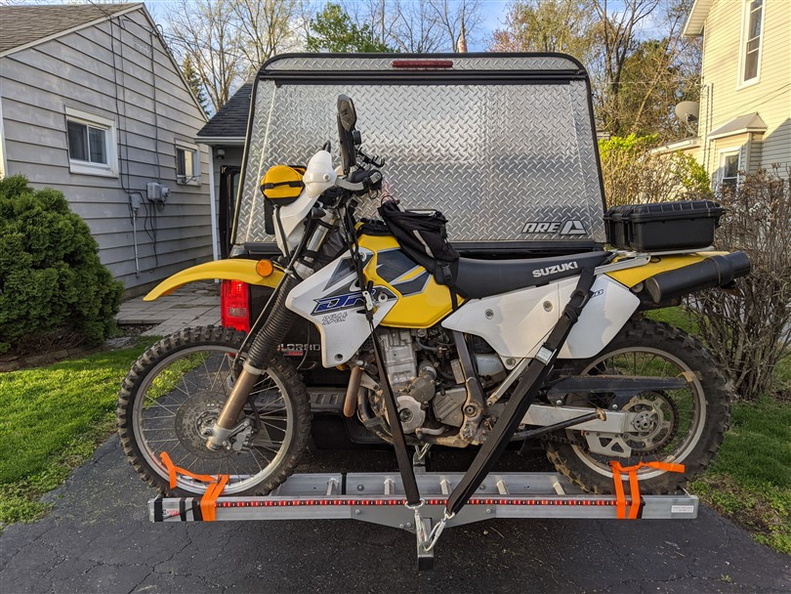 Drive 110 miles in the truck, and meet them in a parking lot.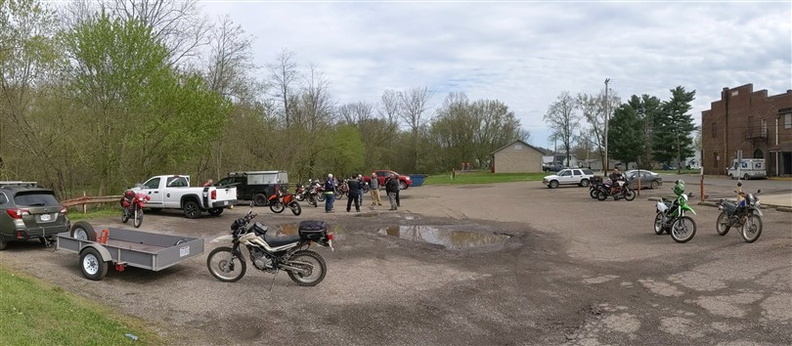 Where we then set off on a ride full of dirt roads, and old bridges.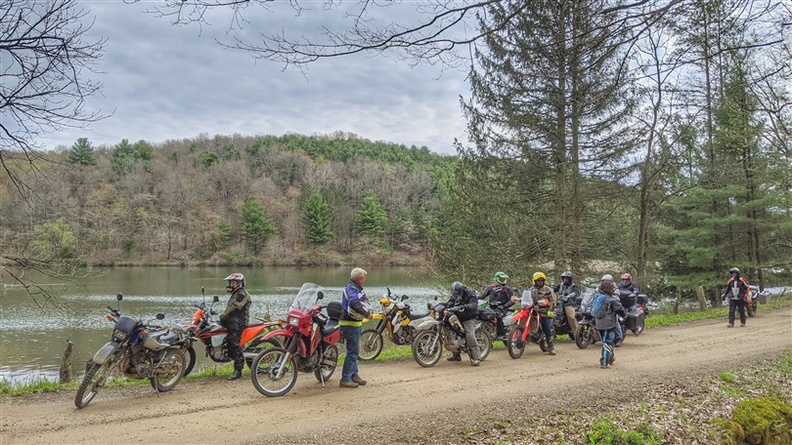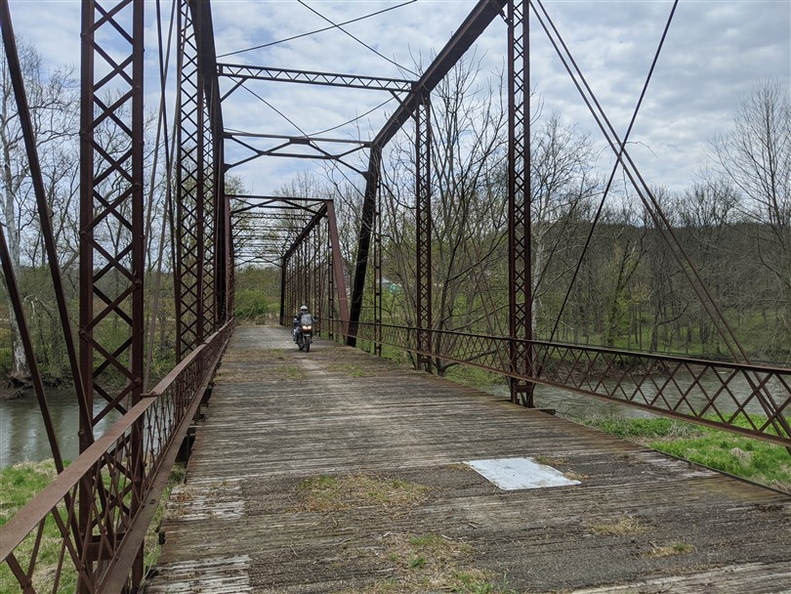 Only 2 of us were brave enough to get our bikes on this old iron bridge. The approach entailed bouncing over a log and riding through a mud bog. But it was so worth it!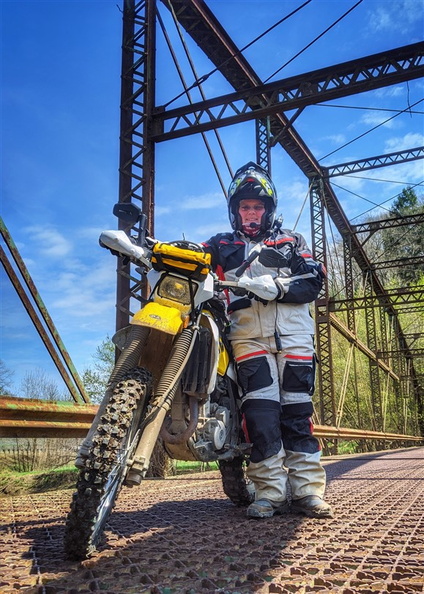 And only 1 of us was brave enough to go out the exit!!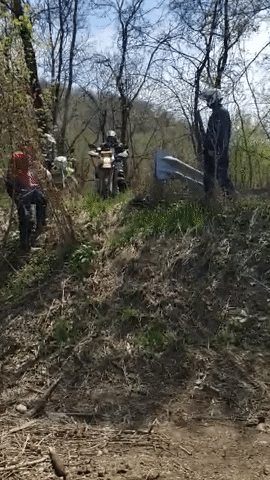 This group of riders was sitting there watching the ditch exit. One of them was an FJR.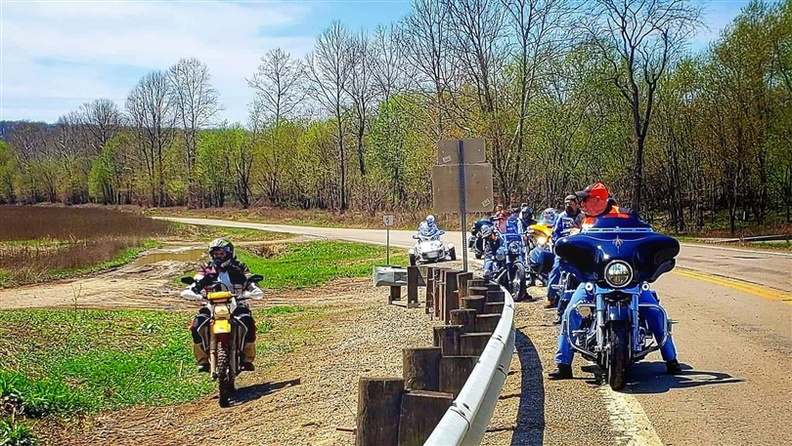 I really had a lot of fun with this new group of friends.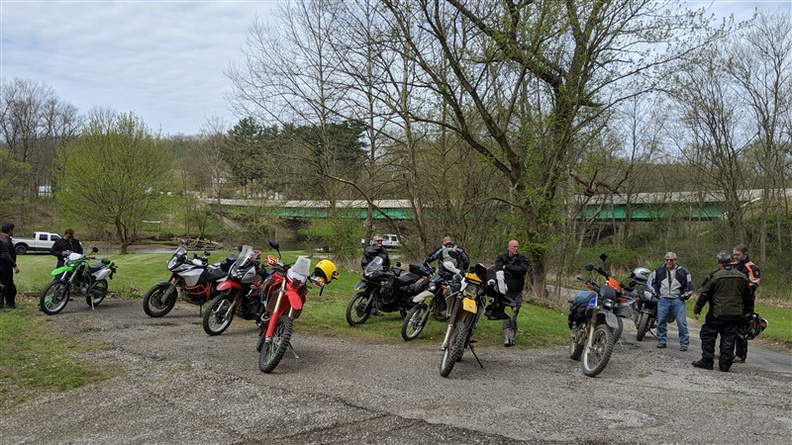 Saturday, May 16th, and I jump on the FJR and join my parents on a ride to the south. Amish area and Bellefountaine area. Passed this team of Haflingers with a flower wagon.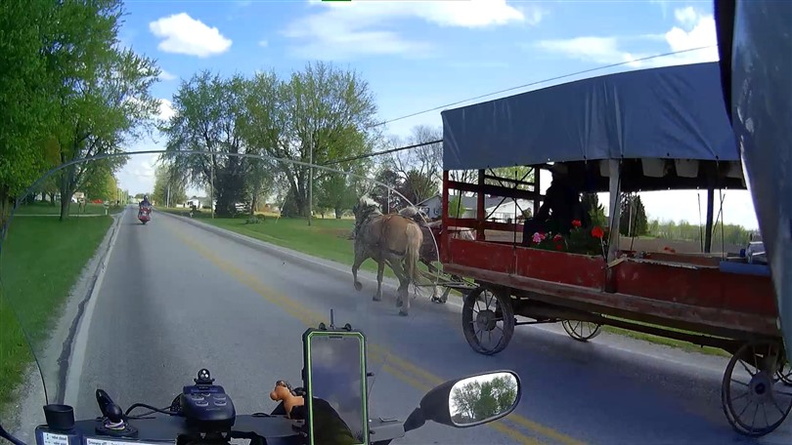 And then we went to the Myeerah Nature Preserve. Which used to be a Girl Scout camp that I frequented often in my younger years.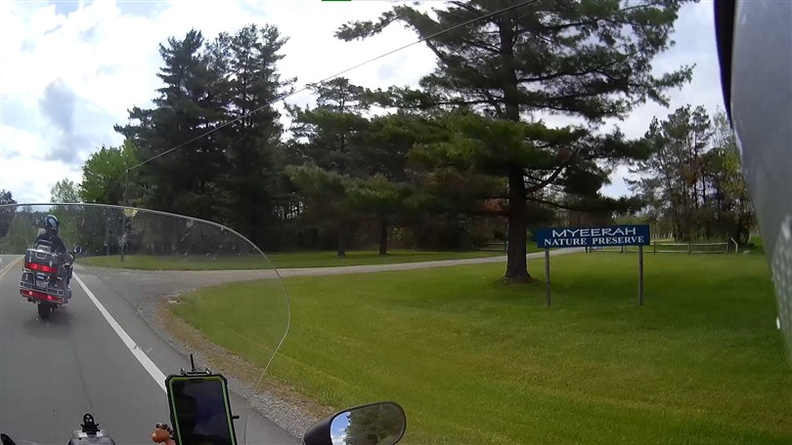 The next week, May 23rd, I was back on the DRZ and over into the Knox/Coshocton/Holmes counties to ride with the new friends!
By the way, a hoof stand for work does a good job of lifting the back tire off the ground to lube the chain…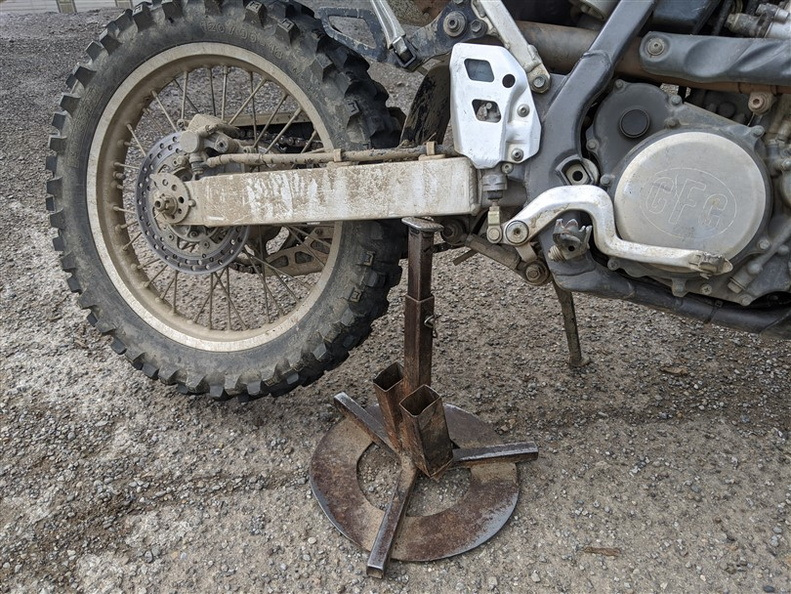 Anyways, back to the ride. We had a great time riding around the county roads.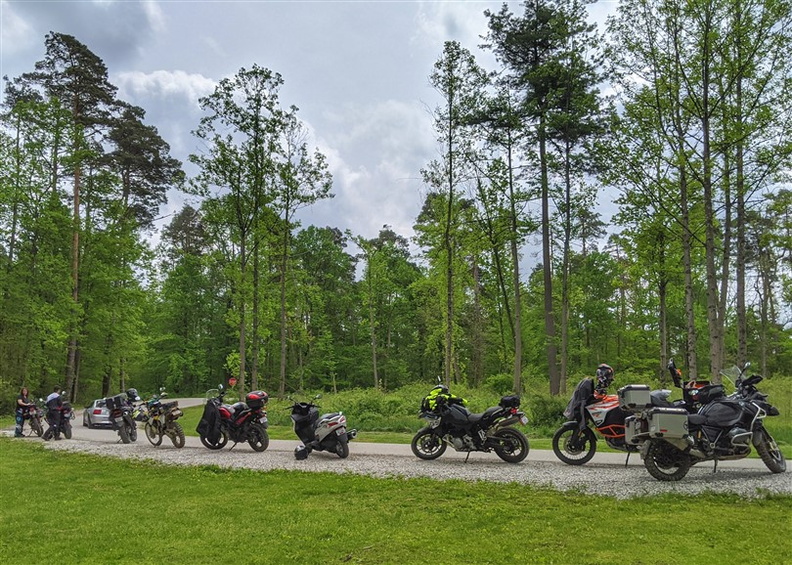 Found a tunnel bridge, and was able to get some shots from above.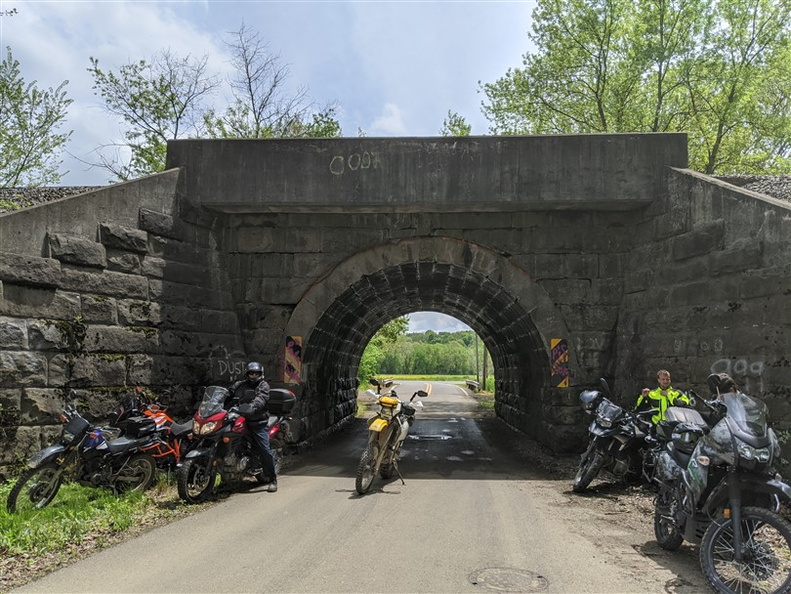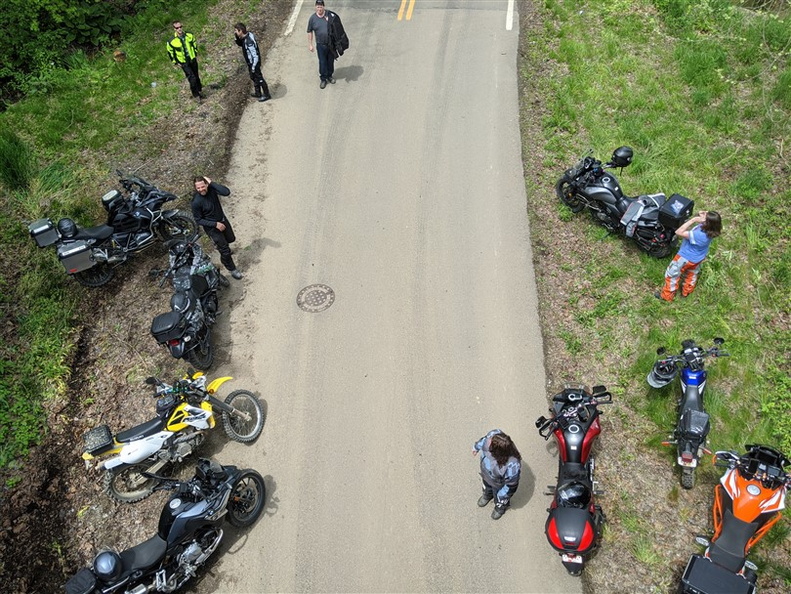 In the 2 rides with this varied group, I have met these 2 awesome lady riders!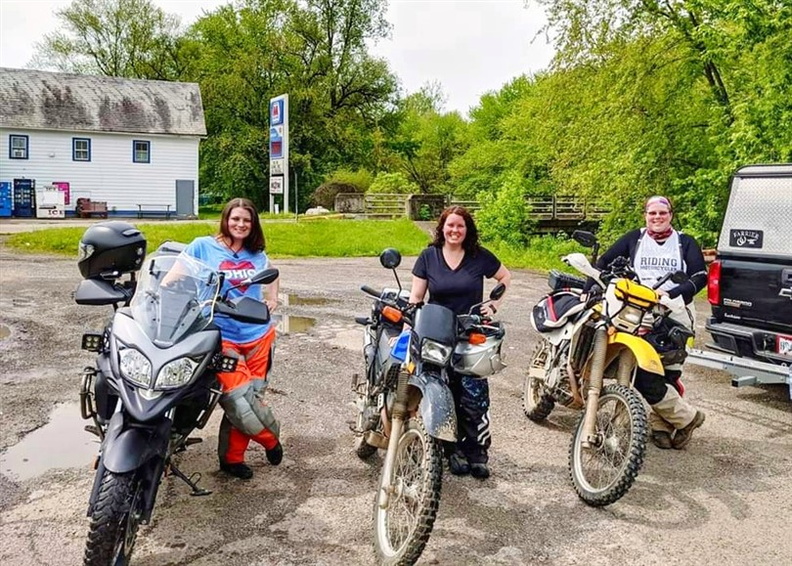 This truck is proving to be a fabulous investment for both work and pleasure.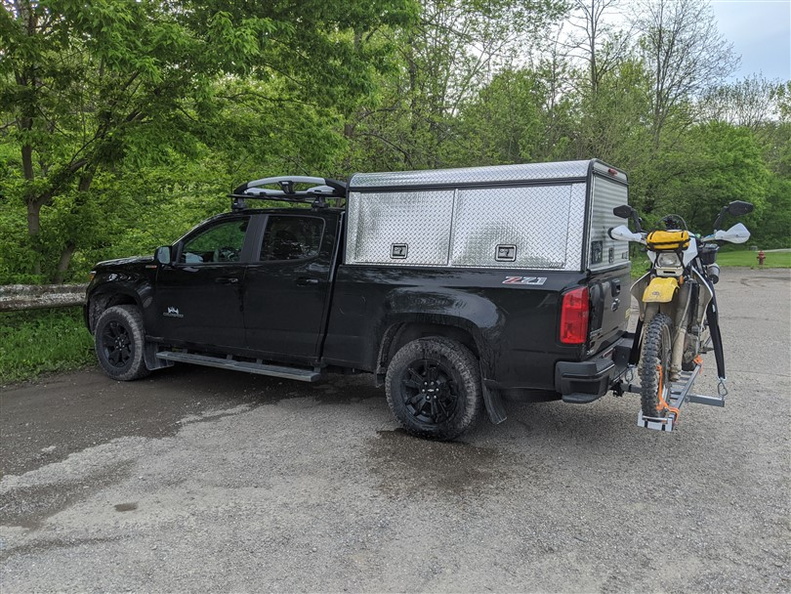 Saturday, May 30th, I decide to get the FJR out and take it for a good long ride. Southeast Ohio is where I headed! 535 miles for the day. It felt good.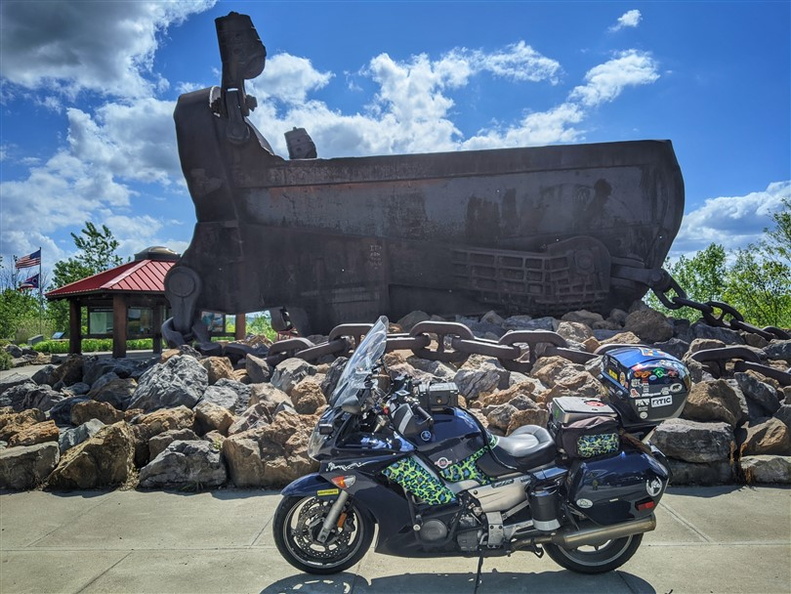 Saturday, June 6th, I grab my parents and take them on a dual sport adventure of my newly found roads in the Mohican area.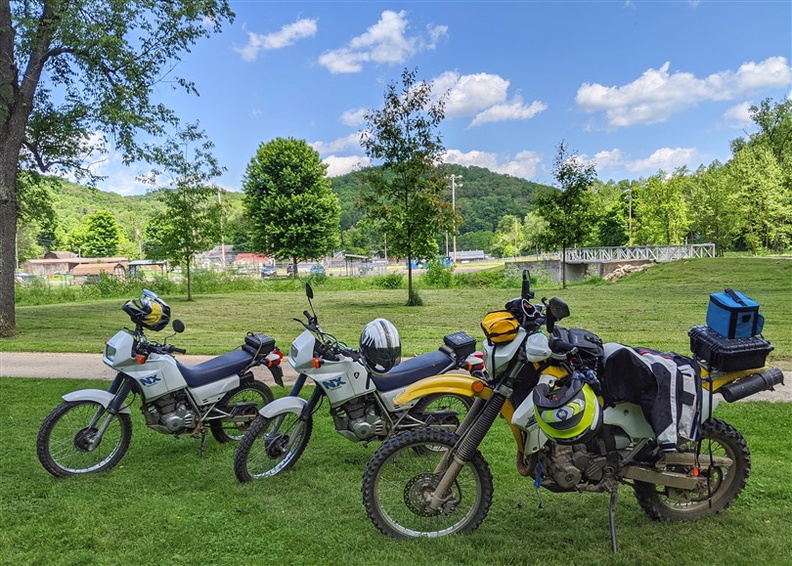 Found BigFoot!!!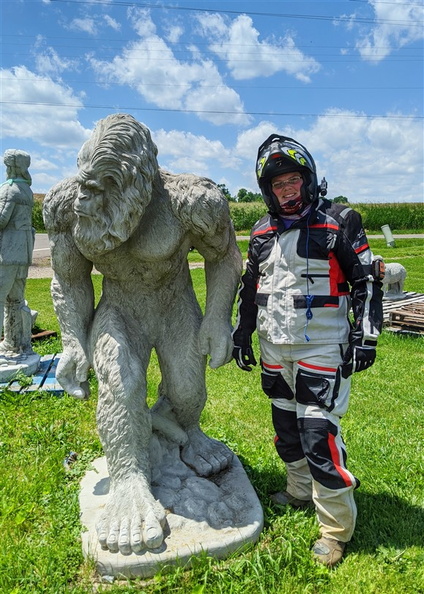 And a bike path covered bridge, which claims to be the longest covered bridge in Ohio.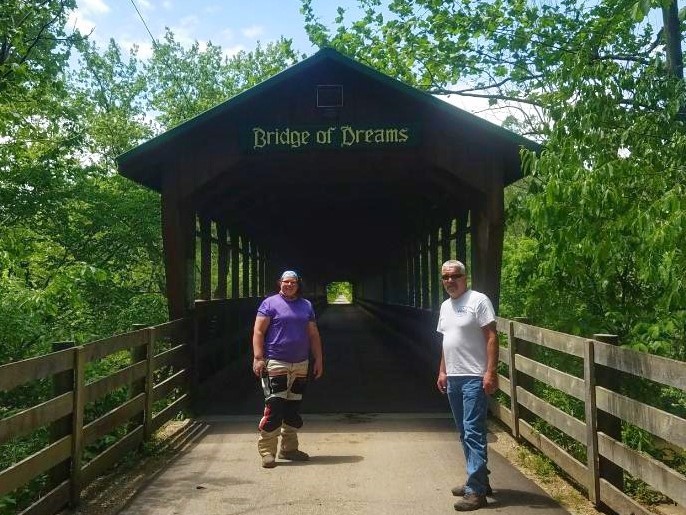 Parents are awesome on their 1987 Honda NX125s… Lol.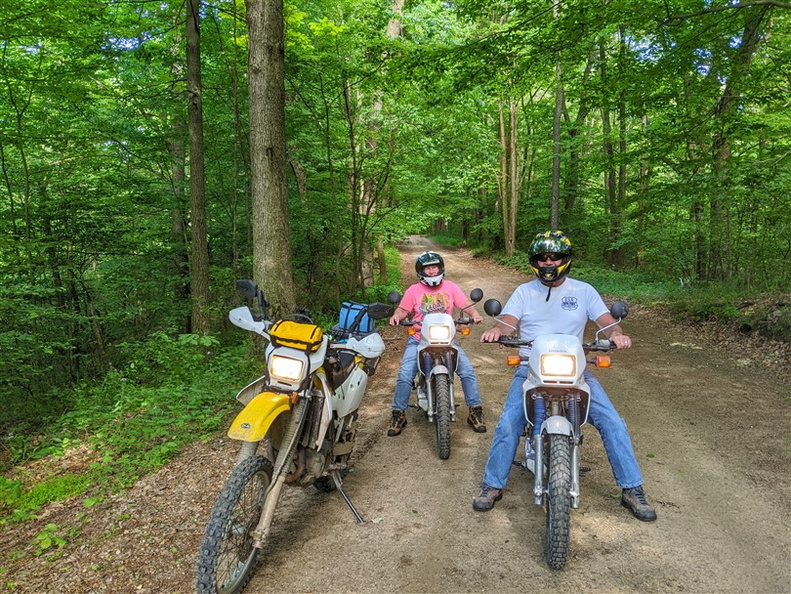 That Sunday, the nephews wanted to ride around on their 50cc, and their go kart. So off we go to my uncle's house to play in the big yard.
I also took the 50 for a ride… I mean, it needed to be warmed up properly. Lol!
This is the same bike I learned to ride on when I was young. Was fun to take it for a spin.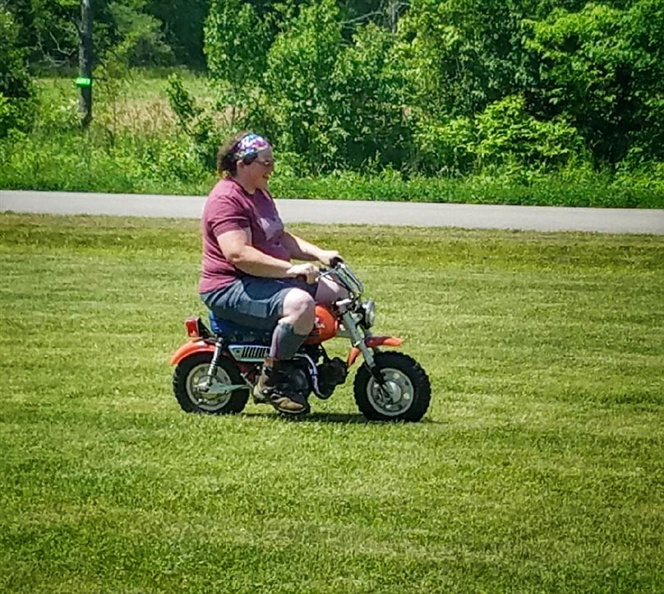 DRZ makes for a good pizza pick up vehicle when the whole family is hungry after riding all day!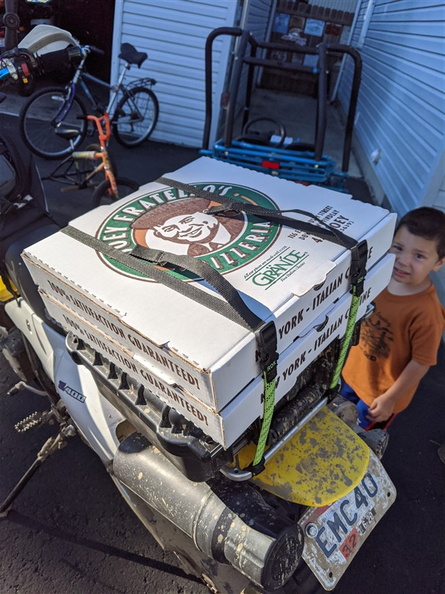 Mid-June, I bought an oversized fuel tank for the DRZ off a forum. It came in, and my dad and I installed it.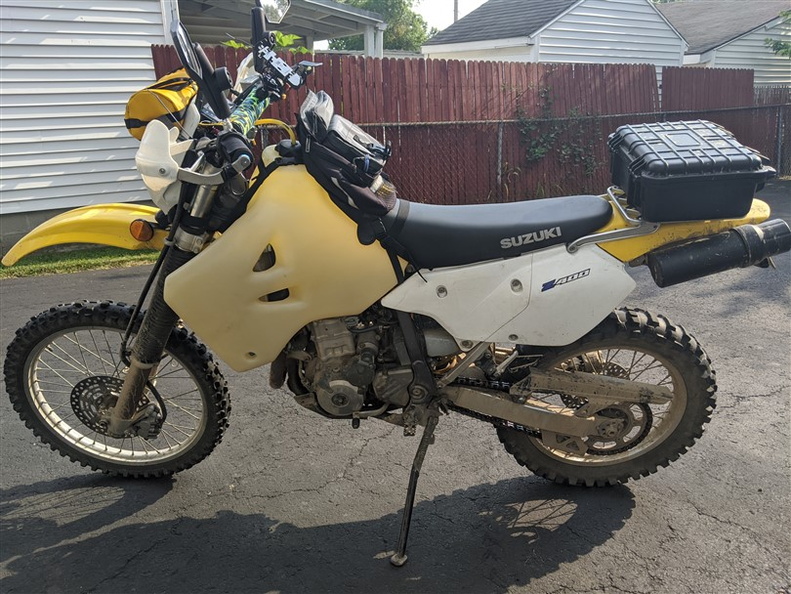 On a Saturday evening, take the little bikes for a spin, with my parents.
Snap a pretty picture of it with the sunset and the reservoir…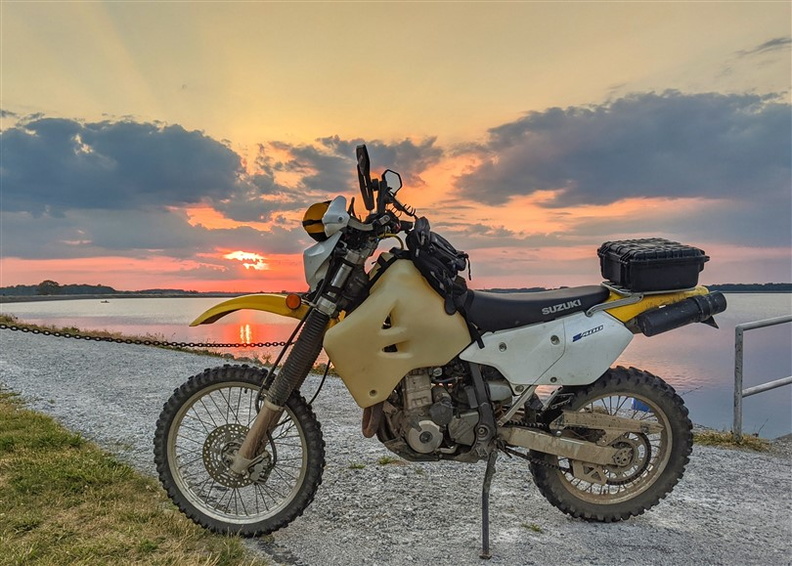 And my mom catches me in the act. Lol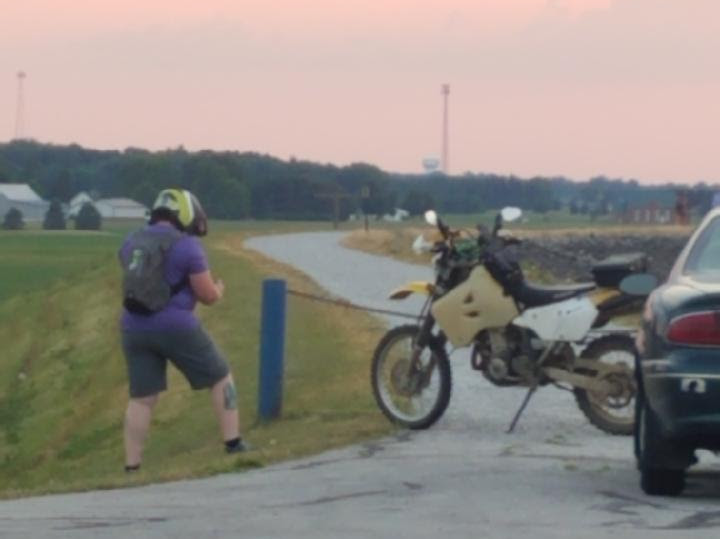 End of June and I got to pet a baby buffalo!!! One of my clients has one. Along with a cow, some donkeys, and horses.
July 4th, it is hot! So we wait until the sun starts to go down to get out of the house. Sunset ride on the DRZ…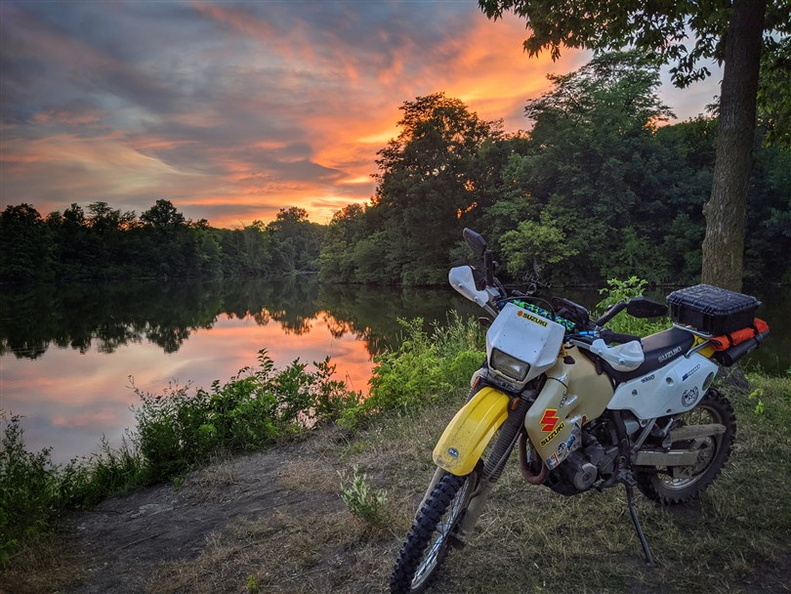 We get spotted by a cousin as we were riding around town…
Busy work schedule in July.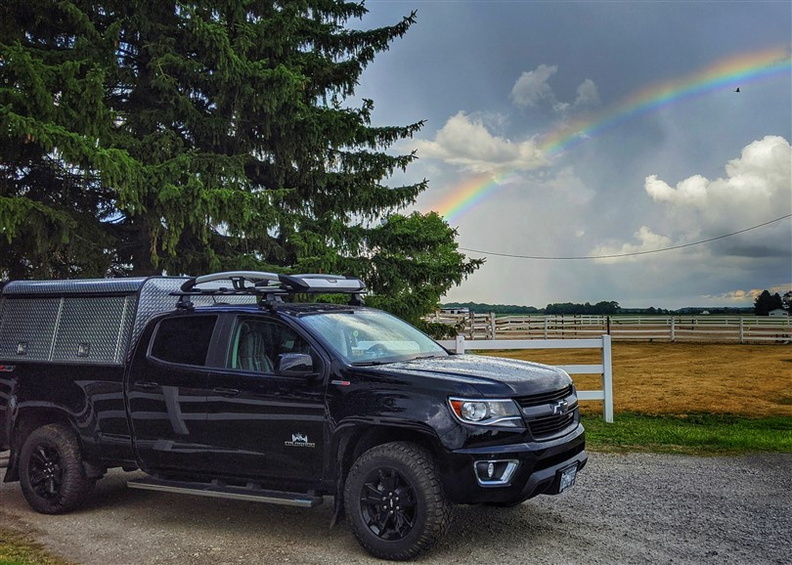 Mid-July, and it's time for new tires on the DRZ.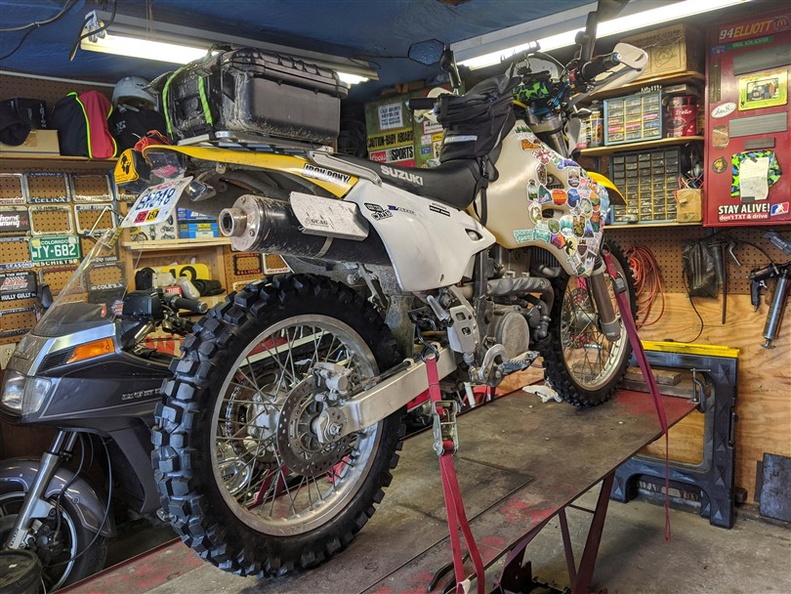 Take them out for a spin on the one gravel road I could find in my area…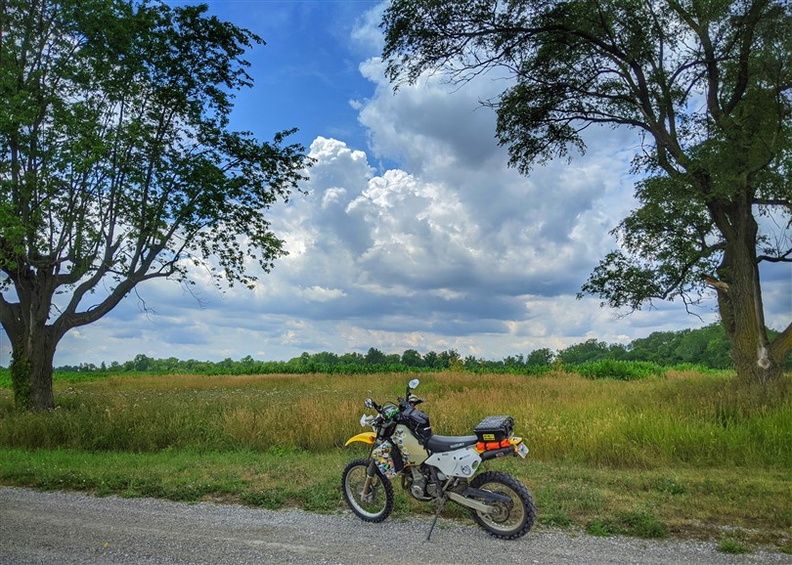 Saturday, July 18th, and it's back over to the ADV area! This time, we had planned a ride for 4 of us.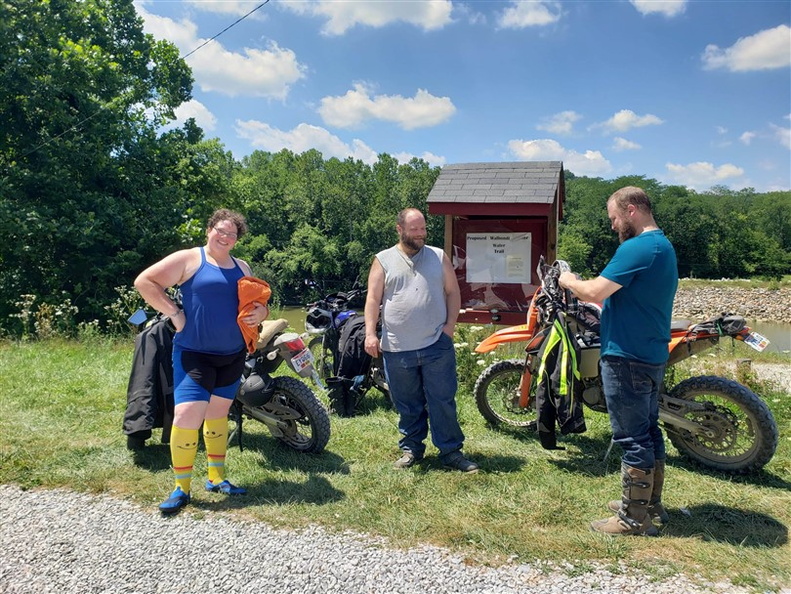 And it was HOT! So we had also planned on river hopping on the ride. This would allow us to strip down and jump in the rivers to cool off!

2nd river was in the Mohican State park. Bikes with all the gear…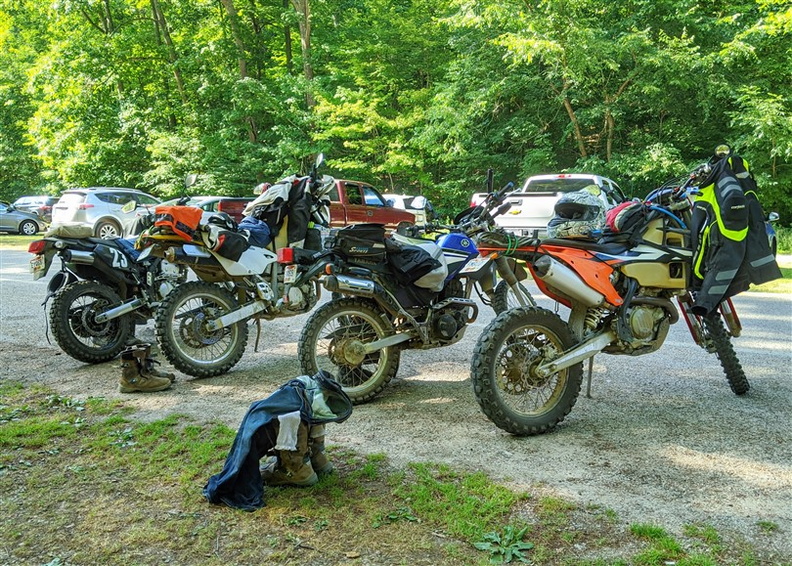 And the riders in the river. Lol.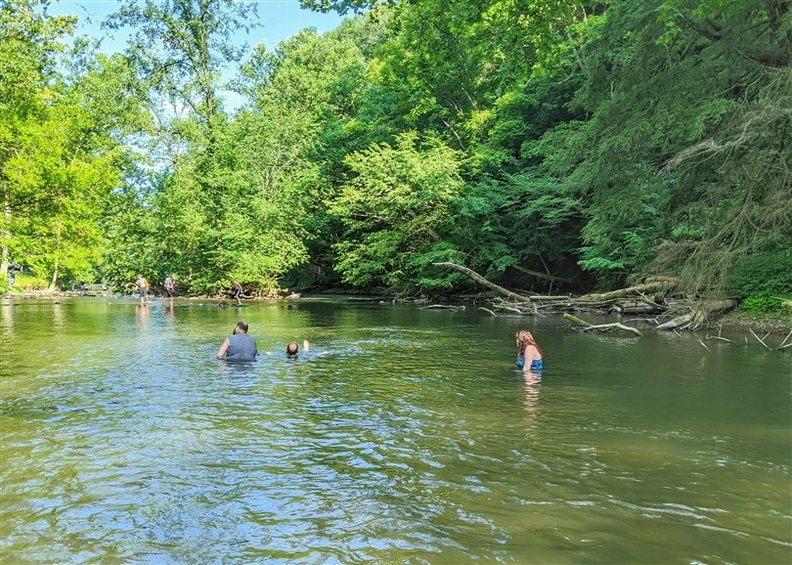 We also found a fun section of decommissioned road to play on…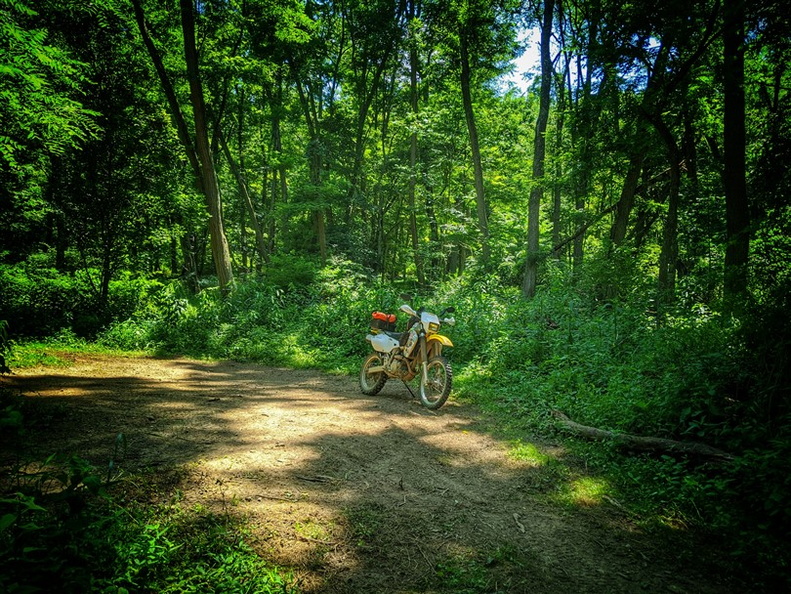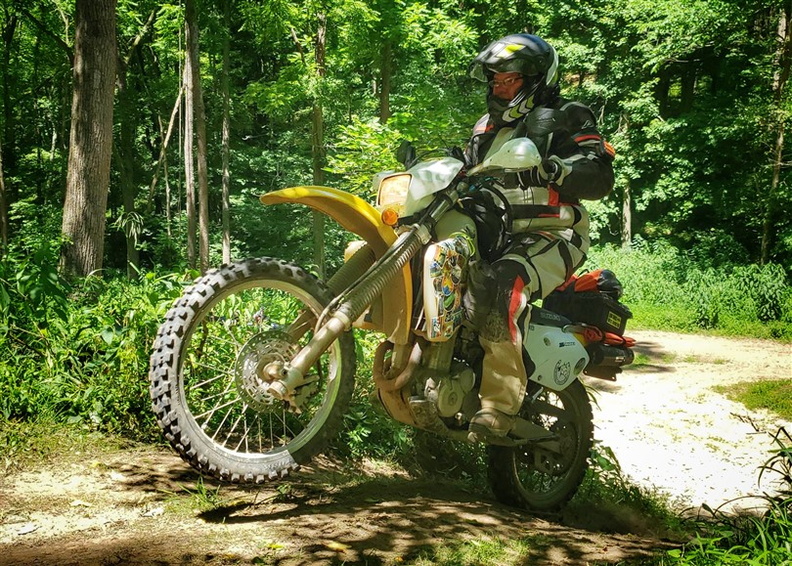 Come home, and the bike gets washed! Well, at least hosed off…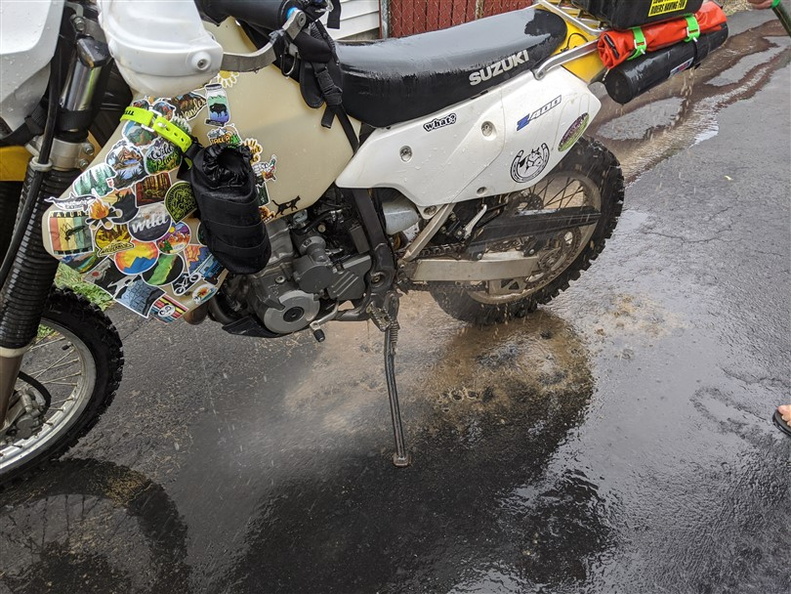 The following weekend, it's closer to taking the bike on vacation! So I take it to my dad's garage and we rejet it for the high elevation.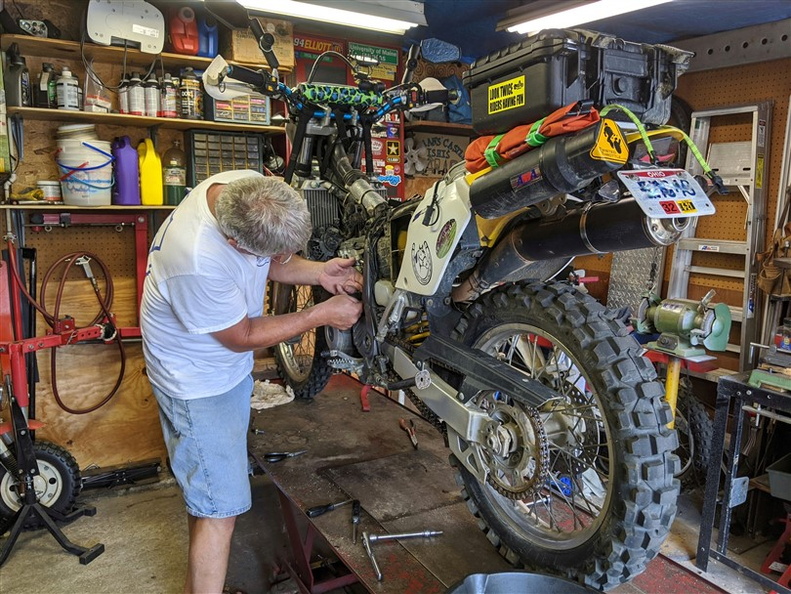 And on Wednesday, July 29th, it's time for me to head west!!! Truck and bike are loaded and ready to go!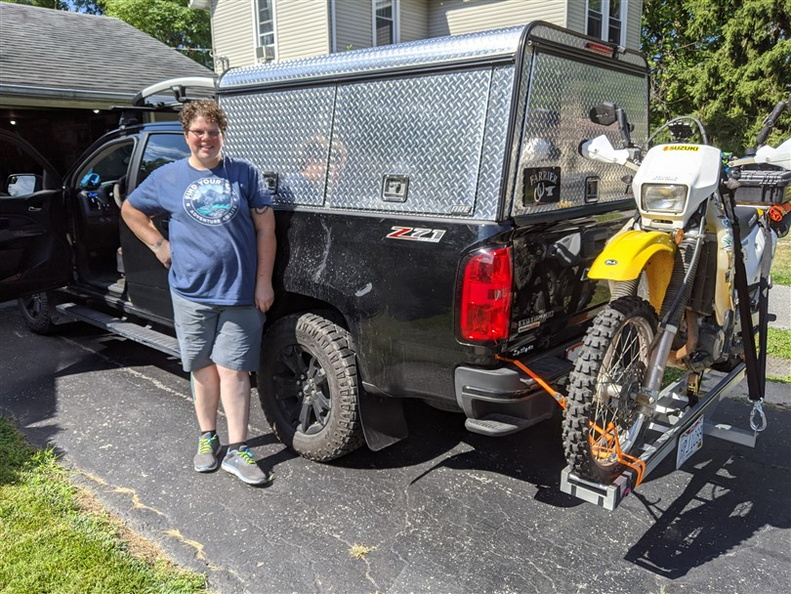 Can read about the whole adventure here ->
Colorado Dirt
And here's some highlights…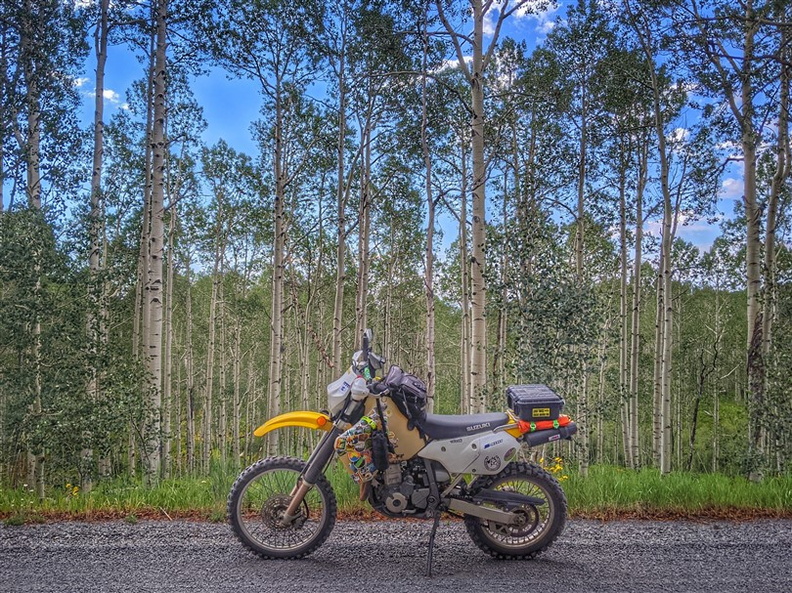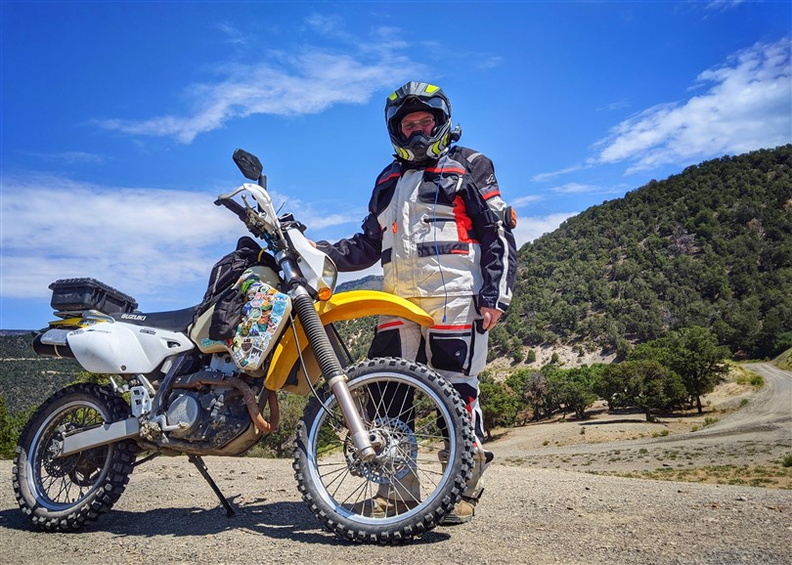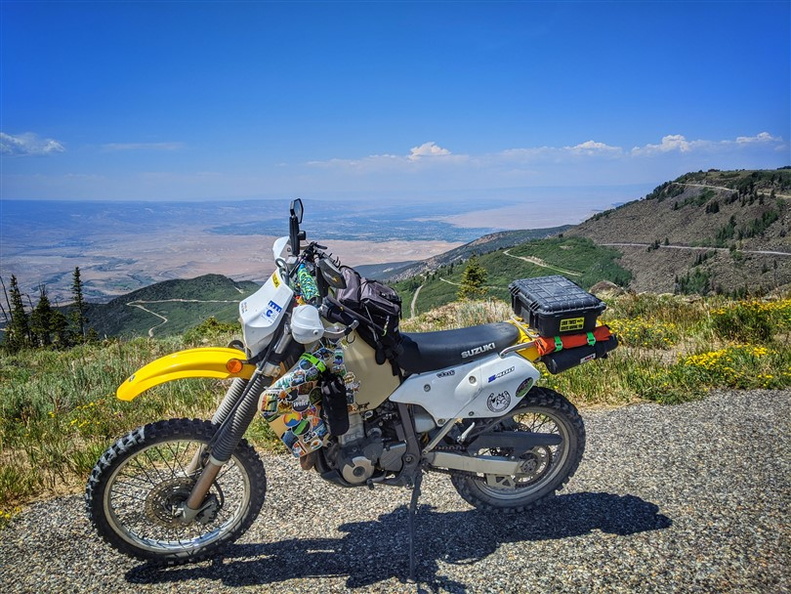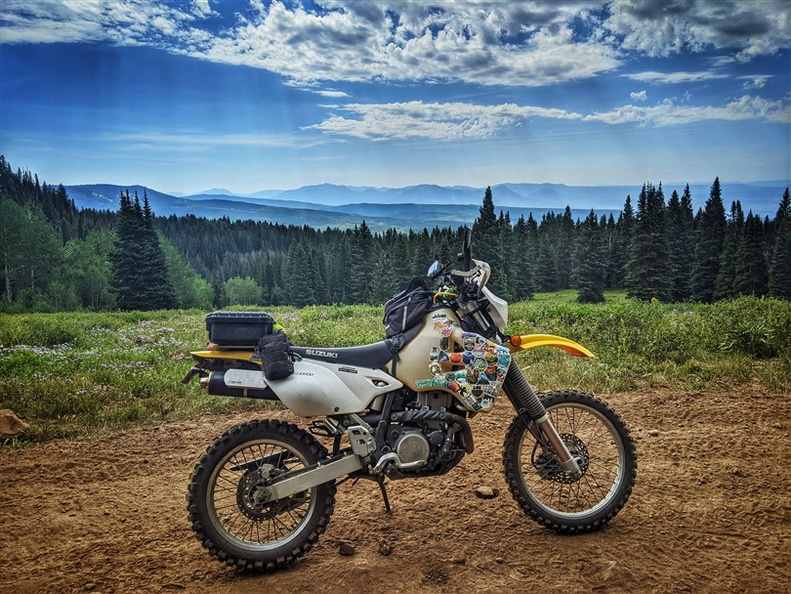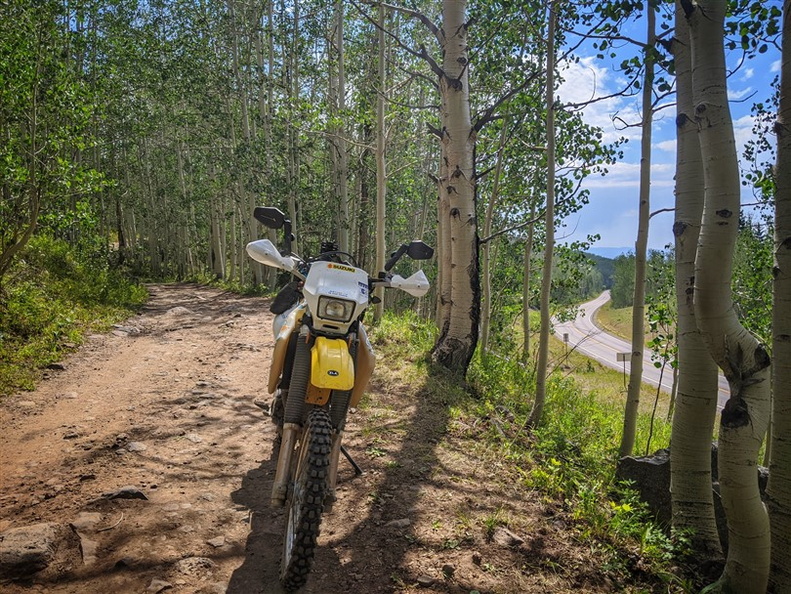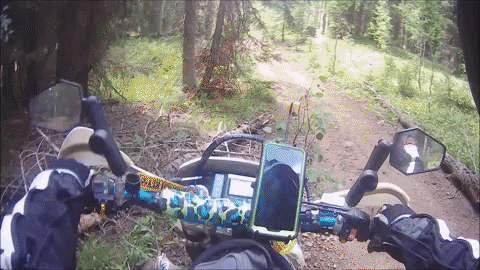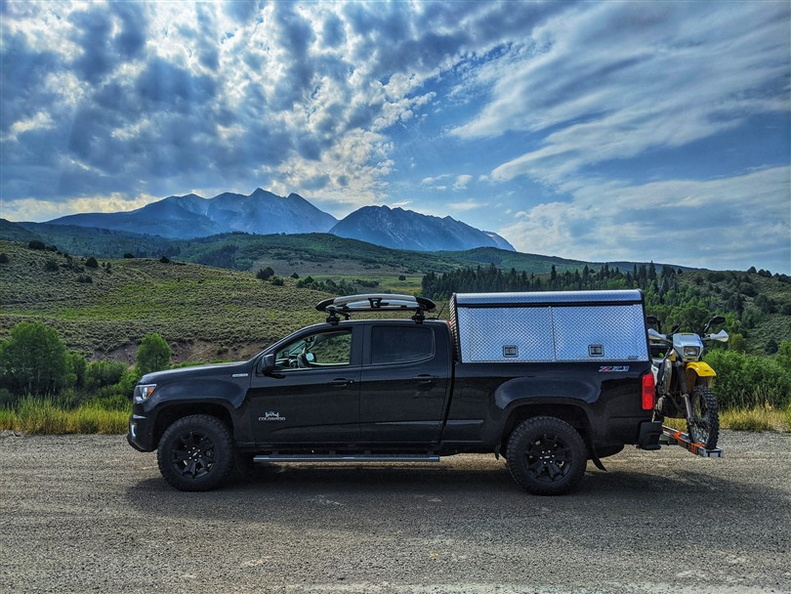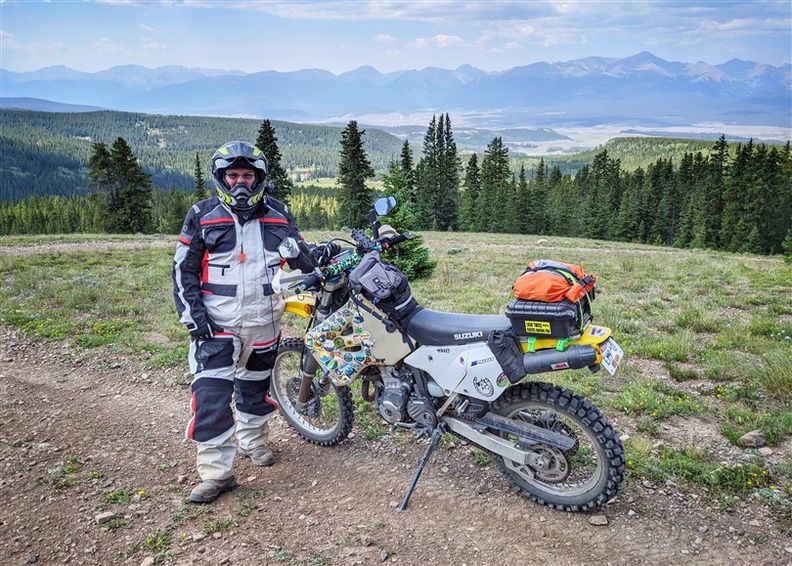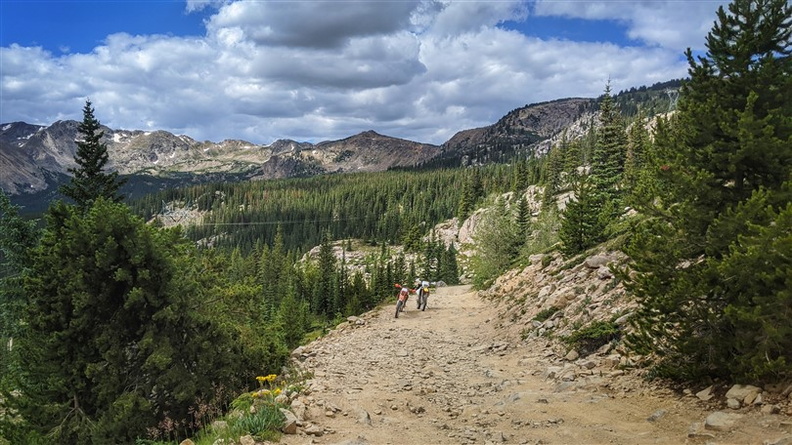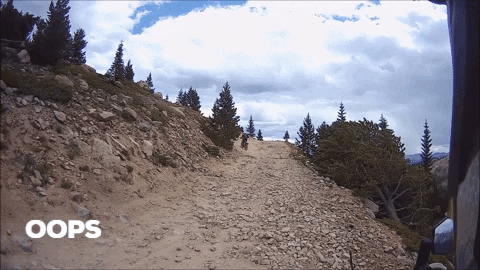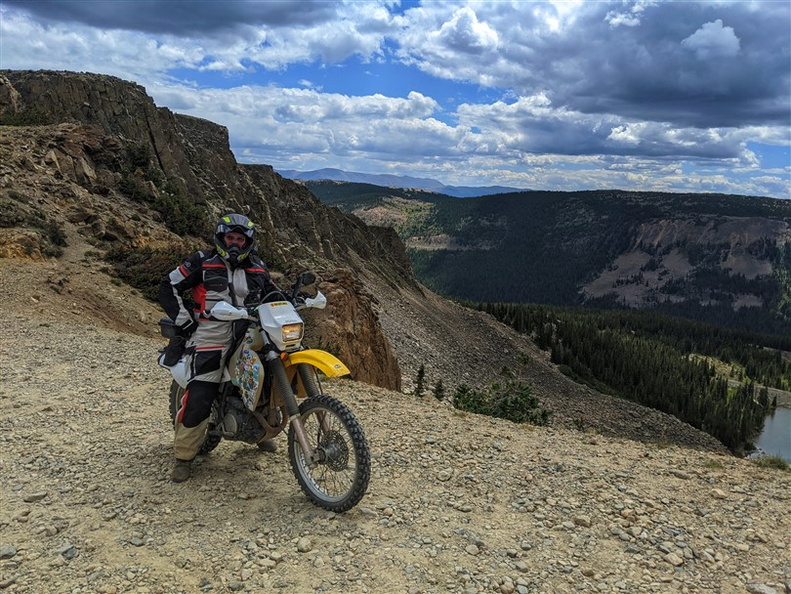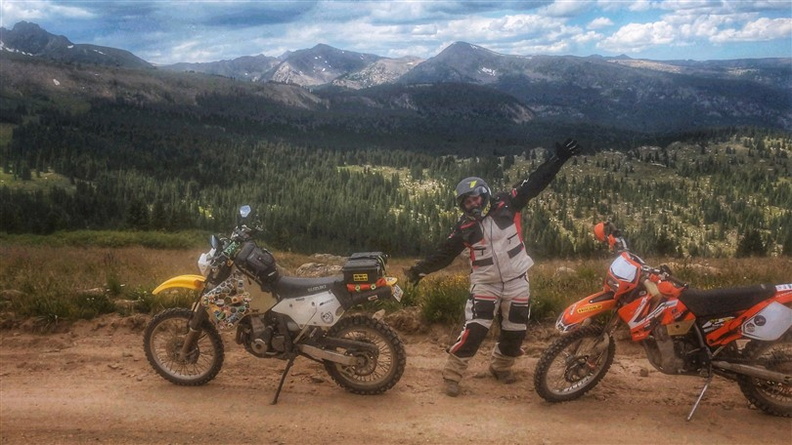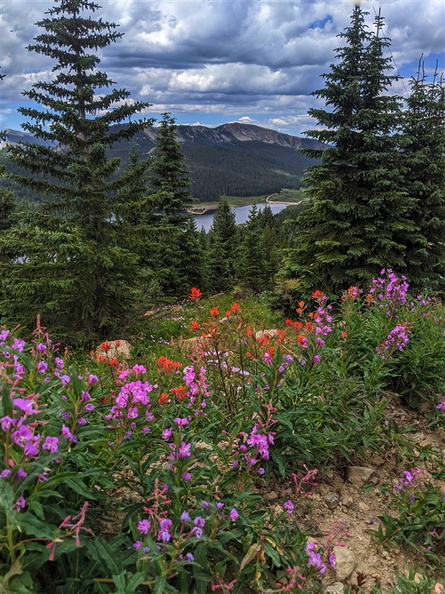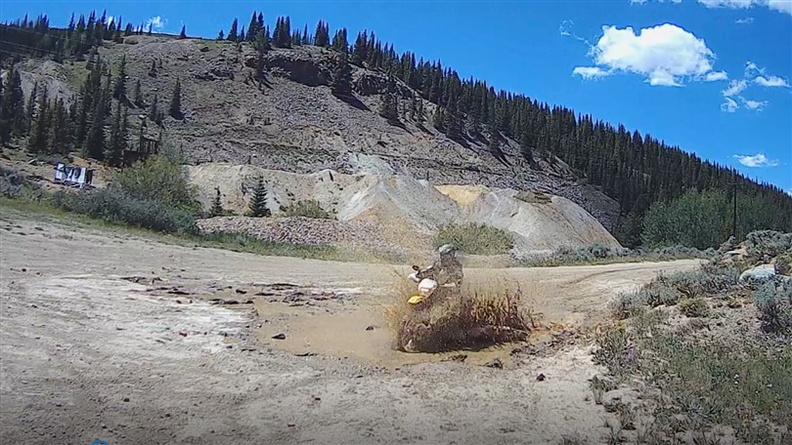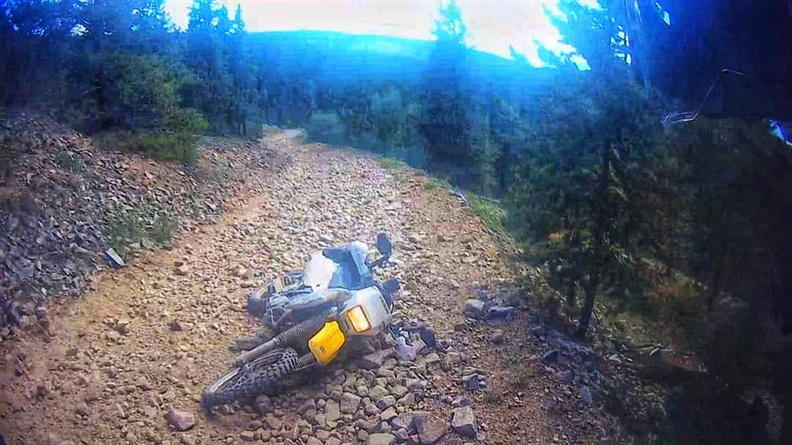 Multiple videos on my
youtube channel
…
Colorado Playlist
…
Back to Ohio, back to work.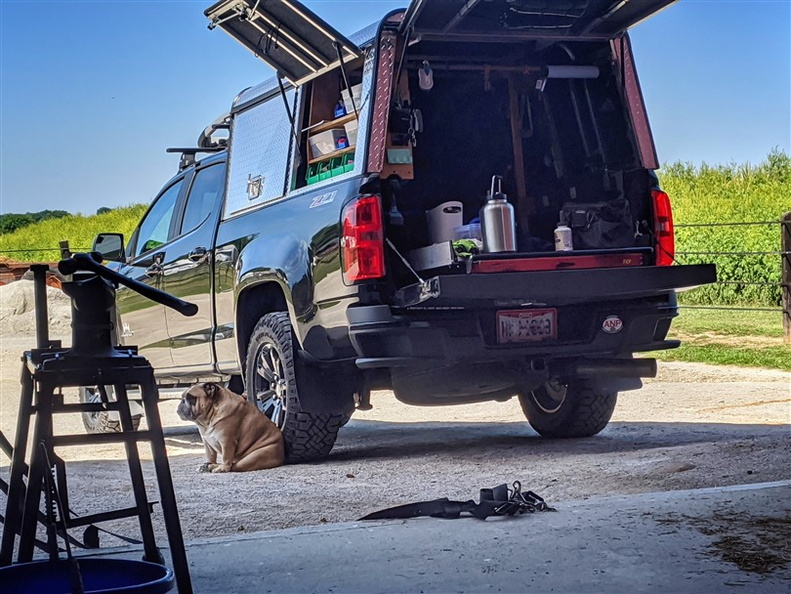 By Saturday, August 22nd, I was back on the DRZ and hitting the trails! With my dad, uncle, and family friend. Pike State Forest, Ohio.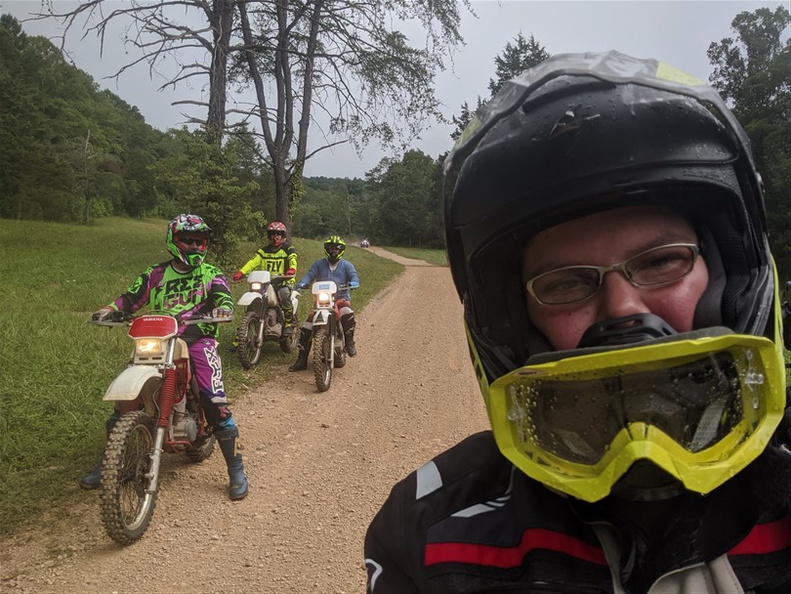 And hitting trees…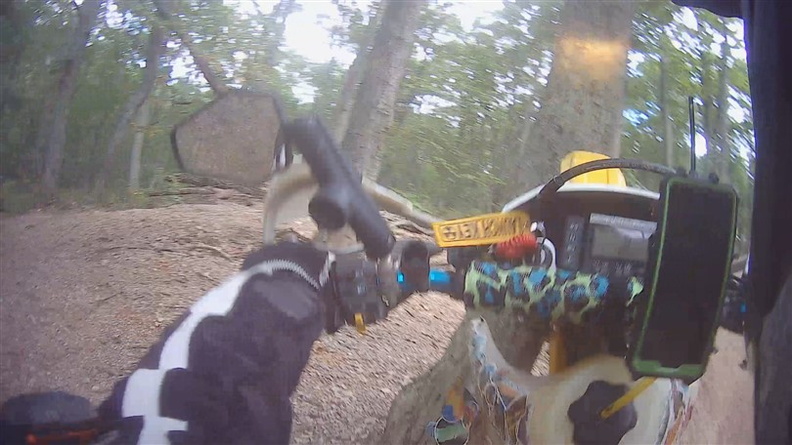 Did a bit more workin'…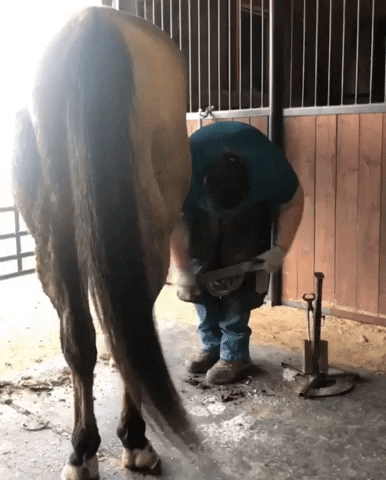 Sunday, September 6th, took the DRZ for a county spin. It's outstanding in its field.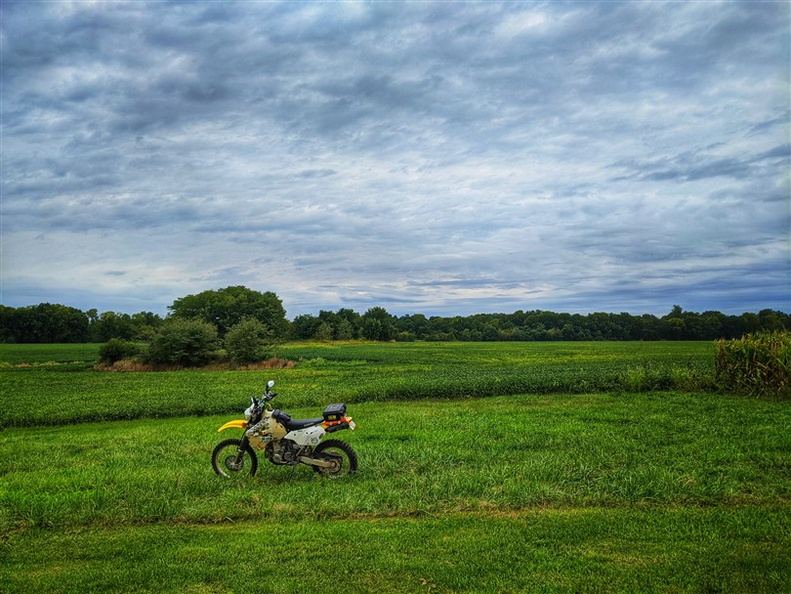 Saturday, September 19th, went over into the Danville, OH area and met up with a fellow FJR rider… but this time on our dual sports!
Found some gnarly and fun "roads" to play on!!!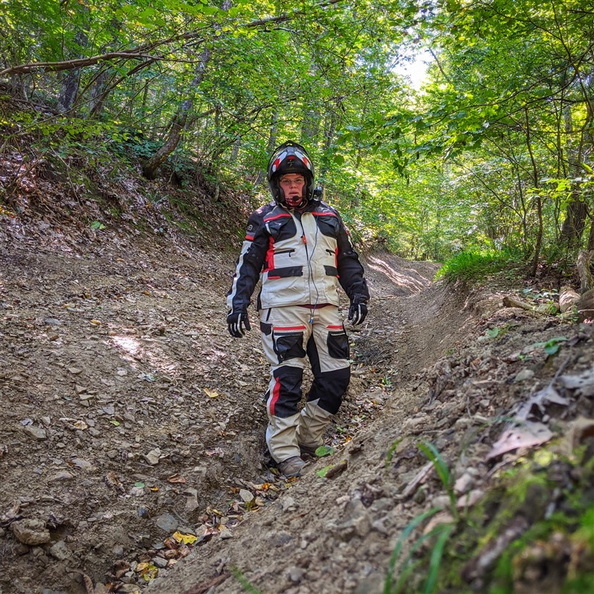 The next day, Sunday… I decided to join my family for a fun day at Cedar Point!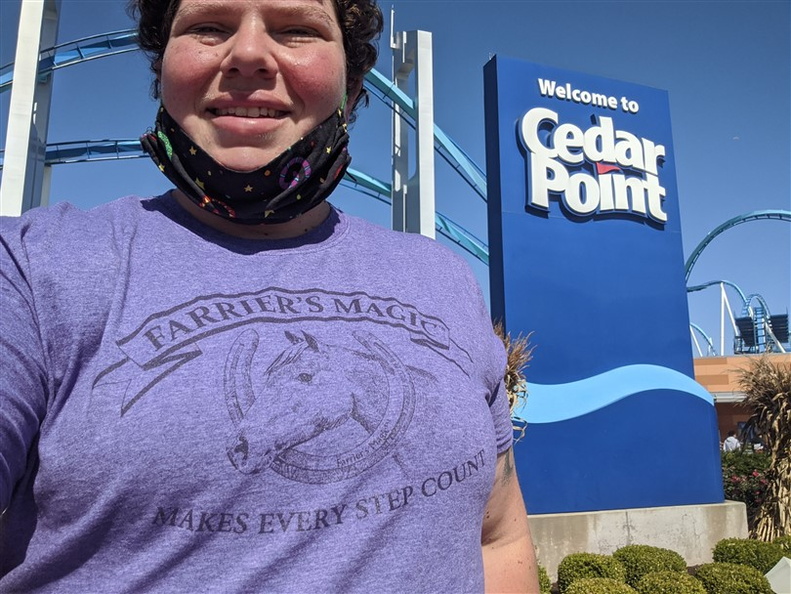 (advertisement photo for brand on T-shirt…)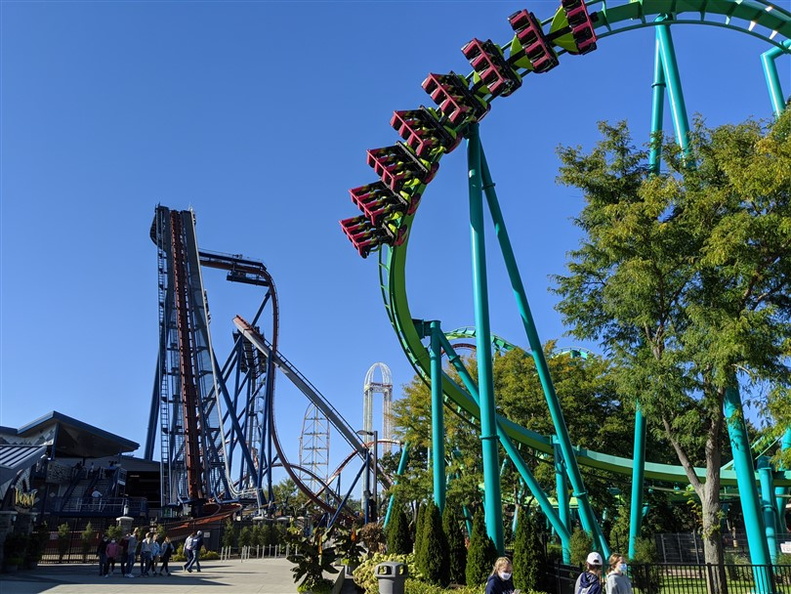 The following weekend was a non-tech tech day at the Geeks' garage. Sure was nice to see and hang out with the few that showed up!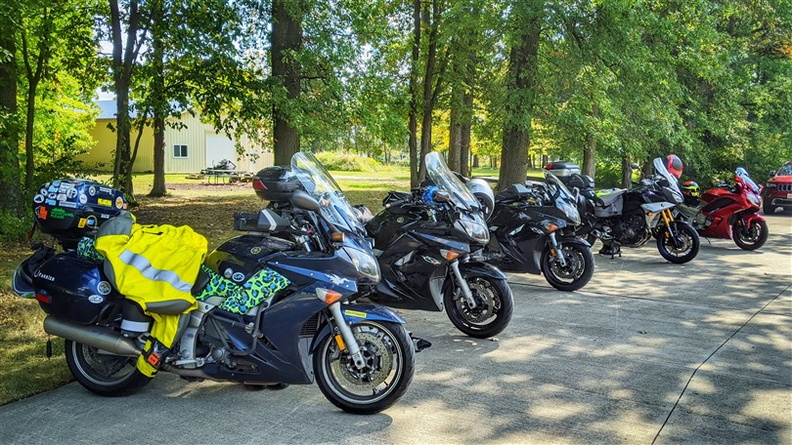 It was
frickin fantastic
.
The next weekend, Saturday October 3rd was the last "organized non-official downtown car show and cruise".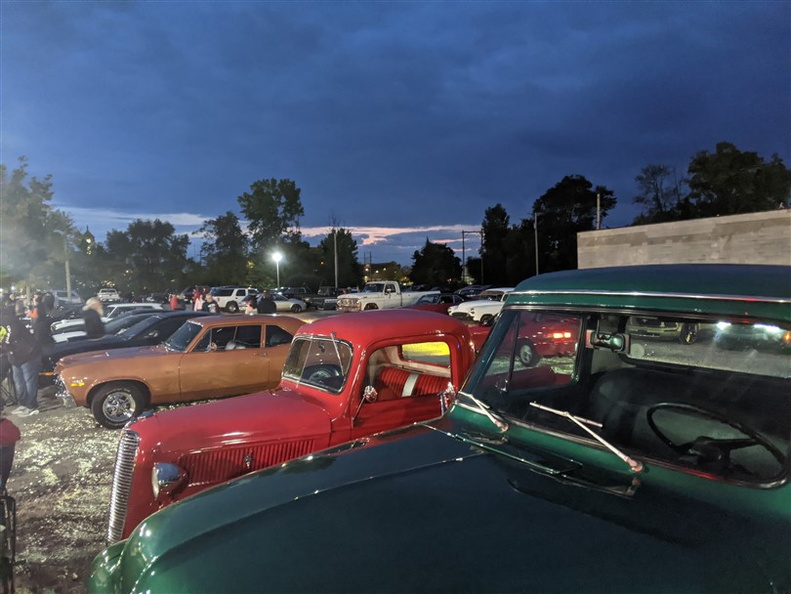 I decided to deck the DRZ out with some lights…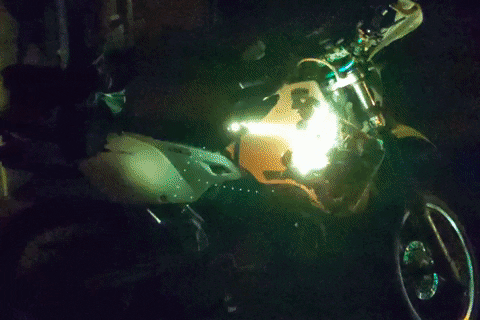 Sunday, October 11th, and it's my mom's family annual reunion luncheon that we have before my grandparents migrate to Florida for the winter. This year we all rode our motorcycles.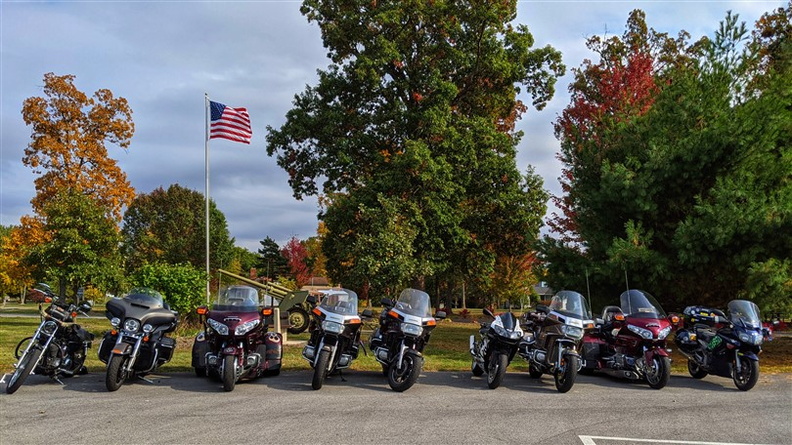 Grandma, at the age of 81, thinks she might be retiring from the driver's seat. So us grandkids wanted to get one last ride in with her. Was fun for the whole family!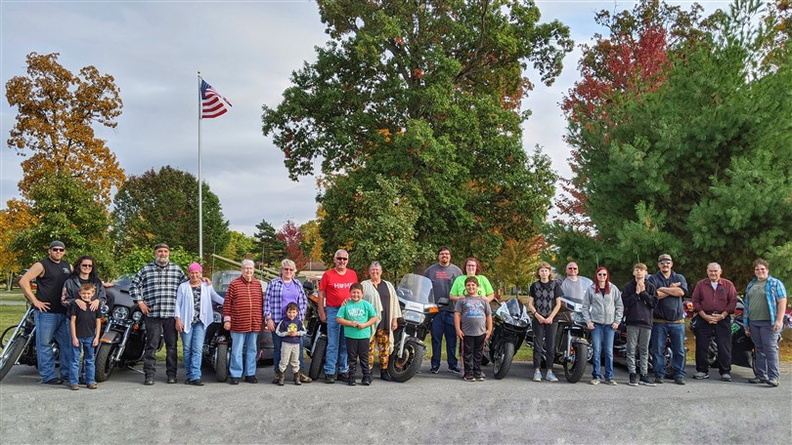 Some more working. Man, I love my job!!!!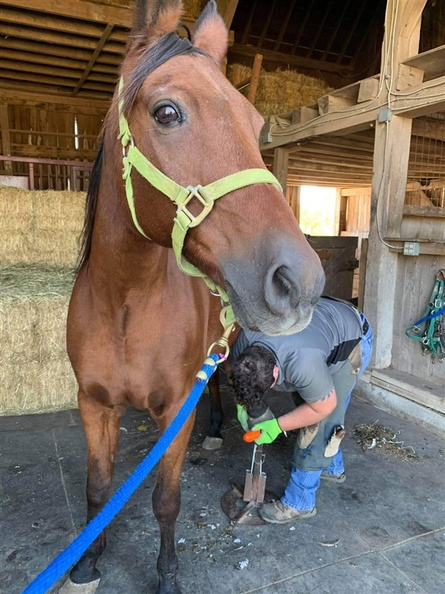 Did a bit more farkling on the DRZ… I might have liked this one too much. Lol!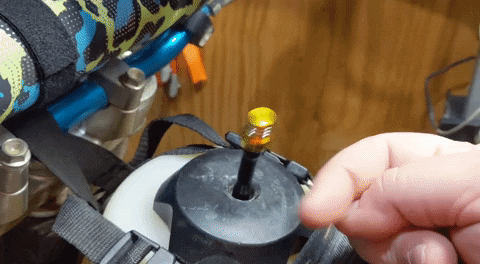 Saturday, October 17th, headed back over to the tri-county ADV area. This time for a small group for some fun riding and leaf peeping!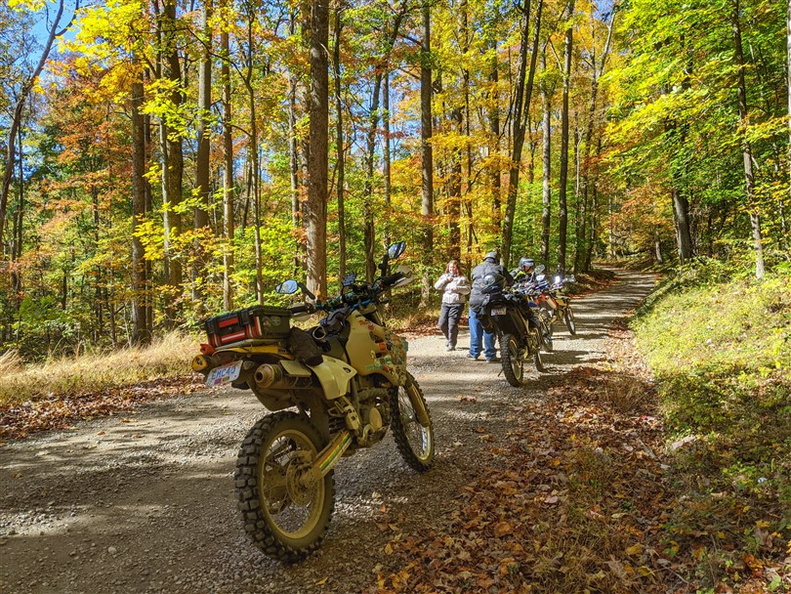 Sure was pretty!!! The colors were popping and gorgeous!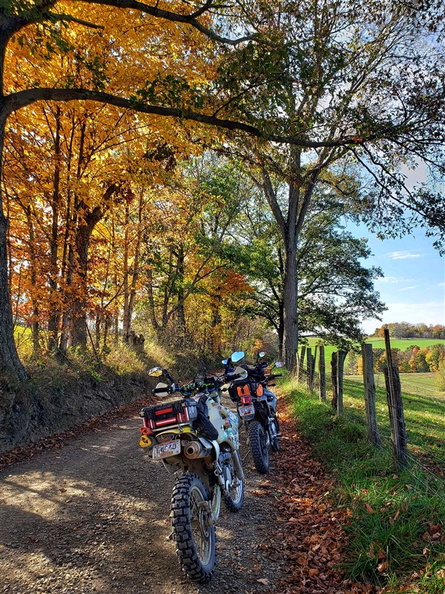 This wooden-decked old bridge is on quite a few of the routes we tend to ride…
Bridge of Dreams, in the background.
The next day, it was to Cedar Point with the entire family for a day of fall festival fun!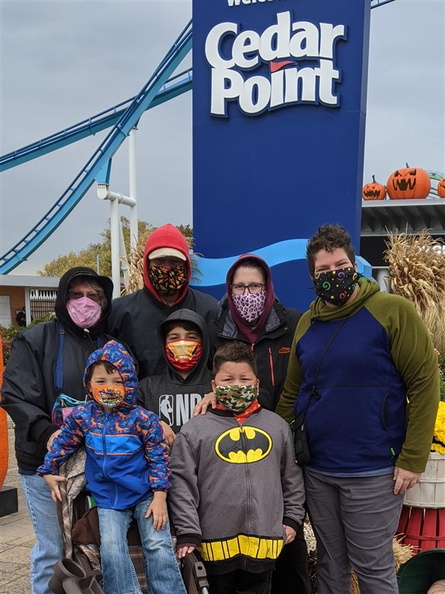 Youngest nephew loved riding the vroom-vrooms!! (motorcycles, lol)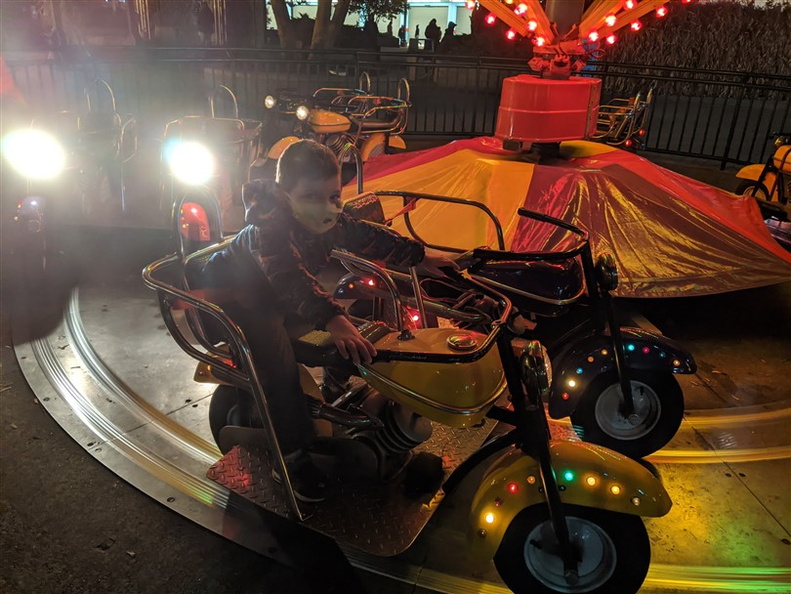 October 22nd-25th, I gathered up the guys and we went trail riding again! This time at Wayne National Forest, Nelsonville area.
Rode a section of the trails that was new to us. We were having a blast!!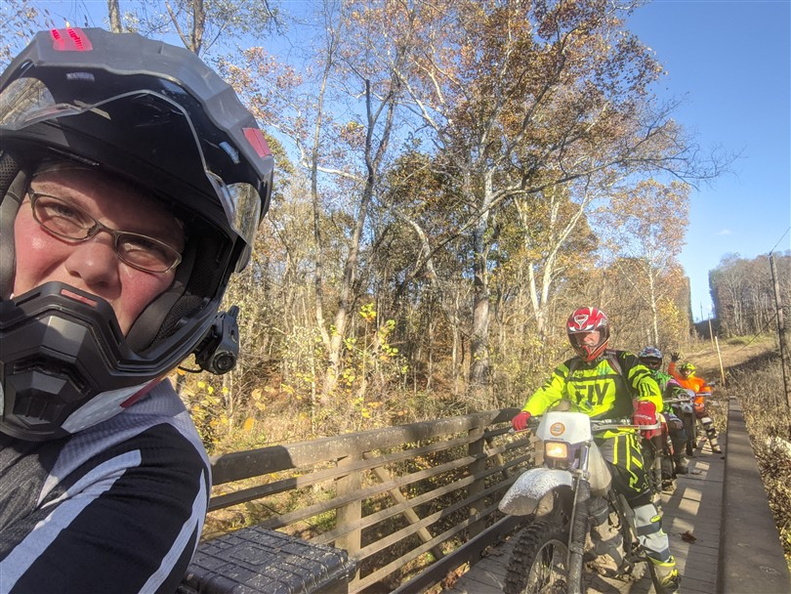 I managed to find and book an AirBnB house in a town within the trails, which is friendly to OHVs. Once we unloaded on the first day, we didn't load back onto the trailer until we left at the end. That was wonderful!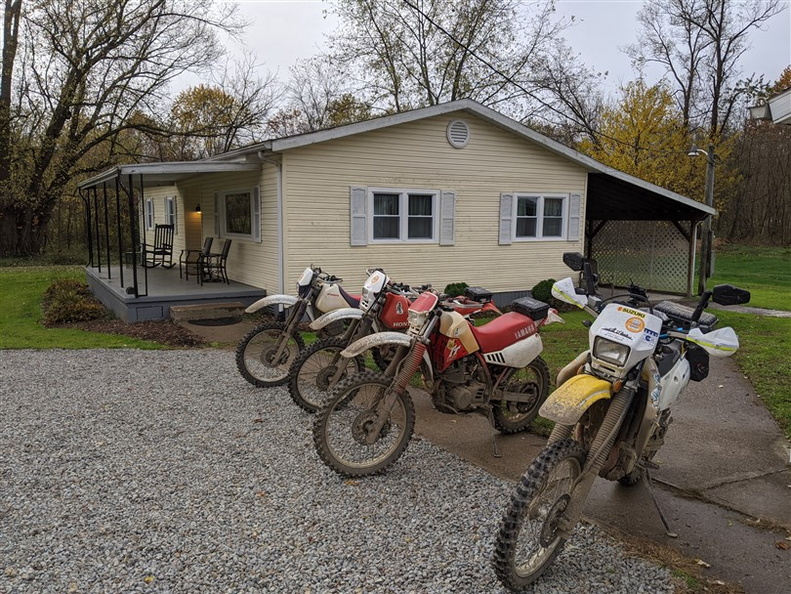 Getting dirty!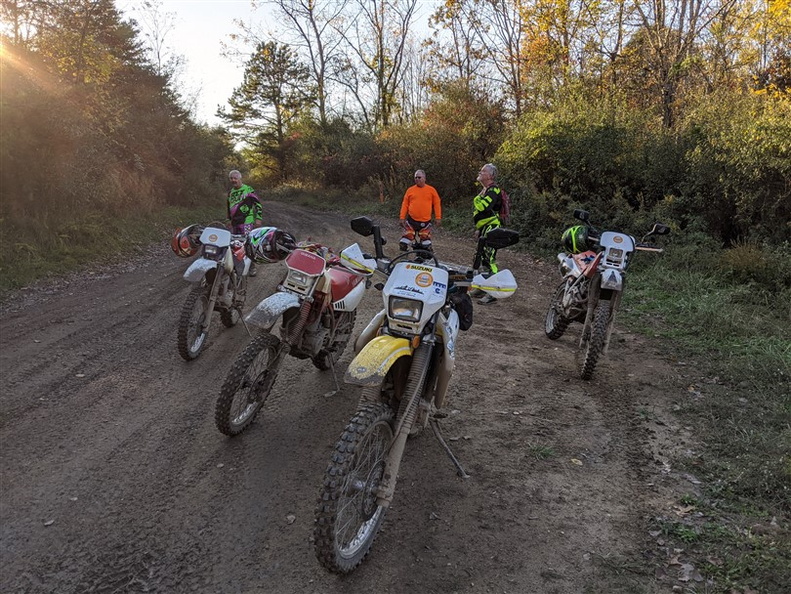 These guys are so much fun, and can truly ride well!
Me, my dad, a longtime family friend, and my uncle.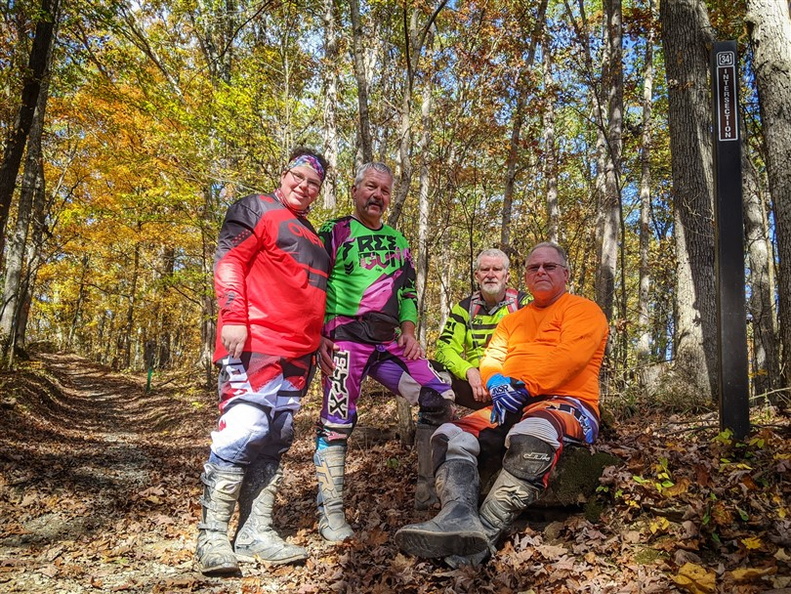 Them and their bikes may qualify for the "old man and vintage bike" category… but they are rocking it on the trails!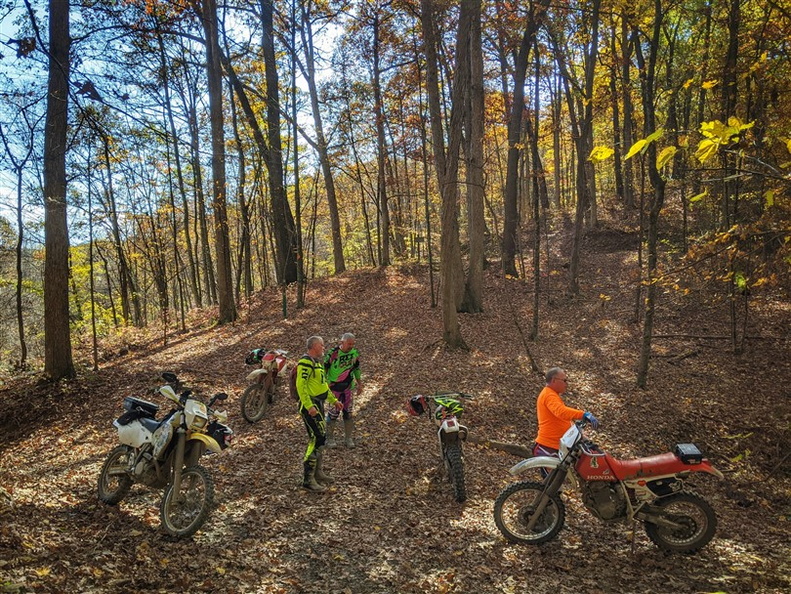 Always seem to find some interesting things along the trails…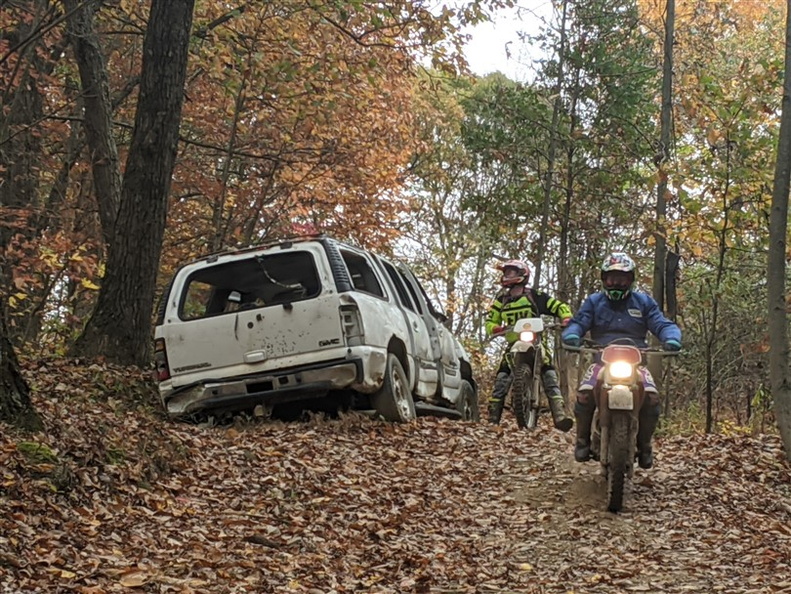 The location of this Yukon, was not in an easy area of trail. It definitely had a rough journey to get to this point!!
The last day was a bit wetter and cooler. (it had stormed overnight)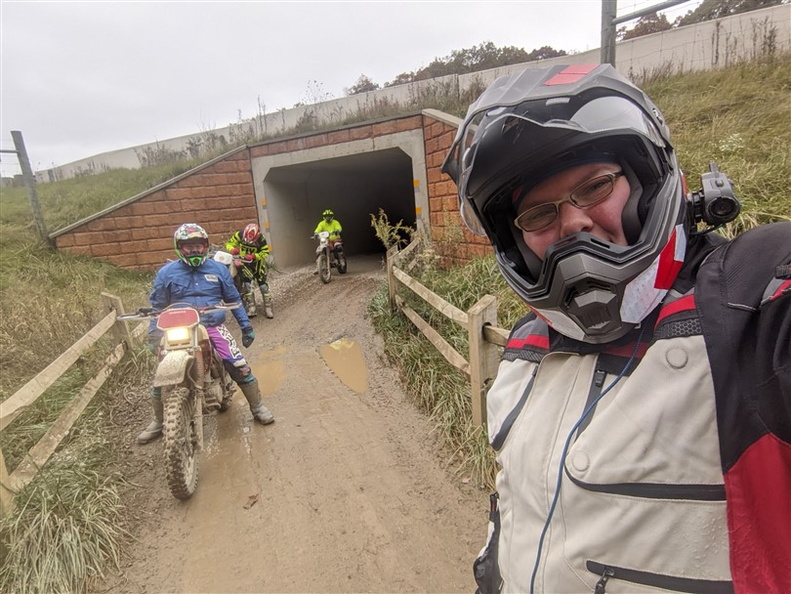 Which resulted in some downed trees.
(Some other decent videos on the channel as well,
Wayne NF playlist
…)
You can't wipe this smile from my face!!!!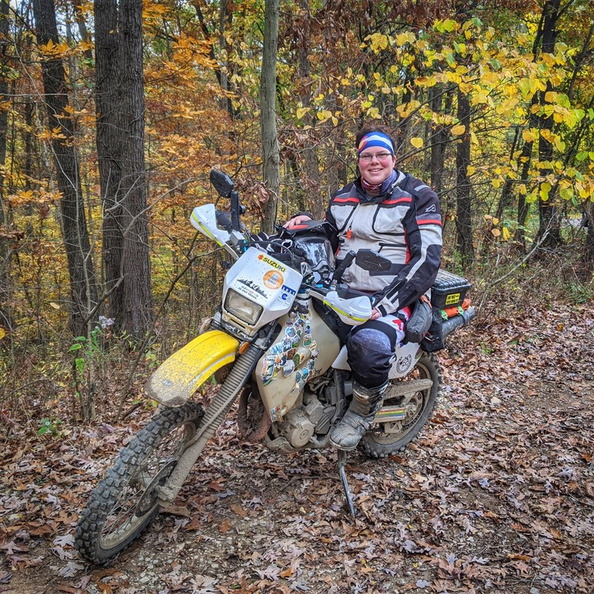 Bike got a good coating of mud on it… means it was a good weekend of riding!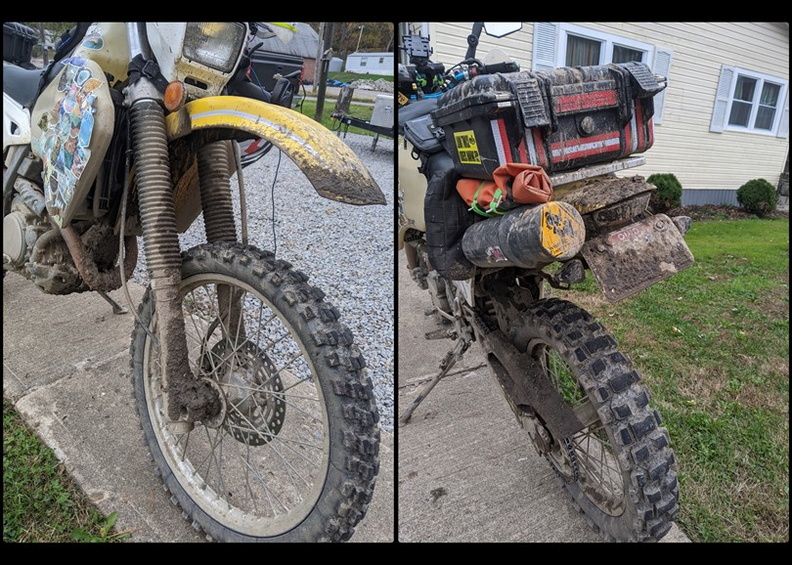 On the way home, of course we stopped by Iron Pony and did some shopping…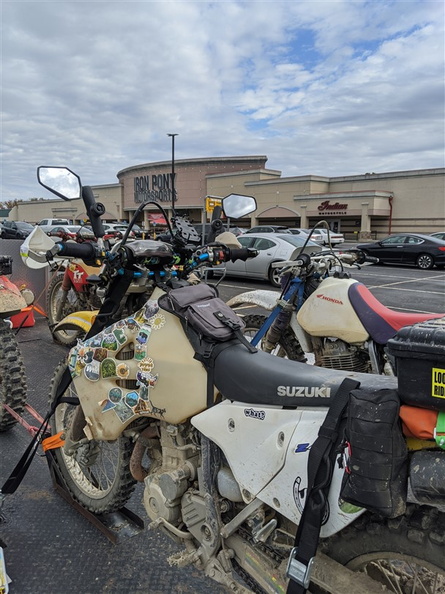 Did some more working…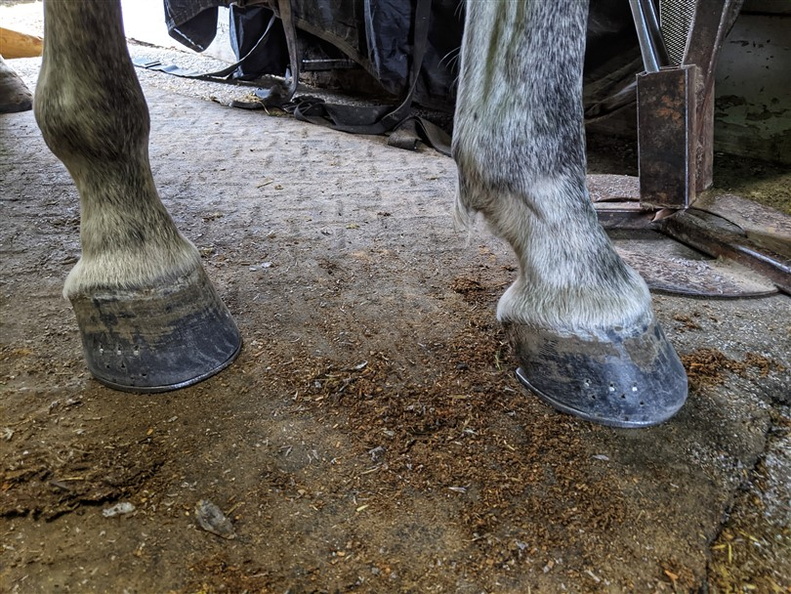 And then I escaped again and ran away to Cedar Point!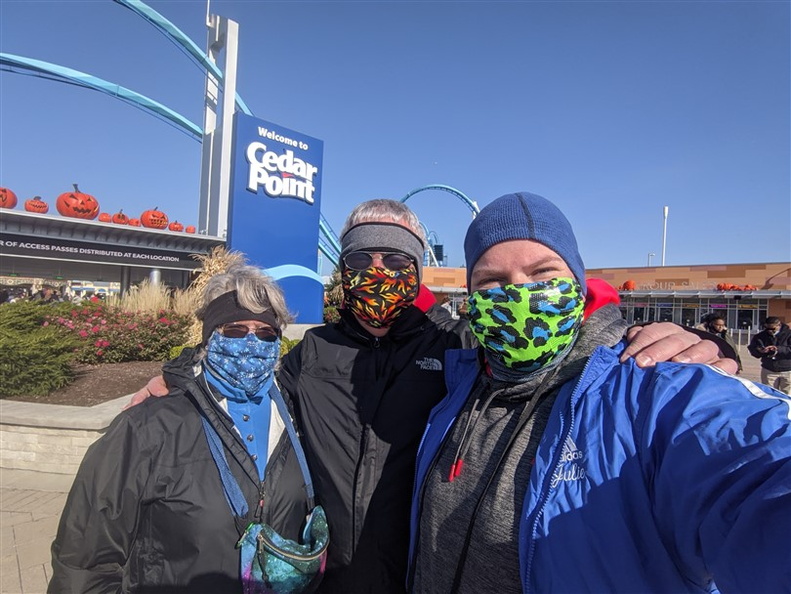 Recognize my mask material? Hahahaha!
Halloween weekend, and also SFO weekend… but I instead stayed in Ohio and spent the weekend at the amusement park for their closing weekend.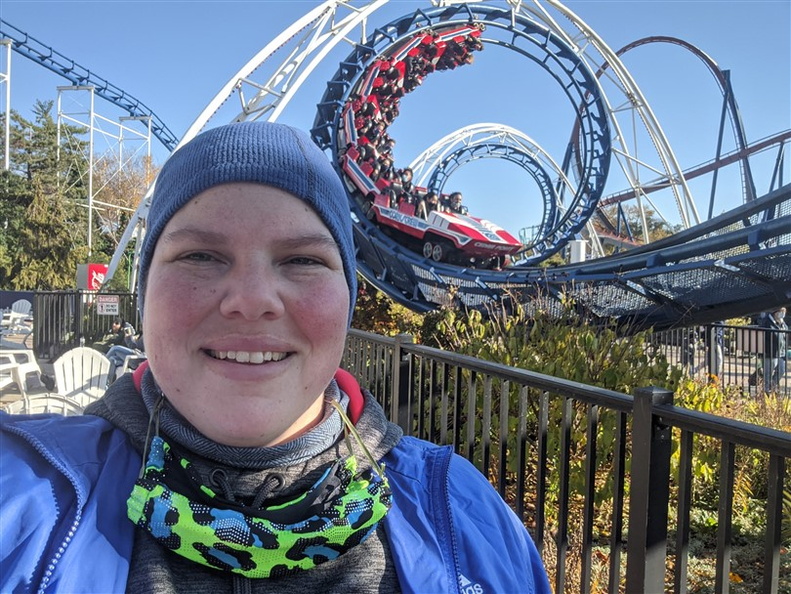 Saturday was cold, but decent. And the sky was clear and the sun was shining! Parents got the front row on Magnum! (I was on the previous train in the back row.)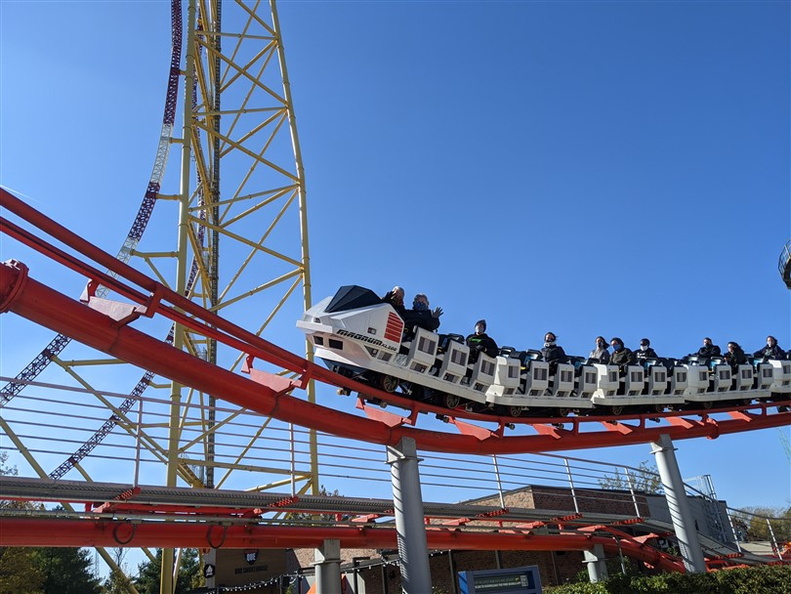 Sunday? That was a totally different weather day! VERY cold, very windy, snowing and sleeting, and cloudy and overcast most of the day.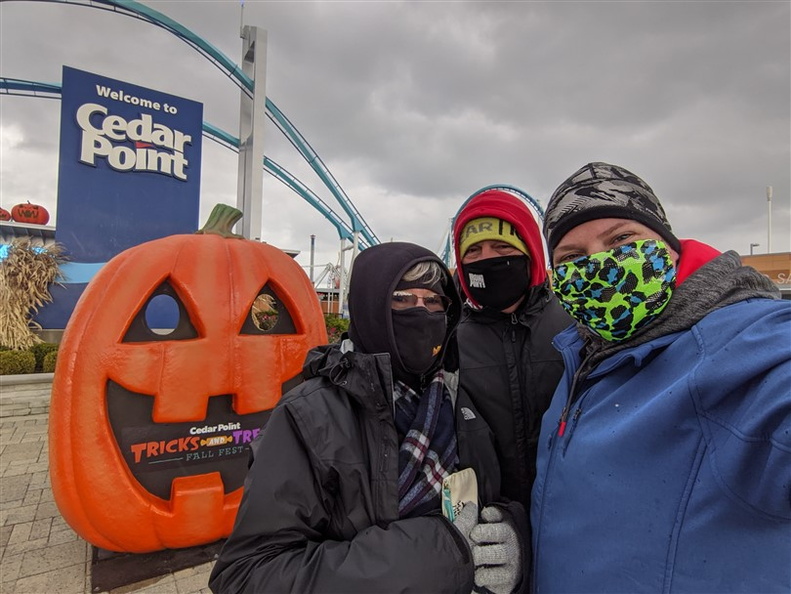 We were still gonna have a fun day though! This year was supposed to be the park's big celebration year. 150 years. Was supposed to be full of parties and parades and lots of people.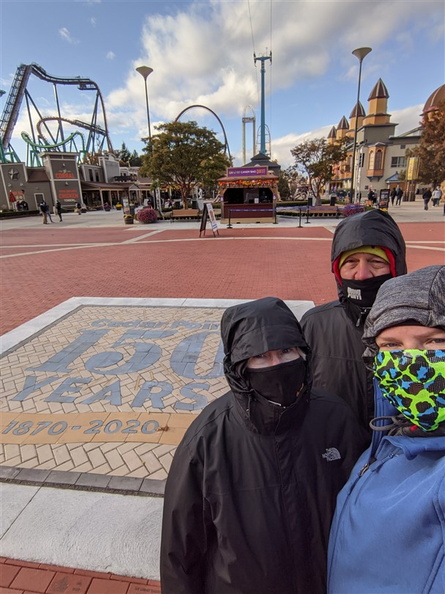 Instead, they had to change a lot of procedures to be able to accommodate Covid-19 restrictions, and they managed to open mid-July.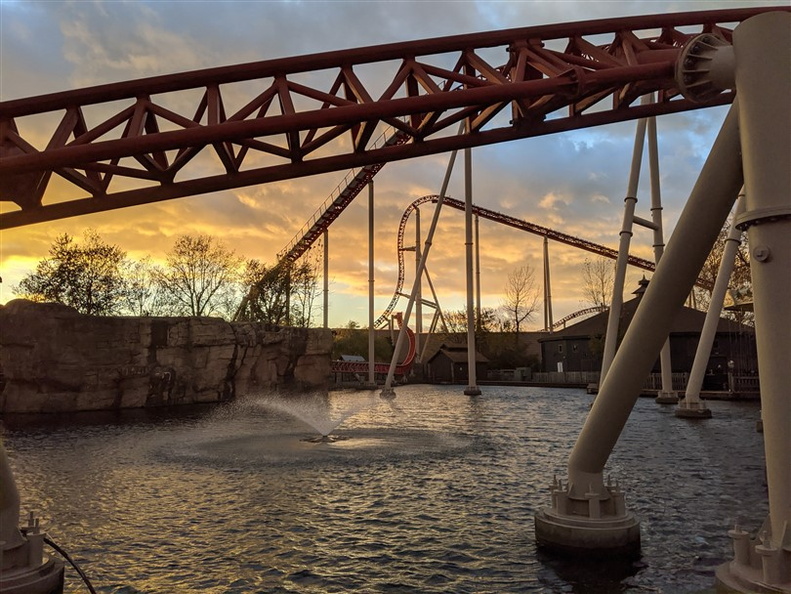 That white speckling on the blue floor? Yeah, that's snow! None of the coasters were open, (2 of the small ones would open periodically through the day) so we spent the day riding all the flat rides.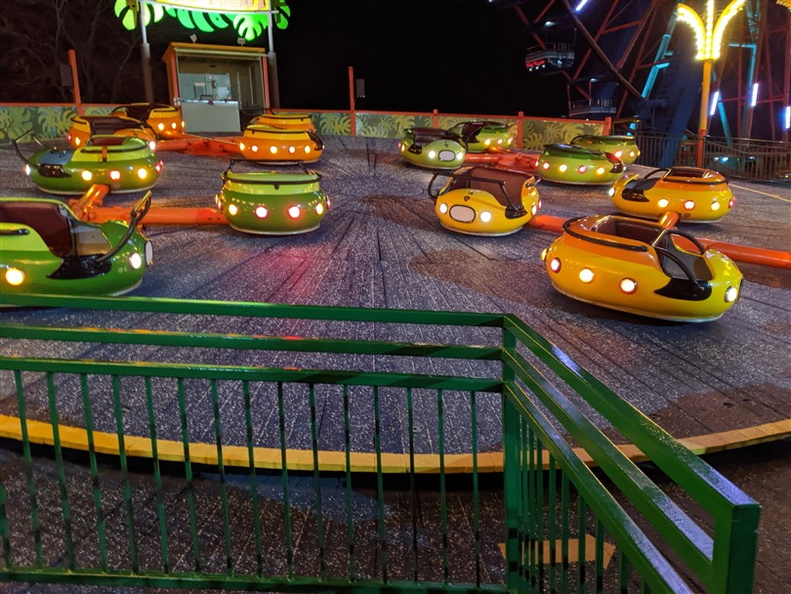 Thank you, Cedar Point, for allowing us to come and experience some bit of fun and normalcy in a crazy year! (Yes, masks were mandated throughout the entire park, and on all rides.)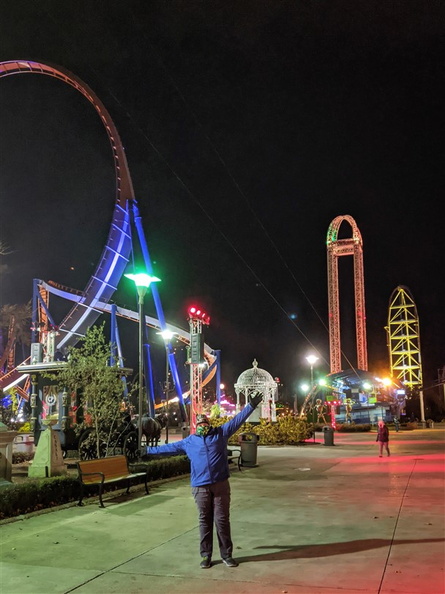 The following weekend, November 6-8, there was an impromptu Rumble gathering of FJR folks in Marietta. My FJR was not road ready (needs fresh tires), but my DRZ was itching to hit the nearby trails again!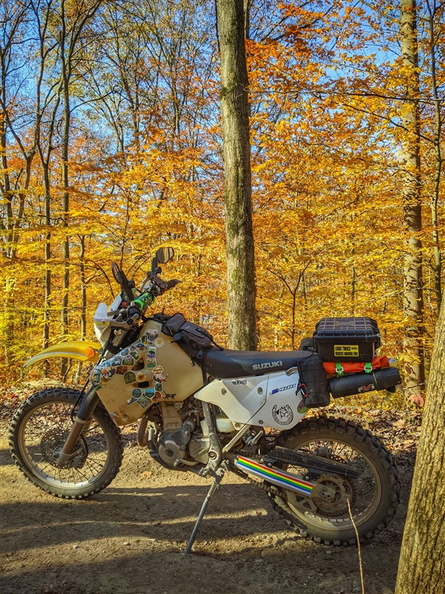 Trails ended up being way too busy for my liking…
So I headed back to Marietta and explored the back roads in the area. Found some old covered bridges.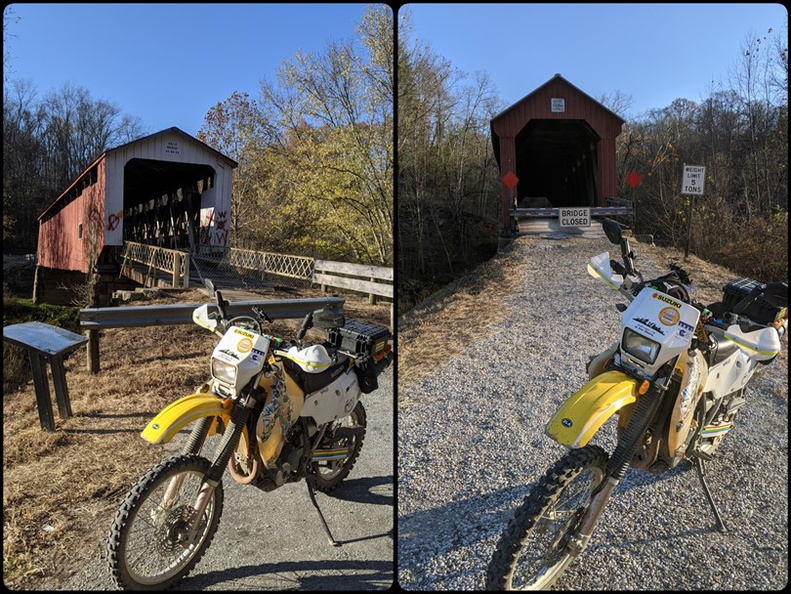 Lookout Point, above Marietta nearing sunset.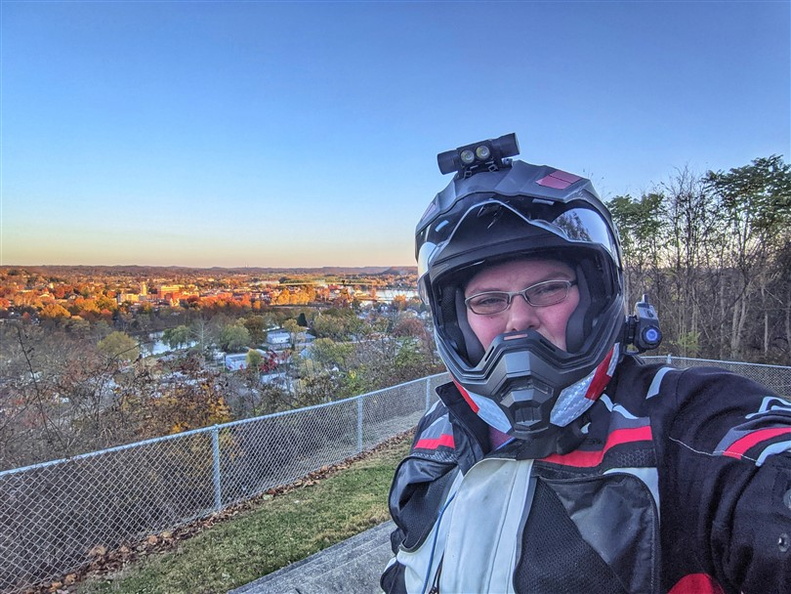 And then back to the hotel to hang out with the guys!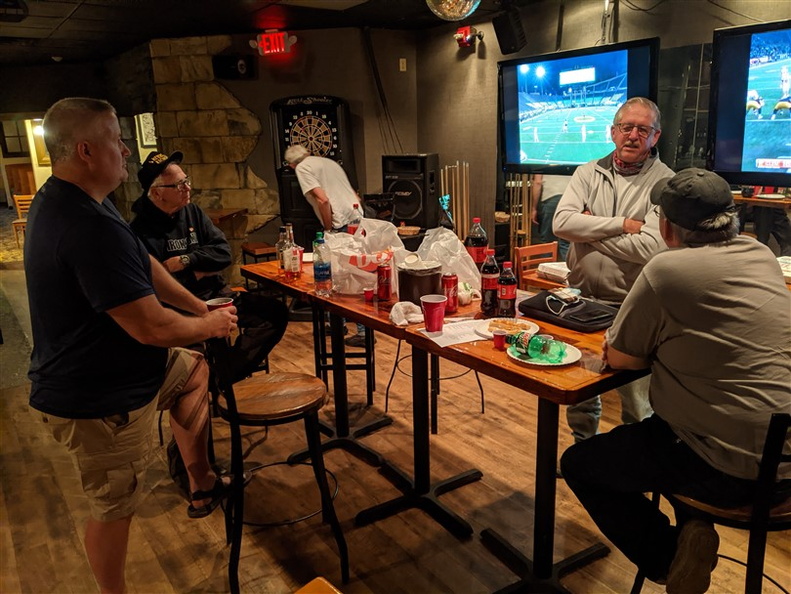 It was a good weekend of
all kinds of riding
.
Back home and it's back to work for the month.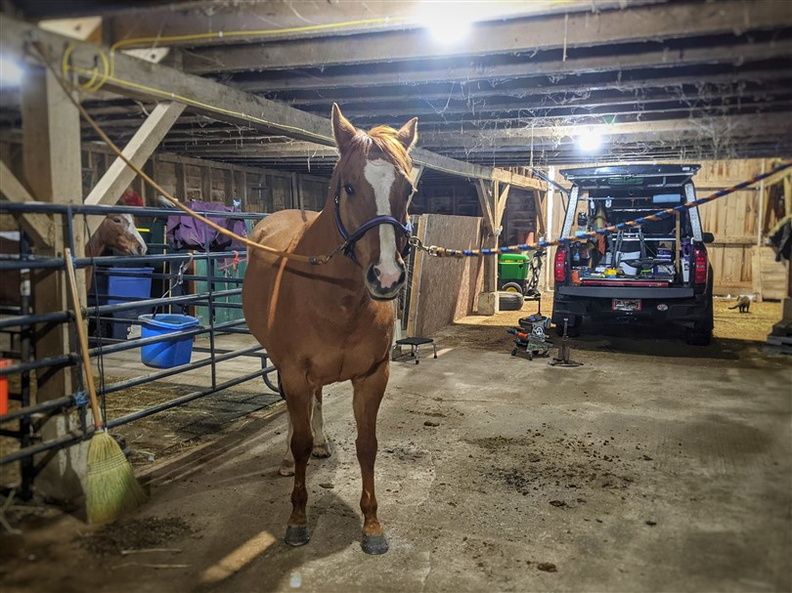 Sunday, November 29th, and I got the FJR out for its final ride of the year.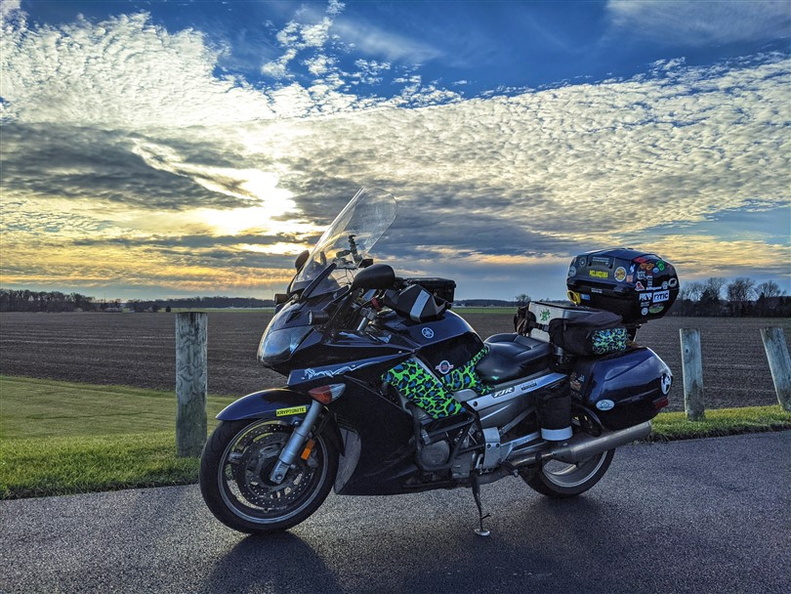 Visited the city's Christmas tree downtown.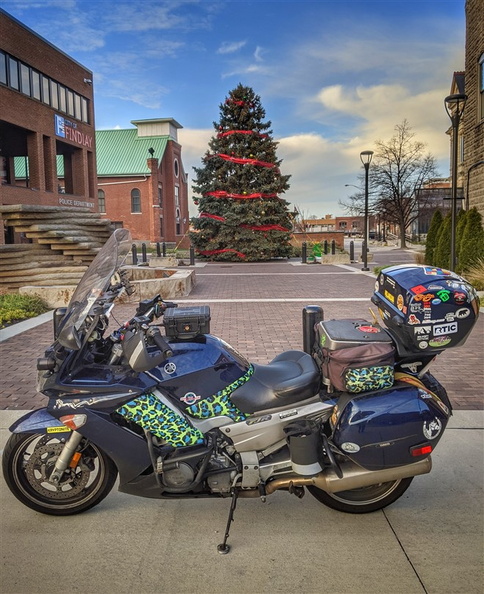 And then back to the garage and pushed up against the wall and settled in for the winter.
Tuesday, December 1st, and we had gotten a pretty snow the night before.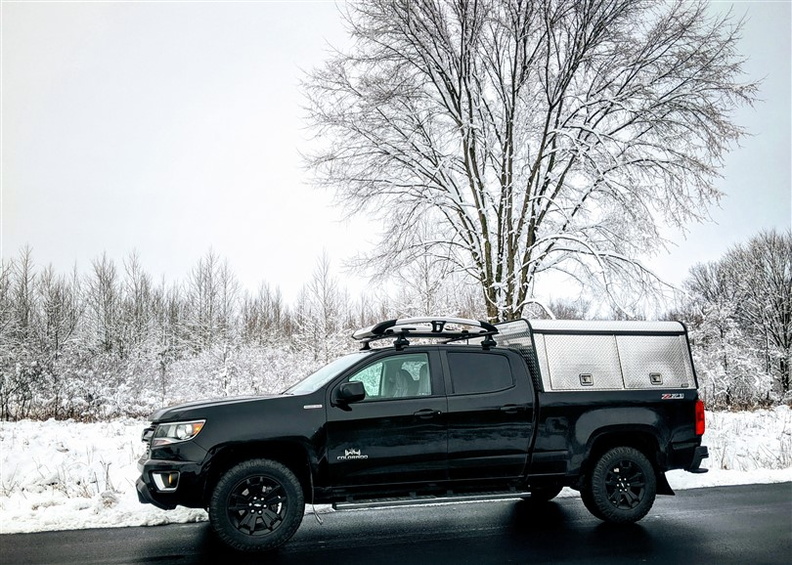 Friday, December 11th, and the weather was beautiful!! Jumped on the DRZ and went for a ride around town and the county. 65 miles of moseying on the DRZ in December? Heck yeah!
Found some Christmas trees still for sale.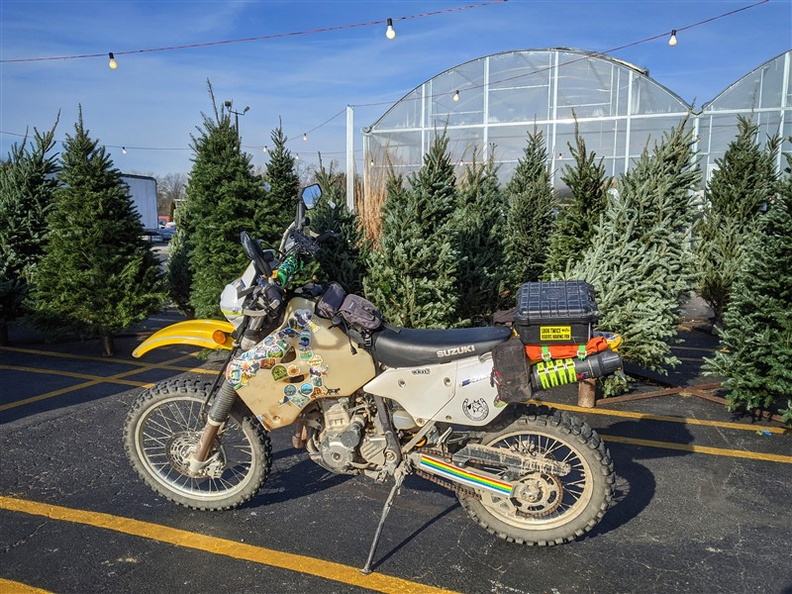 Up on the reservoir for a water picture.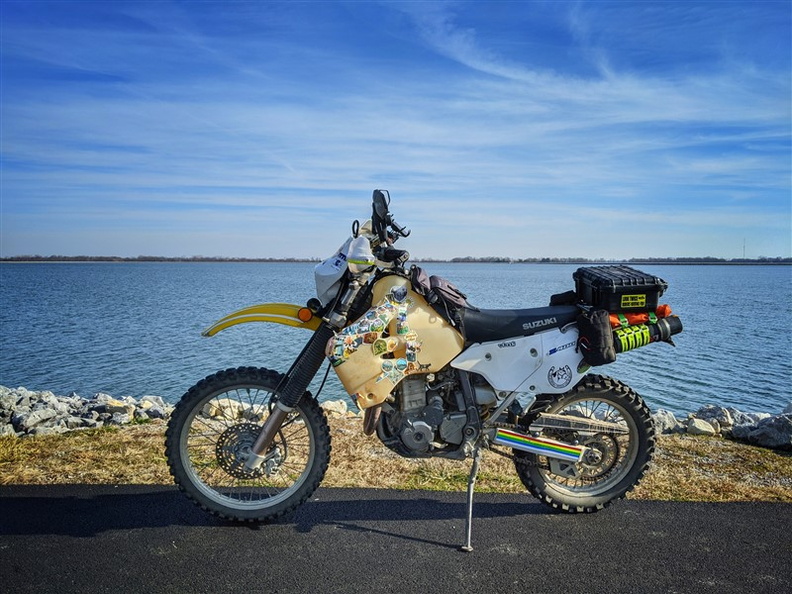 Through the state park for some trees.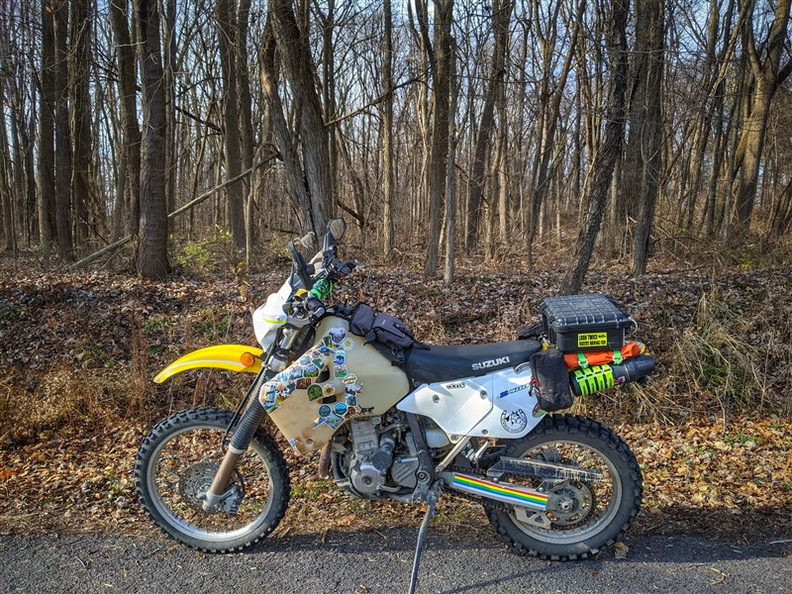 Few days later and it's the season of holiday cheer and working! Tip are greatly appreciated and enjoy seeing lots of decorations.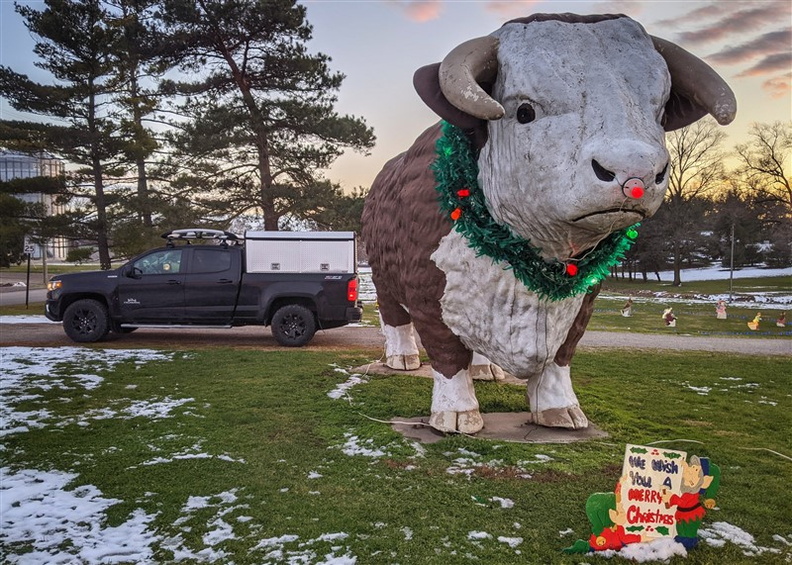 Friday, December 25th, Christmas Day! 11th year Tradition ride with my dad on the motorcycles!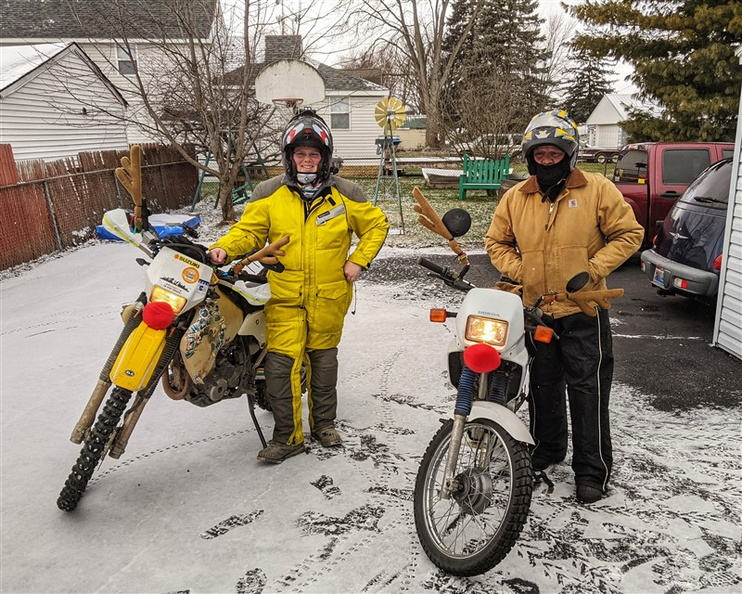 Downtown to see the city Christmas tree and county courthouse.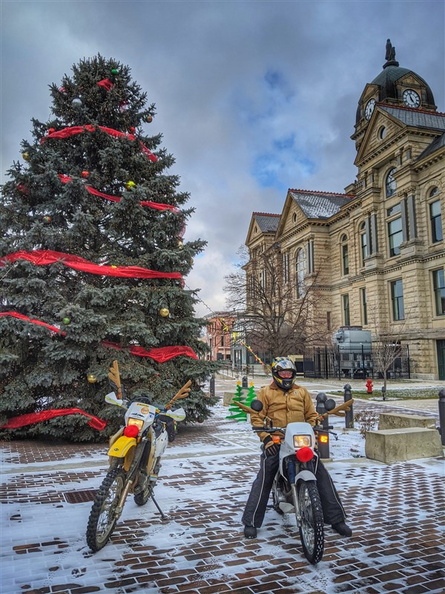 19* and a skiff of snow wasn't going to stop us!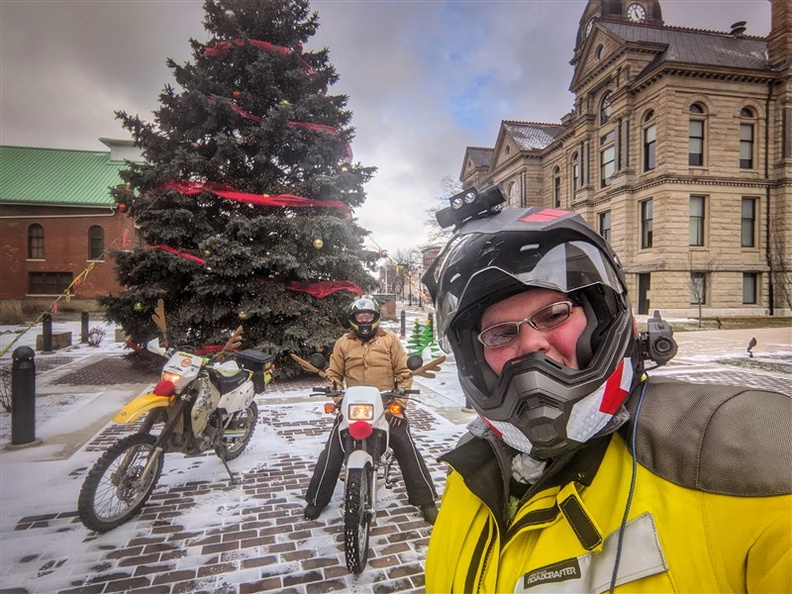 That's going to be the end of my year. Relaxing on the weekend and working during the week for the rest of the year.
"Stay open, keep hopin'
And you know
You know, know, know, know, know, know
The world needs to see you smile
The world needs, it needs to see you smile, yeah
The world loves it when you smile
Can you give it to us now?
'Cause your smile shines for miles and miles
You'll feel better when you smile
Smile" -Jingle Jangle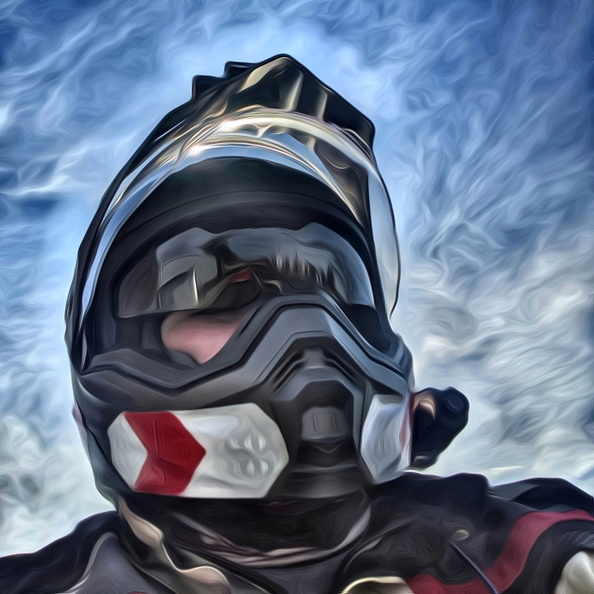 Well, the
Spotwalla map
shows my limited tracks of riding this year.

Ohio tracks.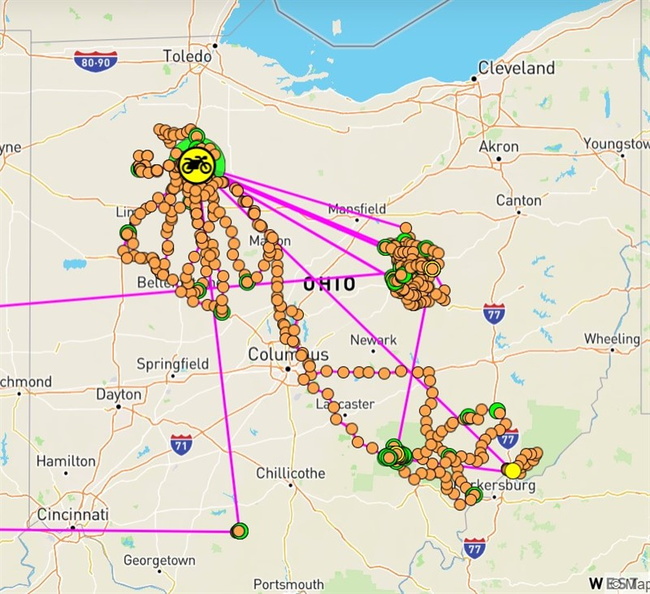 Colorado tracks.
End of the year stats:
FJR odometer- 111,560
FJR miles for 2020- 1,198 OMG. That is an ALL TIME LOW!
FJR states ridden in 2020- 1
DRZ odometer- 7,681
DRZ miles for 2020- 2,095
DRZ states ridden in 2020- 2
New states this year- 0
Total states gathered- 45
New stickers- a few…
Memories- MANY MANY MANY!!!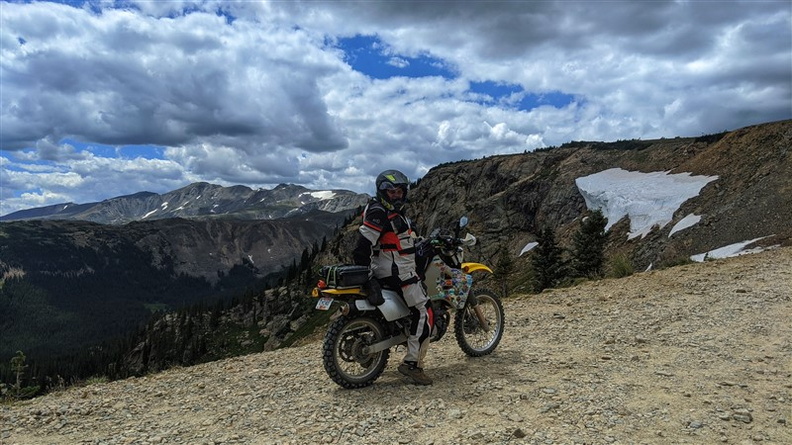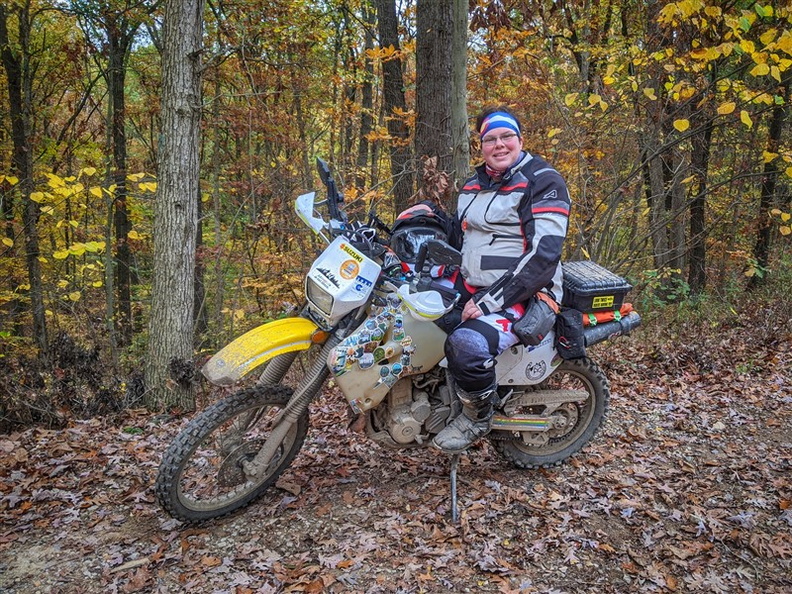 Thanks for following along… see you next year!