Vintage Yamaha Project…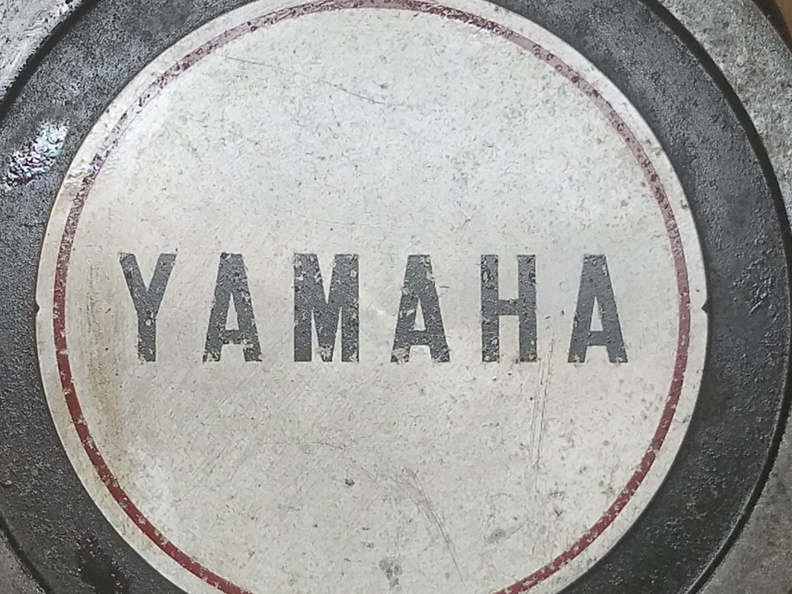 So another journey begins. This bike landed in my garage mid 2017. There are a couple connections here that make this more than just another project for me. I've shared a couple pictures here and there of this, but I figured I'd get a build thread going to keep track of the project.
Official "Before" picture.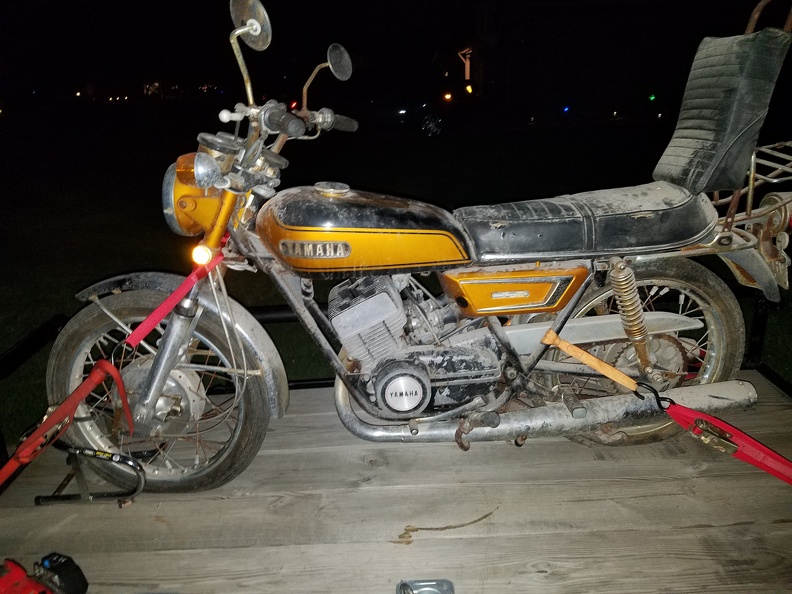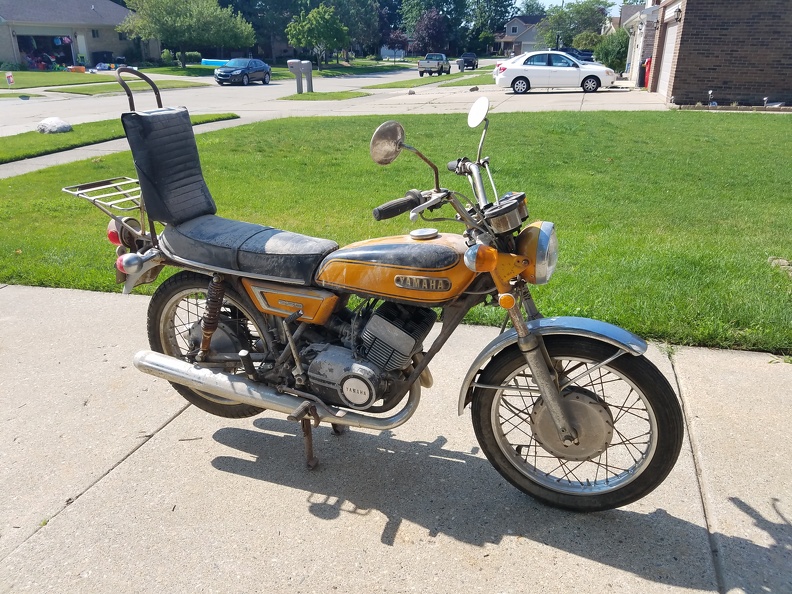 Background. This bike belonged to the father of one of my very good childhood friend. Shawn's dad, Ray, purchased this bike to use a farm runabout. The story goes that it stopped running one day – sometime in 1976 based on the license plate on it. Ray tinkered with it a bit, then parked it. It has been bounced around in the family the past 40 years, landing eventually in the tool shed on the family farm property that Shawn built his current home on. Ray passed away last year.
Shawn and I had talked about the bike a couple of times, and eventually it ended up on my trailer and in the garage here. It's a 1972 Yamaha RD250. It has 3614 miles on it. So on top of the sentimental value, it's my 'birthday' bike – it was born the same year as me – 1972. So there you go – birthday bike, that happens to be a Yamaha, that I know (or knew) the owner.
Winter set in here in Michigan and focus turns to projects like this. The bike is amazing complete and unmolested. There is rust. There is dust and dirt, as well as some rot. With a battery booster pack connected, the lights work. The tires hold air for about 10 days before going flat. The switches all seem to work, the motor will turn over with the kicker and the transmission will cycle through the gears up and down.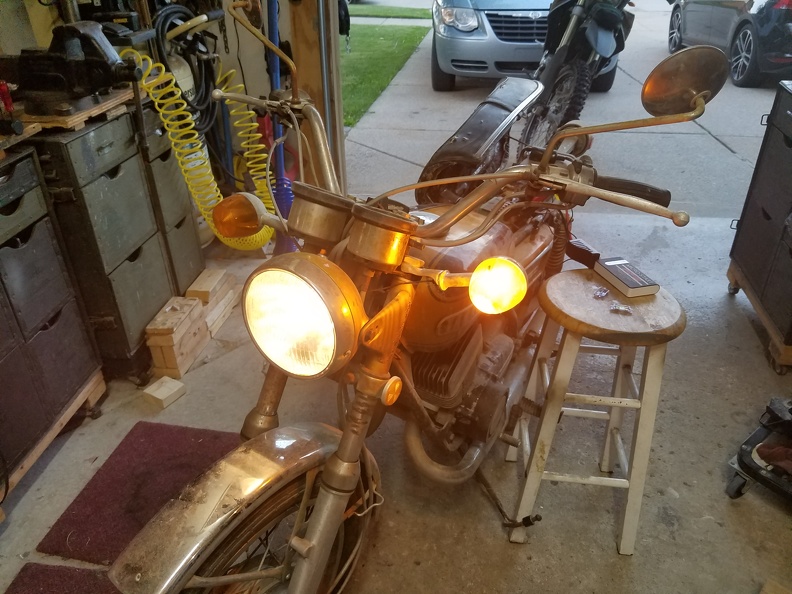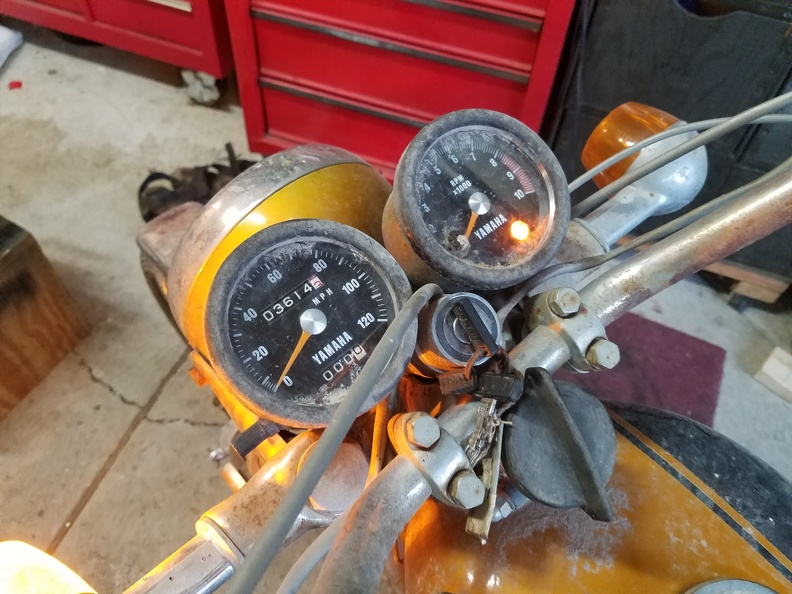 My first goal is to see if it will fire and run. The motor internals look pretty good – there's fairly clean oil in the gear case, the oil tank was half full of oil. I'll order some parts and see where it goes.
Current progress.
Box of parts from EconomyCycle.com arrived with new points, condensers, coils, hose. A battery and spark plugs from Amazon and a throttle / oil pump cable assembly from Ebay. The carbs have been off and gone through a cleaning cycle in an ultrasonic cleaning tank.
I put the carbs back on and have the gas tank filled with vinegar to clean the rust out of it. Curiosity got the best of me the other night. I checked spark in each cylinder and the tester lit up when connected to each spark plug. I grabbed a can of starter fluid and gave it a puff of go juice down each carb with the throttle opened up. Switches on and kicked it over.
It coughed and burned the ether. Holy Shit! Repeated it and same result. I know not to do this anymore without some pre-mixed fuel in it (it is a 2 stroke). I realize this does not guarantee by any means that it will be a runner, but it sure does provide the motivation to press on with it…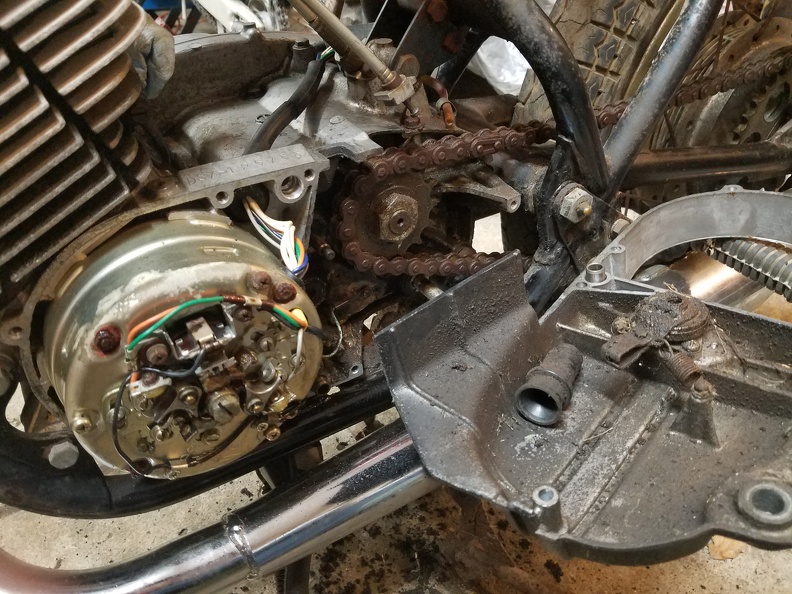 More to follow…